The Atlantic Daily: Staring Them in the Face
Trump's comments on Roy Moore, Robert Mugabe's resignation, the nationalist's delusion, and more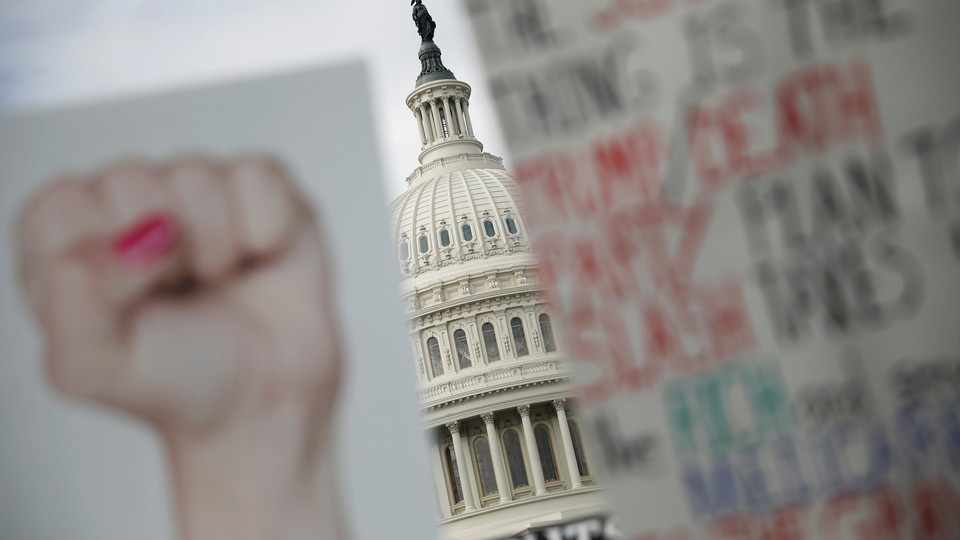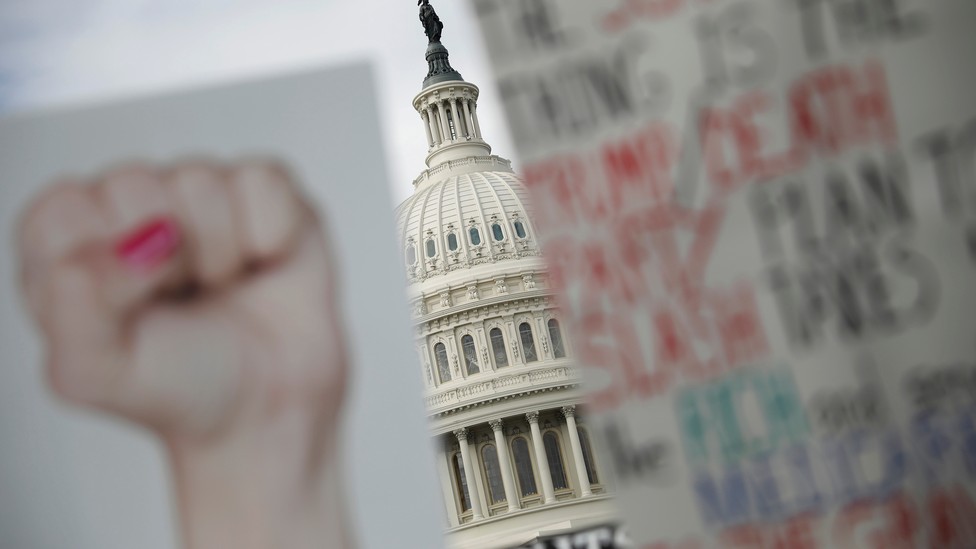 What We're Following
Sexual-Misconduct Allegations: In his first comments on the allegations that Roy Moore inappropriately touched and pursued teenage girls, President Trump stood by the Republican Senate candidate, stating that "well, he denies it." The report that Representative John Conyers of Michigan settled a sexual-harassment lawsuit in 2015 could foreshadow more revelations to come from Congress. Allegations of abusive behavior against Jeffrey Tambor, the star of the TV series Transparent, are complicated by the show's role in advocating for transgender people. And the stories of sexual misconduct emerging in the media world should mark a decisive moment for journalists, Mary Louise Kelly writes.
Culture Clash: Several blue states, including California and New York, are suing the federal government over new rules providing religious exemptions from the Affordable Care Act's birth-control-coverage requirement. That same mandate was previously challenged in court by conservative religious groups, making the new lawsuits—now that the Republican Party is in power—a role reversal for liberals. But Democrats might do well to seek religious voters' trust, as these voters constitute a powerful political group.
Around the World: Robert Mugabe resigned as the president of Zimbabwe after retaining his hold on power for 37 years—outlasting the Cold War, apartheid, and most of his own political contemporaries. Elsewhere, North Korea's recent lack of missile tests might seem to indicate that the country is willing to negotiate its nuclear program—but given Pyongyang's long-term strategy aims, that's unlikely.
---
Snapshot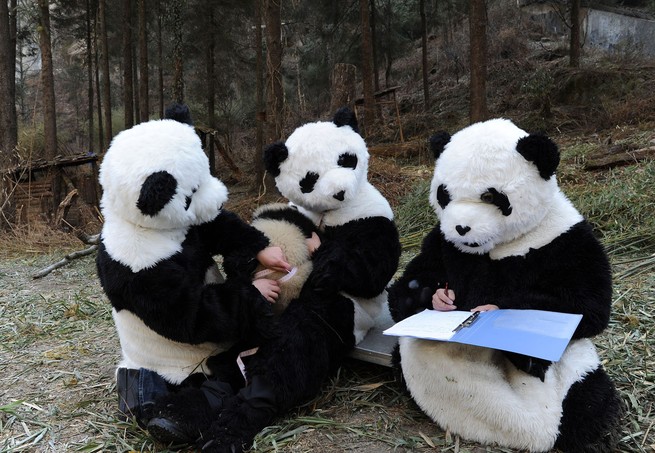 ---
Evening Read
How could Americans who oppose racism support a president who campaigned on discriminatory policies? Adam Serwer set out to answer that question:
What I found was that Trump embodied his supporters' most profound beliefs—combining an insistence that discriminatory policies were necessary with vehement denials that his policies would discriminate and absolute outrage that the question would even be asked.

It was not just Trump's supporters who were in denial about what they were voting for, but Americans across the political spectrum, who, as had been the case with those who had backed [the Ku Klux Klan leader and senatorial candidate David] Duke, searched desperately for any alternative explanation—outsourcing, anti-Washington anger, economic anxiety—to the one staring them in the face. The frequent postelection media expeditions to Trump country to see whether the fever has broken, or whether Trump's most ardent supporters have changed their minds, are a direct outgrowth of this mistake. These supporters will not change their minds, because this is what they always wanted: a president who embodies the rage they feel toward those they hate and fear, while reassuring them that that rage is nothing to be ashamed of.
Keep reading here, as Adam unpacks the nationalist delusion that helped drive Trump's success.
---
What Do You Know … About Business?
America's economic future will be shaped by the business models of the 20th century. Cities are rebuilding the shells of Sears's hulking distribution plants into vibrant, and gentrifying, community centers. As Millennials come of age and prepare to inherit the wealth of their parents, nonprofits are looking to make them the new face of philanthropy. Meanwhile, as the Justice Department sues to block the merger of AT&T and Time Warner, some observers wonder what motivates the administration more: classic trust-busting or revenge on old rivals.
Can you remember the other key facts from this week's business coverage? Test your knowledge below:
1. Mick Mulvaney is considered the front-runner to replace Richard Cordray as the director of the ____________, a watchdog agency.
Scroll down for the answer, or find it here.
2. Louisiana is the only state to require a license in order to be a ____________.
Scroll down for the answer, or find it here.
3. The amount of space occupied in malls by businesses that started online has grown by ____________ percent since 2012.
Scroll down for the answer, or find it here.
---
Urban Developments
Our partner site CityLab explores the cities of the future and investigates the biggest ideas and issues facing city dwellers around the world.
Gracie McKenzie shares today's top stories:
For more updates from the urban world, subscribe to one of CityLab's newsletters.
---
Reader Response
Alexis C. Madrigal analyzed Mark Zuckerberg's public statements about "community" to see how the Facebook founder's understanding of human connections—and his own role in maintaining them—has evolved over the years. One reader muses:
At the risk of stating the obvious, one of the features of a "community" is that everyone who is in it is in it. It is not an arbitrary social graph, where each individual selects whom he wants to be connected to. In a community, if A is connected to B and B is connected to C, then A is connected to C. Certainly, Zuckerberg can talk about "the Facebook community," the same way every other product can talk about its "community of users." But his main achievement has been to diminish the importance of actual interpersonal communities, by letting each of us have instead his own uniquely chosen mix of connections and loneliness in the palm of his hands.
Read Alexis's essay here.
---
Adjectives
Interstellar tourist, demoralizing coral,  therapeutic comedy, ancient dental plaque.
---
Time of Your Life
Happy birthday to Jon's girlfriend, Lee (twice the age of MTV); to Mahesh's daughter Nandita (a year younger than Shark Week); from Shei to Aileen (twice the age of Harry Potter); to Malka's son Primo (a year younger than The Oprah Winfrey Show); to Robin's husband, Bob (15 years older than the moon landing); to Kathleen (a year younger than Amazon); and to Luis's daughter Sophia, who at 11 is too young for the Timeline, but just the right age to become a reporter.
Do you or a loved one have a birthday coming up? Sign up for a birthday shout-out here, and click here to explore the Timeline feature for yourself.
---