The Atlantic Daily: Provocative Claims
Trump's pick for Fed chair, Facebook's Senate testimony, a void in the Great Pyramid, and more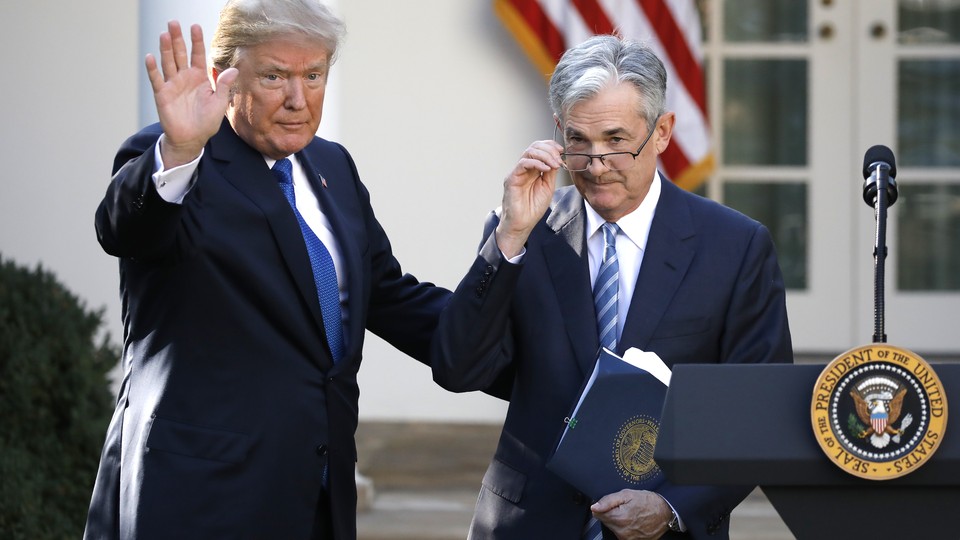 What We're Following
Money Matters: President Trump nominated Jerome Powell, a Republican lawyer who currently serves on the Federal Reserve Board, as its next chair. Powell takes a moderate approach to monetary policy, and will likely get bipartisan support for his Senate confirmation. And Republican lawmakers released the full version of their tax plan, which includes a cap to the mortgage-interest deduction—something progressives have long wanted to get rid of.
Facebook's Footprint: The tech giant's general counsel testified alongside representatives from Twitter and Google in a series of hearings in the Senate this week, revealing, among other things, that 146 million people received disinformation from Russian trolls on Facebook and Twitter. In Germany, legislators are attempting to address the spread of hate speech and false information online with a new law that aims to protect "human dignity" on social media.
Scientific Findings: A group of physicists has tracked the patterns of subatomic particles from cosmic rays to identify a void inside of Egypt's Great Pyramid, which could help reveal how the structure was built. On the Indonesian island of Sumatra, a newly identified species of orangutan may be the most endangered ape on the planet. And a new report identifies how climate change may already be having serious effects on public health, but economists are questioning one of its most provocative claims.
---
Snapshot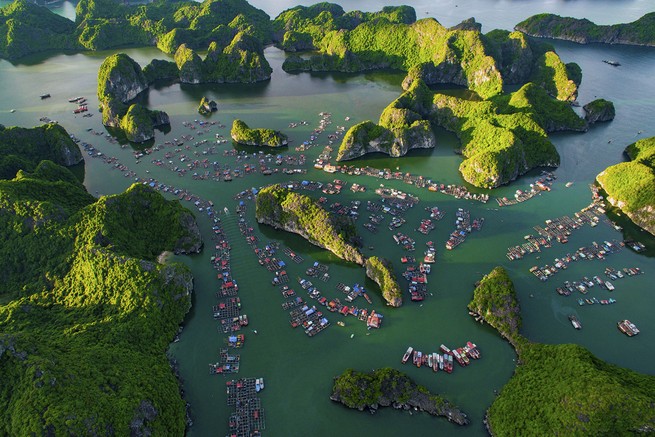 ---
Evening Read
Chris Bodenner chronicles the controversy that emerged when a Reed College activist group, Reedies Against Racism, began to protest a required freshman humanities course:
On September 26, 2016, the newly formed RAR organized a boycott of all classes in response to a Facebook post from the actor Isaiah Washington, who urged "every single African American in the United States that was really fed up with being angry, sad and disgusted" over police shootings to stay home on Monday. Of the 25 demands issued by RAR that day, the largest section was devoted to reforming Humanities 110 …

Speeches and open mics highlighted the angst that many students feel on a campus where African Americans account for just 5 percent of those enrolled. What's more, the graduation rate among black students is 65 percent, compared with 79 percent for all students. RAR has a sympathetic audience: Reed is home to the most liberal student body of any college, according to The Princeton Review. It's also ranked the second most-studious—a rigor inculcated in Hum 110.

A major crisis for Reed College started when RAR put those core qualities—social justice and academic study—on a collision course.
Keep reading here for how students responded when their peers tried to shut lectures down.
---
What Do You Know … About Global Affairs?
Five hundred years ago this week, Martin Luther launched the Protestant Reformation, creating fractures in Christian theology and unity that
persist to this day
. Many Western intellectuals have argued that Muslims need their own Martin Luther to challenge Islamist dogma, but political reforms in the Muslim world
might be more helpful
, writes Mustafa Akyol
. While the Reformation loosened the Catholic Church's monopoly over Western Christianity, Islam doesn't have a central religious authority to challenge. Meanwhile, in Iceland, the followers of an Icelandic pagan religion known as Ásatrú, or "heathenry," are devising strategies to fight misappropriations of their faith by racists around the globe.
Can you remember the other key facts from this week's global coverage? Test your knowledge below:
1. From A.D. 249 to A.D. 262, the pandemic known as the Plague of ____________ may have contributed to the fall of the Roman empire.
Scroll down for the answer, or find it here.
2. Under a new German law, the government will fine large social-media platforms up to ____________ million euros if they don't take down "manifestly unlawful" posts within 24 hours.
Scroll down for the answer, or find it here.
3. The country that supplies the most foreign fighters to ISIS is now ____________.
Scroll down for the answer, or find it here.
---
Coming Soon on The Masthead
On Monday, Jeffrey Goldberg, the editor in chief of The Atlantic, will answer readers' questions live in a conference call with the members and editors of The Masthead. Sign up here to join the call, share your questions, and receive more exclusive stories and insights from our first-ever membership program.
---
Urban Developments
Our partner site CityLab explores the cities of the future and investigates the biggest ideas and issues facing city dwellers around the world. Gracie McKenzie shares three of today's top stories:
In the wake of the New York City truck attack, it's important to remember that cities can take steps to prevent vehicular violence.

"You can't legitimately call yourself an environmentalist unless you support dense housing in walkable neighborhoods with public transportation." A collaboration is brewing between developers and environmental groups.

Last year, Columbus, Ohio, won a $50 million grant for high-tech transportation innovation, with a promise to help its most-vulnerable families. Those families are still waiting.
For more updates from the urban world, subscribe to CityLab's daily newsletter.
---
Reader Response
After James Fallows criticized Republican leaders' "tribal loyalty," one of his readers questioned that term:
I wanted to talk to you about the use of 'tribal' as a term to mean thoughtlessly following the pack.

I am a newly retired school teacher in [the Southwest], where I have taught for many years primarily Native American students, Pueblo, Navajo etc. The use of tribal in the political white sense does not go over very well among Native folks for obvious reasons. It feels like a putdown of one of the last cultural distinctions that exemplifies tribal sovereignty.

I'm sure this is not your intention nor is it President Obama's intention but I can tell you the vocabulary while hip is not appreciated among many of the hundreds of thousands Native Americans in New Mexico and Arizona and it does not help the young respect their own culture. If you want to secure those votes I would stop using the word tribal in a negative sense.
More readers debate the word tribal—and offer a host of synonyms—here.
---
Adjectives
Unrealistic optimism, curious account, entertaining baseball, existential slap.
---
Time of Your Life
Happy birthday to Colleen (a year younger than the 24-hour news cycle); to Pamselle (twice the age of MTV); to Elise's niece Marysia (the same age as the space shuttle Atlantis); to Rena's sister Janice (a year younger than the Beatles); and to Kathy's son (the same age as the European Union).
Do you or a loved one have a birthday coming up? Sign up for a birthday shout-out here, and click here to explore the Timeline feature for yourself.
---
Meet The Atlantic Daily's team here, and contact us here.

Did you get this newsletter from a friend? Sign yourself up here.