The Atlantic Daily: The Real and the Virtual
Roy Moore's defenders, the Russian mob in Spain, the forgotten future of Second Life, and more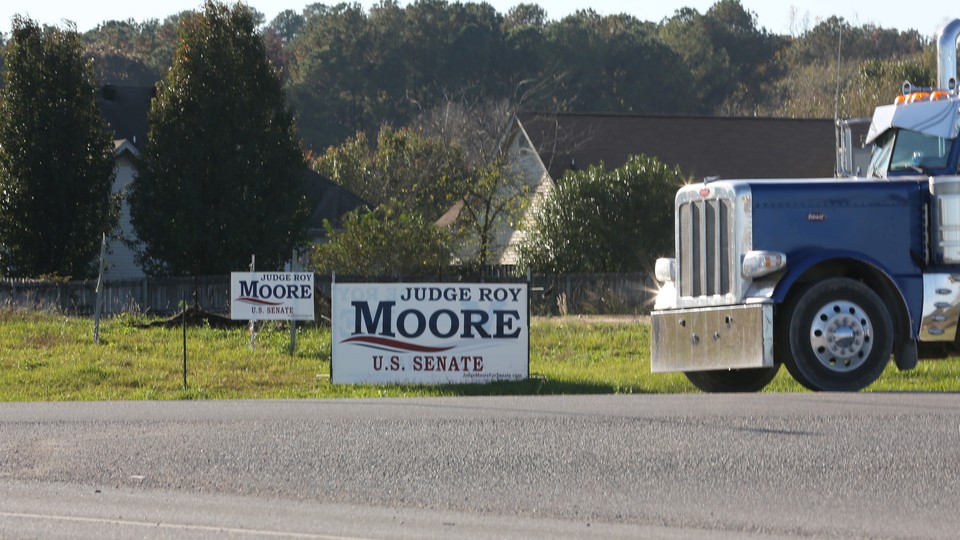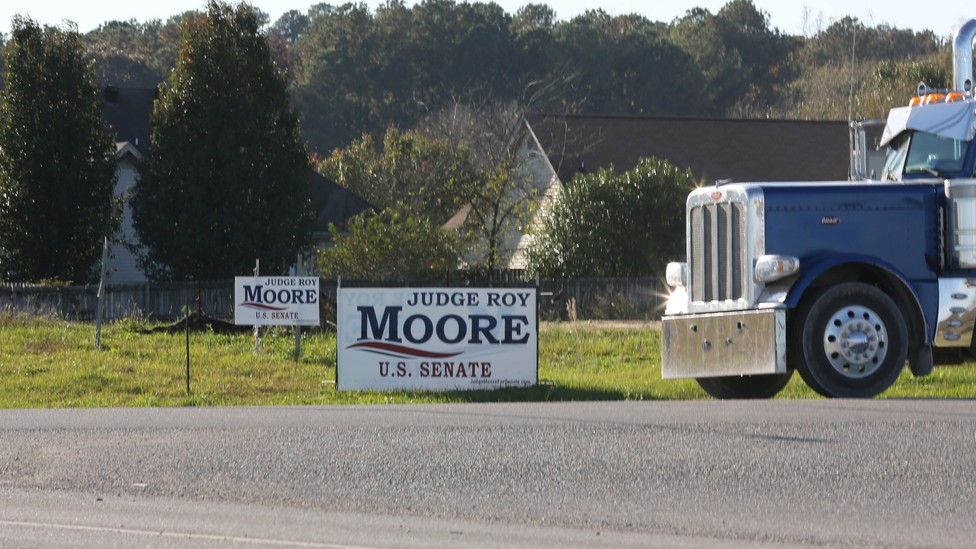 What We're Following
Alleged Abuses: A number of Republican officials and conservative commentators are defending Roy Moore, the U.S. Senate candidate from Alabama, against allegations that he had sexual contact with an underage girl when he was 32, and pursued other teenage women. Meanwhile, in response to accusations of sexual misconduct against the comedian Louis C. K., distributors canceled the release of his new film, I Love You, Daddy—whose plotline illustrates the ubiquitous pop-culture trope of sexualizing young girls.
International Intrigue: The leaked financial documents known as the Paradise Papers reveal that the Russian businessman Yuri Milner invested in Facebook and Twitter with funds from two banks controlled by the Kremlin—and help tell the story of how Russia's plans to manipulate the internet have evolved. And in Spain, members of the Russian Mafia have developed powerful networks in politics and business. Here's the story of the mob, and how investigators have tried to stop it.
Tech Developments: Businesses often fail to account for the needs of aging consumers, assuming they don't want much more than leisure or medical products—but new technologies such as "hearables" could be changing how innovators approach older people. The history of the road trains of the Australian outback sheds some light on how self-driving trucks might transform the transportation industry. And the parent company of Snapchat must dispose of hundreds of thousands of their Spectacles product after the video-recording sunglasses failed to sell.
---
Snapshot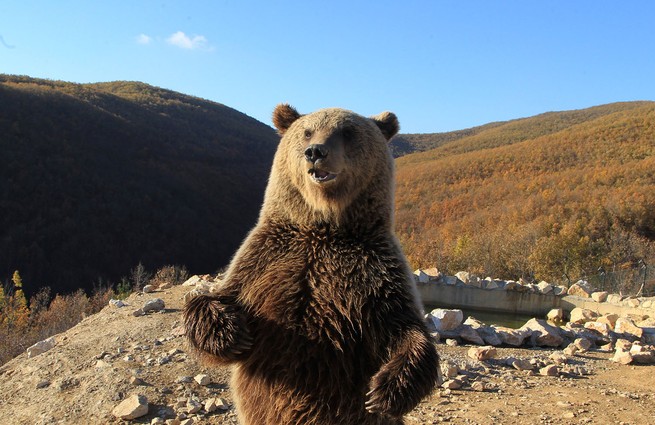 ---
Evening Read
Leslie Jamison on Second Life, the immersive virtual realm once hailed as the future of the internet:
Perhaps Second Life inspires an urge to ridicule not because it's unrecognizable, but because it takes a recognizable impulse and carries it past the bounds of comfort, into a kind of uncanny valley: not just the promise of an online voice, but an online body; not just checking Twitter on your phone, but forgetting to eat because you're dancing at an online club; not just a curated version of your real life, but a separate existence entirely. It crystallizes the simultaneous siren call and shame of wanting an alternate life. It raises questions about where unfettered fantasy leads, as well as about how we navigate the boundary between the virtual and the real.

As virtual-reality technology grows more advanced, it promises to deliver a more fully realized version of what many believed Second Life would offer: total immersion in another world. And as our actual world keeps delivering weekly horrors—another mass shooting, another hurricane, another tweet from the president threatening nuclear war—the appeal of that alternate world keeps deepening, along with our doubts about what it means to find ourselves drawn to it.
Keep reading here for stories of some of the people who spend hours each day in Second Life's virtual world.
---
What Do You Know … About Culture?
The past week's entertainment writing has shown a wide range of ways in which the makers of films and TV shows respond to the news. The director Ridley Scott is removing Kevin Spacey from his upcoming—and already completed—movie after sexual-harassment claims against the actor came to light. The debut of a new documentary series about mass shootings coincided with the Las Vegas massacre, prompting Sophie Gilbert to examine how Hollywood should respond to these types of events. And Disney retaliated against the Los Angeles Times's coverage of the company's relationship with local government by briefly banning the paper from advance screenings of Disney movies, resulting in extreme backlash from film critics across the country.
Can you remember the other key facts from this week's culture coverage? Test your knowledge below:
1. The tune for "The Battle Hymn of the Republic" originally came from the song ____________.
Scroll down for the answer, or find it here.
2. The baseball player Roy Halladay, who recently died at the age of 40, had ____________ wins against 105 losses in the course of his career.
Scroll down for the answer, or find it here.
3. The writer Flannery O'Connor titled her college diary ____________, perhaps in an effort to disguise it from her mother.
Scroll down for the answer, or find it here.
---
This Week on Radio Atlantic
The Press and the Election of 2016: One Year Later: Before and after the 2016 election, Donald Trump referred to journalists as enemies to himself and to the American people. But his victory wasn't just successful in vilifying the media, it was successful in manipulating them. What lessons have journalists taken from the 2016 campaign and Trump's election? What's changed since then? And what should change going forward? In this episode of Radio Atlantic, Adrienne LaFrance, the editor of TheAtlantic.com, and Yoni Appelbaum, the website's Politics editor, join Matt and Jeff to look back and look ahead one year after the Trump era began. Listen and subscribe here.
---
Poem of the Week
For Armistice Day, a bittersweet and prescient reflection on the end of World War I—"Red Seed," by Fannie Stearns Davis, from our June 1919 issue:
Now perhaps there is Peace.
But dare you say that you know it? …
The Wind caught a wild red seed,
And is wild to blow it
Far—far—far—
Over crags, soft pastures, dead sands.
It will plunge and leap to a fire
In white frozen and hot green lands.
---
Reader Response
After James Fallows wrote about the lethal technology of the AR-15 rifle—the weapon used in many mass shootings, including Sunday's attack in Sutherland Springs, Texas—a reader responds from personal experience:
During the Vietnam War era, as a newly graduated mechanical engineer, I was hired by Colt's Firearms, the original manufacturer of the M-16, and tasked with M-16-related assignments during my employment. There was no commercially available civilian version of the AR-15 prior to the U.S. military's decision to make it the default military rifle replacing the M-14, and designating it as the M16A1  …

Like [the AR-15's designer] Eugene Stoner, whose mission was producing better equipment for the military, I do not believe that there is any place in the civilian world for a family of weapons that were born as an assault rifle. I am a staunch supporter of properly equipping our nation's military, but also of effective gun control for weapons available to civilians, which includes banning those which are inappropriate outside a military context.
Read his full response here.
---
Nouns
Ninja bats, catharsis party, leaf dump, Social Dictionary.
---
Time of Your Life
Happy birthday to Emily (a year younger than Harry Potter); to Patrick's girlfriend, Abi (the same age as the European Union); to David's daughter Michelle (twice the age of the International Space Station); and to Roberta's good friend Robert (one-third the age of The Atlantic).
Tomorrow, happy birthday to Bonnie's beloved husband, Frank (a year younger than LP records); from Liz to Kelvin's father (twice the age of Wikipedia); and to Sharon's daughter, who at 11 is too young for the Timeline, but just the right age to become a reporter.
Do you or a loved one have a birthday coming up? Sign up for a birthday shout-out here, and click here to explore the Timeline feature for yourself.
---