The Atlantic Daily: Atrocity's Aftermath
The Las Vegas shooter's unknown motives, Trump's visit to Puerto Rico, what Nobel Prizes in science leave out, and more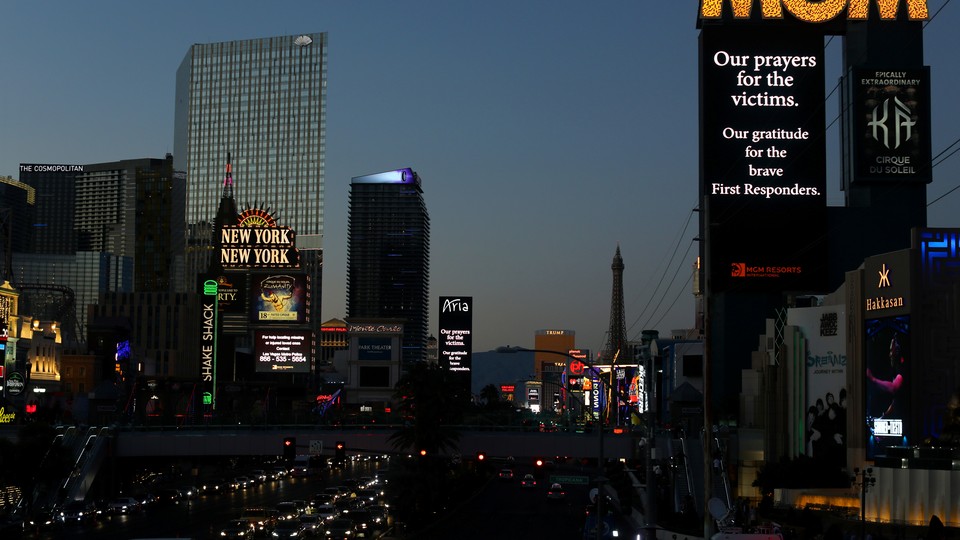 What We're Following
Las Vegas: As the investigation of Sunday's massacre continues, the possible motives of the shooter remain unclear. He wasn't known to belong to extremist groups, and had no criminal record or diagnosed mental illnesses. Late-night hosts struggled to make sense of the tragedy with despairing monologues, while Las Vegas schools sought to comfort kids by bringing them back to the stable classroom environment. Advocates of gun control called for tighter regulations, prompting gun stocks to rise in anticipation of increased demand. Yet if the policy responses to past shootings are any indication, it's more likely that restrictions on guns will be loosened.
Presidential Messaging: During a visit to Puerto Rico, President Trump delivered a tone-deaf message to residents, implying that Hurricane Maria was not a "real catastrophe" compared with Hurricane Katrina and appearing to seek praise for his administration's efforts. Conditions on the island are still dire, and as recovery efforts continue, the official death toll is expected to rise far higher than the 16 bodies initially counted. Trump has also been sending mixed messages to the State Department, where officials report confusion, low morale, and the impression that the president "does not care about diplomacy."
Race and Democracy:  Florida reformers are gathering signatures for a 2018 ballot initiative that would amend the state's constitution to restore voting rights to convicted felons. The existing lifetime ban disproportionately affects African Americans, and grew out of Reconstruction-era attempts to disenfranchise black men. Meanwhile, a new book looks at how Nazi jurists may have drawn inspiration for their racist regime from America. And Ta-Nehisi Coates looks back to the civil-rights movement to explain why protesters have never been anything less than polarizing.
---
Snapshot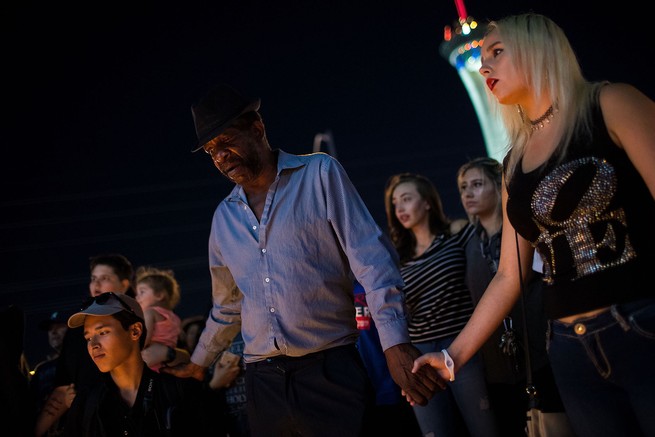 ---
Evening Read
Ed Yong on what the Nobel Prizes in science leave out:
Every year, when Nobel Prizes are awarded in physics, chemistry, and physiology, or medicine, critics note that they are an absurd and anachronistic way of recognizing scientists for their work. Instead of honoring science, they distort its nature, rewrite its history, and overlook many of its important contributors.

There are assuredly good things about the prizes. Scientific discoveries should be recognized for the vital part they play in the human enterprise. The Nobel Prize website is an educational treasure trove, full of rich historical details that are largely missing from published papers. And it is churlish to be overly cynical about any event that, year after year, offers science the same kind of whetted anticipation that's usually reserved for Oscar or Emmy nominees. But the fact that the scientific Nobels have drawn controversy since their very inception hints at deep-rooted problems.
Keep reading  here, as Ed describes how the prizes fail to honor the teamwork that defines scientific discovery. And here's how the work of this year's physics honorees grew out of an experiment from the 1880s.
---
What Do You Know … About Business?
Some worry that American innovation has become more image than substance. Last fall, Josh Tetrick's plant-based food start-up was valued at $1.1 billion—but is it the world-changing project he claims, or just an overstretched mayonnaise company? The next Silicon Valley might be Stockholm: In Sweden, a strong welfare state and business-friendly tax system have helped make the country's ratio of start-ups to employees four times higher than America's. Can the U.S. tax system be fine-tuned to provide a similar kind of economic security? A trillion-dollar increase in the Earned Income Tax Credit, for instance, could help the middle class far more than President Trump's proposed $6 trillion tax cut.
Can you remember other key facts from this week's business coverage? Test your knowledge below:
1. Hawaii uses a _____________ system to store energy from renewable sources in pockets around the island.
Scroll down for the answer, or find it here.
2. The artist Patrick Dougherty is nicknamed ____________ for his sprawling wooden sculptures of intricately woven sticks.
Scroll down for the answer, or find it here.
3. NFL viewership is down, but U.S. companies still spend $____________ on game-time ads each year.
Scroll down for the answer, or find it here.
---
Urban Developments
Our partner site CityLab explores the cities of the future and investigates the biggest ideas and issues facing city dwellers around the world. Gracie McKenzie shares today's top stories:
For more updates from the urban world, subscribe to CityLab's daily newsletter.
---
Reader Response
The rock legend Tom Petty died on Monday at the age of 66. A reader in Quito, Ecuador, reflects on what Petty's music means to him:
My wife likes "Learning to Fly" a lot. She speaks little English but learned the song during one of my ESL classes—I use music frequently. We study the lyrics in both English and Spanish and then we sing our goddamn hearts out.

I had seen Petty in a flawless concert at the Greek Theater in Berkeley about a decade ago. Shortly thereafter the song took on special meaning when I found out I have lymphoma. As Spencer notes in this article, in some cases it is the songs that ascend in importance, eclipsing personality or other artifice. In our ad hominem world, this gives me great comfort.
More readers on songs that hold special meaning for them here.
---
Nouns
Passenger rocket, poignant pigeon, genetic history, psychedelic curveball.
---
Time of Your Life
Happy birthday to Ron's best friend Shuang (twice the age of YouTube); to Kathy's son Jason (a year younger than CD players); to Nadia's brother (who was 9 when Barack Obama was elected president); to Bob's spouse (a year younger than microwave ovens); to Rena's niece Julia (twice the age of Twitter); to Kat's talented daughter Elizabeth (a year younger than The Sound of Music); and to David's beloved Marlene (twice the age of Microsoft Windows).
Do you or a loved one have a birthday coming up? Sign up for a birthday shout-out here, and click here to explore the Timeline feature for yourself.
---