The Atlantic Daily: A Wave of Revelations
Why Orrin Hatch may retire, how Trump has shaped the Democratic Party, the allegations against Leon Wieseltier, and more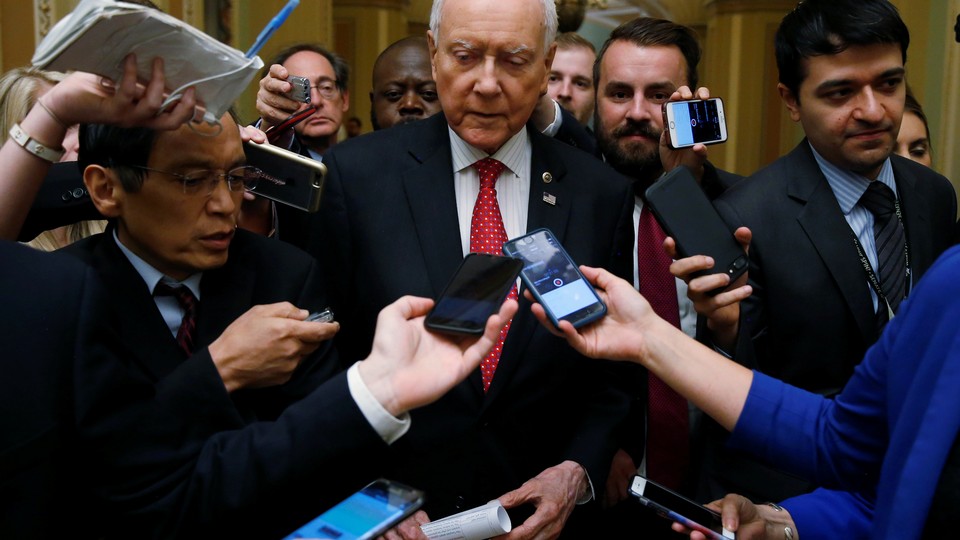 What We're Following
Lawmakers' Moves: Sources close to Senator Orrin Hatch say the Utah Republican plans to retire when his term ends next year, and that former Massachusetts Governor Mitt Romney is planning to run for his seat. GOP insiders have been pushing for Hatch to step down, as some fear he would lose to an antiestablishment challenger in the 2018 primary. Meanwhile, prompted by President Trump's belligerent statements against North Korea, three Democratic senators are introducing a bill to stop the president from being able to take military action against North Korea without approval from Congress.
The Trump Effect: New polling data from the Pew Research Center suggest that Trump has shaped not only his own party's identity, but also that of the Democratic Party: Liberal voters' views shifted sharply left after Trump came on the scene as a candidate. And while observers have been quick to call Trump's actions "unprecedented," the historian Julian E. Zelizer charts how many of his most controversial moves have deep political roots.
Sexual Harassment: On this week's episode of Radio Atlantic, the journalists Jodi Kantor and Katie Benner discuss their reporting on sexual harassment, including Kantor's investigation of Harvey Weinstein, which launched a wave of revelations about disturbing behavior by powerful men in multiple industries. Among those men is Leon Wieseltier, the longtime literary editor of the New Republic (and a contributing editor at The Atlantic until today, when the magazine severed the relationship). Here are 11 women's reflections on their experiences with Wieseltier.
---
Snapshot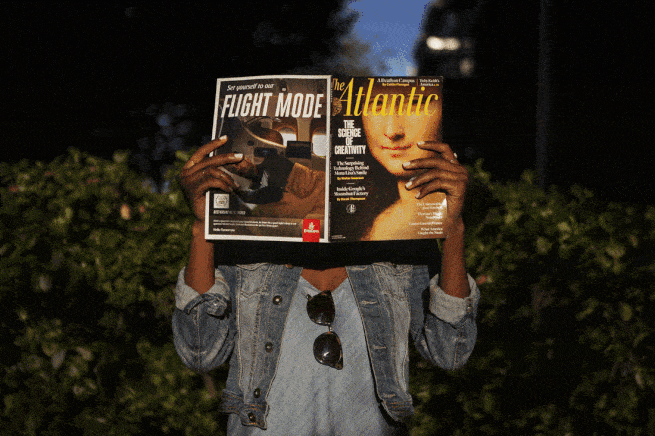 ---
Evening Read
Katherine Harvey retells what happened when the monks of Durham Cathedral Priory exhumed their patron saint, Cuthbert, in 1104:
What they reported finding was astonishing, given that Cuthbert had been dead for more than 400 years. His corpse was not merely undecayed, but flexible and lifelike. It was as if the saint were not dead, but sleeping.

The monks' account was met with some skepticism. Undeterred, they repeated their inspection the following night, this time assisted by independent witnesses from other monasteries. One of them, Ralph of Séez, performed a thorough examination of the corpse. He first moved Cuthbert's head around, proving that it was firmly attached to the torso. He then manipulated various parts of the body, including the ears, before taking the corpse by the head, shaking it, and raising it to a sitting position. Faced with such firm evidence, Cuthbert's detractors gave way: This was indeed a miracle.
Keep reading here as Harvey explains what undecayed corpses meant to medieval Christians.
---
What Do You Know … About Culture?
Movies and TV shows are offering up new perspectives on topics rooted in the past. The film The Killing of a Sacred Deer tells a grim version of the Greek myth of Iphigenia, while NBC's The Good Place is reinventing how pop culture engages with the ethics of Aristotle and Kant. Looking back to the 1980s, a recent documentary about George Michael—narrated by the late singer himself—provides some personal insight into his journey through stardom. And Stranger Things returns today with a more horror-centric telling of the goings-on in the fictional town of Hawkins, Indiana.
Can you remember the other key facts from this week's culture coverage? Test your knowledge below:
1. Florie Hutchinson is attempting to add a women's flat shoe to the Emoji—currently numbering ____________ —that already exist in the Unicode Standard.
Scroll down for the answer, or find it here.
2. American women could not own ____________ in their own name before 1974.
Scroll down for the answer, or find it here.
3. The rock-and-roll star ____________ claimed that Fats Domino was the true king of the genre.
Scroll down for the answer, or find it here.
---
Poem of the Week
From our April 2006 issue, Mary Karr's "Meditatio":
In the back's low hollow sometimes
a weightless hand guides me, gentle pressure
so I tack soft as a sailboat. (Go there)

Soften the space between your eyes (smudge
of eucalyptus), the third eye
opens.
---
Reader Response
Prompted by a Masthead member's decision to talk publicly about her mental illness, Caroline Kitchener interviewed The Atlantic's own Scott Stossel about his January/February 2014 cover story, "Surviving Anxiety." A clinical psychologist remembers reading Stossel's story the first time around:
I was so impressed with it that I made copies and gave them to several of my patients. His piece is a clear example of why personal stories like that are probably the most effective way of getting people to become more aware of the many issues involved in psychological and emotional difficulties.

Last June you wrote a piece about how difficult it was for many students who had to lose their therapist when they graduated from college. It made me think of how many therapists there are who see people for five, 10, or 20 years. Perhaps, because I worked in a city with few mental-health resources and a high demand for services, I always felt that if someone is "in treatment" for 10 years, while it can be beneficial to them in many ways, it shouldn't be called therapy. To me, therapy implies that someone will get better. I don't think mental-health professions have made as much progress as they could have in developing better treatments. Other sciences have been able to use many of the new technologies to improve almost every other area of treatment, but many of the basic treatments for anxiety, depression, and bipolar disorder have barely improved over the last 25 years. Anyway, any mention of the issues is a help to the cause.
You can join the discussion with Atlantic editors and fellow readers in our new premium membership program, The Masthead. Sign up here.
---
Nouns
Augmented bodies, popcorn lung, royal cookbooks, gifted kids.
---
Time of Your Life
Happy birthday to Tamilore's sister Lade (a year younger than Toy Story); to Steven (the same age as Michael Jordan); to Peter (twice the age of Facebook); and to Beverly, who shares a birthday with Virginia (both are a year younger than the Lord of the Rings).
Tomorrow, happy birthday to Kate (a year younger than Winnie the Pooh); to Melody (13 years older than Mean Girls); to Ravish's grandson (a year younger than the International Space Station); to Cheryl's sister Corliss (the same age as the UN building in New York); to Penny's husband, Karl (twice the age of The Oprah Winfrey Show); to Nancy's daughter Molly (a year younger than Pokémon); and to J.J. Sr.'s wife, Annie (the same age as Sputnik I).
Do you or a loved one have a birthday coming up? Sign up for a birthday shout-out here, and click here to explore the Timeline feature for yourself.
---