The Atlantic Daily: Appeals to Civility
The effect of Jeff Flake's departure, Republican hurdles for tax reform, Trump's new refugee policy, and more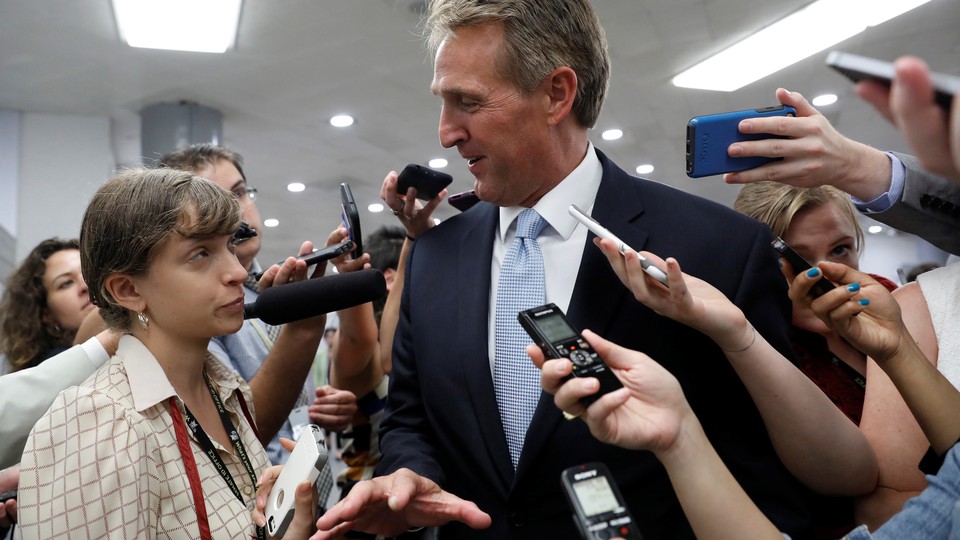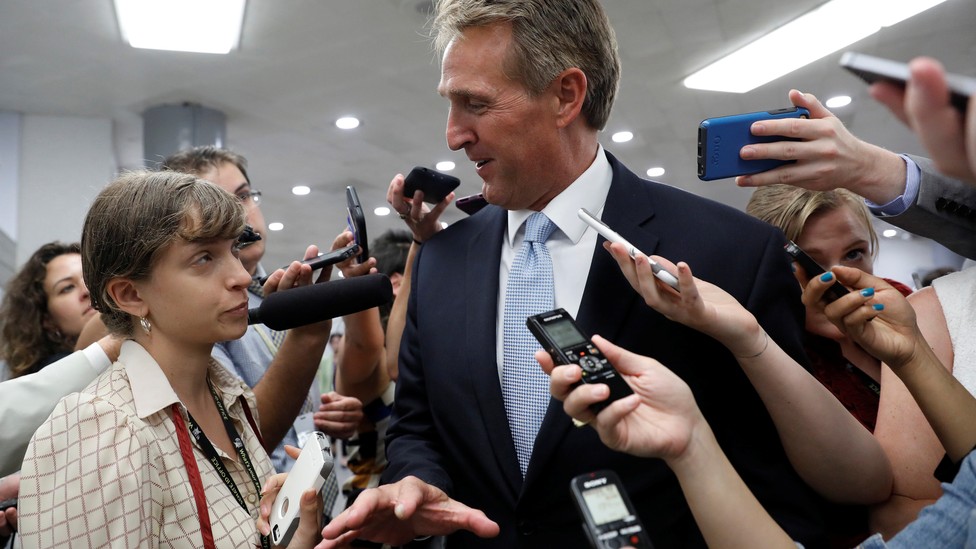 What We're Following
Flake's Decision: On Tuesday, Jeff Flake, the junior Republican senator from Arizona, joined a long list of conservative leaders who have condemned President Trump's brand of politics when he announced his plans to drop out of his state's 2018 race. But how much of an impact will his departure have? Flake had staked his reelection bid on the hope that voters would choose his appeals to civility and civic virtue over Trump's polarizing populism—and his withdrawal suggests he's given up. Still, writes David Frum, Flake's stand against Trump could help to gradually undermine the president's power over the Republican Party, and over the United States.
Lawmakers' Agenda: As Senate Republicans try to move forward with tax reform, they still need to find a way to offset the tax cuts they've planned—but Trump has been rejecting the options, putting his party's proposal in jeopardy. Meanwhile, Brian Schatz, the Democratic senator from Hawaii, is introducing legislation that would let states set up a public option for health care. And the Senate has voted to nullify a rule that would've allowed customers of financial institutions to file class-action lawsuits, making it harder for consumers to take banks, credit-card companies, and other institutions to court.
Foreign Policy: The Atlantic has obtained a list of the 11 countries that are considered "higher risk" under the Trump administration's new refugee policy, which requires applications from citizens of these countries to be considered on a case-by-case basis. Refugee resettlement, which was canceled in Trump's travel ban and resumed by an executive order this week, has been one of the most controversial aspects of Trump's foreign policy. He's also received harsh criticism for his handling of North Korea, whose nuclear program has advanced so far that security officials are discussing the possibility of nuclear war. Yet Trump is not solely to blame for the challenges facing the United States abroad: Amy Zegart explains why international relations are more complex than ever.
---
Snapshot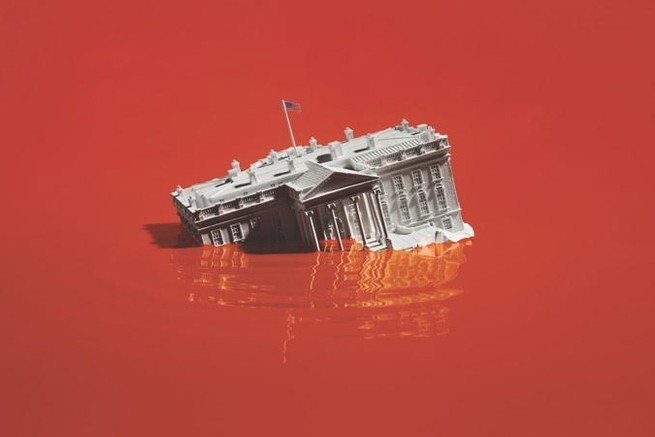 ---
Evening Read
Annie Lowrey reports on post-hurricane aid efforts in the Houston area, where residents are receiving generous donations of goods—but not enough cash:
Rose City had been overwhelmed by secondhand clothing, for instance. There were piles of molding garments in church parking lots, and rack upon rack of them in warehouses and army surplus tents around the town. Local residents were grateful for other Americans' generosity, but generally said they did not want the used items, nor did they want to bother picking through them to find clean things that fit. "I'll buy my own damn pants," Richard Conner, a machinist whose home was severely water-damaged, told me.

Bottles of water had also kept pouring in, despite the fact that the local towns had restored the public supply and clean water was flowing through taps. "It gets pretty depressing taking bottles of water and pouring them out into buckets to wash the church down with," Tony Wilcoxson, the pastor at Rose City Baptist, told me, sitting near a huge pile of donated bottles.
Keep reading here for what hurricane victims say they need the most.
---
What Do You Know … About Science, Technology, and Health?
This week, we covered three areas where artificially intelligent devices are now surpassing humans. The ancient game Go has been around for thousands of years, but Google's DeepMind unveiled a program that can learn Go from scratch without ever watching humans play. Not only can AI be used to find gravitational lenses, which act like giant natural magnifying glasses in space, it can also analyze them, which could transform the way astronomers work. AI can even detect skin cancers and irregular EKGs better than doctors—but it's also raising questions on how the FDA can regulate a program that's always improving itself.
Can you remember the other key facts from this week's science, tech, and health coverage? Test your knowledge below:
1. Albert Einstein is said to have slept for ____________ hours every night.
Scroll down for the answer, or find it here.
2. Women have gone blind after getting ____________ injected in their eyes at clinics in Florida and Georgia.
Scroll down for the answer, or find it here.
3. Island deer have been caught on camera interacting with other woodland creatures by ____________ them.
Scroll down for the answer, or find it here.
---
Look Back
The painter Pablo Picasso was born on this day in 1881. In the cover story for our June 1988 issue, Arianna Huffington recounted his biography:
When Pablo Picasso was thirteen, ... his seven-year-old sister, Conchita, died of diptheria. Picasso watched her deteriorate from the smiling little girl with the blonde curls whom he had so tenderly drawn to the ghost of herself that he drew just before death snatched her away. ... In his anguish Picasso made a terrible pact with God. He offered to sacrifice his gift to Him and never pick up a brush again if He would save Conchita. And then he was torn between wanting her saved and wanting her dead so that his gift would be saved. When she died, he decided that God was evil and destiny an enemy. At the same time, he was convinced that it was his ambivalence that had made it possible for God to kill Conchita. His guilt was enormous—the other side of his belief in his powers to affect the world around him. And it was compounded by his almost magical conviction that his little sister's death had released him to be a painter and follow the call of the powers he had been given, whatever the consequences.
Read more here, and check out a 1957 interview with Picasso here.
---
Reader Response
Arthur Evenchik and James Forman Jr. reviewed a new memoir, Reading With Patrick, that chronicles a young teacher's experience—and initial failures—while serving with Teach for America. This reader is skeptical:
I always felt like Teach for America was a scam. Children get an untrained teacher, and by the time the teacher starts to get good she is already leaving. It just seems like a complete waste of money. Why not use the same funds for extra spending in poor school districts, or at least something useful?
Another reader replies:
Sadly, many of these poorer school districts you mention (believe me, I'm in one of those) have little choice but to hire the TFAers. Supply and demand dictate that many of these districts have such a hard time recruiting traditionally trained and certified teachers due to poor salaries (even within teaching … my own district pays on average $5K less than neighboring districts for equivalent years of experience and degree level) and lack of social opportunities that, well, a warm body with minimal training is better than none at all.
More on the drawbacks of Teach for America here, and more on the benefits here.
---
Verbs
Pandemics predicted, mistakes risked, kids' drawings analyzed, computers concealed.
---
Time of Your Life
Happy birthday to Susan (a year younger than Nineteen Eighty-Four); to Paraney (twice the age of Spotify); and to Julia (a year younger than Martin Luther King Jr.'s "I Have a Dream" speech).
Do you or a loved one have a birthday coming up? Sign up for a birthday shout-out here, and click here to explore the Timeline feature for yourself.
---