The Atlantic Daily: 'The Degradation of Our Politics'
Senator Jeff Flake's critique, the threats facing liberal democracy, what climate change means for New York City, and more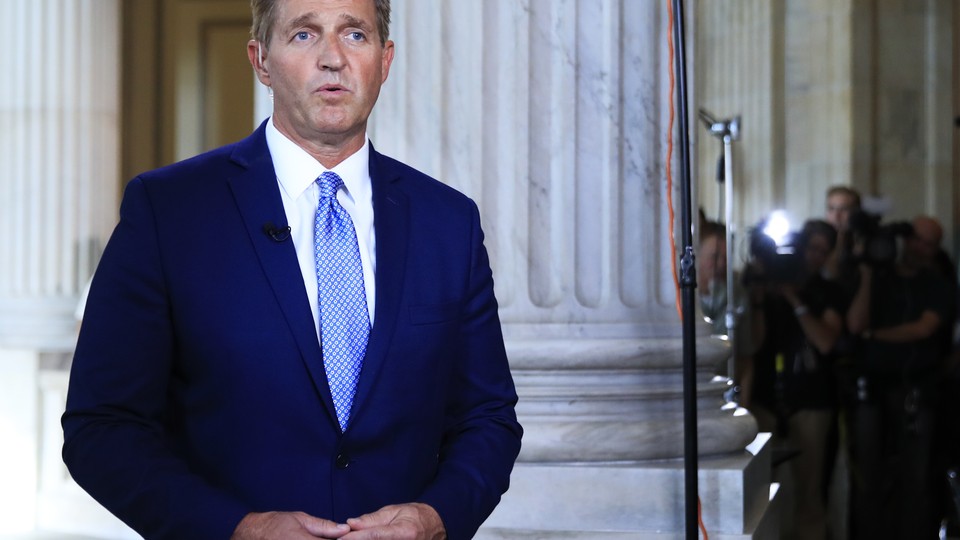 What We're Following
Senate Defections: Jeff Flake, the senator from Arizona, announced he won't run for reelection next year in a speech that condemned "the degradation of our politics" and "the regular and casual undermining of our democratic norms and ideals" by President Trump. Read the full transcript of the senator's remarks here. Flake's criticism echoes that of fellow Republican Senator Bob Corker of Tennessee, who has been vocal in his disapproval of the president since he announced his retirement last month—and who now says he won't support Trump for reelection in 2020, describing him as "an utterly untruthful president."
Disaster Prep: A new study predicts that the rising sea levels and more-intense storms brought about by climate change will bring major flooding to New York City every five years by 2030. Meanwhile, some U.S. funding for global-health initiatives is set to run out soon—but advocates argue such funds are essential to stop deadly diseases before they spread.
Liberal Democracy: As nations around the world deal with declines in birth rates and increases in anti-immigration politics, Derek Thompson outlines how the intersection of these trends can put the liberal aims of diversity and equality at odds with each other. And Shadi Hamid reflects on how an apparent threat to democracy can sharpen citizens' focus and spur them to political action.
---
Snapshot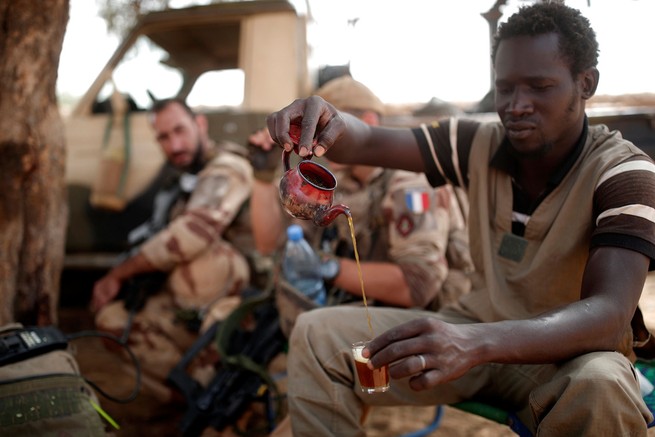 ---
Evening Read
Jack Hamilton on the iconic singer Joni Mitchell:
Among Mitchell's greatest gifts as a songwriter and a performer was a double-edged one: her preternatural ability to create a sense of connection with her audience. Male listeners, believing they were in love with her, also indulged the illusion that she might love them. Female listeners believed she was giving voice to their own lives and thoughts. Her dazzling powers of expression, in her writing and in a pristine soprano that seemed to exude confessional directness, had a way of obscuring the sophistication and intellect that defined her art. Particularly in her early years, Mitchell seemed to represent for her audience an ideal of human companionship—lover, friend, confidant, teacher. She was, to use one of contemporary English's worst words, relatable.

Yet whatever her listeners might dream or desire, Joni Mitchell was never in it for them, and she certainly wasn't like them: She was a genius.
Keep reading here, as Hamilton describes how Mitchell's privacy informs her work.
---
What Do You Know … About Business?
The stock market continues to soar in spite of a chaotic news cycle, as the GOP teases investors with the promise of tax reform. But that tax plan comes with some tricky numbers: It's estimated to add $2.4 trillion to the national deficit over the next 10 years—well over the GOP's self-imposed limit of $1.5 trillion. To make up part of the difference, congressional Republicans are floating a proposal to push workers into taxable 401(k)s, a move that would harm people whose earnings decline later in life. Meanwhile, new rules limiting payday lending may weed out predatory businesses, but they don't address the fundamental need for safe, small-dollar loans.
Can you remember the other key facts from this week's business coverage? Test your knowledge below:
1. Insurance companies assess the value of Cabernet Sauvignon grapes grown in Napa Valley at around $____________ a ton.
Scroll down for the answer, or find it here.
2. President Franklin Roosevelt named Arthur Morgan, an advocate of small-town communities and craft economies, the first head of his new public-works agency, the ____________.
Scroll down for the answer, or find it here.
3. In 1791, then-Secretary of the Treasury ____________ made an unsuccessful attempt to collect data on Americans' moneymaking capacities for his famous "Report on Manufactures."
Scroll down for the answer, or find it here.
---
Urban Developments
Our partner site CityLab explores the cities of the future and investigates the biggest ideas and issues facing city dwellers around the world. Gracie McKenzie shares today's top stories:
For more updates from the urban world, subscribe to CityLab's daily newsletter.
---
Reader Response
Olga Khazan writes about sleep restriction, an insomnia therapy that requires going to bed only when you're very sleepy and setting a consistent wake-up time. This reader has tried it:
I didn't mean to—all I meant to do was get a dog. The thing is: Dogs need to be walked, or at least let out, in the morning. And they don't come with snooze buttons. I could (and have) hit a snooze button for two hours, but after my dog hears the alarm, he jumps on the bed and rubs my forehead with his. I have no choice but to get up, no matter how I feel. The end result is that my dog was "setting a wake-up time and hitting it at the same time every day," Saturday and Sunday included.

After consistently getting less sleep than I needed and not making it up on the weekend, I started falling asleep the minute I hit the pillow. For the first time in my life I have no insomnia, and wake up not in a frenzy to get to work on time, but with enough time to take an hour-long walk before getting ready for work. I'm not saying everyone should get a dog. No—wait. Yes, yes, I am saying everyone should get a dog.
Read about the narcoleptic dogs that helped scientists understand sleep and wakefulness here, and find a physician's guide to getting a good night's sleep here.
---
Nouns
Futuristic suffix, vegan-themed race car, unusual attack ad, symphony of discomfort.
---
Time of Your Life
Happy birthday to Rebecca (a year younger than The Simpsons); to Iris (twice the age of Macintosh computers); to Holly's son Joshua (a year younger than the euro); and to Harriet's brother Max, who's too young for the timeline, but just the right age to enroll in an Ivy League school.
Do you or a loved one have a birthday coming up? Sign up for a birthday shout-out here, and click here to explore the Timeline feature for yourself.
---