The Atlantic Daily: Call and Response
Trump's feud with a Gold Star family, the actor Brit Marling's experience with Harvey Weinstein, a postelection listening tour, and more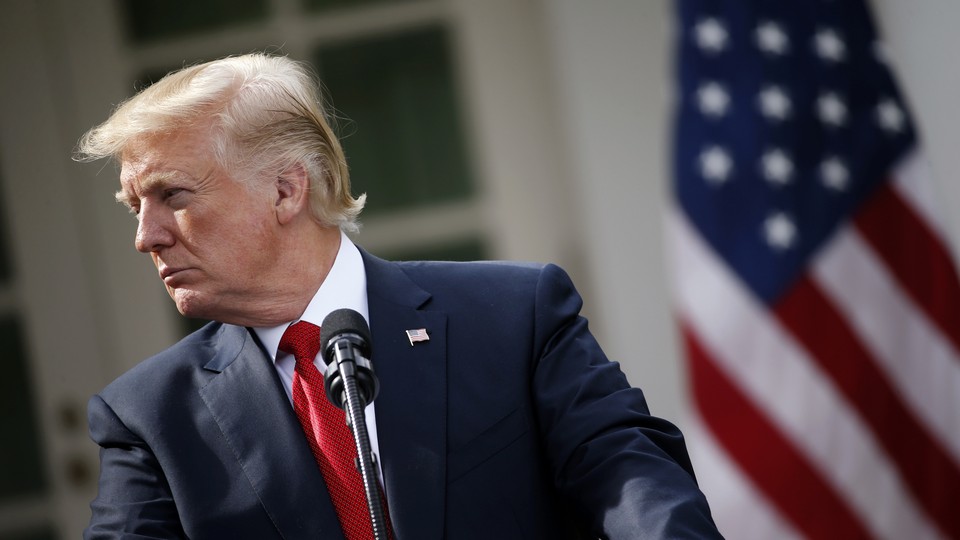 What We're Following
Rushed Condolences: President Trump contradicted the account that Sergeant La David Johnson's widow gave of their conversation about her husband's death, reigniting the controversy over his condolences for grieving military families. The debate began when Trump falsely claimed that he had called "virtually all" the families of service members who had been killed during his time in office, setting off an apparent scramble to back up the president's claim. Relatives of service members who were killed months ago told The Atlantic that they received rush-delivered letters from Trump immediately following his comments last week. And White House Chief of Staff John Kelly gave a deeply personal speech that implied there was a worrying divide between civilians and the military, writes Eliot A. Cohen.
Consent and Power: Among the many women who have come forward with allegations of sexual harassment and abuse against the producer Harvey Weinstein, the actor Brit Marling shares her experience, and describes how economics play into Weinstein's abuse of power. Through a spokesperson, Weinstein told The Atlantic that he "has a different recollection of the events," a response that marks a notable shift from his expressions of regret when the cascade of allegations began.
Czech Elections: The Czech Republic held parliamentary elections this weekend, choosing Andrej Babis and his ANO party—characterized by their antiestablishment, anti-immigration views—to lead. Babis may have had some help from an "alternative news" site that published sensationalized, polarizing stories in the lead-up to the election.
---
Snapshot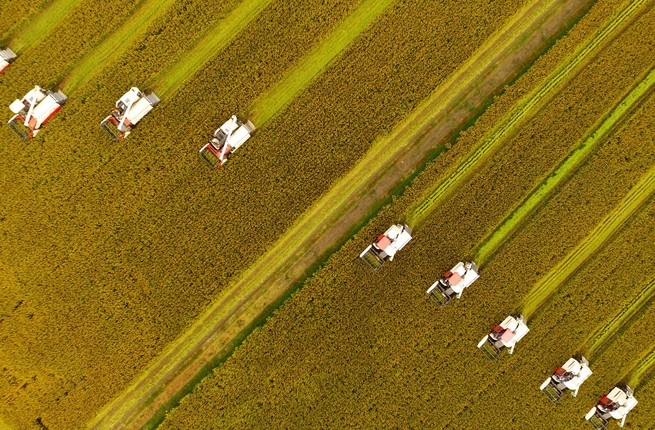 ---
Evening Read
Molly Ball follows members of Third Way, a center-left think tank, on a postelection listening tour:
The trip was predicated on the optimistic notion that if Americans would only listen to each other, they would find more that united than divided them. This notion—the idea that, beyond our polarized politics, lies a middle, or third, path on which most can come together in agreement—is Third Way's raison d'être. It is premised on the idea that partisanship is bad, consensus is good, and that most Americans would like to meet in the middle.

But these are not uncontested assumptions. And, three days into their safari in flyover country, the researchers were hearing some things that disturbed them greatly—sentiments that threatened their beliefs to the very core.
Keep reading here for what happens when liberal anthropologists go in search of a new understanding of America.
---
What Do You Know … About Education?
A person's experience with education can come down to the sum of choices—up to a point. A new study suggests that parents in New York choose "good" schools on the basis of the number of high-achieving students enrolled, often at the expense of the strengths of the schools themselves. Melinda D. Anderson asks whether incidents of racism on college campuses could start to affect black students' enrollment decisions. And a new, unusually humble memoir sheds light on the experience of teaching, acknowledging that even a teacher's best choices can't always alter the course of a student's life.
Can you remember the other key facts from this week's education coverage? Test your knowledge below:
1. Since 1960, the number of women's colleges in the U.S. has dropped from ____________ to about three dozen.
Scroll down for the answer, or find it here.
2. The ____________ bill, signed into California law in 2014, outlined rules for college students to engage in ongoing agreement during sex.
Scroll down for the answer, or find it here.
3. To help kids cope with the aftermath of ____________ in Sonoma County, California, classrooms will include designated areas called "cozy spaces" where students can sit quietly.
Scroll down for the answer, or find it here.
---
Look Back
Madame Chiang Kai-shek, the former first lady of the Republic of China, died on this day in 2003. In May 1942, as her nationalist government was fighting against both Chinese Communists and Japanese invaders, she described her hopes for China's future in The Atlantic:
Considering what China has already accomplished in the face of heartbreaking obstacles, we confront the future with calmness and confidence. The difficulties before us are stupendous; but with the help, from our sister democracies, of technique and capital, which we have proved we deserve, we have no doubt we can solve our problems. The fortune of war has brought China for the first time abreast of the great powers. We have won our place in the front rank by our prolonged and unyielding resistance to violence. We shall keep it by playing a major part in building a better world.
Read more here, and read James Fallows on what's next for China here.
---
Reader Response
After Gillian B. White wrote about new regulations designed to curb predatory payday loans, the discussion group of Atlantic readers known as TAD considered what options might replace those loans for consumers. This reader speaks from experience:
Heavily regulated payday loans (no rollovers ever, low dollar limits, a required cool-off period between when a loan is paid off and when you can take out a new one, extended repayment periods) are not the worst thing in the world. Florida is (surprisingly) a good example of a state that's reduced the predatory nature of the industry here, and as someone who's been overdrawn, creditless, and desperate before, I'd do it again in that situation. It's an option when there are no other options.

But they are still expensive. The real solution, I think, needs to involve getting underbanked people into relationships with banks or credit unions, the difficulties of which are detailed in the article. I personally used my last payday loan to take out a small secured line of credit with a major bank, which has changed my entire financial outlook. It's obviously not something that I would recommend as like "Yeah, this is a great idea!" but it worked for me, and there has to be a way out for people who are stuck in a cycle of predatory loans and repayments.
Some debtors file for bankruptcy to get out of such a cycle—but when they do, bad legal advice can leave them trapped and even magnify their debt. Read more here.
---
Verbs
Fox licked, groceries reimagined, resilience built, happiness found.
---
Time of Your Life
Happy birthday to Penny's son Sam (twice the age of YouTube); to Susan (a year younger than human spaceflight); to Fran's brother Rick (18 years older than the Voting Rights Act); and to Mary's granddaughter Anna, who shares a birthday with Mandy and Simon's son Jack (both are too young for the timeline, but just the right age to discover a supernova).
From yesterday, happy birthday to Michael's son Mason (13 years older than Mean Girls); to Marissa's sister Saskia (twice the age of Wikipedia); to Nancy's sister (the same age as televised presidential addresses); to Katie's brother Kip (twice the age of Macintosh computers); and from Shei to Marie (the same age as the National March on Washington for Lesbian and Gay Rights).
Do you or a loved one have a birthday coming up? Sign up for a birthday shout-out here, and click here to explore the Timeline feature for yourself.
---