The Atlantic Daily: After Las Vegas
The horrific mass shooting at a music festival, Trump's Twitter attack on Tillerson, Catalonia's independence referendum, and more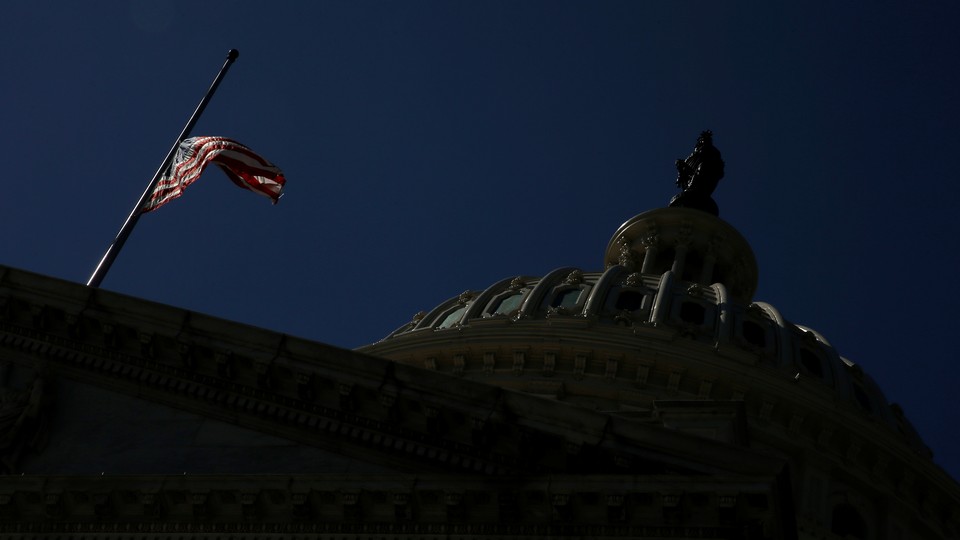 What We're Following
Las Vegas: At least 58 people are dead and more than 500 are wounded after a shooter opened fire on the crowd at a country-music concert from the upper floors of a Las Vegas hotel. The motives of the suspected shooter, Stephen Paddock, are still unknown, and though the Islamic State claimed credit for the shooting, there's no evidence he was connected with the group. He did, however, use tactics that have become familiar among perpetrators of mass violence. President Trump delivered an unusually sober speech, calling the shooting "an act of pure evil" and avoiding speculation about its motives. As Americans grieve, the tragedy is underscored by the knowledge that this will happen again, James Fallows writes.
Twitter Criticism: In a series of tweets over the weekend, Trump accused the mayor of San Juan of "poor leadership" and attacked the press for critical coverage of his administration's response to Hurricane Maria in Puerto Rico, where many residents are still lacking food, water, and electricity. He also went after his own Secretary of State, Rex Tillerson, claiming Tillerson "is wasting his time" in diplomacy with North Korea. In the face of humiliation from his boss and with the nation's safety in the balance, it's time for Tillerson to resign, Eliot A. Cohen argues.
Team Trump: Members of the right-wing alternative media have formed a super PAC with the goal of backing anti-establishment congressional candidates in next year's Republican primaries. But in the wake of Alabama's special-election primary, in which Trump's endorsement failed to bring a victory for Luther Strange, it's unclear how far any voice can control the populist movement. Meanwhile, as the investigation into Trump's former campaign chair Paul Manafort continues, emails obtained by The Atlantic shed light on how Manafort may have attempted to use his position in the campaign to impress a Russian oligarch tied to the Kremlin.
---
Snapshot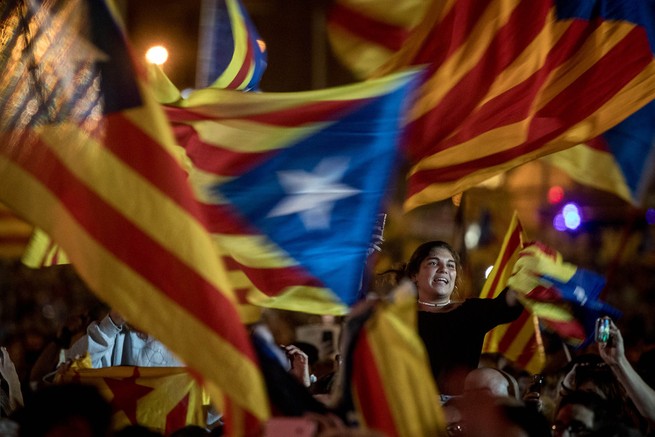 ---
Evening Read
Alexis C. Madrigal on the misinformation that spread in the wake of the Las Vegas shooting:
In the crucial early hours after the Las Vegas mass shooting, it happened again: Hoaxes, completely unverified rumors, failed witch hunts, and blatant falsehoods spread across the internet.

But they did not do so by themselves: They used the infrastructure that Google and Facebook and YouTube have built to achieve wide distribution. These companies are the most powerful information gatekeepers that the world has ever known, and yet they refuse to take responsibility for their active role in damaging the quality of information reaching the public.
Keep reading here, as Alexis details why algorithms aren't up to handling breaking news.
---
What Do You Know … About Education?
This was a week of challenges to some core assumptions about education. Conversations about college access often gloss over rural students, but their college-enrollment rates are some of the lowest in the U.S. Research continues to suggest that education is not the biggest factor in economic mobility, despite cultural narratives to the contrary. And public-school students told Magdalena Slapik, a photojournalist, what they expect out of their educations, revealing a surprising range of reasons that kids see a point in going to school.
Can you remember the other key facts from this week's education coverage? Test your knowledge below:
1. A 2015 This American Life episode called "____________ Miles" told the story of a Bronx public-school student who gets discouraged when she visits an elite private school nearby.
Scroll down for the answer, or find it here.
2. Seventy percent of kids stop playing sports by age ____________.
Scroll down for the answer, or find it here.
3. Fewer than ____________ in five rural adults aged 25 and older have college degrees, according to the U.S. Department of Agriculture.
Scroll down for the answer, or find it here.
---
Look Back
The first Peanuts comic strip was published on this day in 1950. As Sarah Boxer noted in our November 2015 issue, its storyline was surprisingly dark:
The first strip, published on October 2, 1950, shows two children, a boy and a girl, sitting on the sidewalk. The boy, Shermy, says, "Well! Here comes ol' Charlie Brown! Good ol' Charlie Brown … Yes, sir! Good ol' Charlie Brown." When Charlie Brown is out of sight, Shermy adds, "How I hate him!" In the second Peanuts strip the girl, Patty, walks alone, chanting, "Little girls are made of sugar and spice … and everything nice." As Charlie Brown comes into view, she slugs him and says, "That's what little girls are made of!"

Although key characters were missing or quite different from what they came to be, the Hobbesian ideas about society that made Peanuts Peanuts were already evident: People, especially children, are selfish and cruel to one another; social life is perpetual conflict; solitude is the only peaceful harbor; one's deepest wishes will invariably be derailed and one's comforts whisked away; and an unbridgeable gulf yawns between one's fantasies about oneself and what others see.
Read more here.
---
Reader Response
David Dennis Jr., a lifelong New Orleans Saints fan, wrote about choosing to stop watching football in support of Colin Kaepernick's kneeling protest—and about how other fans are boycotting the NFL for the exact opposite reason. This reader has a reason of his own for not watching:
The league's epidemic of brain trauma was the straw that broke my camel's back. Perhaps I'm being irrational, but I felt that my support of the game was somehow complicit in the scourge. The stories of the mental and physical and social deterioration of these athletes were too much. So I pulled the plug.

The NFL has a lot of things to fix about the game; I hope they do so, because the game still has a lot to offer.
More readers on the ethics of football fandom here.
---
Verbs
Rockslides triggered, sports shunted aside, communities honored, mayonnaise disrupted.
---
Time of Your Life
Happy birthday to Mimi (a year younger than The Godfather); from Ky to Byron (the same age as the UN General Assembly); to Mazelle's best friend Lucy (twice the age of Twitter); from Polly to Andy (a year younger than Harry Potter); and to our art director, Paul (one-fifth the age of The Atlantic).
From yesterday, happy birthday to Neva (the same age as CDs); to Patricia (twice the age of Wikipedia); to Penny's son Sean (born around the time East and West Germany reunited); to Jasmin (a year younger than the World Wide Web); to Christina's son Ben (twice the age of iPhones); and from Matthew to Caroline, who at 4 is too young for the timeline, but just old enough to learn particle physics.
Do you or a loved one have a birthday coming up? Sign up for a birthday shout-out here, and click here to explore the Timeline feature for yourself.
---