The Atlantic Daily: Kelly Speaks
The White House chief of staff's defense of Trump, what wildfires mean for California winemakers, a catfishing story with a happy ending, and more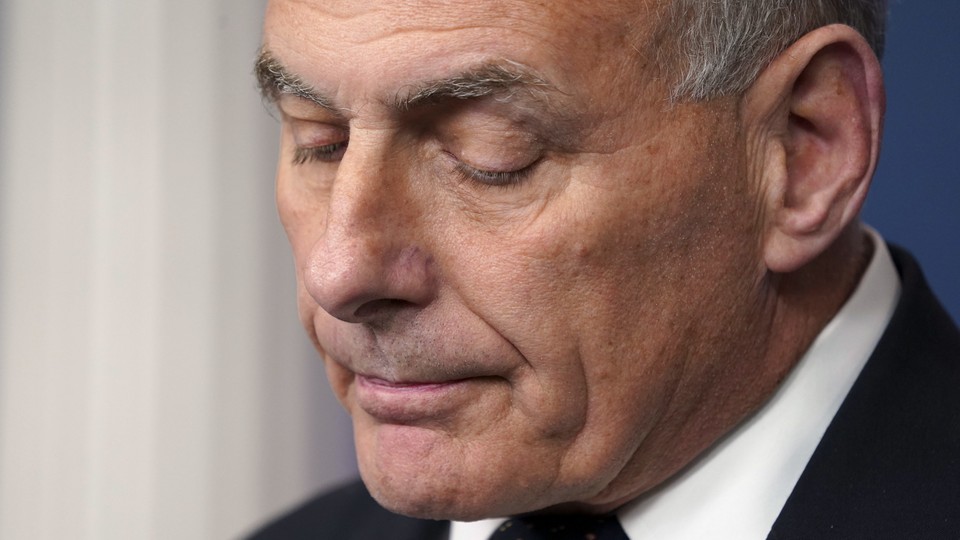 What We're Following
Political  News: Amid controversy over President Trump's condolences for fallen soldiers' families, White House Chief of Staff John Kelly gave a deeply personal defense of the president, condemning those who politicize military deaths—but implicitly criticizing Trump, who started the scandal by doing just that. And California Governor Jerry Brown has vetoed a bill that would have made Obama-era federal guidance on campus sexual assault into state law, becoming an unexpected ally for the Trump administration's effort to change these policies.
Environmental Threats: As deadly wildfires continue to burn in Northern California, their destructive effects will be felt not only in lives lost and property decimated, but also by businesses and the workers they employ: The fires are a major threat to the wine industry that anchors the region's economy. Meanwhile in western Germany, scientists found an 80 percent decline in flying insect populations over the last 30 years, pointing to a potential crisis for other species—including humans.
Tech Troubles: Facebook and Google's push to personalize news is transforming the media landscape, not to mention the way their users see the world—but the tech companies won't admit the influence they have, writes TheAtlantic.com's editor Adrienne LaFrance. And an internet tale with a happier ending: A woman in London was catfished by a stranger on an online dating site, only to find love with the model whose identity he'd stolen. Read their story here.
---
Snapshot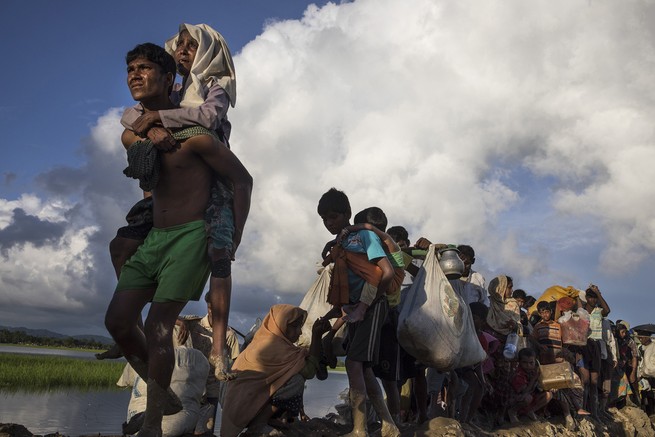 ---
Evening Read
Eli Cook on how money became the measure of human well-being:
Money and markets have been around for thousands of years. Yet as central as currency has been to so many civilizations, people in societies as different as ancient Greece, imperial China, medieval Europe, and colonial America did not measure residents' well-being in terms of monetary earnings or economic output.

In the mid-19th century, the United States—and to a lesser extent other industrializing nations such as England and Germany—departed from this historical pattern. It was then that American businesspeople and policymakers started to measure progress in dollar amounts, tabulating social welfare based on people's capacity to generate income. This fundamental shift, in time, transformed the way Americans appraised not only investments and businesses but also their communities, their environment, and even themselves.
Keep reading here, as Cook traces the logic of money back through American history.
---
What Do You Know … About Global Affairs?
China's investment in massive infrastructure projects abroad is rapidly turning it into the world's most extensive commercial empire. Encouraged by the waning American influence in Southeast Asia, it is expanding its footprint in the region, emboldening autocratic leaders from Malaysia to Cambodia with its policy of noninterference. But China's investments don't necessarily benefit its trading partners: This week, U.S. Secretary of State Rex Tillerson warned the Indo-Pacific region against falling for China's "predatory economics," in which China provides loans to vulnerable developing countries for infrastructure projects that they struggle to repay.
Can you remember the other key facts from this week's global coverage? Test your knowledge below:
1. A textile researcher at Uppsala University in Sweden claims to have discovered Muslim symbols in ancient burial clothes from the ____________ culture.
Scroll down for the answer, or find it here.
2. British parliamentarians have proposed a total of ____________ amendments to the bill that would lay out the U.K.'s withdrawal from the EU.
Scroll down for the answer, or find it here.
3. The ripple effects from sexual assault allegations against Harvey Weinstein have reached France, where a Twitter campaign similar to #MeToo seeks to raise awareness with the hashtag #____________.
Scroll down for the answer, or find it here.
---
Urban Developments
Our partner site CityLab explores the cities of the future and investigates the biggest ideas and issues facing city dwellers around the world. Gracie McKenzie shares today's top stories:
For more updates from the urban world, subscribe to CityLab's daily newsletter.
---
Reader Response
In our November issue, Andrea Wulf argues that Henry David Thoreau's journal is his greatest masterpiece. This reader is not a fan:
I've despised this "sanctimonious beatnik" (as P.J. O'Rourke put it) since I was forced to read him in high school. He hardly roughed it, often going to dinners and parties in town, and he sent his laundry out to be cleaned (he'd inherited a successful pencil factory from his dad).
A different reader defends Thoreau:
I believe that Emerson's and Thoreau's journals are some of the most important American contributions to literature. They are formally important as well as substantively important. They bring life and art into a spiritual unity. They establish a world of cross-references across a lifetime. They give readers an experience of the profound effort to put life into words, and to give words life. They prove, to me, that to achieve the kind of self that these journals make possible is also to achieve a self that is most open to experience, most open to what is not self. I need to read them again now.
Read more on Thoreau's best and worst qualities here, and watch an animated interview with David Sedaris on the value of journaling here.
---
Verbs
War outlawed, trash mastered, neutron stars animated, French president rebranded.
---
Time of Your Life
Happy birthday to Nikki (born around the time Sputnik I was launched); to Carmen's son Jake (a year younger than the euro); to Brenda (twice the age of The Simpsons); and to Andrea's husband, Christoph (the same age as NASA).
Do you or a loved one have a birthday coming up? Sign up for a birthday shout-out here, and click here to explore the Timeline feature for yourself.
---