The Atlantic Daily: Messaging Concerns
Trump's call to a soldier's widow, Obama's foreign-policy legacy, the systems that covered up Weinstein's abuse, and more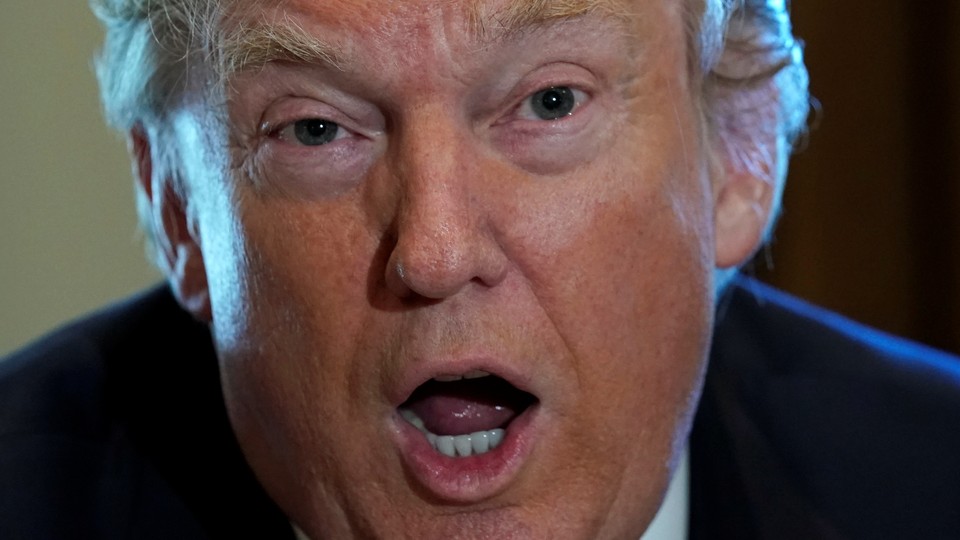 What We're Following
Presidential Messages: President Trump's responses to the deaths of servicemembers are under scrutiny after he boasted he was more conscientious about calling grieving families than his predecessors; the family of La David Johnson, a soldier killed this month in Niger, says the president's condolences were disrespectful and insensitive. Meanwhile, Trump is sending conflicting messages about a bipartisan health-care agreement aimed at stabilizing the Obamacare market: Though he initially seemed to praise the deal, he's now tweeted that he can't support it.
Foreign Policy: While some of Trump's policies have been aimed at reversing Obama's achievements overseas, he's not to blame for all the developments undercutting the former president's legacy. Take Burma: The Obama administration worked to encourage democratic developments there, but reduced international pressure may have emboldened the country's military to turn back to its past of atrocities.
The Power of Information: In the wake of the allegations that the producer Harvey Weinstein abused multiple women over a period of decades, some right-wing pundits have accused the mainstream media of failing to expose Weinstein as a predator. But as Conor Friedersdorf writes, these pundits' news organizations can't replace the ones they critique. What enabled Weinstein's abuse to continue? Nondisclosure agreements and other legal rules can discourage employees from speaking up about harassment, even when they're protected by labor laws. Social media, though, can help raise awareness of the widespread problem of sexual assault—and in France, the Weinstein scandal has sparked a powerful conversation.
---
Snapshot
---
Evening Read
Vann R. Newkirk II reports from Puerto Rico:
Three weeks after the storm, the tropical green was just starting to come back, sprouting over the brown wounds of mud and giant trees pulled up from their roots. Here in Arecibo, a small municipality about 40 minutes from San Juan on a good day, high-water marks from the flood stood out on building walls, seven or eight feet high. Obliterated houses marked the deserted hamlets along the road. Smokestacks had been snapped in half and wires lay slack where giant power pylons had fallen. The Río Grande de Arecibo that cuts through the municipality remained an swollen brown expanse, still threatening to drown bridges and homes. Arecibo was a ghost town.

But [Myrna] Conty's dismay was also about the destruction that couldn't be seen. For Conty, an old-guard environmental warrior in the countryside, Arecibo had been one of the key battlegrounds in her groups' fights to contain poisons that affect much of Puerto Rico. But all of the signs around us showed that the battle had been—at least for now—lost. Across the island, residents already beset by water and food shortages are also facing real threats of contamination that have already spread illness and worse. "All of this is just the beginning," Conty said. "This is catastrophic."
Keep reading here, as Vann outlines the environmental crisis that Hurricane Maria set in motion.
---
What Do You Know … About Science, Technology, and Health?
After President Trump signed an executive order on health care that might expand short-term plans and association plans—types of insurance with fewer benefit requirements than those sold on the Obamacare exchanges—Olga Khazan tested out short-term insurance for herself. The plans were cheaper than Obamacare and had similar deductibles, but didn't cover preexisting conditions or basic needs like allergy shots. The White House also announced that it will stop subsidizing insurers' coverage of low-income customers, an Obamacare feature known as cost-sharing reductions. Because the tax-credit system on the individual market remains unchanged, it turns out that people who weren't subsidized are most likely to see their premiums go up.
Can you remember the other key facts from this week's science, tech, and health coverage? Test your knowledge below:
1. Dogs ____________ with humans better than they do with each other.
Scroll down for the answer, or find it here.
2. Astronomers theorize that precious metals like gold come from enormous explosions in space called ____________.
Scroll down for the answer, or find it here.
3. Frances Glessner Lee became famous for her detailed dioramas of ____________ scenes.
Scroll down for the answer, or find it here.
---
Look Back
The abolitionist John Brown's raid on a federal armory in Harper's Ferry, Virginia, came to an end on this day in 1859, when Brown and his men were overpowered by U.S. marines. In our December 1875 issue, F.B. Sanborn described the aborted revolt:
When Virginia awoke on that October morning, the haughty commonwealth, mother of presidents and of slaves, beheld a gray-bearded old man, wearing the sword of Washington, standing amid the broken fetters of Virginia slaves, with a town of three thousand Virginians, white and black, at his mercy. No wonder that people went wild with terror and rage at the spectacle. ...

For twelve hours he held the town at his mercy; after that he was firmly caught in the trap he had entered, and the defeat of his foray was only a question of a few hours' time. He drew back his shattered forces into the engine-house near the armory gate, soon after noon, but neither his men at the rifle works, nor those at the arsenal across the street, nor his son Owen, on the Maryland side of the Potomac, could join him. He fought bravely, and so did Kagi and his few men on the bank of the Shenandoah, but the latter were all killed or captured before the middle of the afternoon, and at evening, when Colonel Lee arrived from Washington with a company of United States marines, nothing was left of Brown's band except himself and six men, two of whom were wounded, in his weak fortress, and two unharmed and undiscovered men, Hazlett and Osborn Anderson, in the arsenal not far off. His enterprise had failed, and apparently through his own fault.
---
Reader Response
After Brian Alexander described the national problems that stem from the loss of small-town communities, this reader argues that car-oriented sprawl is a big part of the problem:
The illusion of auto-based suburbia is that the suburbanite thinks he's getting the best of both worlds—the city, urban sophistication and amenities, and the country with open fields and forests—but he ends up getting neither. But it's not the automobile in and of itself that is the problem. Rather, it's how we build around it, with endless—and unnecessary—man-made dead ends (cul-de-sacs) that ironically create not only horrendous car traffic for the greater area, but also facilitate isolation, disconnection, and the loss of that "sense of community."

We should go back to building on grids, using cul-de-sacs only when topography demands them, with mixed-use zoning; sidewalks that go somewhere worth walking to; smaller front yards with shady avenues and parallel parking; and real "green space" (modestly sized public squares and greens, commons, etc.).
If you have street design ideas of your own, there's an app for that.
---
Nouns
Blue blooms, Viking couture, environmental showdown, transformative silence.
---
Time of Your Life
Happy birthday to Nora and Maria's sister (the same age as the commercial transistor radio); to Margaret Ann's son Daniel (a year younger than The Simpsons); to Ikram's brother Salah (twice the age of Instagram); to Chloe's brother Quincy (a year younger than Google); to Julie (a year younger than Sesame Street); and to Katie's youngest son, Bennett (twice the age of YouTube).
Do you or a loved one have a birthday coming up? Sign up for a birthday shout-out here, and click here to explore the Timeline feature for yourself.
---