The Atlantic Daily: Agenda Items
Trump's progress on his goals, the distraction of a D.C. scandal, the suicide bombings in Somalia, and more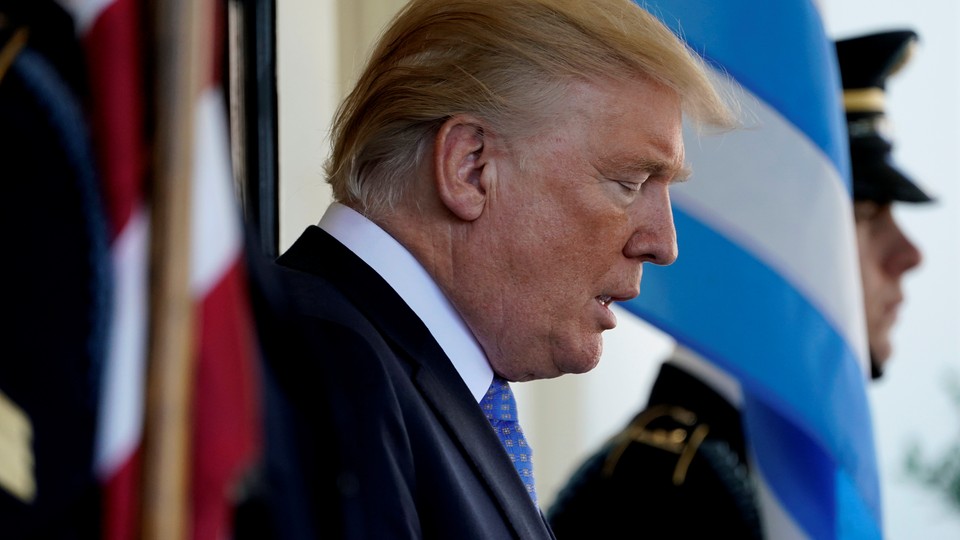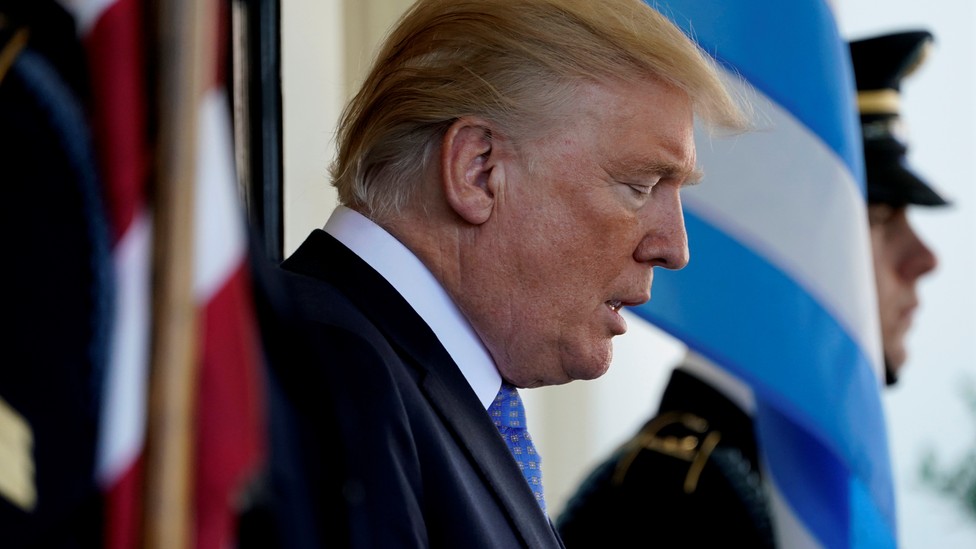 What We're Following
Trump's Agenda: The Dow Jones Industrial Average hit 23,000 for the first time today, after an extended upswing for which President Trump has frequently claimed credit. But presidents don't have much control over stock markets' success, and Trump has yet to implement many of the business-friendly policies he's promised. Indeed, he's been more successful in dismantling policies than creating them—though even his signature effort to repeal and replace Obamacare remains incomplete. A week after Trump caused outrage by canceling insurance subsidies for low-income patients, two senators have reached a bipartisan deal to restore them. Will it pass?
Overseas Involvement: This week, Trump deflected a question about the deaths of four U.S. soldiers killed in Niger by accusing former President Obama of failing to console the families of fallen service members—including former General John Kelly, whose son was killed in Afghanistan in 2011. The accusation led to a volley of contradictory leaks from the two administrations, and exemplified Trump's ability to steer the news cycle away from tougher questions—in this case, what happened to the soldiers, and what they were doing in a country where the U.S. is not formally at war. What should the American military's role be overseas? Senator John McCain is among the many voices criticizing Trump's isolationist rhetoric—but as Peter Beinart writes, the interventionist policies McCain has championed are part of what brought Trump to power.
Somalia's Crisis: Somalia's government is struggling to restore security after a pair of suicide bombings on Saturday killed hundreds of people in Mogadishu, the country's capital. Though no organization has claimed responsibility for the attack, the al-Qaeda-affiliated group al-Shabaab is likely responsible—and may have obtained explosives from U.S.-backed peacekeeping forces, suggesting that the U.S. must change its approach to prevent more bloodshed.
---
Snapshot
---
Evening Read
Megan Garber reviews Ivana Trump's new parenting memoir, Raising Trump:
Nietzsche, in a fur-lined ski parka: Ivana Trump, she suggests, like her ex-husband, is extremely interested in strength, in endurance, in notions of excellence both genetically endowed and fostered through stubborn force of will. Again and again in Raising Trump, via the woman who refers to herself unironically as "our family's supreme leader," is the Trumpian vision laid bare: a world of zero-sum stakes—a world populated by winners and losers, by those who work hard and get what they deserve and those who do not and get the same. Ivana was raised (secretly) Catholic; in her person, however—and in the values she shares with her ex-husband, and proudly claims to have instilled in her children—swirls the exhaust of the Protestant ethic. Success, in this vision, is a moral state. So is its opposite.
Keep reading here, as Megan considers what the book reveals about the presidential family and its values.
---
What Do You Know … About Business?
It may be a particularly American solution to throw money at a problem until it goes away, but the strategy didn't work for the U.S. men's soccer team, which was knocked out of World Cup contention last week despite far outspending its opponent, Trinidad and Tobago. Other schemes show it's less about the amount of money and more about how you use it: In Seattle, voters have approved tax-funded transit plans that use targeted improvements to significantly increase bus ridership and lower emissions. Still, there's a cost to spending cuts: Though Midwestern public universities conduct a large share of the country's critical research, flagging government funding, as well as Trump's proposed cuts to federal research programs, are putting them—and the economies they support—in an especially precarious position.
Can you remember the other key facts from this week's business coverage? Test your knowledge below:
1. An 1835 news hoax tricked many Americans into believing that ____________ lived on the surface of the moon.
Scroll down for the answer, or find it here.
2. The term mentor comes from a scene in ____________, in which the goddess Athena visits a character in disguise to grant him wisdom.
Scroll down for the answer, or find it here.
3. ____________, the author of The Hitchhiker's Guide to the Galaxy, also wrote the script for the satirical 1987 video game Bureaucracy.
Scroll down for the answer, or find it here.
---
Urban Developments
Our partner site CityLab explores the cities of the future and investigates the biggest ideas and issues facing city dwellers around the world. Gracie McKenzie shares today's top stories:
The costs of traditional car ownership go far beyond the price tag—which is why, these researchers say, if you drive less than 10,000 miles per year, you might be better off not owning one.

"The truth is, America is now sited within the cities, and we're never going back ... we're either going to figure it out or we're going to fail as a society." Here's why David Simon, creator of HBO's The Wire and now The Deuce, is so fascinated by cities.

The Democratic Party's overwhelming advantage in most big cities may help give it a competitive showing in a near-parity Congress. But former D.C. Mayor Anthony Williams says that one-party rule isn't great for city residents.
For more updates from the urban world, subscribe to CityLab's daily newsletter.
---
Reader Response
After the director Martin Scorsese blamed movie-ratings aggregators like Rotten Tomatoes for dooming critically interesting movies, a reader weighs in:
I suspect there's always been a relatively small audience for the type of films that Scorsese has in mind, and I'm not sure this would change even if you eliminated the ratings aggregators. Having said that, I feel like the these aggregators and the internet (including its democratizing effects) have undermined whatever value the general public may have had for seeing movies that aren't easily consumed. Maybe I'm wrong, but moviegoers don't need to rely on critics to decide on which movies to see. The value of good film critics is that they would not only identify movies that were entertaining, but also movies that were good based on a set of aesthetic standards. Why see movies that are not instantly entertaining—that is, movies that may be difficult for viewers, in a variety of ways? To answer this question, we need a champion of cinema who can provide a persuasive answer to general moviegoers.
Read David Sims on what Scorsese's complaint gets right.
---
Verbs
Discovery Slacked, world reshaped, calories quantified, future remembered.
---
Time of Your Life
Happy birthday to Nick (a year younger than Keynesian economics); to Corinne (born the same year East and West Germany reunited); to Jeancarla's little sister Lupita (a year younger than American Idol); to Ellee's friend Bo (twice the age of YouTube); and to Gail's spouse, Dan (a year younger than sliced bread).
Do you or a loved one have a birthday coming up? Sign up for a birthday shout-out here, and click here to explore the Timeline feature for yourself.
---