The Atlantic Daily: Clashes and Crashes
Trump and McConnell make amends, Harvey Weinstein is expelled from the Academy, two neutron stars collide, and more.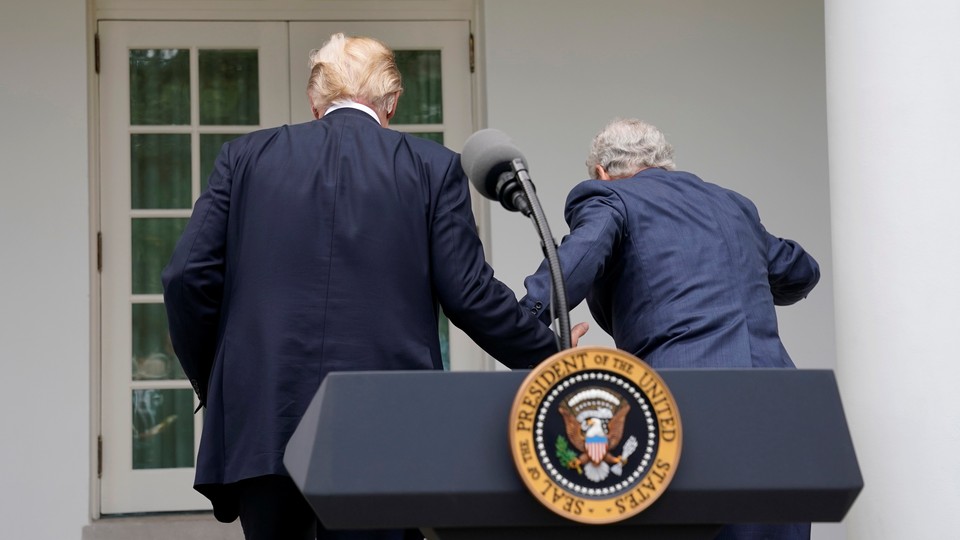 What We're Following
Political Rifts: President Trump and Senate Majority Leader Mitch McConnell held a press conference to affirm their commitment to working together, with the president asserting their relationship "has been outstanding." While Trump has attacked McConnell on Twitter over the Senate's failure to repeal and replace Obamacare, Republicans' slim majority in the Senate as they begin an effort to rewrite the tax code makes party unity particularly critical for their agenda. Meanwhile, the Senate is aging, and some younger lawmakers are calling for party leaders on both sides to make way for fresh ideas.
Weinstein's Disgrace: Harvey Weinstein has been expelled from the Academy of Motion Picture Arts and Sciences and his studio looks likely to shut down in the aftermath of allegations that the producer sexually assaulted and harassed dozens of women. The stories of Weinstein's abuse brought to light deep cultural problems in the film industry, where harassment can be normalized and ignored—yet as the stories of thousands of women who joined a #MeToo hashtag campaign powerfully illustrate, experiences of harassment and assault are by no means limited to Hollywood.
Cosmic Collision: Astronomers observed gravitational waves and visible light from two neutron stars that crashed together about 130 million light-years from Earth. It's the first time scientists have been able to see the source of gravitational waves—so far, all other detections of the phenomenon have come from colliding black holes—and the discovery lends support for several astronomy theories. One of these predicts that colliding neutron stars produce heavy elements such as gold, silver, and platinum; the collision that produced the waves would have yielded a plume of precious metals 10,000 times the mass of Earth.
---
Snapshot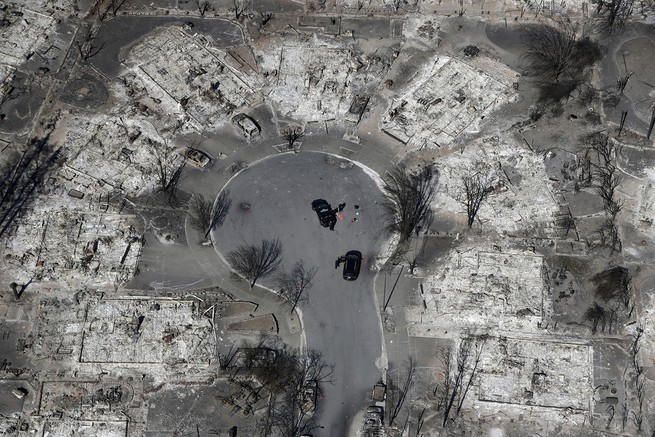 ---
Evening Read
Emily Schultheis on Austria's expected chancellor-elect, 31-year-old Sebastian Kurz of the traditionally center-right Austrian People's Party (ÖVP):
Since taking over as leader of the ÖVP barely five months ago, he worked to invest it with new ideas that will bring about change … By dragging the ÖVP sharply to the right on immigration and migration, his signature issue, he seeks to co-opt the political space previously monopolized by the [far-right] Freedom Party.

As traditional centrist political parties across Europe reel from historic losses, Kurz's strategy in Austria seems to have paid off. With his victory, he'll no doubt serve as an example for other ambitious young center-right leaders looking to rebuild support and come out ahead of their right-wing populist challengers. As a polished, anti-immigration millennial who successfully worked to remake his party, Kurz could be a sign of what's to come from the next generation of European leaders—one that is running and governing in a time of turbulent political change across the continent.
Keep reading  here, as Schultheis charts the rise of Kurz's new right-wing movement.
---
What Do You Know … About Education?
Schools juggle a wide array of pros and cons when they decide how to spend money and allocate resources. Towns and school districts are debating whether the practicality of artificial-turf fields outweighs potential health risks that are still under study. And colleges are borrowing billions for renovations and other improvements in the hopes of attracting more students, but experts warn that this won't be enough to combat declining college-enrollment numbers across the U.S.—and could even lead some schools to financial ruin.
Can you remember the other key facts from this week's education coverage? Test your knowledge below:
1. Education officials hope to have Puerto Rico schools reopened by ___________.
Scroll down for the answer, or find it here.
2. The North Carolina law that grants every student the right to an attorney in campus disciplinary hearings shares its initials with the fraternity ____________, whose members lobbied for the bill.
Scroll down for the answer, or find it here.
3. A nonprofit called Girls Code Camp teaches computer science to middle- and high-school girls in the country of ____________.
Scroll down for the answer, or find it here.
---
Look Back
The Cuban Missile Crisis began on this day in 1962. In our February 1963 issue, Walter Lippmann took stock of what the incident revealed about American nuclear policy:
We have begun to live in the first years of the nuclear age. Ours is an epoch when the rivalry of two great social orders includes a rivalry in nuclear arms. We were very conscious of that fact during the crisis over Cuba. For in Cuba there was, for the first time in history, the kind of grim and deadly confrontation which could have led to thermonuclear war. ...

Washington did not forget that while nuclear war would be suicidal lunacy, it is an ever-present possibility. Nuclear war will not be prevented by fear of nuclear war. For, however lunatic it might be to commit suicide, a great power, if it is cornered, if all the exits are barred, if it is forced to choose between suicide and unconditional surrender, is quite likely to go to war.
Read more here.
---
Reader Response
James Hamblin, a senior editor at The Atlantic and a former Eagle Scout, wrote about the benefits of admitting girls into the Boy Scouts of America. This reader is skeptical:
There isn't really a compelling reason in my mind that Boy Scouts should specifically NOT allow girls who want to join, but I don't really think this is any kind of victory for gender equality, because I don't think Boy Scouts as an organization is particularly prepared to serve the needs of girls. Girls already have access to a premier leadership development organization: It's called Girl Scouts. Even if a girl is interested in more traditionally masculine activities and presentation, Girl Scouts is going be a more supportive environment for that.

I'd be more excited if I found out that Boy Scouts was expanding its leadership development approach to include more empathy, interpersonal communication, collaboration, and community service. "Boy Scouts allowing girls now" is [the] kind of superficial "equality" victory that will do almost nothing for anyone in practice.
Read an interview with the former CEO of Girl Scouts on the mentors who shaped her career.
---
Verbs
Termite guts supercharged, bus travel maximized, crime scenes crafted, canine tasks accomplished.
---
Time of Your Life
Happy birthday to Melissa (a year younger than Star Trek); to Cynthia's friend (the same age as the commercial transistor radio); to Carol's son Finn (a year younger than Wikipedia); to Ruchama's daughter Francine (born around the time Martin Luther King Jr. won the Nobel Peace Prize); to Deirdre's daughter Darcy (twice the age of Microsoft Windows); from Connie to Meg (who was 22 when the Berlin Wall collapsed); and to Niki's daughter, who at 5 is too young for the timeline, but just the right age to start learning calculus. And best wishes in memory of Blynken's father (born the same year as Ella Fitzgerald), who would have been 100 today.
From yesterday, happy birthday to Jim (a year younger than human spaceflight); to John's daughter Jennifer (twice the age of texting); to Samuel's girlfriend, Ada (a year younger than Harry Potter); and to Marcia (the same age as the UN building in New York).
Do you or a loved one have a birthday coming up? Sign up for a birthday shout-out here, and click here to explore the Timeline feature for yourself.
---