The Atlantic Daily: Policy Preservation
Trump's decision on Iran, an attack on Obamacare, the future of coal, and more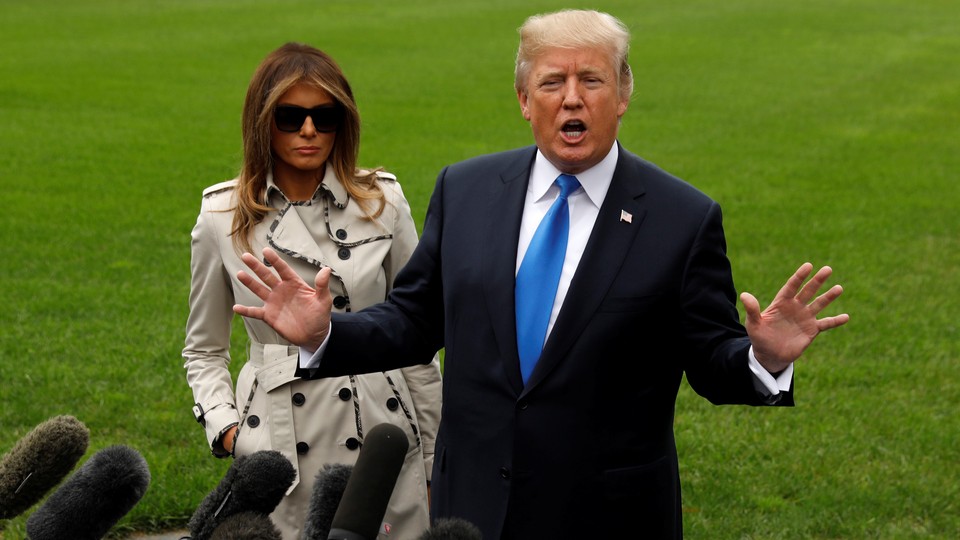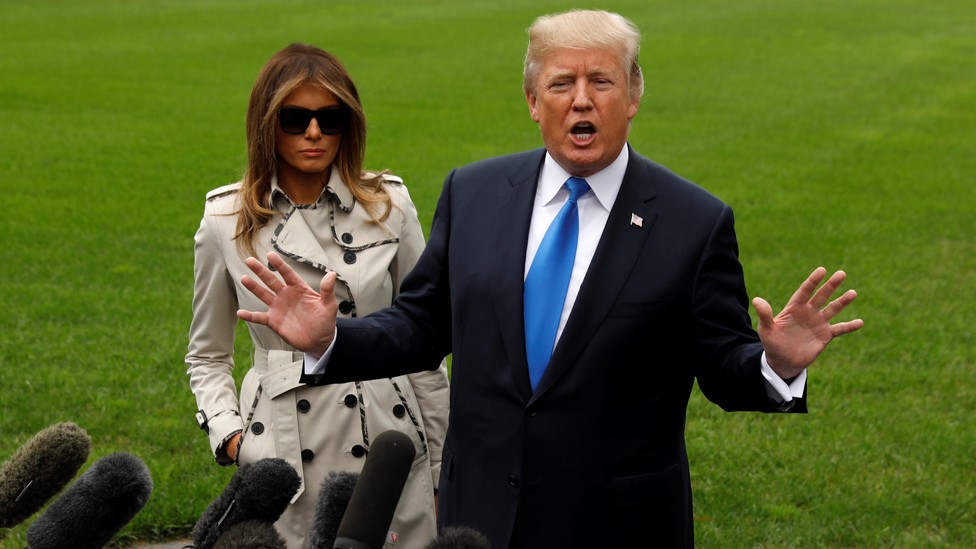 What We're Following
The Iran Deal: President Trump said the U.S. would stay in the nuclear accord with Iran for now, but declined to certify it, sending the legislation that covers the multilateral deal to Congress for review. Here's how the process will go from here. America's European allies criticized Trump's decision, expressing concern that the U.S. could undermine the strength of the deal and asserting their own commitment to stay in the pact. Decertification could give the U.S. a chance to fix some key flaws of the deal. Yet as David Frum writes, Trump's volatility makes it hard to trust that he'll execute on the policy he's set out.
A Blow to Obamacare: The federal government will no longer pay insurance subsidies to help reduce the costs of health care for poor customers covered under the Affordable Care Act. Ending the payments is the Trump administration's biggest attack on the legislation yet; it's likely to seriously destabilize insurance markets, and Trump may be gambling that the move will force Congress to act on its long-promised replacement for the ACA. Indeed, some senators say they're close to a bipartisan deal—but it's still not clear whether they can pull off the agreement.
Pollution Politics: Secretary of Energy Rick Perry is calling for government subsidies to save the coal industry, which has struggled as natural gas and renewable power sources form a greater part of the energy market. But it may well be better for the environment if the coal industry shuts down: Coal is a serious contributor not only to global warming, but also to toxic air pollution. For reference, see bird specimens from coal's 19th-century heyday.
---
Snapshot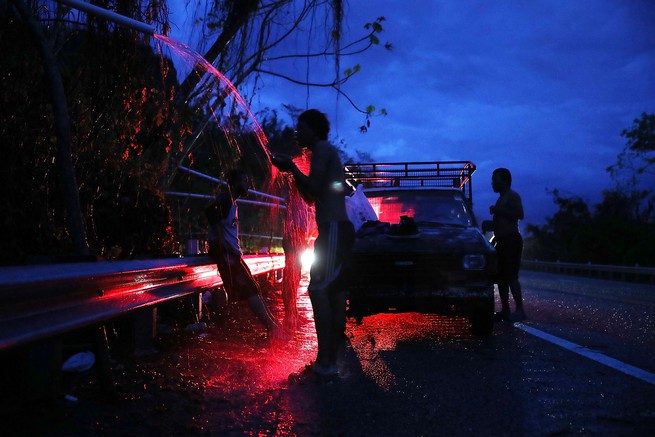 ---
Evening Read
Sam Kriss on the field of study known as extended cognition:
Broadly [this is] the theory that what we think of as brain processes can take place outside of the brain. In some cases, this isn't a particularly radical idea. The octopus, for instance, has a bizarre and miraculous mind, sometimes inside its brain, sometimes extending beyond it in sucker-tipped trails. Neurons are spread throughout its body; the creature has more of them in its arms than in its brain itself. It's possible that each arm might be, to some extent, an independently thinking creature, all of which are collapsed into an octopean superconsciousness in times of danger. Embodied cognition, though, tells us that we're all more octopus-like than we realize. Our minds are not like the floating conceptual "I" imagined by Descartes. We're always thinking with, and inseparable from, our bodies.
Keep reading here, as Kriss describes the wonder and strangeness of thinking with your body—or even with the world around you.
---
What Do You Know … About Culture?
Reports of sexual harassment by Harvey Weinstein continued to arise this week, with more than 30 women speaking up about their personal experiences and bringing publicity to the "open secret" of the producer's abuse. The initial report, from The New York Times, resulted in an apology letter from the Hollywood mogul, who misquoted Jay-Z as part of his defense. Now, a week later, Alex Wagner asks if these revelations will bring an end to the old boys' club that protects powerful abusers like Weinstein, Bill O'Reilly, and Bill Cosby, and Megan Garber examines why celebrities are able to avoid accountability in these situations.
Can you remember the other key facts from this week's culture coverage? Test your knowledge below:
1. In the Star Trek: Deep Space Nine episode "Past Tense," the main characters are transported to the year ____________.
Scroll down for the answer, or find it here.
2. Through Wednesday, relief pitchers had gotten ____________ more outs than starting pitchers in the MLB postseason.
Scroll down for the answer, or find it here.
3. In a new Steven Spielberg documentary, the filmmaker says the success of his movie ____________ changed his life.
Scroll down for the answer, or find it here.
---
This Week on Radio Atlantic
Derek Thompson and the Moonshot Factory: Few journalists have gotten a peek inside X, the secretive lab run by Google's parent company Alphabet. Its scientists are researching cold fusion, hover boards, and stratosphere-surfing balloons. Derek Thompson, a staff writer at The Atlantic, spent several days with the staff of X. In this episode, he tells Matt and Alex about what he found, and what it suggests about the future of technological invention. Listen and subscribe here.
---
Poem of the Week
From our July 1894 issue, "To-morrows and To-morrows" by Stuart Sterne—the pen name of the poet Gertrude Bloede:
To-morrows and to-morrows stretch a grey
Unbroken line of shore; but as the sea
Will fret and gnaw the land, and stealthily
Devour it grain by grain, so day by day
Time's restless waters lap the sands away,
Until the shrinking isle of life, where we
Had pitched our tent, wholly engulfed shall be,
And swept far out into eternity,
Some morn, some noon, some night, — we may not say
Just how, or when, or where! And then, — what then?
---
Reader Response
In our September issue, Jean Twenge asked: "Have Smartphones Destroyed a Generation?" The researchers Katie Davis, Emily Weinstein, and Howard Gardner push back:
Our research documents that youth can have distinctly different experiences on the same networked platforms; existing peer and family relationships and prior levels of well-being are among the many factors that converge to determine whether a teen has a positive or negative experience on Instagram, Snapchat, or iMessage. Cherry-picking studies overlooks more-nuanced accounts of teens and technology, as well as the reality that many youth have routinely positive experiences online. Giving in to the allure of simple narratives does a disservice to our young people and undercuts our ability to help them. Only through the deciphering of teens' complex relationship with technology can we fashion effective strategies for supporting them.
More reader letters, and Twenge's response, here.
---
Adjectives
Jumping genes, wonder women, classical mentorship, little black dress.
---
Time of Your Life
Happy birthday to Lisa's twin sons Henry and Stuart (a year younger than the euro); to P.G. (twice the age of the Disney Channel); to Tom's son Jonah (a year younger than The Oprah Winfrey Show); to Deb (the same age as the commercial transistor radio); to Laura (18 years older than the moon landing); to Deborah's husband, Joe (the same age as Hillary Clinton); and to Sarah's daughter Bridget, who at 9 is too young for the timeline, but just the right age to bowl a perfect game.
Tomorrow, happy birthday to Lesley's wife (twice the age of hip-hop records); to Lee (the same age as NASA); to Sally's husband, Peter (13 years older than The Partridge Family); to Tavia's son (a year younger than the International Space Station); to Colleen's husband, who shares a birthday with Matthew (both are 13 years older than Saved by the Bell); to Allena (the same age as the UN building in New York); to Debra (twice the age of Game Boys); from Irina to Vlad (13 years older than The Brady Bunch), her friend and the father of her child; to Lynne's best friend Judy (twice the age of CD players); to Rhea's best friend (twice the age of Twitter). Happy 100th birthday to Doug's mother, Virginia (born the same year as Ella Fitzgerald). And happy 92nd to Meg's uncle (a year younger than the Winter Olympics). Meg writes:
92 years well lived and celebrated. Here's to an amazing gentleman with a curious mind that continues to question, to acquire, and to appreciate knowledge gained!
Do you or a loved one have a birthday coming up? Sign up for a birthday shout-out here, and click here to explore the Timeline feature for yourself.
---