The Atlantic Daily: Presidential Restraint
What Republicans got wrong about Trump, the ongoing allegations against Harvey Weinstein, a setback to relief in Puerto Rico, and more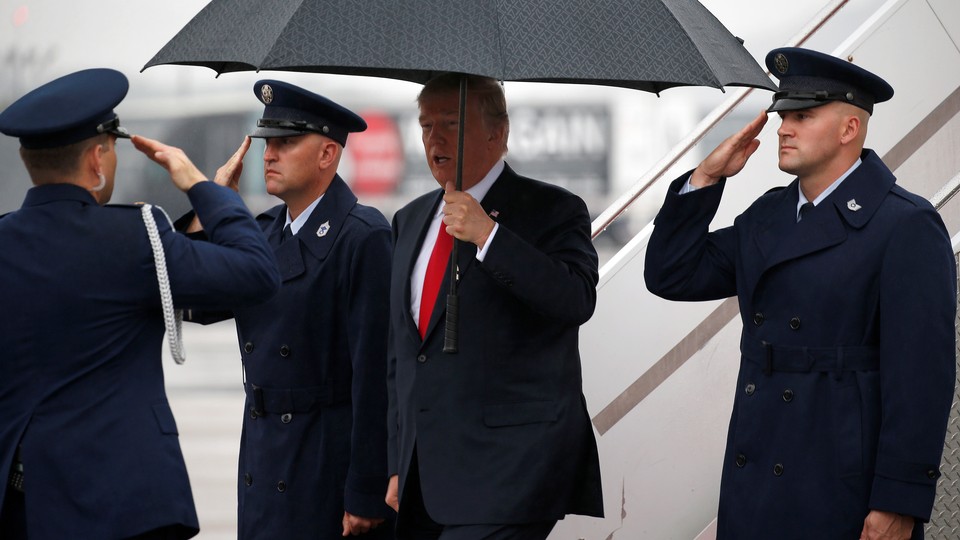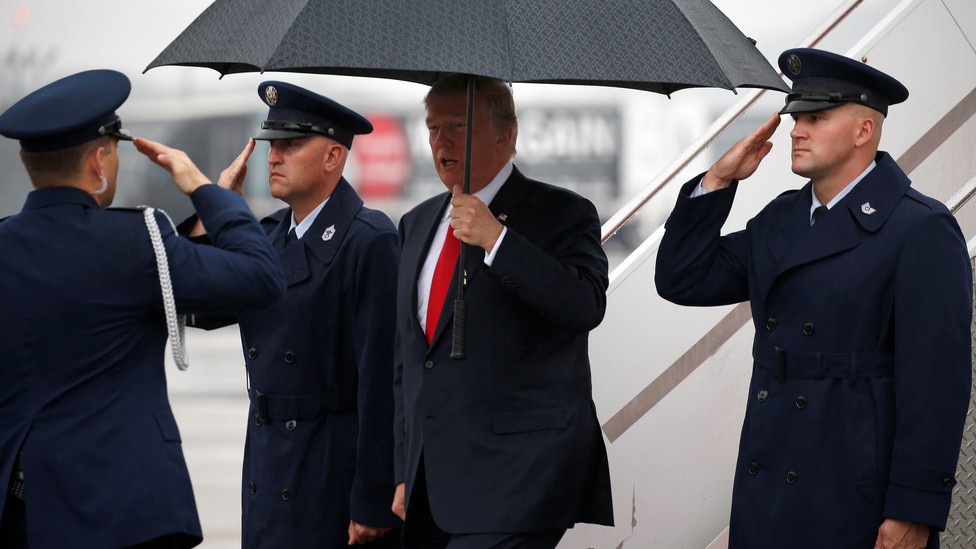 What We're Following
Profane Politics: The rapper Eminem delivered a scathing critique of President Trump during the BET Hip-Hop Awards, calling on Trump supporters among his own fans to reject the president. Though Eminem is by no means the only rapper to criticize the president, his history of giving offense across the political spectrum makes him an unlikely moral leader and an apt opponent for Trump, who's been criticized for vulgar language and unpresidential behavior. During the campaign, many Republicans believed Trump would learn to tone down his impulsiveness, but some of his behavior in office indicates they were mistaken—and is leaving his closest aides to cope by treating him like a child.
Sexual Harassment: The producer Harvey Weinstein is reportedly going to rehab for "sex addiction" after multiple women came forward with allegations that he had abused and harassed them. The stories span decades and describe Weinstein's behavior as an "open secret" in Hollywood, a term that, as Megan Garber writes, captures some of the same cynicism embodied in Weinstein's initial apology. Nor is film the only field to suffer from unchecked abuses; Boston University is investigating allegations that an Antarctic geologist harassed his students on remote research expeditions, where the effects of abuse can be magnified by scientists' isolation.
Puerto Rico: Recovery efforts from Hurricane Maria have been slowed after heavy rains fell on already saturated ground near San Juan, rendering some roads impassable. As Puerto Rico schools remain closed, their counterparts in Florida are welcoming students and educators displaced by last month's hurricane.
---
Snapshot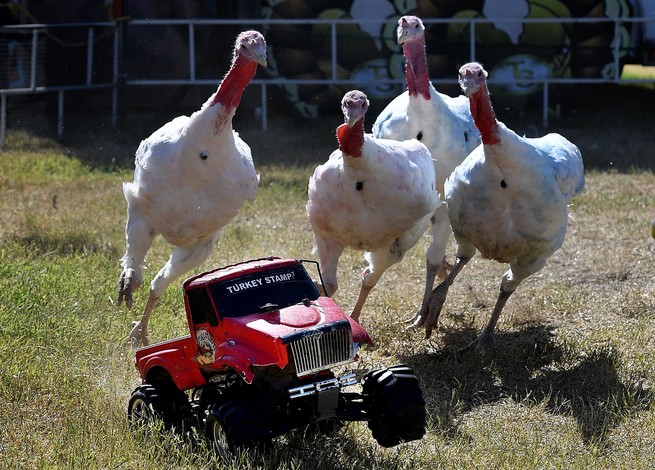 ---
Evening Read
Andrea Wulf on Henry David Thoreau's nightly habit of journal-writing:
Thoreau was staking out a new purpose: to create a continuous, meticulous documentary record of his forays. Especially pertinent two centuries after his birth, in an era haunted by inaction on climate change, he worried over a problem that felt personal but was also spiritual and political: how to be a rigorous scientist and a poet, imaginatively connected to the vast web of natural life.

Thoreau's real masterpiece is not Walden but the 2-million-word journal that he kept until six months before he died. Its continuing relevance lies in the vivid spectacle of a man wrestling with tensions that still confound us. The journal illustrates his almost daily balancing act between recording scrupulous observations of nature and expressing sheer joy at the beauty of it all.
Keep reading here, as Wulf describes how Thoreau's sense of wonder informed his scientific observations. And check out an excerpt of his essay "Walking," published in the May 1862 issue of The Atlantic.
---
What Do You Know … About Science, Technology, and Health?
This week in science news, EPA Administrator Scott Pruitt announced he will repeal the Clean Power Plan, while Vice President Mike Pence promised NASA expeditions to the moon. Meanwhile, a Science magazine report revealed a disturbing pattern of sexual harassment in scientific fieldwork. And while President Trump's boasts about his IQ aren't strictly science news, psychological studies reveal that such bragging might not be great for likability.
Can you remember the other key facts from this week's science, tech, and health coverage? Test your knowledge below:
1. Glowworms produce light using organs that perform many of the same functions that ____________ do in the human body.
Scroll down for the answer, or find it here.
2. The first pillows were made of stone and used by the ____________ culture around 7,000 BCE.
Scroll down for the answer, or find it here.
3. After years of faithful service to Millennials, the chat platform ____________ will go offline for good on December 15.
Scroll down for the answer, or find it here.
---
The Idea
See what Atlantic writers read to stay ahead of media trends. The Idea, a weekly newsletter produced by our parent company Atlantic Media, covers everything new and innovative in the industry—from augmented reality storytelling to ideas in website design to the evolution of local news. Check it out here, and subscribe.
---
Look Back
On this day in 1986, Ronald Reagan and Mikhail Gorbachev met in Reykjavik, Iceland, to discuss a disarmament plan. In 2016, Jacob Weisberg told the story of how Reagan's dream of a space-based missile-defense program—the Strategic Defense Initiative—sunk the deal:
Gorbachev arrived at Reykjavik intending to put a significant disarmament package on the table, contingent on Reagan's agreement to slow down the development of space weapons. ... Over dinner with his advisers, Reagan returned to the even more sweeping idea that he'd raised previously: why not the complete elimination of ballistic missiles? The next day, with Gorbachev, the sky was the limit. When the Americans laid all their ICBMs on the table, Gorbachev called and raised by proposing the elimination of all strategic nuclear weapons, including submarines and bombers, over ten years. His bid was still contingent on ten years of adherence to his narrow interpretation of the ABM Treaty and its limits on missile defense, but he indicated he'd be willing to negotiate on that point. This seemingly minor disagreement about how long SDI research would stay confined to the laboratory blocked what would have been the most sweeping arms-control agreement in history.
---
Reader Response
For the Big Question feature of our November 2017 issue, we asked: What was the most influential power couple in history? Phillip Welshans of Baltimore, Maryland, nominates Marie and Pierre Curie:
[They] discovered two elements, and collaborated to conduct pioneering research on radioactivity that paved the way for the development of nuclear physics.
Stephen Azzi of Ottawa, Canada, picks a pair of rulers:
Theodora and Justinian I, who ruled the Byzantine empire, built some of Constantinople's greatest landmarks and helped advance women's rights, instituting the death penalty for rape, forbidding the killing of women who had committed adultery, banning forced prostitution, and allowing women more control over their property.
See more reader responses, and vote on your favorites, here.
---
Verbs
Budget busted, shoppers tricked, policy paralyzed, mentor remembered.
---
Time of Your Life
Happy birthday to Vicki's dad (a year younger than the Golden Gate Bridge); to Peter's wife, Carol (twice the age of Microsoft Windows); to Mara (the same age as the rock musician Bono); from Maria to Judy (18 years older than the Voting Rights Act); and to Anna (twice the age of Wikipedia).
Do you or a loved one have a birthday coming up? Sign up for a birthday shout-out here, and click here to explore the Timeline feature for yourself.
---