The Atlantic Daily: Feuding and Fighting
Bob Corker's conflict with Trump, the consequences of decertifying the Iran deal, Google's radical-idea factory, and more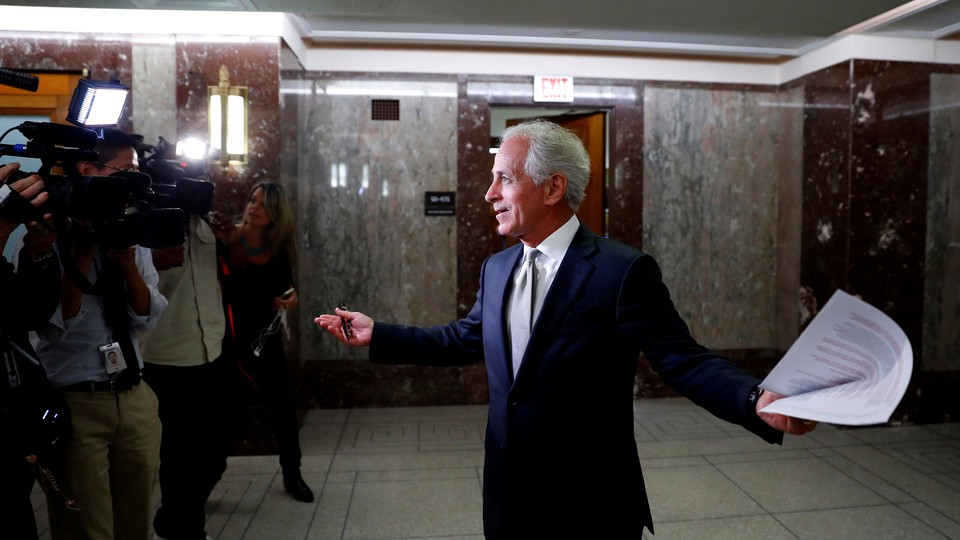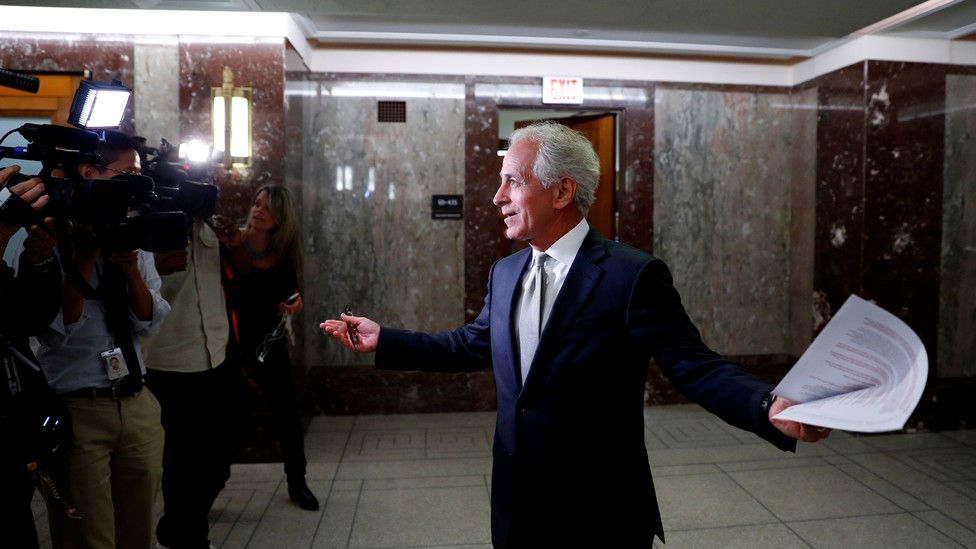 What We're Following
Trump vs. Corker: Tennessee Senator Bob Corker worries that the U.S. "could be heading towards World War III" thanks to irresponsible comments from President Trump. The friction between the president and his former key supporter escalated over the weekend, with Corker describing the White House as "an adult daycare center" and asserting that senior officials are "trying to contain" Trump. Though the feud might seem petty, Corker's criticism points to real dangers—not only to international relations, but also to America's constitutional order. With most Republican senators distancing themselves from the conflict, James Fallows explains why it's time for Corker and his colleagues to act.
The Iran Deal: Trump is expected to take the first step to dismantling the U.S. nuclear deal with Iran by refusing to certify the Tehran's compliance with the accord. Supporters of decertification, which would open the way for Congress to re-impose sanctions on Iran, say the country has violated "the spirit of the agreement" with ballistic missile development and other activities; yet undermining the deal could pose serious risks to international security and limit the U.S. ability to intercede with hostile groups in Iran. Meanwhile Javad Zarif, the foreign minister of Iran, makes the case for why his country's activities shouldn't be seen as bad behavior.
The American Idea: In our 160th anniversary issue, online today, we explore the science of creativity and the ideas that may shape the future. And we look back at how the democratic ideals The Atlantic was founded to promote have evolved over the years—and whether they survive today. Read Jeffrey Goldberg's editor's note here, and check out the full table of contents here.
---
Snapshot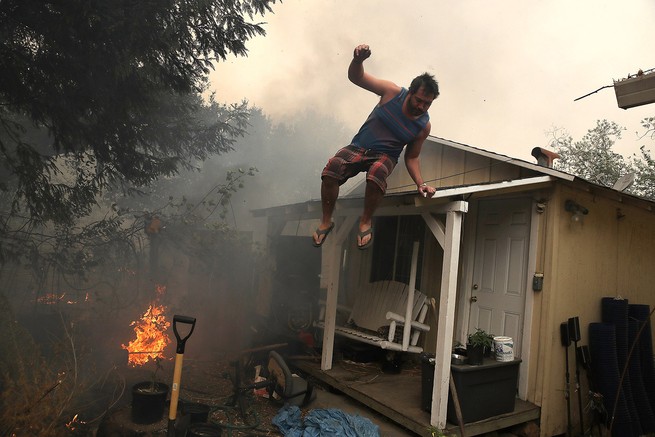 ---
Evening Read
Derek Thompson on X, the "moonshot factory" at Google's parent company Alphabet:
X is extremely secretive. The company won't share its budget or staff numbers with investors, and it's typically off-limits to journalists as well. But this summer, the organization let me spend several days talking with more than a dozen of its scientists, engineers, and thinkers. I asked to propose my own absurd idea in order to better understand the creative philosophy that undergirds its approach. That is how I wound up in a room debating a physicist and a roboticist about apartments floating off the coast of San Francisco.

I'd expected the team at X to sketch some floating houses on a whiteboard, or discuss ways to connect an ocean suburb to a city center, or just inform me that the idea was terrible. I was wrong. The table never once mentioned the words floating or ocean. My pitch merely inspired an inquiry into the purpose of housing and the shortfalls of U.S. infrastructure. It was my first lesson in radical creativity. Moonshots don't begin with brainstorming clever answers. They start with the hard work of finding the right questions.
Keep reading here, as Derek breaks down the steps to developing breakthrough ideas.
---
What Do You Know … About Business?
People's decisions often don't make a whole lot of sense. Yesterday, the economist Richard Thaler won the Nobel Prize for economics for demonstrating how such irrational decisions are, in fact, predictable. Companies can be irrational, too: In the 1980s, Sears's strange decision to expand into financial services left the retailer vulnerable to competitors, a lesson Amazon might study as it follows in Sears's footsteps. On the other hand, X, Google's "moonshot" ideas-development lab, encourages nonsense—at least at first—to propose radical solutions to large-scale problems.
Can you remember the other key facts from this week's business coverage? Test your knowledge below:
1. Hurricanes Irma and Harvey likely contributed to the United States' first overall employment decline in ____________ years.
Scroll down for the answer, or find it here.
2. Even before the Equifax breach exposed millions of Americans' credit information, the Federal Trade Commission found that one in ____________ credit reports contained errors.
Scroll down for the answer, or find it here.
3. NFL mascots can perform at as many as ____________ appearances per year.
Scroll down for the answer, or find it here.
---
Urban Developments
Our partner site CityLab explores the cities of the future and investigates the biggest ideas and issues facing city dwellers around the world. Gracie McKenzie shares today's top stories:
For more updates from the urban world, subscribe to CityLab's daily newsletter.
---
Reader Response
Patricia DeWitt of Jacksonville, Florida, responds to Kurt Andersen's September cover story, "How America Lost Its Mind":
I read "How America Lost Its Mind" with interest, but I was frustrated by Kurt Andersen's single concept of truth. For him, if faith is involved, it is not truth but "magical thinking." He does not distinguish between the fundamentalist faithful and the faithful who seek insight and inspiration rather than prediction and certainty.

We have science-based structures to organize our physical lives and we have faith-based structures to organize our lives' meaning. One cannot take the place of the other. The error of fundamentalism is in replacing science with religion. The opposite error is failing to understand that everyone lives by principles that cannot be "rationally" verified.
More reader comments, and Andersen's response, here.
---
Verbs
Neck pillows decried, King Lear modernized, college funds borrowed, Dark Side foreshadowed.
---
Time of Your Life
Happy birthday to Perry's granddaughter Aislinn (a year younger than Toy Story); to Bonnie (twice the age of hip-hop records); to Scott's sister Patty (who was 23 when the Berlin Wall fell) and his friend Roxanne (twice the age of websites); to Juliana's friend (twice the age of the euro); and to Tod's daughter Evelyn, who at 12 is too young for the timeline, but just the right age to enroll in an Ivy League school.
From yesterday, happy birthday to Conchita's husband, Ricardo (a year younger than sliced bread); to Abbie's dad, Rob (twice the age of texting); to Susan (18 years older than the National March on Washington for Lesbian and Gay Rights); and to Shari's husband, John (the same age as televised presidential addresses).
And from Sunday, happy birthday from Dana to Douglas (a year younger than T-shirts); to Jennie's niece Tristan (the same age as the basketball star Stephen Curry); to Cassandra (a year younger than Captain America); to Richard (the same age as the United Nations); and to Kathryn (a year younger than the Golden Gate Bridge).
Do you or a loved one have a birthday coming up? Sign up for a birthday shout-out here, and click here to explore the Timeline feature for yourself.
---