The Atlantic Daily: Into the Storm
Hurricane Irma makes its way to Florida, Congress moves forward on a fiscal deal, a cybersecurity breach leaves millions of Americans at risk, and more.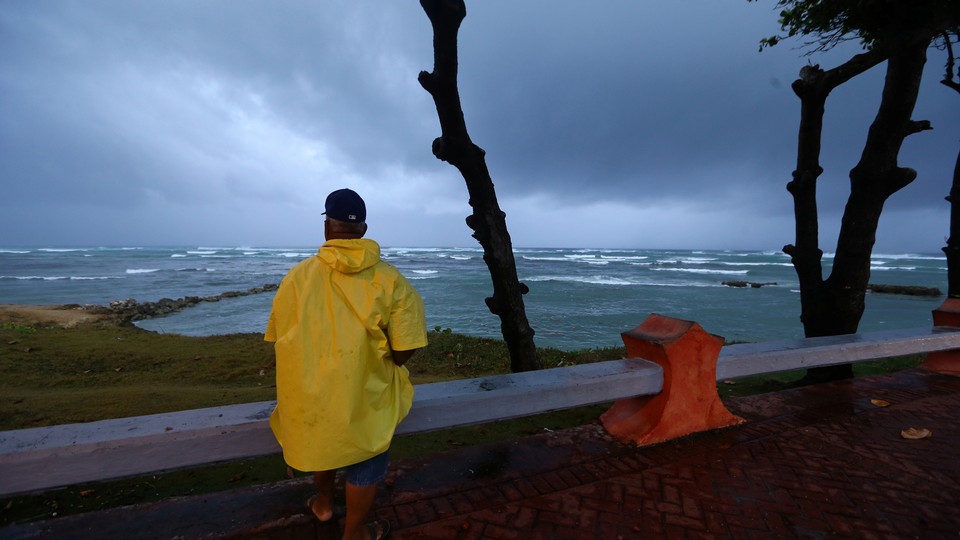 What We're Following
Watching the Weather: It's still unclear what the impact of Hurricane Irma will be on Florida, but the National Hurricane Center in Miami is in its path and monitoring the situation. One difficulty comes in communicating warnings to those who don't speak English. And by combining ship tracking images and wind tracking data, it's possible to see how marine craft have been avoiding the storm. Also, despite EPA administrator Scott Pruitt's statement that it isn't appropriate to talk about climate change in the midst of a natural disaster, James Hamblin argues the opposite.
Getting to Work: The House approved the fiscal deal Trump struck with Democrats, sending $15.25 billion in hurricane relief to Texas and Louisiana. Congress had a busy week overall, with Democrats questioning an appellate court nominee during a hearing in which religion became a central focus. Meanwhile, Senate investigators were preoccupied with talking to Donald Trump Jr. about his June 2016 meeting with a Russian lawyer—and what Don Jr. didn't say in his statement to the investigators is as noteworthy as what he did.
Unsecured Data: The credit reporting agency Equifax came under fire after revelations about a cybersecurity breach that left the personal information of millions vulnerable. For some, shock and anger was quickly replaced with indifference after the initial news broke—possibly a consequence of the frequency with which this type of violation occurs.
---
Snapshot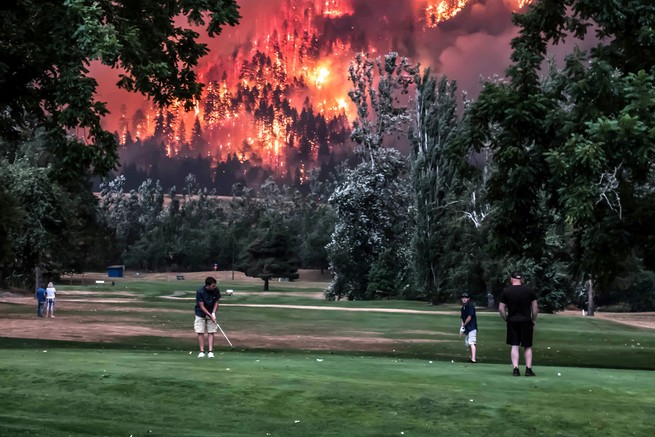 ---
Evening Read
Published for the first time in The Atlantic, "The Drone King," by Kurt Vonnegut, was recently discovered in a collection of previously unpublished short stories and dates back to the early 1950s:
Sheldon Quick was alone in the small library. We were meeting for the first time.

He was about 50—very tall, and handsome in a lazy, ornamental way. His hair was golden, his eyes blue, and he stroked his mustache with his little finger as he shook my hand.

"You come highly recommended," he said.

"Thank you, sir," I said.

He brought his finger away from his mustache, and I saw that his upper lip was swollen on one side, as fat as a Ping-Pong ball. He touched the swelling. "A bee," he said.

"It must be very painful," I said.

"It is," he said. "I won't deceive you about that." He smiled sourly. "Don't let anybody tell you this isn't a woman's world."
Read the story here.
---
What Do You Know … About Culture?
Television shows took on some dark themes this week, with American Horror Story kicking off its latest season by exploring psychological terrors in post-2016 America and Twin Peaks ending its revival by revisiting the murder of Laura Palmer. Other forms of entertainment are also leaning toward the terrifying and twisted: It brings the killer clown Pennywise to theaters. And Jez Butterworth's new play focuses on deep-rooted hatred within societies.
Can you remember the other key facts from this week's culture coverage? Test your knowledge below:
1. Tiffany Haddish recently starred in the film ____________, the most successful live-action comedy of the year.
Scroll down for the answer, or find it here.
2. In last year's college football championship, Deshaun Watson, a rookie quarterback, broke the record for passing yards in a title game by throwing ____________ yards.
Scroll down for the answer, or find it here.
3. Carol Rama, an artist from ____________, is being honored with a show at New York's New Museum, which is the most comprehensive exhibit of her work to date in the U.S.
Scroll down for the answer, or find it here.
---
This Week on Radio Atlantic
A Memo to the Huddled Masses: Immigrants flock to the U.S. in pursuit of the American Dream. But does the end of the Deferred Action for Childhood Arrivals program mean a wake-up call for millions of undocumented Americans? In this episode of Radio Atlantic, our video reporter Jeremy Raff and our politics editor Priscilla Alvarez join Jeffrey Goldberg and Matt Thompson to discuss what the suspension of DACA means for those directly affected, and what it means for America as a whole. Listen and subscribe here.
---
Poem of the Week
From our March 1914 issue, "Patience," by Amy Lowell.
Be patient with you?
   When the stooping sky
Leans down upon the hills
And tenderly, as one who soothing stills
   An anguish, gathers earth to lie
Embraced and girdled. Do the sun-filled men
   Feel patience then?

Be patient with you?
   When the snow-grit earth
Cracks to let through a spurt
Of sudden green, and from the muddy dirt
   A snowdrop leaps, how mark its worth
To eyes frost-hardened, and do weary men
   Feel patience then?
Read more here.
---
Reader Response
After Derek Thompson assessed the reasons for this summer's Hollywood box-office flops, ranging from Rotten Tomatoes' influence to consumer fatigue, one commenter wrote:
I agree with a lot of these points, but I have to add that I disappointingly know a number of people who determine what they are going to see based on Rotten Tomatoes ratings. But Thompson is right in saying that Rotten Tomatoes is not the sole reason for summer disappointments. These sequels—monotonous and unoriginal—are wearing out their welcome. I love film, but I have little problem with these huge, unoriginal "blockbusters" failing. If the tide is turning and summer audiences are again demanding more quality and originality to part with their money, that would be a welcome change.
Read the article here.
---
Nouns
Bovine behavior, obsolete barrels, political love songs, and artificial moths.
---
Time of Your Life
Happy birthday to Michael (a year younger than Nineteen Eighty-Four); to Rebecca's father, George (the same age as transcontinental TV broadcasts); to Jennifer's husband, Jason (twice the age of Google); from Marilyn to Krystina (the same age as Maria Sharapova); to Sybil (twice the age of hip-hop records); and to Jeanne (a year younger than Martin Luther King Jr.'s "I Have a Dream" speech). And happy birthday to Christine's son, who's too young for the Life Timeline, but just the right age to start hearing family stories.
Tomorrow, happy birthday to Georgia (a year younger than microwave ovens); to Monica's mother, Anna May (twice the age of Microsoft); to Kara (a year younger than Shark Week); to Srinivas' wife, Ramya (twice the age of websites); to Carmen's son Jamie (a year younger than Harry Potter); from Mom and Dad to Simon (twice the age of Facebook); to Herb's wife (who was 18 when Richard Nixon resigned); to Courtney's son Lucas (the same age as the Swift-Tuttle comet); and to Junos' identical twin daughters, Ella and Rebecca (both are twice the age of Instagram).
Do you or a loved one have a birthday coming up? Sign up for a birthday shout-out here, and click here to explore the Timeline feature for yourself.
---