The Atlantic Daily: Mixed Messages
Trump Jr.'s new defense of his meeting with the Russian lawyer, Congress's tough session ahead, the role of climate change in natural disasters, and more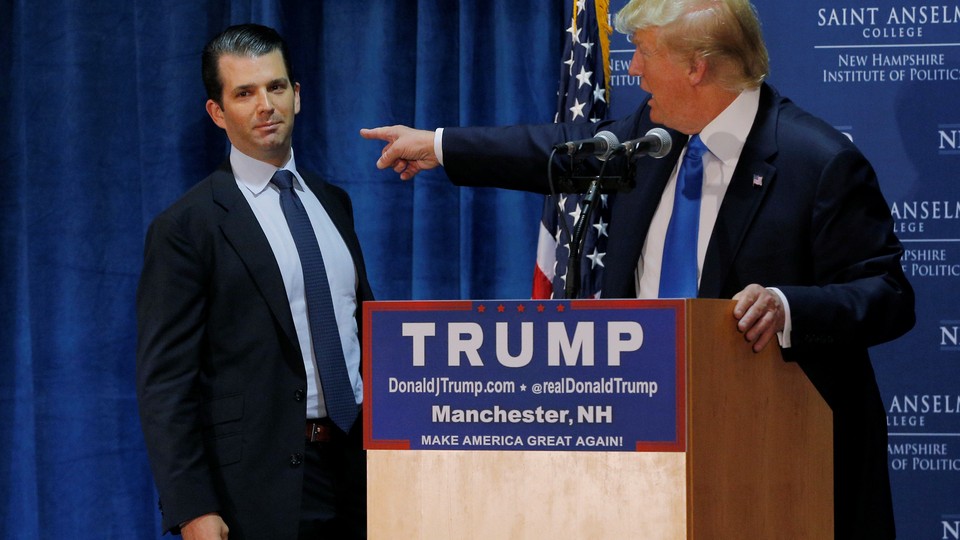 What We're Following
Russia Returns: Donald Trump Jr. offered a new explanation for his June 2016 meeting with a Russian lawyer, saying he believed any information they might have had could have helped determine Hillary Clinton's fitness for office. And a Kremlin-linked entity spent $100,000 on Facebook ads in a possible attempt to influence the outcome of the presidential election.
Legislative Fallout: President Trump has relayed messages about DACA that contradict those of his administration at large, most recently tweeting that current recipients of the program shouldn't worry during the six-month grace period. While Congress has that time to draft new immigration legislation, it seems likely that partisan gridlock will result in the decision going back to Trump. Meanwhile, Paul Ryan is getting flak from some Trump allies for pushing back against the debt-ceiling deal between the president and Democrats.
The Country's Climate: A new climate-change study is expected in November, and it seems unlikely that Trump will try to delay its publication, despite earlier fears of him doing so. On the West Coast, rising temperatures have contributed to more than two dozen wildfires currently ablaze. And in Florida, as preparations for Hurricane Irma are under way, some residents are worried about being arrested if they show up to a shelter.
---
Snapshot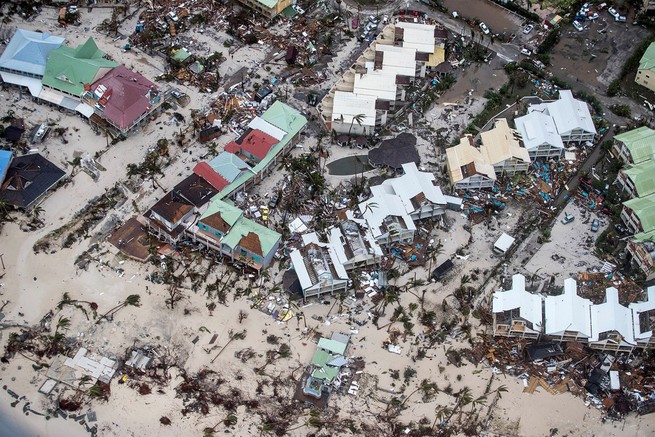 ---
Evening Read
Ta-Nehisi Coates on Donald Trump, the first president elected after America's first black presidency:
For Trump, it almost seems that the fact of Obama, the fact of a black president, insulted him personally … Replacing Obama is not enough—Trump has made the negation of Obama's legacy the foundation of his own. And this too is whiteness. "Race is an idea, not a fact," the historian Nell Irvin Painter has written, and essential to the construct of a "white race" is the idea of not being a nigger. Before Barack Obama, niggers could be manufactured out of Sister Souljahs, Willie Hortons, and Dusky Sallys. But Donald Trump arrived in the wake of something more potent—an entire nigger presidency with nigger health care, nigger climate accords, and nigger justice reform, all of which could be targeted for destruction or redemption, thus reifying the idea of being white. Trump truly is something new—the first president whose entire political existence hinges on the fact of a black president. And so it will not suffice to say that Trump is a white man like all the others who rose to become president. He must be called by his rightful honorific—America's first white president.
Keep reading here, as Coates reflects on how white supremacy influenced Trump's rise to power, and how it continues to shape his presidency.
---
What Do You Know … About Global Affairs?
Early signs indicated that the strong U.S.-South Korea relationship would endure under the new administration, but President Trump has begun accusing South Korean President Moon Jae In of appeasing North Korea amid an escalating crisis over the country's nuclear weapons program. The policies employed by the U.S. and the international community have so far failed to stop North Korea's nuclear program, and many argue that the South Korean approach—a mutual scaling back of aggression as a first step toward a formal peace agreement—is the best path forward.
Can you remember the other key facts from this week's global-affairs coverage? Test your knowledge below:
1. The value of Mexico's exports to the United States is about $____________ billion.
Scroll down for the answer, or find it here.
2. In the first quarter of 2017, ____________ people applied for asylum in Germany.
Scroll down for the answer, or find it here.
3. According to the United Nations Refugee Agency, ____________ people—mostly Rohingya Muslims—have fled into Bangladesh in the past two weeks.
Scroll down for the answer, or find it here.
---
Urban Developments
Our partner site CityLab explores the cities of the future and investigates the biggest ideas and issues facing city dwellers around the world. Gracie McKenzie shares three of today's top stories:
Amazon is reportedly seeking bids for a second headquarters location. The company's impact on Seattle has been huge. Which other U.S. cities are ready to compete for the jobs and investment?

How theme parks lie about America's pioneer history: "These romantic and politicized versions of the Old West can leave visitors longing for a past that never was."  

The concept of Baltimore's Ceasefire movement is simple: Nobody kill anybody for 72 hours. Go inside the radical community response to the city's spiking murder rate.
For more updates from the urban world, subscribe to CityLab's daily newsletter.
---
Reader Response
After Christopher Orr wrote about Woody Allen's lazy filmmaking habits, one commenter wrote:
As a teen, I thought that Allen's movies were funny. Sleeper and Love and Death come to mind. Annie Hall really is a strong comedy.

But then I started to see how derivative all of his movies were. I had not seen any Bergman or Fellini films. When I did, I saw that Allen is by no means a genius. I also saw that for the most part, he can't even come up with his own ideas. Who needs Stardust Memories when you have 8 1/2?
Read the article here.
---
Nouns
Cosmic record, utopian architecture, dogmatic start-ups, and auspicious quarterbacks.
---
Time of Your Life
Happy birthday to Georges (a year younger than DC Comics); to Mike's wife, Candace (twice the age of The Oprah Winfrey Show); to Ted's brother (a year younger than Pokémon); to Rob (the same age as the state of Hawaii); to April (a year younger than Nineteen Eighty-Four); to Pamela's husband, Charlie (the same age as George Lucas); to Gilda (twice the age of Microsoft Windows); from Will to Charles, who shares a birthday with Mary's father, Joey (both are a year younger than the Walt Disney Company); and to our assistant politics editor Priscilla Alvarez (one-seventh the age of The Atlantic).
Do you or a loved one have a birthday coming up? Sign up for a birthday shout-out here, and click here to explore the Timeline feature for yourself.
---