The Atlantic Daily: Back in Session
Trump makes a deal with the Democrats, North Korean nuclear capabilities reshape U.S. ties with South Korea, drug price hikes are met with resistance, and more.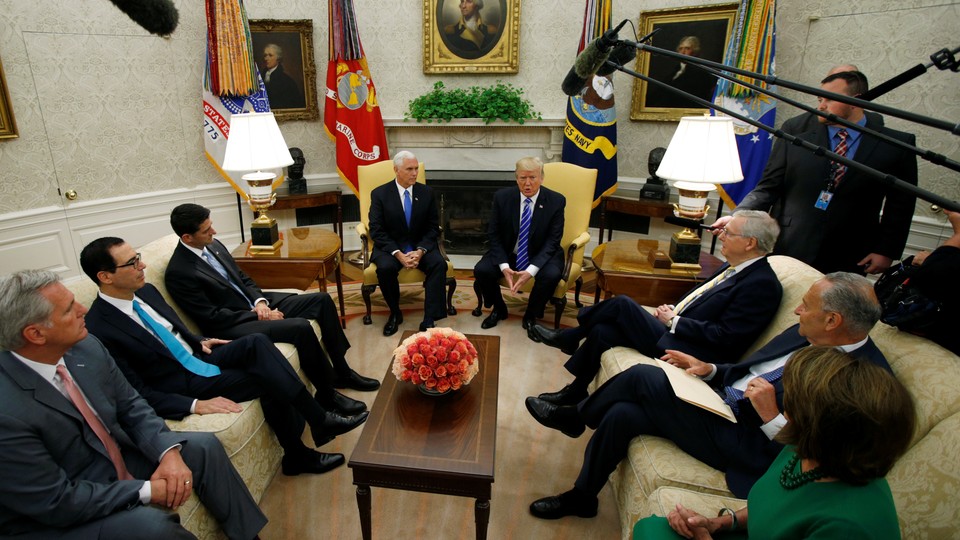 What We're Following
Let's Make a Deal: President Trump and Congress agreed on a short-term fiscal package that would provide $8 billion in Hurricane Harvey relief and raise the debt ceiling to avoid a government shutdown. By agreeing to Democratic demands, Trump struck a blow to Republicans and showed he'd rather follow through on a deal than get bogged down in what it includes. Congress still has a big task ahead as the responsibility for dealing with DACA now rests with them.
Assessing the Korean Situation: Denuclearizing North Korea will be difficult to achieve, since only one country in possession of its own nuclear weapons has ever agreed to give them up. As North Korea continues to improve its nuclear technology at an unprecedented rate—it's conducted a dozen successful missile tests so far this year—the U.S.'s motivation to rein in the country's arsenal will only grow. One course of action could involve restrengthening American ties with South Korea, a key ally in the conflict.
Monitoring Medicine: Whether on their own and as part of a collective, people are pushing back against pharmaceutical and health-care companies. David Mitchell, a relapsed cancer patient whose medication costs more than $400,000 a year, started a nonprofit to advocate for lower drug prices. And the Teamsters, who are shareholders in McKesson, the country's largest distributor of pharmaceuticals, are attempting to reduce the company's impact on the opioid epidemic.
---
Snapshot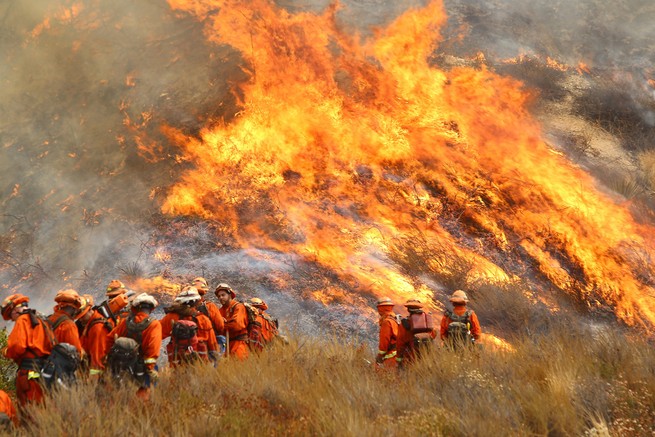 ---
Evening Read
Esther Perel on our evolving definition of adultery:
Adultery has existed since marriage was invented, yet this extremely common act remains poorly understood. Around the globe, the responses I get when I mention infidelity range from bitter condemnation to resigned acceptance to cautious compassion to outright enthusiasm. In Paris, the topic brings an immediate frisson to a dinner conversation, and I note how many people have been on both sides of the story. In Bulgaria, a group of women I met seem to view their husbands' philandering as unfortunate but inevitable. In Mexico, women I spoke with proudly see the rise of female affairs as a form of social rebellion against a chauvinistic culture that has long made room for men to have "two homes," la casa grande y la casa chica—one for the family, and one for the mistress. Infidelity may be ubiquitous, but the way we make meaning of it—how we define it, experience it, and talk about it—is ultimately linked to the particular time and place where the drama unfolds.
Keep reading here, as Perel explores why even good marriages are not immune to cheating.
---
What Do You Know … About Science, Technology, and Health?
Flooding from Hurricane Harvey didn't just leave Texas towns submerged. It also caused a fire in a chemical plant and even pushed down a section of the Earth's crust. Hurricane watchers wondered where the next major hurricane might do the most damage, predicting that cities like Miami and New York could be especially vulnerable. Meanwhile, Hurricane Irma has become the strongest hurricane recorded in the Atlantic basin outside of the Caribbean Sea and the Gulf of Mexico.
Can you remember the other key facts from this week's science, tech, and health coverage? Test your knowledge below:
1. In August 2012, the spacecraft ____________ left the protective bubble of the sun's wind and entered interstellar space.
Scroll down for the answer, or find it here.
2. During the Vietnam War, a secret U.S. operation called ____________ aimed to worsen monsoons in Vietnam.
Scroll down for the answer, or find it here.
3. Lightning can travel as far as ____________ miles through a storm.
Scroll down for the answer, or find it here.
---
Look Back
On this day in 1901, President William McKinley was shot and mortally wounded. He died a little over a week later. In our September 1901 issue, Bliss Perry wrote about a nation stunned by its third assassination of a president:
Lincoln's death was like the close of a great, mysterious tragedy. Garfield's had its own peculiar note of pathos; and though Lincoln's ever increasing fame has done something to eclipse the memory of the second martyr President, the grief of the nation in 1881 was no less genuine, and naturally more widespread, than in the discordant days of 1865. But the circumstances of President McKinley's assassination have been such as to cause even more general and poignant sorrow to the nation as a whole. United as never before, enjoying an era of political good feeling, and universally attracted by the lovable personal qualities of their President, the citizens of the United States, without regard to sectional or party differences, have been stunned and sickened by his murder.
Read more here.
---
Reader Response
After Jordan Michael Smith wrote about how we grapple with mortality, one commenter reflected:
My grandfather's sudden death brought this whole concept of mortality toward me. Up until that point I was just impatiently waiting for the start of my career and the "riches" that go with it. I always craved that independence and just figured everything would be good. I'm also ashamed to say that I took my family for granted and always assumed they would remain constant in my life. I now know this is not the case and noticed significant changes in my day-to-day as a result. I hug my mother every morning and just shrug off her confused looks. I'll never tell her how I feel about death but hopefully it won't matter. Live life and enjoy the little things. Also, don't smoke?
Read the article here.
---
Adjectives
Arithmetical cooperation, impetuous Jokers, dubious data, and charming profanity.
---
Time of Your Life
Happy birthday to Kate's sister Leslie (a year younger than Apple); to Chance (twice the age of YouTube); and to Kevin (a year younger than graphical web browsers).
Do you or a loved one have a birthday coming up? Sign up for a birthday shout-out here, and click here to explore the Timeline feature for yourself.
---