The Atlantic Daily: Price Is Out
HHS Secretary Tom Price resigns, the State Department responds to mysterious sonic attacks in Cuba, what the AfD learned from U.S. politics, and more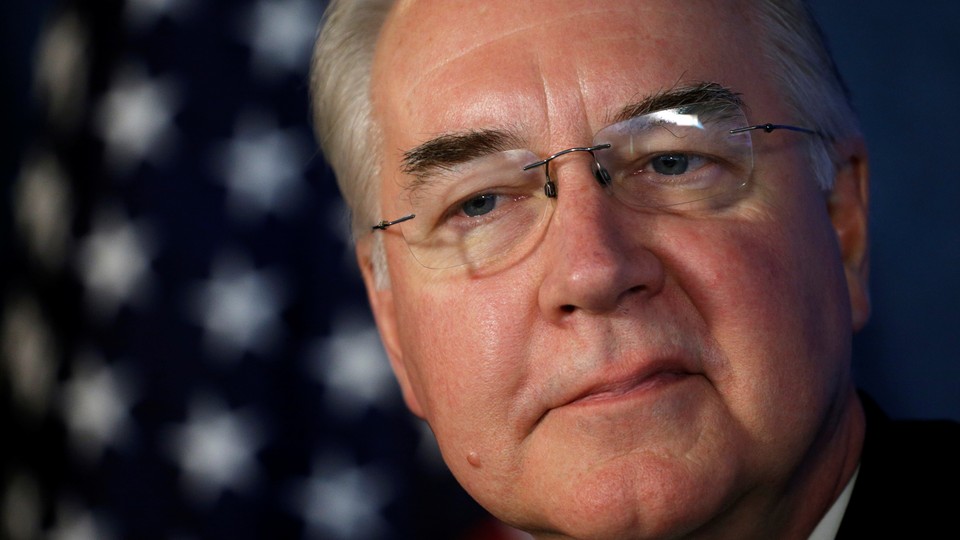 What We're Following
Price Cut: Secretary of Health and Human Services Tom Price resigned over revelations that he'd mixed personal and professional travel, paying for private and military jets with more than $1 million in taxpayer money. The scandal contrasted poorly with President Trump's campaign message of "draining the swamp," and with Price's own vocal support for spending cuts. Meanwhile, despite Trump's promises that his new tax plan would benefit low-income families and reduce the deficit, a new report from the nonpartisan Tax Policy Center finds the exact opposite.
Safety and State: Trump has been praising his own administration's disaster-response work in Puerto Rico, a reaction that many see as tone-deaf in light of the U.S. territory's ongoing crisis following Hurricane Maria. Elsewhere, the State Department is withdrawing more than half its employees from the Cuban embassy after mysterious sonic attacks throughout the past year appeared to target the diplomats. Here's what we know.
European Politics: French President Emmanuel Macron's centrist party, La République En Marche, lost control of the country's senate this week to the right-wing Les Républicains—a change that could halt Macron's ambitious agenda if he's not able to work with the opposition. In Germany, the far-right Alternative für Deutschland party has also gained new influence in parliament, and it did so with the help of an American partner: Harris Media, an advertising firm that's worked on political campaigns for Mitch McConnell, Sarah Palin, and Donald Trump.
---
Snapshot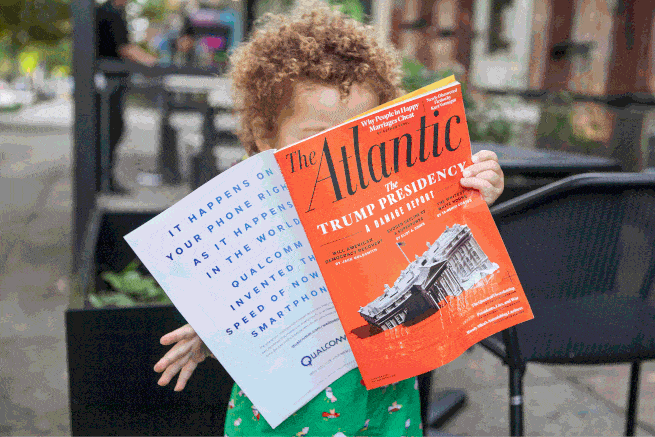 ---
Evening Read
Andrew Simmons on a pen-pal program at two Chicago high schools:
For many teenagers today, the concept of pen pals is a novel one, as are letters as a form of communication—a means of matching thought to written language. It's also a rare opportunity to connect intimately with a peer: While students today may appear constantly connected to the world around them because of the gadgets they wield, they're often isolated. In Chicago, the third-most-segregated large city in the country, where new schools only reinforce their racial and socioeconomic isolation, kids on the South or West Side rarely, if ever, venture downtown.

Classroom projects like the 826CHI initiative strive to help students overcome those barriers, bringing kids from different worlds into one another's lives, combining rigorous academic work with lessons in empathy. … But such experiments also risk pushing students to view sometimes-painful differences without the necessary tools to confront and understand them.
Keep reading here, as Simmons considers the benefits and risks of student-exchange programs.
---
What Do You Know … About Culture?
When you're in the public spotlight, image matters. This became especially clear this week, as indelible photographs made their way around the internet of stars—both in the sports and music worlds—kneeling in support of NFL protests against racial injustice (and against President Trump's insistence that such protests should be cause for firing). Megan Garber analyzed the larger role of imagery and how it has become its own form of resistance during the Trump administration. And photos of a different kind, those of the women who appeared in Playboy, came back into the cultural discourse with the news of Hugh Hefner's death.
Can you remember the other key facts from this week's culture coverage? Test your knowledge below:
1. It's been ____________ years since Keeping Up With the Kardashians premiered on E!
Scroll down for the answer, or find it here.
2. The author Celeste Ng credits the structure of the children's book ____________ with informing the mysteries her novels revolve around.
Scroll down for the answer, or find it here.
3. Saturday Night Live added three new cast members and seven writers to its show as it heads into its ____________ season.
Scroll down for the answer, or find it here.
---
This Week on Radio Atlantic
Russia! Live With Julia Ioffe and Eliot A. Cohen: According to the U.S. intelligence community, this much is settled fact: Russia intervened in the 2016 presidential election in favor of Donald Trump. But beyond that basic consensus, much remains unknown. In this episode of Radio Atlantic, recorded live at the Sixth & I Historic Synagogue in D.C., Atlantic staff writer Julia Ioffe and contributing editor Eliot Cohen join hosts Jeffrey Goldberg and Matt Thompson for a wide-ranging conversation about what Russia has wrought. Listen and subscribe here.
---
Poem of the Week
From our October 1883 issue, "Persepolis," by Frances L. Mace:
Here is the royalty of rain: naught
Of later pomp the desert stillness mars;
Alone these columns face the fiery sun,
Alone they watch beneath the midnight stars.

Forests have sprung to life in colder climes,
Grown stalwart, nourished many a savage brood,
Ripened to green age, fallen to decay,
Since this gray grove of marble voiceless stood.
Read more here.
---
Reader Response
Olga Khazan interviewed the social psychologist Eli Finkel about how increased expectations of romance make it harder for couples to stay married. This reader weighs another factor:
Hard to imagine an entire discussion on relationships within a marriage without a good deal of time spent on the emotional and physical energy it takes to raise children, which is emotional and physical energy that is, in essence, not available to one's spouse. As a recent empty-nester, I can tell you that my relationship with my husband has improved exponentially since I no longer have to carry the mental burden of my children's academic, social, and emotional temperature reading and/or remedies. And this is not to say that I didn't love raising my kids or that my husband wasn't deeply involved, just that it's a shit-ton of work no matter how you slice it. All I can say is, empty-nesting has proven to be an amazing time to reconnect now that we have more time to devote to ourselves and each other. If you can hang in there for 20+ years, it can be very rewarding.
More on what makes a happy marriage here.
---
Verbs
WWII live-tweeted, classic console revived, tensions obscured, judge disciplined.
---
Time of Your Life
Happy birthday to Linda (a year younger than scuba gear); to Janice's son Korey (twice the age of Amazon); to Kristy's mother (a year younger than helicopters); to Mirla (twice the age of websites); to Rosie (the same age as CDs); to Micci's daughter Micci (a year younger than VCRs); to Larry (twice the age of The Oprah Winfrey Show); to Vinny's wife (born around the time Pioneer 11 reached Saturn); to Kay's grandson James (a year younger than Harry Potter); to Michael (twice the age of Macintosh computers); to Rita's daughter (a year younger than Martin Luther King Jr.'s "I Have a Dream" speech); and to Ruthi (the same age as Bob Marley).
Tomorrow, happy birthday to Michael's daughter-in-law Laura (twice the age of the International Space Station); to Yashvardhan's mom (a year younger than Sesame Street); to Laura (the same age as the Voting Rights Act); from Susan to Nancy (the same age as Barack Obama); and to Layna's son Nikolai (a year younger than the 24-hour news cycle).
Do you or a loved one have a birthday coming up? Sign up for a birthday shout-out here, and click here to explore the Timeline feature for yourself.
---