The Atlantic Daily: Friday Night Fights
Trump's confrontation with the NFL, Germany's election, Amazon's future, and more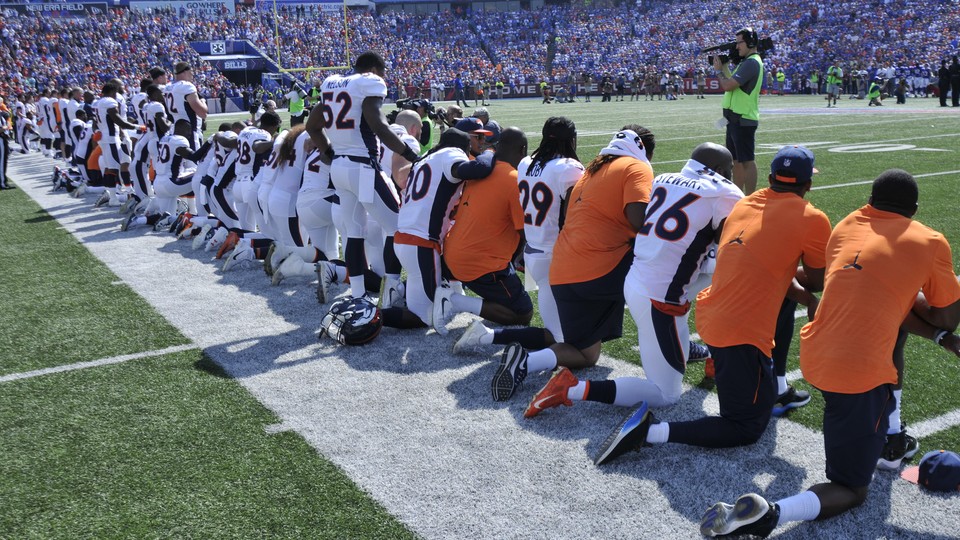 What We're Following
Trump's Sports Saga: Players across the NFL knelt in protest and solidarity Sunday night after President Trump called for the firing of athletes who kneel during the national anthem—such as the former 49ers quarterback Colin Kaepernick, who began doing so last year to protest the killings of black men by police. The president's comments, first made in a Friday night speech, escalated on Twitter to a confrontation with other black athletes, and a broader debate about the place of politics in sports. Now, Trump has reframed his argument as a less controversial defense of patriotism—an episode that illustrates both a pattern in how Trump handles crises and the broader power of protest in the entertainment world.
Election Watch: Alabama Republicans will vote on Tuesday in a Senate primary runoff between Luther Strange, the establishment candidate endorsed by Trump, and Roy Moore, the ultra-conservative candidate endorsed by Breitbart. It's a race that will indicate whether Trump's base is more loyal to his leadership or to his politics.* In Germany, Angela Merkel was elected to her fourth term as chancellor on Sunday—and now faces the task of leading not only her nation, but also her allies through a tumultuous time in global politics.
Facing Persecution: Kurdistan, the semi-autonomous region in northern Iraq, is voting Monday in an independence referendum that could leave minority groups such as the Shabak caught between governments that may not ensure their safety. Elsewhere, as thousands of Rohingya Muslims flee a violent military crackdown in Burma, the complex history of the minority group's political status helps to explain why the crisis will be so difficult to resolve.
---
Snapshot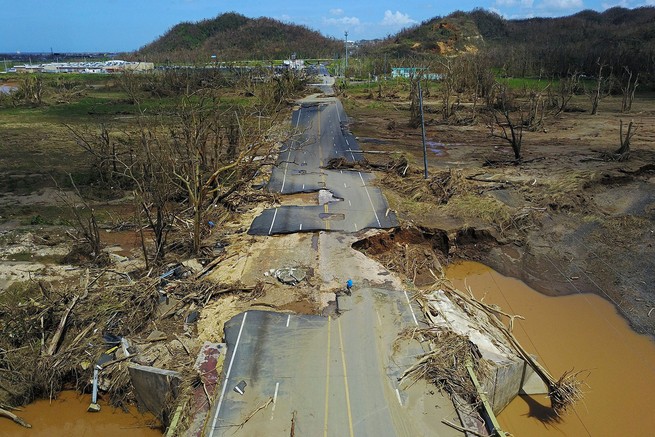 ---
Evening Read
Derek Thompson on how Sears transformed itself from a mail-order retail giant into a brick-and-mortar one:
From the start, Sears's genius was to market itself to consumers as an everything store, with an unrivaled range of products, often sold for minuscule profits. The company's feel for consumer demand was so uncanny, and its operations so efficient, that it became, for many of its diehard customers, not just the best retail option, but the only one worth considering.

By building a large base of fiercely loyal consumers, Sears was able to buy more cheaply from manufacturers and wholesalers. It managed its deluge of orders with massive warehouses, like its central facility in Chicago, in which messages to various departments and assembly workers were sent through pneumatic tubes.  In the decade between 1895 and 1905, Sears's revenue grew by a factor of 50 … Then, after one of the most successful half-centuries in U.S. corporate history, Sears did something really crazy. It opened a store.
Keep reading here, as Derek explains how Sears's history could predict Amazon's future.
---
What Do You Know … About Education?
Tracing the origins of a given narrative can help clarify how we got to where we are. Last week, the Department of Education officially revoked the Obama administration's Title IX guidance, and Caroline Kitchener explored the partisan history of the campus sexual-assault debate. Elsewhere, Amanda Ripley investigated the often competing messages on gender and education in the Middle East on a quest to find out why girls in the region are dramatically outperforming boys in school.
Can you remember the other key facts from this week's education coverage? Test your knowledge below:
1. The New York education reformer Eva Moskowitz got the disparaging nickname "__________" from public-school teachers for her controversial reform efforts.
Scroll down for the answer, or find it here.
2. A new degree program at McMaster University in Canada will combine __________ and humanities courses.
Scroll down for the answer, or find it here.
3. The Pitt Rivers Museum at the University of Oxford has a collection of shrunken heads, called ____________, that were collected by English explorers between 1871 and 1936.
Scroll down for the answer, or find it here.
---
Look Back
The novelist William Faulkner was born on this day 120 years ago. In November 2016, Ariel Dorfman imagined his reaction to our modern state of politics:
The sympathy that this extraordinary, sophisticated novelist felt for the less educated, religiously conservative inhabitants of his imaginary county of Yoknapatawpha and their sense of loss and disorientation, the fact that he preferred their enduring and dignified company to the abstractions and elitism of privileged intellectuals, makes him ideally suited for delivering a message that Trump's devotees should try to heed, a plea against bigotry and dread and divisiveness that is not tainted with even a hint of paternalism or contempt.
---
Reader Response
After Graeme Wood wrote about a Swedish activist who posed as a sympathetic student to infiltrate white supremacist groups, these readers discussed: Was the subterfuge—and the potential damage it posed to real scholars' safety and credibility—ethical? One writes:
I struggle with this one, because on balance I do think what he did was unethical. But I can't help thinking a white supremacist movement gaining power in society and politics is enough of a bona fide matter of emergency to justify approaches we wouldn't ordinarily agree with.
Another reader pushes back on that justification:
Lying is immoral. His organization also justifies his lies using classic "ends justify the means" rationale that has been used by zealots to excuse their bad behavior in allegiance to their cause at various times and places throughout history. The racists he is studying undoubtedly use the same flawed moral calculus to justify their toxic language and behavior. What I find strange about his deception is that he lied for what purpose, exactly? To alert the world that Nazis are racist? We know.
More reader discussion here.
---
Verbs
Fame lamented, courts politicized, Star Trek streamed, beans recommended.
---
Time of Your Life
Happy birthday to Grace's daughter Lauren (born around the time East Germany left the Warsaw Pact); to June (a year younger than NASA); from Perry to Shayanne (twice the age of iPhones); to Oona (a year younger than Harry Potter); to Scott's girlfriend, Brenda (born around the time British colonial rule over Hong Kong ended); to Millie (a year younger than Sesame Street); and from Susele to Eugene, who shares a birthday with Rebecca's ex-husband, Steve (both are a year younger than Nineteen Eighty-Four).
From yesterday, happy birthday to Jatinder (the same age as the UN General Assembly); to Rich's brother (twice the age of the World Wide Web); to Megan (twice the age of the iTunes Store); to Andy's brother Jim (a year younger than car seat belts); to Bianca's brother Anthony (the same age as Michael Sam, the NFL's first openly gay player); to Nancy's husband, Dan (a year younger than color-TV broadcasting); to Kathy (the same age as Bob Marley); and to Parvee's son Navin (who was 18 when Mother Teresa was canonized as a saint).
Do you or a loved one have a birthday coming up? Sign up for a birthday shout-out here, and click here to explore the Timeline feature for yourself.
---
Meet The Atlantic Daily's team here, and contact us here.

Did you get this newsletter from a friend? Sign yourself up here.
---
*  This newsletter originally misstated Moore's first name as Rob. We regret the error.