The Atlantic Daily: Fiery Replies
Kim Jong Un's threat to Trump, why McCain opposes the Graham-Cassidy bill, the price of romantic freedom, and more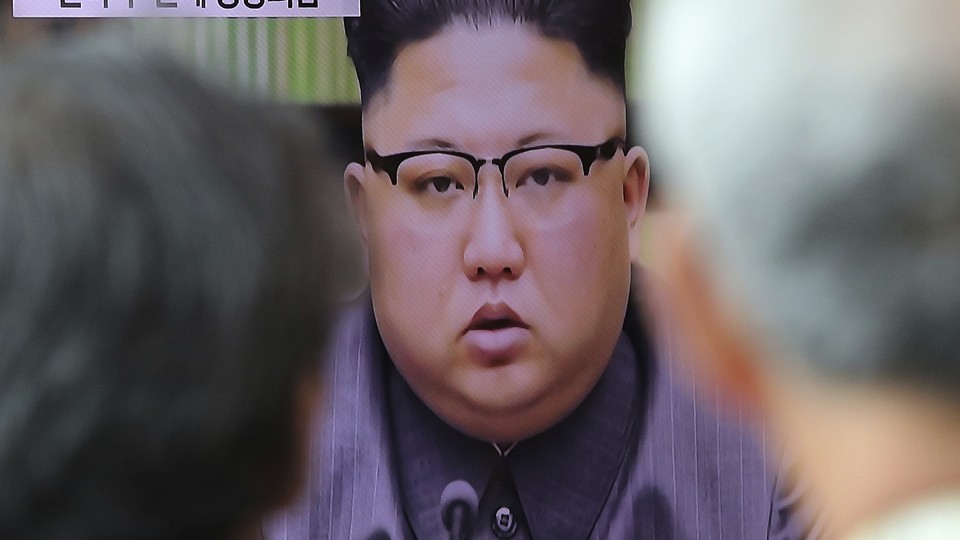 What We're Following
Escalating Threats: Kim Jong Un issued a personal reply to President Trump's threat to "totally destroy North Korea," promising to "surely and definitely tame the mentally deranged U.S. dotard with fire." North Korea's foreign minister hinted his country's next move could be testing a hydrogen bomb in the Pacific Ocean—an act that could have devastating environmental consequences, on top of raising tensions between North Korea and other nations to an extreme. The threats, writes Adam Mount, make a strategy change on Trump's part more urgent than ever.
Policy Prognosis: Senator John McCain announced he won't support the Graham-Cassidy bill to repeal Obamacare—becoming the third Republican senator to do so, and thus making it nearly impossible for the bill to pass next week. McCain's objections center on the process behind the bill, which has been rushed through the Senate ahead of a budget-reconciliation deadline without giving members a chance to fully understand and debate its potential effects. One would-be consequence, however, seems certain: The legislation's removal of protections for maternity and contraceptive care would put a heavy burden on women of all ages and income levels.
Campus Controversies: During a convocation speech at Howard University, the former FBI Director James Comey was greeted with protests over his past comments about racial bias in law enforcement, as well as the FBI's problematic civil-rights history. And at UC Berkeley, the former Breitbart editor Milo Yiannopoulos's plans to hold a "Free Speech Week" with appearances by right-wing speakers have collapsed amid organizing problems.
---
Snapshot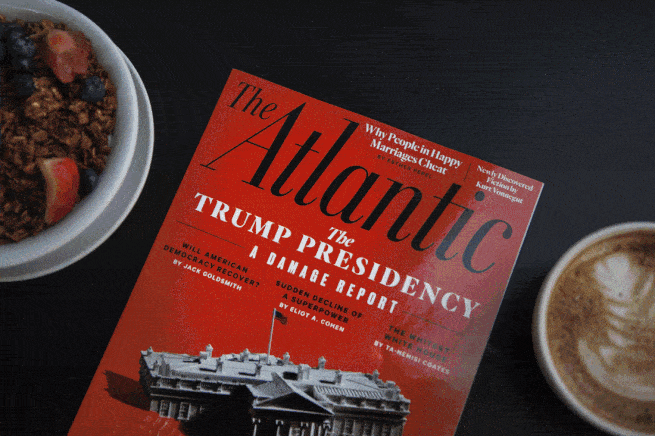 ---
Evening Read
Julie Beck on the nation's dating landscape:
When it comes to romance, Americans are freer than they've ever been. Freer to marry, freer to divorce, freer to have sex when and with whom they like with fewer consequences, freer to cohabitate without getting married, freer to remain single, freer to pursue open relationships or polyamory.

But what if the price of freedom is loneliness? Would you pay it?
Keep reading here, as Julie reviews two new books on the changes that define an age of romantic individualism.
---
What Do You Know … About Culture?
Politics overtook the world of entertainment this week, with television and movies addressing the state of affairs in Washington. Sean Spicer made a divisive appearance at the Emmys, where shows with a political bent, like Veep, won big. The late-night host Jimmy Kimmel took a strong stance against the latest health-care bill working its way through Congress. And the slate of movies that played at the Toronto International Film Festival showcased a variety of unique takes on empathy and extremism in the Trump era.
Can you remember the other key facts from this week's culture coverage? Test your knowledge below:
1. The Handmaid's Tale became the first streaming-TV series to win the Emmy award for ____________.
Scroll down for the answer, or find it here.
2. J.R.R. Tolkien's classic novel The Hobbit was first published ____________ years ago.
Scroll down for the answer, or find it here.
3. The pop singer ____________, who stars in a new documentary out this week, recently postponed the rest of her tour due to struggles with fibromyalgia.
Scroll down for the answer, or find it here.
---
This Week on Radio Atlantic
What Are Public Schools For? The idea that public schools are failing is among the most commonly heard complaints in American society. But what are they failing to do? In this episode, The Atlantic's education editor Alia Wong joins Jeff, Matt, and Alex for a conversation about how we define and measure success in public education. Listen and subscribe here.
We'd like to hear your stories about education: public, private, you name it. Call us at (202)266-7600 and leave us a voicemail with your story and your answer to the question "What is public education for?" Don't forget to leave your contact info.
---
Poem of the Week
From our August 1961 issue, Robert Lowell's translation of "Le Voyage" by Charles Baudelaire:
For the boy playing with his globe and stamps,
the world is equal to his appetite—
how grand the world in the blaze of the lamps,
how petty in tomorrow's small dry light!

One morning we lift anchor, full of brave
prejudices, prospects, ingenuity—
we swing with the velvet swell of the wave,
our infinite is rocked by the fixed sea.
Read more here.
---
Reader Response
After Vann R. Newkirk II wrote about the ongoing relevance of The Hobbit in an age of more cynical fantasy epics, one reader reflects:
The impact of Tolkien seems to slip in and out of our cultural history, and I don't know what it would take to definitively unravel it. Plenty of people who've never heard of him are still indirectly familiar with his works if only by the tropes that sprang from his imitators. What is maybe not so obvious is the deep vein of sadness that runs through his stories as well ... sadness at the seemingly inevitable and useless conflict that seems built into our species. Good wins, but generally the cost is high.
More reader discussion here.
---
Verbs
Iconic painting saved, inspiring story filmed, far-right populists split, campus safety politicized.
---
Time of Your Life
Happy birthday to Rosemary (a year younger than Nineteen Eighty-Four); to Frannie (twice the age of CD players); to Susan's daughter Alicia (who was 18 when California legalized same-sex marriage); to David's dad (born around the time construction on Mount Rushmore began); and to our resident archivist Annika's mom, Peggy (the same age as Madonna).
Tomorrow, happy birthday to Greg's best friend of 31 years, Indra (a year younger than The Sound of Music); to Malika (the same age as the Swift-Tuttle comet); to Susan (a year younger than NASA); to Julie's husband, Daryl (twice the age of hip-hop records); to Emily (twice the age of the euro); to Alan's wife, Kathy, who shares a birthday with Maureen's friend Dorothy (both are a year younger than LP records); and to Sally, who shares a birthday with Kathleen (both are the same age as transcontinental TV broadcasts).
Do you or a loved one have a birthday coming up? Sign up for a birthday shout-out here, and click here to explore the Timeline feature for yourself.
---