The Atlantic Daily: Fighting Words
Trump's threat for North Korea, new details in the Manafort investigation, how conservative media is grappling with Trumpism, and more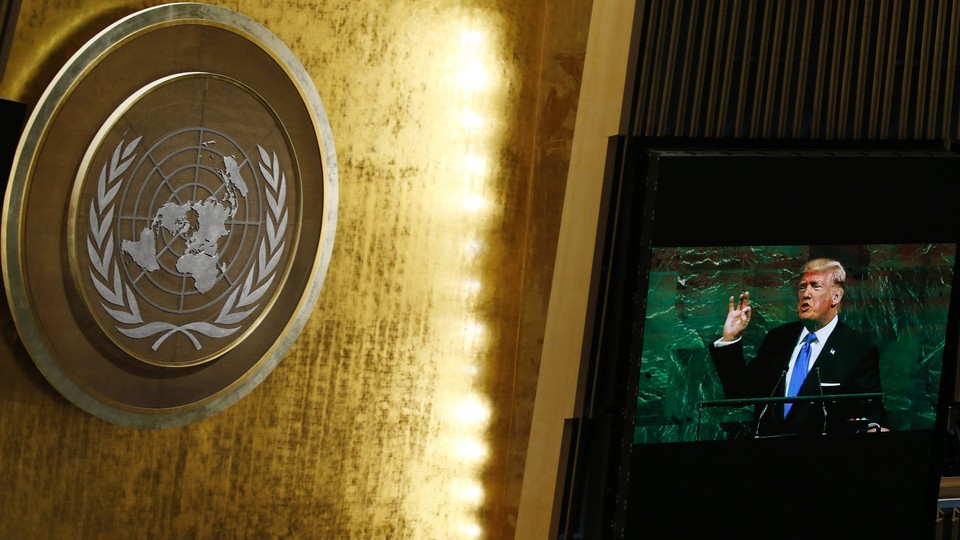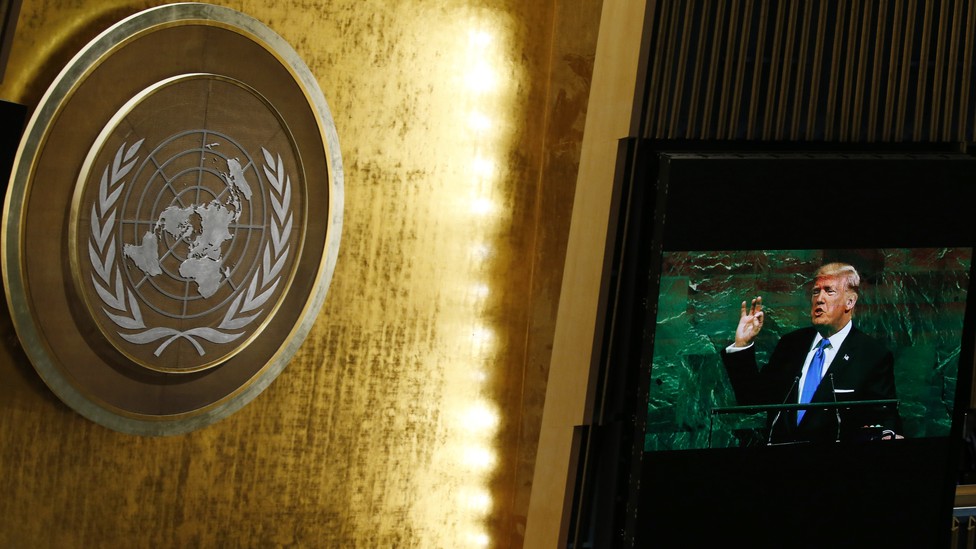 What We're Following
Trump at the UN: In his first speech before the United Nations General Assembly, President Trump declared the U.S. ready and willing to "totally destroy North Korea" in defense of itself or its allies—a dangerous assertion, since the effects of using force in North Korea would be serious and tragic. He also implied that he may withdraw from the nuclear deal with Iran that the U.S. entered under President Obama. Overall, writes Peter Beinart, the speech was a direct rebuke of Obama's previous emphasis on international cooperation, and an advancement of Trump's own inconsistent ideas of sovereignty.
Mueller and Manafort: New reports on the federal investigation into Paul Manafort say that Trump's former campaign chairman was under surveillance by the FBI before and after last year's presidential election, and that Manafort was informed in July he would soon be indicted in Special Counsel Robert Mueller's Russia investigation. The emerging details raise several questions about the probe and its findings so far, but they don't vindicate Trump's claims that he himself was wiretapped by the Obama administration. Rather, they likely spell continued legal trouble for Trump's team—which is now using Republican National Committee funds to pay his legal fees.
The Right Takes Sides: Senators John McCain of Arizona and Lisa Murkowski of Alaska are under pressure to make a decision on the latest effort to repeal Obamacare after their "no" votes killed the effort in July—and their states' governors are taking opposing positions. Meanwhile, conservative publications are struggling to respond to the rising populist sentiment among their readers, and the Republican party is grappling with how it may have laid the groundwork for Trump's current breaches of political norms.
---
Snapshot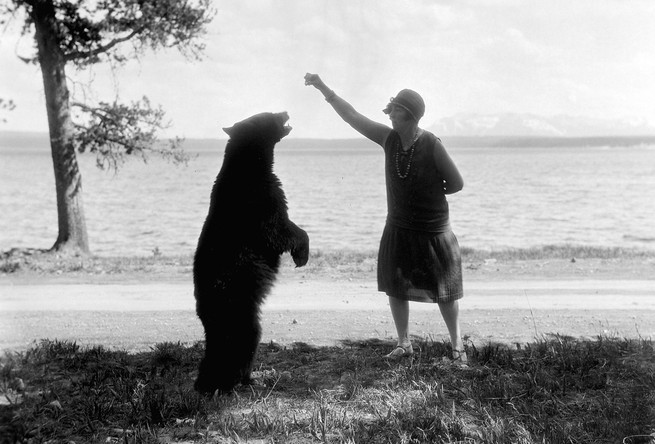 ---
Evening Read
Sarah Zhang on tracing a rare disorder through French Canadian genealogy records:
Whenever a small group of people leave a large population (France) to found a new one (New France), they bring with them a particular set of mutations. Some of these mutations will by chance be more common in the new population and others less so. As a result, some rare genetic disorders disproportionately impact French Canadians.

One of these is Leber's hereditary optic neuropathy, which causes vision loss, usually in young men. Recently, geneticists using French Canadian genealogy have reexamined the effects of Leber's and found a striking pattern of inheritance: It seems to show a long-theorized but never-seen-in-humans pattern called the "mother's curse."
Keep reading here, as Sarah explains how the rare disorder hides from natural selection—and how scientists traced its presence in Canada back to a single woman's DNA.
---
What Do You Know … About Business?
This week, we take a look back: Inventions as simple as air-conditioning have had a lot to do with shaping city skylines, jump-starting economies, and even, some say, picking presidents. Historic inequities creep into how Americans climb out of poverty, and even how they network. And Black Monday, the 1987 crash when Wall Street saw its steepest falls ever, presaged the 2008 financial crisis—but regulators still haven't learned its lessons.
Can you remember the other key facts from this week's business coverage? Test your knowledge below:
1. At the alt-weekly Washington City Paper, the late journalist David Carr cultivated a star class of interns including Jelani Cobb and the Atlantic writer ____________.
Scroll down for the answer, or find it here.
2. The only prime-time broadcast television show to grow its under-50 audience in 2016 and 2017 was ABC's ____________.
Scroll down for the answer, or find it here.
3. The Federal Reserve Board of Governors could have only three of its ____________ seats filled after Vice Chair Stanley Fischer's departure next month, the lowest number in Fed history.
Scroll down for the answer, or find it here.
---
Our Next Instagram Contest
Last month, we watched you take your Atlantic magazine to school, to the kitchen, and to the back of your truck to view the Great American Eclipse. We had so much fun with our last #ReadingMyAtlantic Instagram contest, we've decided to do it again. Until October 2, submit your best snapshot or Boomerang of the October 2017 issue on Instagram using the hashtag #ReadingMyAtlantic for a chance to win a digital subscription and a prize package. Check out the official rules here, and don't forget to follow us on Instagram.
---
Urban Developments
Our partner site CityLab explores the cities of the future and investigates the biggest ideas and issues facing city dwellers around the world. Adam Sneed shares three of today's top stories:
Fans of the Insane Clown Posse made news by rallying on the National Mall this weekend, but make no mistake: It wasn't a joke. The Juggalos have something important to say.

The Northeast and Midwest are dotted with small, inner-ring suburbs that are struggling. What's to be done? Consider merging them with the larger cities next door.

The federal government spends $7.6 billion each year paying (mostly affluent) Americans to drive to work. It's worsening traffic, pollution, and quality of life—and it's time to stop.
For more updates from the urban world, subscribe to CityLab's daily newsletter.
---
Reader Response
In a recent edition of our magazine feature "The Big Question," we asked some folks to nominate the most underappreciated medical inventions in history. David L. Lerner, a doctor and reader, adds:
It is especially ironic that Dr. Jack Ende's reason for nominating the stethoscope as the most underappreciated medical invention is that it "connects doctors to patients" and counters the erosion of the doctor-patient relationship. Dr. René Laënnec invented the device in 1816 specifically to distance himself from patients, against whose breasts he would otherwise have been expected to press his ear. Over the past two centuries, progressively longer tubing has been incorporated into stethoscopes, resulting in even greater distancing, both literal and metaphorical.
More on stethoscopes, their history, and what they bring to the doctor-patient relationship here.
---
Nouns
Biblical brains, Alaskan farms, health inequities, movie meanings.
---
Time of Your Life
Happy birthday to Sherill's best friend, Krzyychu (twice the age of Microsoft Windows); to Sarah's fellow explorer, Morgan (a year younger than graphical web browsers); to Gene's fiancé, Ann (a year younger than car seat belts); to Margie (twice the age of Harry Potter) and her father (the same age as Ruth Bader Ginsburg); to Floyd's girlfriend, Karen (who was 18 when the last U.S. troops left South Vietnam); to Marylka's son Doniphan (a year younger than CD players); to Molly's boyfriend, Billy (who was 23 when the Berlin Wall collapsed); from Courtney to Epli (a year younger than the 24-hour news cycle); and to Maria (the same age as Barack Obama) from her daughter, our newsletter-writer Rosa.
Do you or a loved one have a birthday coming up? Sign up for a birthday shout-out here, and click here to explore the Timeline feature for yourself.
---