The Atlantic Daily: Mission and Missile
North Korea's provocative test over Japan, the explosion on London's underground, Cassini's farewell plunge, and more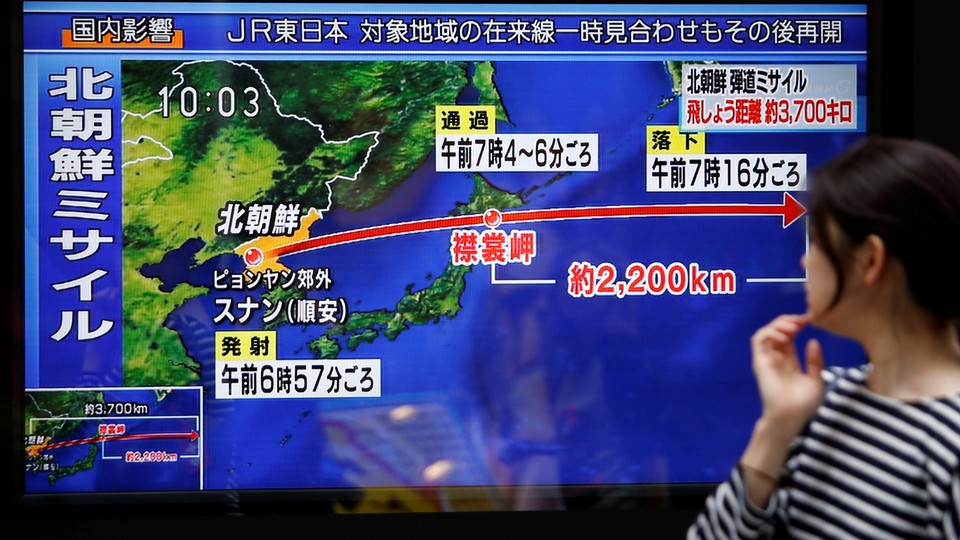 What We're Following
Attack in London: A rush-hour explosion from what officials described as an "improvised explosive device" injured at least 19 people on one of London's underground rail lines. President Trump quickly condemned the attack as the work of "a loser terrorist" and reiterated his call for a "travel ban into the United States" from several Muslim-majority countries—a response that not only drew unfavorable recollections of his delayed condemnation of white supremacists in Charlotteville last month, but also risked straining the U.S. alliance with Britain.
Missile Test: North Korea flew a ballistic missile over Japan on Thursday night, escalating its provocations after the UN passed increased sanctions on North Korea in response to its nuclear test earlier this month. The tests suggest that Pyongyang is growing ever closer to being able to target the U.S., and other countries with a nuclear weapon soon. Could the U.S. peacefully tolerate a nuclear-armed North Korea? Uri Friedman evaluates the option of deterrence.
End of an Odyssey: NASA's Cassini spacecraft crashed into Saturn's atmosphere early Friday morning after 13 years spent orbiting and observing the planet. (The plunge was expected—Cassini was running out of fuel after 20 years in space.) Scientists involved with the mission described its end as the last of many emotional moments, although others cautioned against describing the robot's crash as suicide. Still, if you can't help but mourn Cassini, here's a collection of the awe-inspiring images it sent back.
---
Snapshot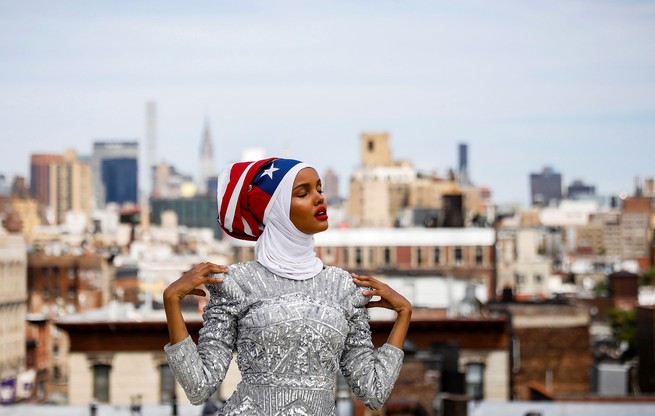 ---
Evening Read
Jenn Stroud Rossmann, an engineer, on the physics of Wiffle ball:
Publishing a study of Wiffle-ball aerodynamics reveals just how many people care about Wiffle ball, and how deeply. I learned about Wiffle leagues full of adult players, and a tournament in which pitchers hurl lightweight Wiffle balls at 80 to 90 miles per hour, with wicked curves and drops. This isn't just tweens trying to avoid elbow injuries or broken windows; Wiffle ball is serious. Players sent me modified Wiffle balls with handwritten notes describing the effects the alterations had on their pitches. Some of the notes implied (or insisted on) a challenge: See if your fancy wind tunnel can figure this out.
Keep reading here, as Rossmann explains the science—and controversy—behind the Wiffle ball's curve.
---
What Do You Know … About Culture?
Hollywood is gearing up for the Emmy Awards on Sunday, putting television in the spotlight. Pamela Adlon is nominated for her role on Better Things, which returned this week for a practically perfect second season. The previously nominated miniseries Top of the Lake also came back to the small screen, although the follow-up failed to earn the acclaim of the 2013 original. Shows that remain without any Emmy noms are still worth paying attention to: Broad City is exploring new emotional territory in taking on the Trump presidency and Insecure finished out its most recent season by incorporating a traditional sci-fi technique to powerful effect.
Can you remember the other key facts from this week's culture coverage? Test your knowledge below:
1. Colin Trevorrow is reportedly the fourth director to be fired by the producer Kathleen Kennedy since she took charge of the ____________ franchise.
Scroll down for the answer, or find it here.
2. Stevie Wonder and Beyoncé performed at a telethon that raised more than $____________ to help victims of hurricanes Harvey and Irma.
Scroll down for the answer, or find it here.
3. The epic fantasy comic-book series ____________ is written by Marjorie Liu and illustrated by Sana Takeda.
Scroll down for the answer, or find it here.
---
This Week on Radio Atlantic
Will America's Institutions Survive President Trump?: Jack Goldsmith, author of The Atlantic's October cover story, sits down with editor in chief Jeffrey Goldberg to take stock. Then, Matt Thompson and Alex Wagner discuss Trump's impact on the GOP with longtime Republican strategist Mindy Finn and The Atlantic's politics and policy editor, Yoni Appelbaum. Listen and subscribe here.
---
Poem of the Week
From our May 1911 issue, Ameen Rahani's "The Song of Siva":
'T is Night; all the Sirens are silent,
              All the Vultures asleep;
And the Horns of the Tempest are stirring
              Under the Deep;
'T is Night; all the snow-burdened Mountains
              Dream of the Sea,
And down in the Wadi the River
              Is calling to me.
Read more here.
---
Reader Response
In his feature story for our latest issue, "The First White President," Ta-Nehisi Coates criticized the New Yorker writer George Packer for attributing Trump's rise to economic rather than racial dynamics. Packer responds:
I wrote about white working-class voters because their political behavior is increasingly different from that of well-educated, professional whites, in ways that paint the current map of America red. From Roosevelt to Reagan, Clinton, Obama, and Trump, they've become the key swing vote. The razor-thin election results in the Rust Belt bore my essay out.

At the heart of American politics there is racism. But it's not alone—there's also greed, and broken communities, and partisan hatred, and ignorance. Any writer who wants to understand American politics has to find a way into the minds of Trump voters. Any progressive politician who wants to gain power has to find common interests with some of them, without waiting for the day of reckoning first to scourge white Americans of their original sin. This effort is one of the essential tasks of politics.
Read more here, and read Coates's essay here.
---
Verbs
Speech challenged, conversation sparked, press critiqued, White House fled.
---
Time of Your Life
Happy birthday to Jon (a year younger than the novel The Lord of the Rings); to Linda (twice the age of The Oprah Winfrey Show); to Steve's son Kevin (a year younger than Shark Week); to Lisa's husband, Yancy (born around the time Richard Nixon resigned); and to Felix's son, who shares a birthday with Maria's son Ricardo (both are the same age as the Swift-Tuttle comet).
And tomorrow, happy birthday to Danya (a year younger than Star Trek); to Fran's spouse, Marty (a year younger than the TV remote); to Cory's sister Caitlin (twice the age of American Idol); from Adam to Lori (a year younger than Sesame Street); and to Nadine's sister, who's too young for the life timeline, but just the right age to revive a language. And happy birthday to George's son and our editorial fellow Kevin (one-seventh the age of The Atlantic).
Do you or a loved one have a birthday coming up? Sign up for a birthday shout-out here, and click here to explore the Timeline feature for yourself.
---