The Atlantic Daily: Making the Case
The White House v. Comey, Sanders's bill for single-payer health care, what U.S. aid means to global health, and more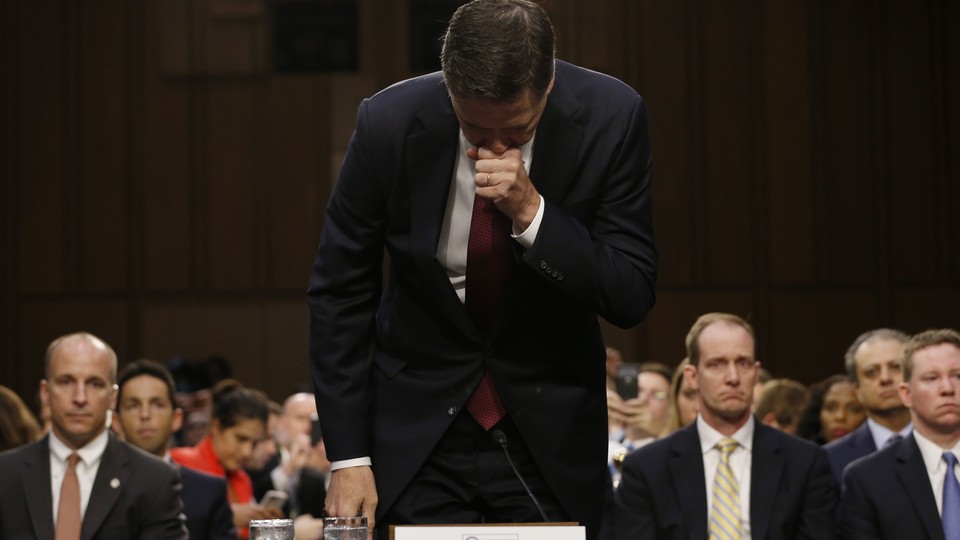 What We're Following
Public Investigations: At a White House briefing, Press Secretary Sarah Sanders argued that the former FBI Director James Comey should be prosecuted for releasing memos to The New York Times about the events leading up to his firing. New details have emerged about the business dealings that Michael Flynn failed to disclose before becoming President Trump's national-security adviser. And Special Counsel Robert Mueller's investigation into the Trump campaign's connections with Russia continues with the help of at least two federal grand juries. Here's what witnesses from past political scandals say about what it's like to testify in such a probe.
Health Care, Revisited: Senator Bernie Sanders introduced the latest version of his bill to provide Americans with universal health coverage. Though the legislation is unlikely to pass anytime soon, it has much more support today than when Sanders last introduced it in 2013. His Republican colleagues Lindsey Graham and Bill Cassidy countered the proposal with one last attempt to repeal Obamacare—but that long-running effort has likely lost all its momentum.
Aid and Politics: At a telethon to benefit victims of hurricanes Harvey and Irma, celebrities including Stevie Wonder and Beyoncé ignored the potential political implications of discussing climate change and called viewers to act against its effects. And the Bill and Melinda Gates Foundation issued a new report projecting serious setbacks to global health if the U.S. and others cut funding for foreign aid.
---
Snapshot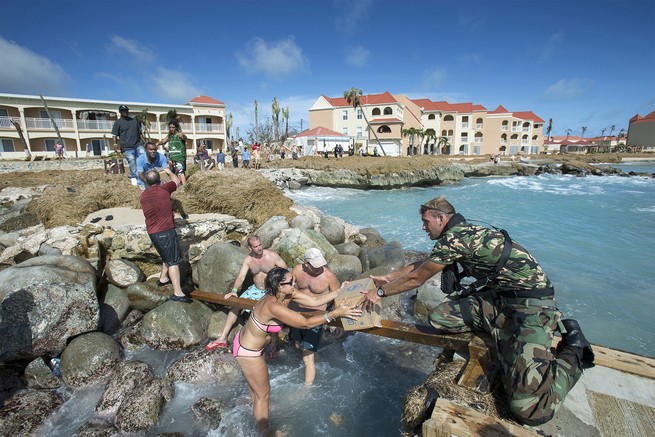 ---
Evening Read
Erika Hayasaki on how pregnancy changes a mother rat's brain:
Even as her offspring grow and learn to fend for themselves, the neurological changes of motherhood persist. She will experience less memory decline in old age, and have quicker navigation skills than non-mothers, outsmarting them in mazes. She is more efficient, making fewer errors. She finds new and unusual ways to get tasks done—problem-solving approaches she had not considered before giving birth. …

Neuroscientists do not yet understand what impact pregnancy and childbirth might have on the processes of creativity in the human maternal brain. But the inner workings of maternal rat brains might provide a clue. Science shows us that rat moms are inventive, dauntless, resourceful—essential ingredients for creativity. Yet when it comes to human moms, our culture reinforces its own ideas about creativity and parenthood. … When it comes to merging motherhood and a creative life or fulfilling career, one message resounds: They are incompatible.
Keep reading here, as Hayasaki explores how motherhood affects creativity.
---
What Do You Know … About Science, Technology, and Health?
The newly revealed iPhone X comes at a critical time for Apple: Its sales will help determine whether the company can revive its slowing profit growth. To that end, the phone's new Face ID feature creates a new way for smartphones to demand people's active attention—but it risks leaving users more vulnerable to searches by police or border agents. Apple also announced that it was redesigning its stores as Town Squares—a decision that illustrates how the company's products have helped private spaces masquerade as public ones online.
Can you remember the other key facts from this week's science, tech, and health coverage? Test your knowledge below:
1. The largest tanker ships can carry ____________ barrels of oil.
Scroll down for the answer, or find it here.
2. At least ____________ customers of Florida Power and Light, the state's largest electric utility, lost power as a result of Hurricane Irma.
Scroll down for the answer, or find it here.
3. The Cassini spacecraft will crash into ____________ on Friday to avoid contaminating the planet's moons Titan and Enceladus, which astronomers say are potentially habitable.
Scroll down for the answer, or find it here.
---
Look Back
This week marks 64 years since Nikita Khrushchev became the leader of the Communist Party of the Soviet Union. In our June 1962 issue, Edward Crankshaw considered his rise to power:
Khrushchev was supreme. But he was still not an autocrat as Stalin had been an autocrat. Blind devotion and uncritical admiration are not qualities which Khrushchev inspires in those closest to him. Nor does he instill awe, as Stalin did. A healthy regard for his temper; fear of his malice, by all means. But not awe. Above all, there is a reluctant respect for his genius as a practical politician; he is, indeed, the first true politician, as the word is understood in the West, to be produced by Soviet Russia. With this goes a high valuation of his extraordinary combination of physical stamina, nervous drive, boldness and cunning, and adroitness. There is nobody else anywhere near the top of the Communist hierarchy who can drive and lead as Khrushchev drives and leads. So the Soviets need him. He is the best head of state they have got, and they know it.
Read more here.
---
Reader Response
For the Big Question of our October issue, we asked: What crime most changed the course of history? Paul Jones writes:
Hitler used the Reichstag fire of February 27, 1933, as an excuse to crack down on his opposition. He persuaded German President Paul von Hindenburg to pass draconian laws that suspended civil liberties, allowing the Nazis to seize control.
And Gloria Kottick writes:
For the civil-rights movement in the United States, a pivotal awakening came with the horrific murder, in 1955, of Emmett Till by two racially motivated white men, who accused him of whistling at a white woman. Gradual, painful progress toward a civilized society has ensued since that event.
Read more responses and submit your own answer to the next Big Question here.
---
Verbs
Characters humanized, mutations analyzed, Brexit contextualized, parrots preserved.
---
Time of Your Life
Happy birthday to Gwyn (a year younger than human spaceflight); to Terry's wife, Sara (twice the age of the Disney Channel); to Sarah's husband, Dave (twice the age of websites); to John's wife, Naomi (a year younger than the TV remote); to Leslye (the same age as the personal computer); from Michele to Matthew (a year younger than the Beatles); from J.J. Sr. and Mom to J.J. Jr. (the same age as the Swift-Tuttle comet); and to Jim's husband, Paul (a year younger than Martin Luther King Jr.'s "I Have a Dream" speech).
Do you or a loved one have a birthday coming up? Sign up for a birthday shout-out here, and click here to explore the Timeline feature for yourself.
---