The Atlantic Daily: Finding Resilience
Destruction in Irma's wake, DACA's impact on workers, how terrorists exploit political divisions, and more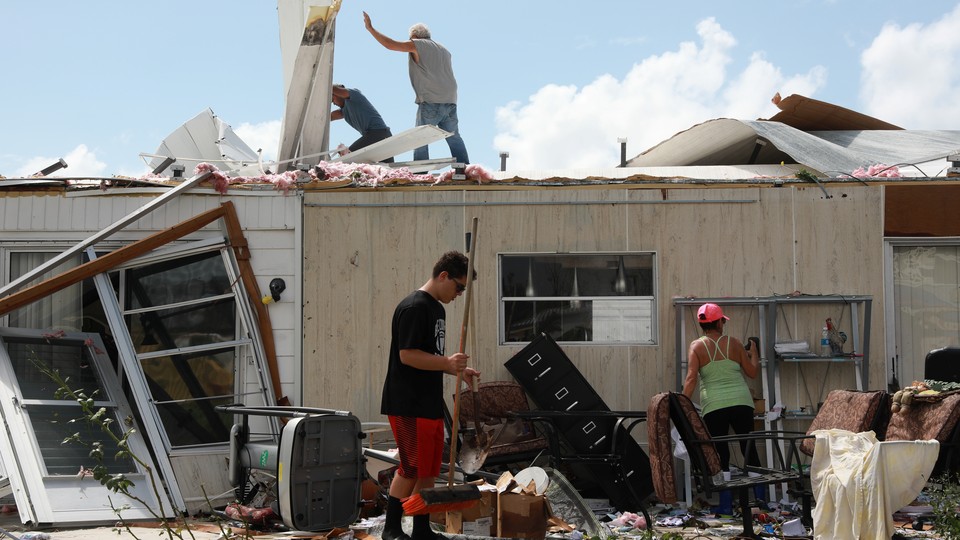 What We're Following
Hurricane Havoc: Over the weekend, Irma made landfall in Cuba and twice in Florida, setting record wind speeds and cutting power for more than 10 million people across the state. The damage to Florida's electrical grid will require extensive rebuilding, and will test recent improvements meant to help protect the system from storms. Meanwhile, as Harvey recovery efforts continue in Texas, three churches are filing a lawsuit to challenge the rule that religious organizations can't receive funding from FEMA.
DREAMers' Dreams: Though the Deferred Action for Childhood Arrivals program allowed undocumented recipients to work legally in the United States, President Trump's cancellation of the program means many of their permits will expire unless Congress passes a law to grant them permanent legal status. As a result, they'll likely lose their economic mobility—which could have significant effects on the economy as a whole.
After 9/11: Sixteen years after the terrorist attacks of September 11, 2001, Conor Friedersdorf worries that the chaos of the Trump administration means the country is less prepared to face a similar crisis today. Ali Soufan, a former FBI special agent, argues that since terrorist organizations capitalize on societies' divisions, America can fight them by recommitting to its fundamental values.
---
Snapshot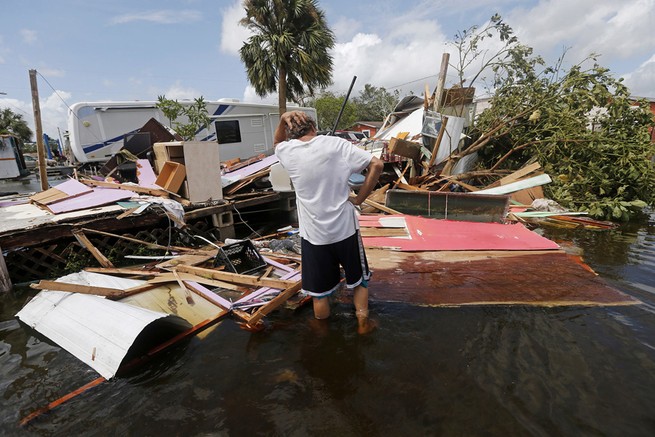 ---
Evening Read
Caitlin Flanagan introduces the queen of oversharing:
"The Personal-Essay Boom Is Over," declared the headline of a much-circulated article on The New Yorker's website earlier this year. It was the "God Is Dead" of the Jezebel generation, reporting that the craze for essays with titles like "My Gynecologist Found a Ball of Cat Hair in My Vagina"—a story by a writer named Michelle Barrow that became a fleeting sensation in 2015—had come to an end. To borrow a late-19th-century saying about the United States patent office, everything that could be found inside a vagina had been found.

Let young essayists find hope in the life and letters of Joyce Maynard, who has withstood market corrections to the personal-essay economy for 50 years, ever since her first one appeared in Seventeen magazine when she herself was 14. She is the Joyce Carol Oates of women's confessional essays, firing them off in such rapid succession that she will probably begin and finish one in the time it takes you to read this paragraph. Her subject is herself, and although she has but one life to live, she is never short of material, because she reads and rereads her own story according to market demands. Teach a woman to describe a ball of cat hair, and she will sell an essay. Teach her to regard that ball of cat hair as an illustrative example of a handful of recurring themes, and she will sell essays for a lifetime.
Keep reading here as Flanagan reviews Maynard's new memoir, The Best of Us.
---
What Do You Know … About Education?
This was a week of uncomfortable but important conversations in the education. Emily Yoffe's three-part series on campus sexual-assault policies argued that recent changes intended to protect assault victims are more problematic than many may think. And our frequent contributor Melinda D. Anderson spoke with Beverly Daniel Tatum about how to have conversations on race in the classroom for the 20-year anniversary of her influential book Why Are All the Black Kids Sitting Together in the Cafeteria?.
Can you remember the other key facts from this week's education coverage? Test your knowledge below:
1. Inspired by a book called Teaching Content Outrageously, Ashley Lamb-Sinclair, the 2016 Kentucky Teacher of the Year, organized a dramatic classroom exercise to teach the novel ____________.
Scroll down for the answer, or find it here.
2. The College Board and ACT cover the cost for students to send their test scores to ____________ institutions.
Scroll down for the answer, or find it here.
3. In a 2012 talk, the psychologist Rebecca Campbell described the memories of sexual-assault victims as fragmented and scattered, comparing them to "tiny ____________."
Scroll down for the answer, or find it here.
---
Look Back
On this day in 1851, a group of enslaved people escaped in Christiana, Pennsylvania, and put up an armed resistance against the kidnappers paid to recapture them. In our March 1866 issue, William Parker gave a firsthand account of the incident, beginning with a black man named Samuel Williams alerting Christiana residents of the coming danger:
The information brought by Mr. Williams spread through the vicinity like a fire in the prairies … and when I went home from my work in the evening, I found Pinckney … Abraham Johnson, Samuel Thompson, and Joshua Kite at my house, all of them excited about the rumor. I laughed at them, and said it was all talk. This was the 10th of September, 1851. They stopped for the night with us, and we went to bed as usual. Before daylight, Joshua Kite rose, and started for his home. Directly, he ran back to the house, burst open the door, crying, "O William! kidnappers! kidnappers!" …

I told them all not to be afraid, nor to give up to any slaveholder, but to fight until death.
Read more here.
---
Reader Response
For our special project on the business of creativity, Anjali Enjeti wrote about why she's spent 10 years struggling to get a book deal. This commenter can sympathize:
I wrote novels in high school and university. Work in my 20s interfered, but I made a serious push to write something publishable in my 30s, for a couple of years. I took courses, paid an editor, joined a writing group … But my writing didn't seem to touch these people or grip them. I felt crushed.

I didn't write for six years. I learned other ways to be. Then my kids found out I had a manuscript in the house! They were thrilled. They bugged me to online publish. "Just do it!" I took my earlier work and put it on FictionPress piece by piece. Gradually I roped in "views" and then one reviewer. I started writing again, for just that one reviewer.
Read Enjeti's essay here.
---
Verbs
Pets captured, futures visualized, populism analyzed, waste interred.
---
Time of Your Life
Happy birthday to Sarah (the same age as Walt Disney World); to Caitlin's friend Nicholas (a year younger than the World Wide Web); to Emily (twice the age of the euro); to Julia's father, Stephen (a year younger than human spaceflight); to Stephanie (twice the age of Amazon); to Oma's granddaughter (a year younger than the iTunes Store); from Eileen to Kristen (the same age as the Voyager 1 space probe); and to Andra's daughter Parker (a year younger than cell phones).
From yesterday, happy birthday to Carol (a year younger than the TV remote); to Pnina's son Ben (twice the age of the International Space Station); to Elisabeth (a year younger than helicopters); to Adam (the same age as the Voting Rights Act); to Andy's son Kerry (a year younger than Microsoft); to Lucas's girlfriend, Alexandra (twice the age of Harry Potter); to Anna's sister Allison (born around the time Richard Nixon resigned); and to Eileen (a year younger than sunscreen).
Do you or a loved one have a birthday coming up? Sign up for a birthday shout-out here, and click here to explore the Timeline feature for yourself.
---