The Atlantic Daily: Uncertain Futures
University presidents' last plea for DACA, Republicans' plan for tax reform, Iraq's path after ISIS, and more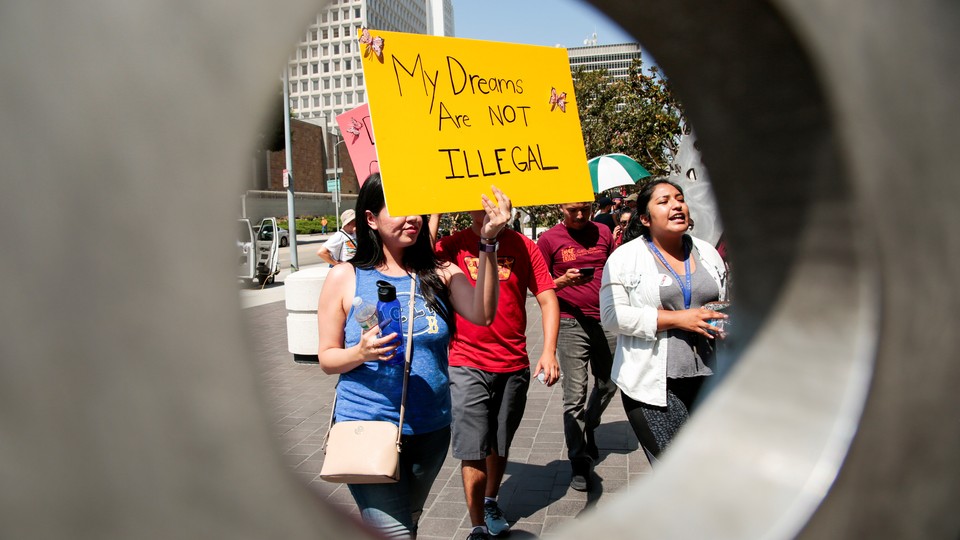 What We're Following
Students' Futures: As President Trump prepares to announce on Tuesday his decision on whether to revoke DACA, several university presidents have written personal appeals on behalf of undocumented students who arrived in the U.S. as children and are protected from deportation under the program. The letters argue that DACA beneficiaries bring valuable contributions to their communities—including, for example, the research and patient care performed by undocumented medical students, who likely will not get to practice medicine if DACA is revoked.
Tax Talk: When Trump gave a speech about the need for tax reform earlier this week, Republicans in Congress still hadn't figured out the details of their plan. On the whole, it's expected to provide a major tax break for the richest Americans, but that policy may not be in the country's best interest. Instead, Derek Thompson makes the case for a millionaire tax—a policy supported not only by Massachusetts liberals, but also by Trump's erstwhile adviser Steve Bannon.
Prison Problems: It can be all but impossible for prisoners to carry out civil proceedings like divorcing abusive spouses. But one Chicago court is working to solve these legal obstacles and smooth the way for inmates to get their lives on track after release. And an expert on prison reform argues that parole boards' reluctance to release former violent offenders is keeping people in jail long after they could have been rehabilitated.
---
Snapshot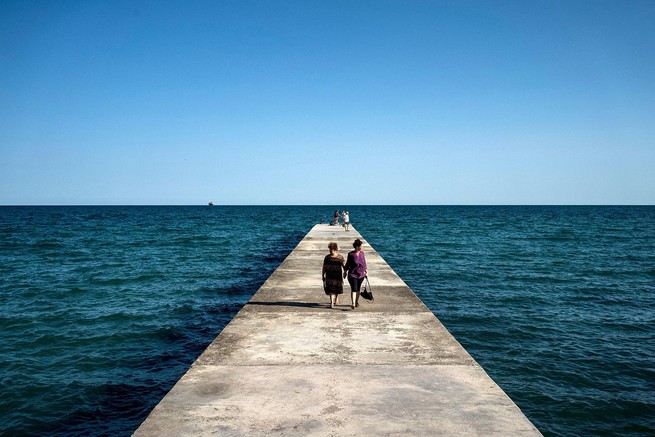 ---
Evening Read
Kori Schake on a recent trip to Mosul, which is struggling to rebuild after its occupation by the Islamic State:
Catholics are hesitant to return to Mosul because they have lost trust in the people around them; others resent government money going to Catholics because the global faithful have contributed so generously to them. Sunni complain security forces are rampantly pillaging and wonder why the U.S. and Europe care so much more about the fate of Catholic and Yezidi communities than them, who hold the country's prospects for peace in their hands. … Many Iraqi Army and peshmerga units folded quickly or engaged in retribution, alienating communities they were sent to protect. Iraqi National Army soldiers fly flags of Shia militia over their posts, and say they can't wait to get back to the south because "all Mosul is ISIS."  

One could be forgiven for thinking Iraq remains a tangled mess of sectarian division and political failings, whose people are incapable of resolving their differences and working together to rebuild the country. Those who believe the people of the Middle East unsuited to democracy may even take satisfaction their bias has been borne out by events. That is not what I saw in Iraq.
Keep reading here, as Schake describes how Mosul is building a path to a post-ISIS future.
---
What Do You Know … About Culture?
The pop-culture world saw a number of long-running stories come to an end this week, while others seem to have gained new life. The film Tulip Fever was finally released after more than decade of trying to make it to theaters, and the seventh season of Game of Thrones culminated with a certain incestuous hookup. On the other hand, The Great British Bake Off rebooted with new stars, and LCD Soundsystem reunited to release a brand-new album six years after breaking up.
Can you remember the other key facts from this week's culture coverage? Test your knowledge below:
1. The first radio show produced in prison began airing in the year ____________.
Scroll down for the answer, or find it here.
2. In 2016, there were ____________ scripted shows on television.
Scroll down for the answer, or find it here.
3. The actor Ed Skrein, who is white, dropped out of the Hellboy film reboot after learning that his character, ____________, was originally written as Asian American.
Scroll down for the answer, or find it here.
---
This Week on Radio Atlantic
What Game of Thrones Has Taught Us About Politics: "Winter is coming," they warned us, and the seventh season of Game of Thrones might have proved them right. But no one mentioned that winter in Westeros would coincide with so many troubling events in real-world politics. In this episode, Megan Garber, a staff writer for The Atlantic, joins Radio Atlantic co-hosts Alex Wagner and Matt Thompson for a conversation about lessons from the show, and other recent pop culture (tune in for the second half if you're not a Thrones fan or want to avoid spoilers). Listen and subscribe here.
---
Poem of the Week
From our August 1874 issue, "A Sea Dream," by John Greenleaf Whittier:
We saw the slow tides go and come,
   The curving surf-lines lightly drawn,
The gray rocks touched with tender bloom
   Beneath the fresh-blown rose of dawn.

We saw in richer sunsets lost
   The sombre pomp of showery noons;
And signaled spectral sails that crossed
   The weird, low light of sea-born moons.
Read more here.
---
Reader Response
In our September issue, Ann Hulbert reviewed Suzy Hansen's memoir Notes on a Foreign Country, in which Hansen describes the profound disillusionment with the U.S. that she experienced while living abroad. This reader can relate:
I am Canadian, but many parts of this article resonated deeply with me. I traveled for four months after I finished my undergraduate degree. I lived in Rwanda for two of those months. I always struggled to articulate what I went through. I often reached for words like shame, ignorance, delusion, selfishness, or naïveté. I never managed to concisely explain to myself or any one else what I experienced, but now I have it: I was realizing that the entire foundation of my consciousness was a lie.
Read Ann's review here.
---
Verbs
Constitution educates, health advice vacillates, plants communicate, marijuana nauseates.
---
Time of Your Life
Happy birthday to Steven (the same age as the U.S. Air Force); to Jeri's husband, Ed (born the same year as Muhammad Ali); to Tabatha's daughter Elena (twice the age of Spotify); to Madeline's boyfriend, Jeremy (a year younger than the 24-hour news cycle); from Anna to Indra (born around the time Richard Nixon resigned); and to Janet, who shares a birthday with Scott's wife, Carmen (both are a year younger than Lord of the Rings).
Tomorrow, happy birthday from Lois to Lisa (a year younger than the TV remote); to Kerry (born around the time of the first successful open-heart surgery); from ConCynKevDavey to Dinny (a year younger than color-TV broadcasting); from Meredith to Samantha (twice the age of Toy Story); from Sandy to Jesse (the same age as Kobe Bryant); to David (a year younger than T-shirts); to Doug's wife, Louise (twice the age of Microsoft Windows); to Nancy's sister Brenda (the same age as Theresa May); to Roger's daughter Jackie (a year younger than websites); and to Melanie, who shares a birthday with Carlanne's son (both are a year younger than Apple).
Do you or a loved one have a birthday coming up? Sign up for a birthday shout-out here, and click here to explore the Timeline feature for yourself.
---
The newsletter dated August 30, 2017, described the missile North Korea tested over Japan on Monday as an ICBM, or intercontinental ballistic missile. In fact, it was an IRBM, or intermediate-range ballistic missile. Our apologies for the error, and thanks to reader Stephen for pointing it out.
---