The Atlantic Daily: Work It
Another month of U.S. jobs growth, what the NSC needs to get through a crisis, the defeat of the Confederacy, and more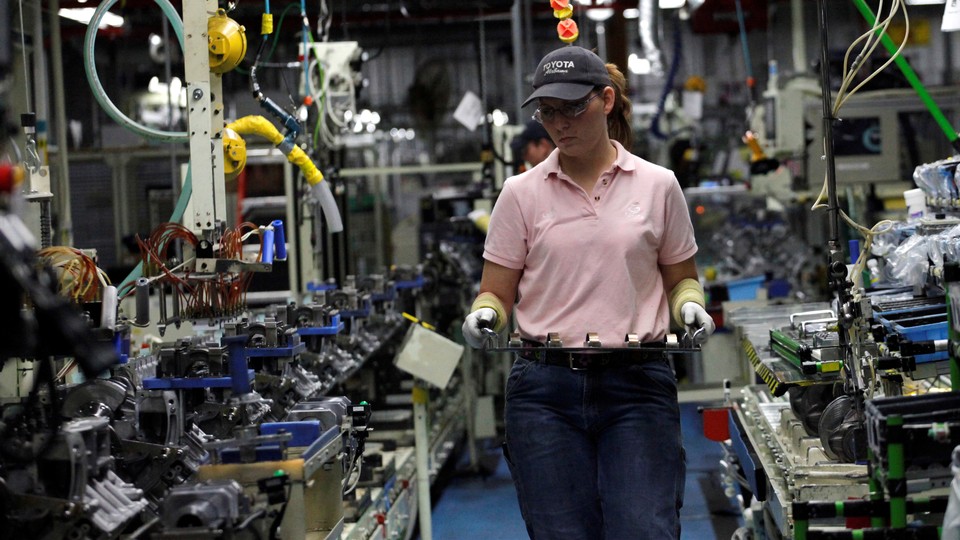 What We're Following
Jobs on Jobs on Jobs: The U.S. economy continued its record streak of jobs growth in July, adding jobs for the 82nd month in a row, according to the Labor Department. Toyota and Mazda also announced their agreement to build a new assembly plant in the U.S., a decision President Trump hailed on Twitter as a "great investment in American manufacturing." The president's campaign last year centered on protecting American workers; to that end, he's backing a plan to cut back significantly on legal immigration while prioritizing skills over family connections as criteria for entry. Here's what happened when President Lyndon Johnson proposed something similar.
Police Business: Two New York legislators have proposed a law that would stop arrests over fare evasion—a key component of "broken windows" police policy, which critics argue harms those living in poverty more than it helps prevent higher-level crimes. Meanwhile, writes Christopher Orr, the new film Detroit gives a powerful, shocking portrayal of police brutality during the city's 1967 riots—but misses an opportunity to unpack the systemic problems that led to it.
Security Clearance: After staffing changes on the National Security Council highlighted tensions within the White House, a former NSC staffer outlines what Trump's team needs to handle a national-security crisis. And a transgender CIA officer shares what she'd like the president to know about trans Americans in uniform.
---
Snapshot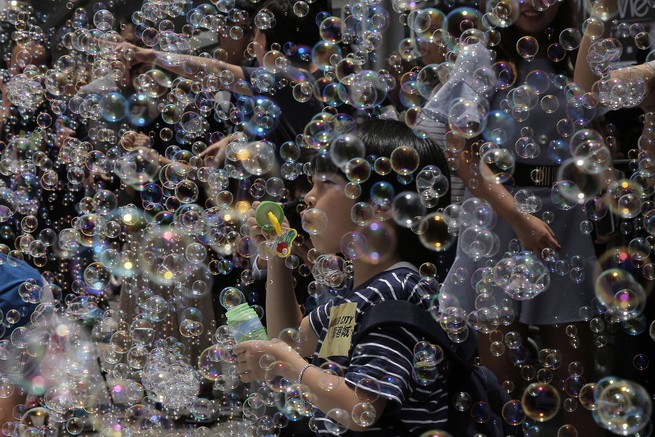 ---
Evening Read
Ta-Nehisi Coates on why Confederate—the upcoming HBO show that will imagine an America in which the Confederacy won the Civil War—might not deserve the benefit of the doubt:
Confederate's creators don't seem to understand—the war is over for them, not for us. At this very hour, black people all across the South are still fighting the battle which they joined during Reconstruction—securing equal access to the ballot—and resisting a president whose resemblance to Andrew Johnson is uncanny. Confederate is the kind of provocative thought experiment that can be engaged in when someone else's lived reality really is fantasy to you, when your grandmother is not in danger of losing her vote, when the terrorist attack on Charleston evokes honest sympathy, but inspires no direct fear. And so we need not wait to note that Confederate's interest in Civil War history is biased, that it is premised on a simplistic view of white Southern defeat, instead of the more complicated morass we have all around us.
Keep reading here, as Ta-Nehisi points out the limitations of the Confederacy's defeat.
---
What Do You Know … About Culture?
In 2017, Hollywood is still grappling with women's roles both on and off the screen. Only 34 women held the directing position of the 900 top-grossing films of the last nine years, so Ava DuVernay is making an effort to place women and people of color in front of and behind the camera. And Game of Thrones, which has sent complicated messages about its female characters in the past, is turning to simpler expressions of feminism as it heads into its conclusion. Meanwhile in the literature world, where women make up the majority of thriller readers, men are adopting women's names to sell more books in the genre.
Can you remember the other key facts from this week's culture coverage? Test your knowledge below:
1. The playwright Sam Shepard, who died recently at the age of 73, wrote a total of ____________ plays during his lifetime.
Scroll down for the answer, or find it here.
2. Logan Lucky marks the director ____________'s return to filmmaking after a four-year hiatus that was prompted by frustration with the way big studios release and market movies.
Scroll down for the answer, or find it here.
3. Zinzi Clemmons wrote her debut novel What We Lose when she returned home to Philadelphia to care for her ____________.
Scroll down for the answer, or find it here.
---
Radio Atlantic
Ask Not What Your Robots Can Do for You: This week, on Radio Atlantic, we explore how machine intelligence will change human life. Alexis Madrigal joins our co-hosts for a probing conversation about the long history of smart machines taking over tasks that were once reserved for humans. Also, Jeffrey Goldberg pays tribute to Boots Riley, Matt Thompson accompanies a bot-written adaptation of a Beauty and the Beast jingle, and Helen Keller's writing gets some time to shine by way of Alex Wagner. Listen here, and subscribe here.
---
Poem of the Week
From "A Sunday in Purgatory," by Henry Morgenthau III:
At Ingleside, a faith-based community
for vintage Presbyterians, I am an old Jew.
But that's another story.
I'm not complaining with so much I want to do,
doing it at my pace, slowly.
Anticipation of death is like looking for a new job.
Morgenthau, now 100, was well into his 90s when he found his new calling as a poet. Read more about him and his poetry here.
---
Reader Response
Taylor, a reader in Los Angeles, responds to Olga Khazan's article about women who bully each other at work:
I've dealt with a boss who told everyone that she loved supporting other women in business, especially her field of real estate, but would tear down the three women who worked for her and only responded well to the single male employee. I think it's unfortunate that we've allowed ourselves to treat other struggling women in the work place so poorly. And though Lean In was supposed to help women, I think it might have made the situation worse for some.

[On the other hand,] I used to work for a former professor who wrote a book called Tripping the Prom Queen, all about women and the myth that they support each other. She was always supportive of me and connected me with a lot of her friends.
And in their own response to the article, two researchers on management argue that stereotypes of how women "should" support each other are part of why some women might receive ordinary feedback from female bosses as bullying.
---
Gerunds
Public speaking, summer reading, traditional healing, musical feelings.
---
Time of Your Life
Happy birthday to Jeff (a year younger than Silent Spring); to Linda (a year younger than FM radio); to Mackie's daughter Jordan (the same age as Kanye West); to Mary's son Sean (twice the age of Twitter); to Margaret's husband, Don (a year younger than the FIFA World Cup); and to Marilyn's husband (born around the time India and Pakistan gained independence from Great Britain). Dave (a year younger than commercial bar-code scanning) shares a birthday with his mother, Judy (a year younger than It's a Wonderful Life).
Tomorrow, happy birthday from Steven to Cara (twice the age of graphical web browsers); to K. T. (a year younger than The Cat in the Hat); to Steven's "beloved shaman" Jane (twice the age of Macintosh computers); to Carrie (a year younger than car seat belts); to Paula's husband, Mason (twice the age of The Simpsons); and to our newsletter-writer Rosa's brother Richard (one-eighth the age of The Atlantic).
Do you or a loved one have a birthday coming up? Sign up for a birthday shout-out here, and click here to explore the Timeline feature for yourself.
---
The newsletter dated August 3, 2017, misstated the year in which West Virginia Governor Jim Justice will be eligible for reelection. It's 2020, not 2018. Our apologies for the error, and thanks to reader Patrick for pointing it out.
---
Meet The Atlantic Daily's team here. To contact us, email hello@theatlantic.com.

Did you get this newsletter from a friend? Sign yourself up here.