The Atlantic Daily: Tests of Fortitude
North Korea's provocative missile test, Harvey's economic cost, the keys to making friendships closer, and more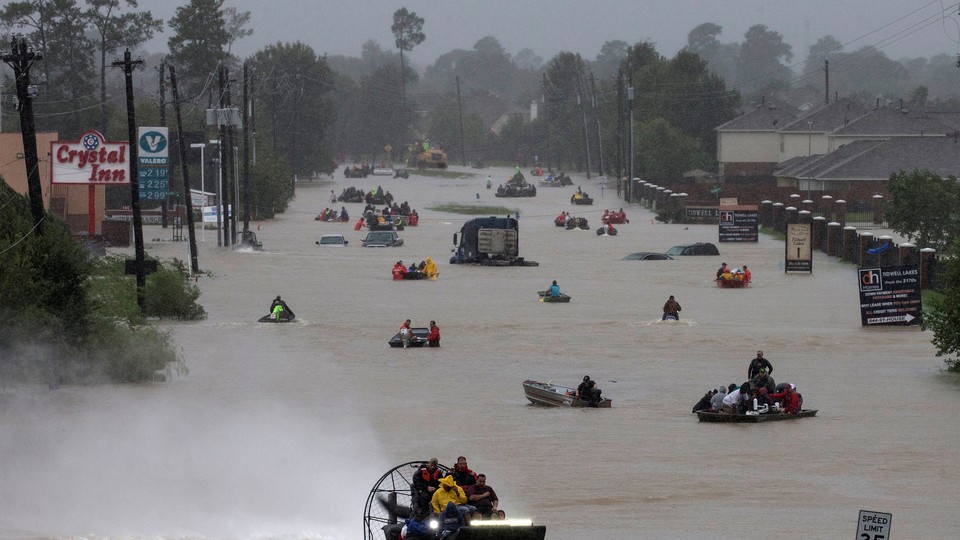 What We're Following
Harvey's Fallout: As rain continues to fall on the Gulf Coast, early estimates say that Hurricane Harvey (now a tropical storm) and its lingering aftermath have cost billions in damages, though the extreme flooding caused by the storm makes its impact even harder to assess than usual. At least seven people have died in the disaster. The Gulf Coast is particularly vulnerable to hurricanes because of human factors—from failing infrastructure to racial and economic inequality—as well as environmental ones. And human-caused climate change likely plays a role in the new intensity of tropical storms, though they've also become less frequent. As the disaster keeps unfolding, here's a guide to our ongoing coverage.
North Korea: The country sent a missile to fly over Japan's northernmost island on Monday night in what may be its riskiest and most aggressive test this year. In response, President Trump stated that "all options are on the table" to deal with the threat to security in East Asia—a somewhat more measured message than the "fire and fury" he threatened earlier this month. Any option the U.S. does pursue will have to take into account North Korea's growing nuclear arsenal, as well as China, which is prepared to fight the U.S. rather than let that arsenal be used.
Political Polarities: A group of Ivy League professors has published a letter urging members of the class of 2021 to think for themselves rather than letting their views "be shaped by dominant opinion." A new short story collection, Basket of Deplorables, satirizes Americans' troubling tendency to be blinkered by politics and suspicion. And a history professor, Christopher D. Cantwell, describes how sharing his name with an alt-right leader gave him an accidental inside look at how the other Cantwell developed his hateful beliefs.
---
Snapshot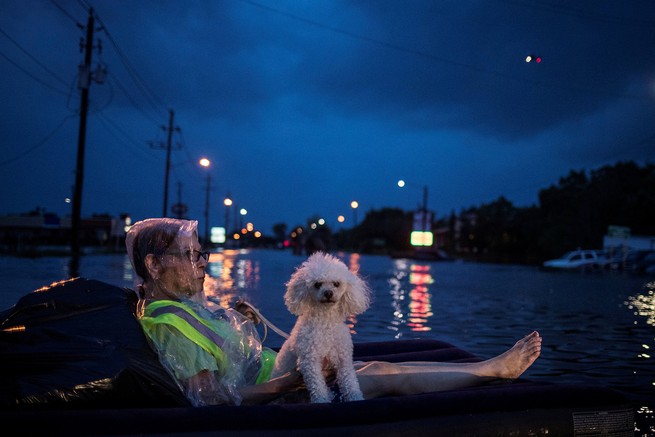 ---
Evening Read
Julie Beck on the challenges of maintaining close friendships as an adult:
Even if someone wants to make friends a high priority in their life, unlike with romantic relationships, for friendships there are fewer cultural scripts to follow to do the work of befriending someone, or making a friendship closer.

"The opportunities for friendship come with how people's lives are organized," [William Rawlins, a communications professor,] says. "When I talk to students, I say 'Pay close attention to the habits you're forming, because before you know it, you have organized your life in a way that doesn't allow for the kind of friends that you would like to have.'"
Keep reading here, as Julie seeks out some strategies for making and sustaining lasting friendships.
---
What Do You Know … About Business?
On Sunday, Uber's board of directors surprised the business world by picking the Expedia CEO Dara Khosrowshahi to lead the company; he's expected to refute the idea that the "poisonous" culture pinned to his controversial predecessor, Travis Kalanick, was inextricable from the company's success. Erin Blakemore documents how as far back as the 1920s, towns across the country bought into the Lost Cause myth by accepting the economic benefits of Jefferson Davis Highways. Today, state governments still tie business and politics together via preemption laws, overriding local decisions on issues from North Carolina's "bathroom bill" to minimum-wage hikes.
Can you remember the other key facts from this week's business coverage? Test your knowledge below:
1. Hopkinsville, Kentucky, a town in the path of last week's total solar eclipse, estimates that its 100,000 eclipse tourists spent about $____________.
Scroll down for the answer, or find it here.
2. The number of Walmart locations in the U.S. is about ____________—roughly 10 times the number of Whole Foods stores recently acquired by Amazon.
Scroll down for the answer, or find it here.
3. A U.K. study has found that low-quality jobs can have an even worse effect than unemployment on health markers like allostatic load, which measures the impact of ____________.
Scroll down for the answer, or find it here.
---
Urban Developments
Our partner site CityLab explores the cities of the future and investigates the biggest ideas and issues facing city dwellers around the world. Gracie McKenzie shares three of today's top stories:
For more updates from the urban world, subscribe to CityLab's daily newsletter.
---
Reader Response
After Julian E. Zelizer and Morton Keller debated what it would take for Democrats and Republicans to work together, the TAD group is discussing the same question. Ari has some tough words for his fellow commenters:
It would probably require voters who were willing to work together. Our elected officials are the product of their voters—even those who voted against them. A divisive, partisan electorate will produce divisive and partisan elected officials. A nation of people who tweet and don't think beyond the comments section of an online article will produce elected officials who compulsively tweet, and think little beyond that. People like to blame their congressmen, but look who voted for them.
More reader discussion here.
---
Verbs
Netflix ascending, fire ants floating, space travelers sleeping, hero seeing all.
---
Time of Your Life
Happy birthday to Ralph's very good friend (a year younger than the Beatles); to Tom's wife, Sandra (twice the age of The Oprah Winfrey Show); to Monica (a year younger than Silent Spring); to Hanna's dad (twice the age of Macintosh computers); to Sarah's brother Peter (a year younger than the computer mouse); to Elisabeth (twice the age of Harry Potter); to Elizabeth's mother-in-law, Kae (the same age as Pope Francis); to Nem's friend Lyn, who shares a birthday with Anne's fiancé, Rick (they're both a year younger than credit cards); to our product fellow, Meghan (one-seventh the age of The Atlantic); and to our senior editor Sacha (one-fourth the age of The Atlantic). And happy birthday to Margie's son, who at 3 years old is too young for the life timeline, but just the right age to become a scientist.
Do you or a loved one have a birthday coming up? Sign up for a birthday shout-out here, and click here to explore the Timeline feature for yourself.
---