The Atlantic Daily: Harvey's Destruction
Unprecedented flooding in Houston, Arpaio's pardon, Biden's call for moral unity, and more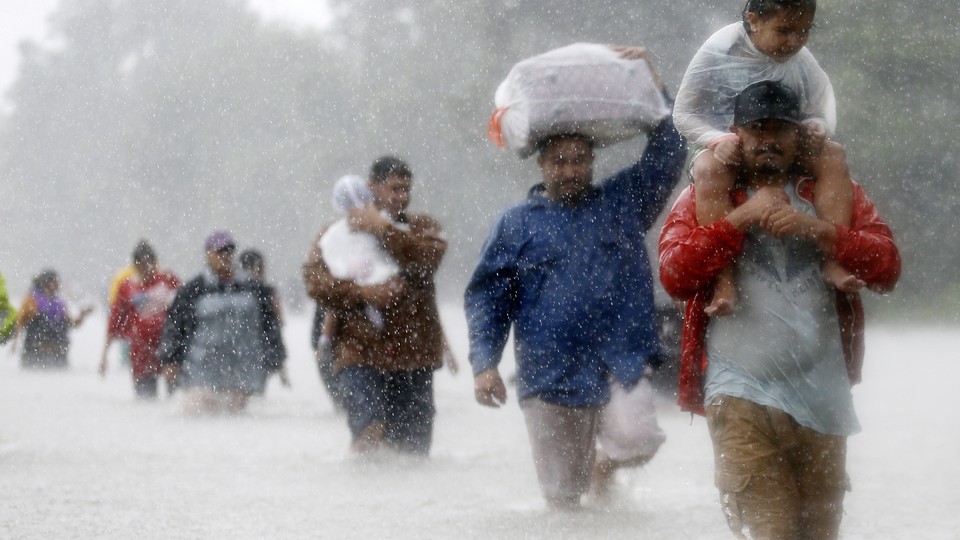 What We're Following
Hurricane Harvey: Congress is preparing to send additional federal aid to Texas after the weekend's storm left severe damage on the Texas coast and unprecedented flooding in the Houston area. The heavy rainfall—rather than high winds or storm surge—is likely to be the most dangerous part of the storm, particularly for Houston's most vulnerable communities. In one hospital, patients are stranded and running out of food; meanwhile, residents have turned to Twitter to get help from citizen rescuers. As Harvey's aftermath unfolds, here's an annotated list of resources to stay updated on the situation.
Joe Arpaio's Pardon: President Trump pardoned the former Maricopa County sheriff of his contempt-of-court conviction during a Friday night news dump that also included a directive to ban transgender troops and the ouster of Sebastian Gorka. Arpaio, once Trump's ally in questioning Barack Obama's citizenship, had ignored a federal judge's order to stop racial-profiling practices that the court found to be discriminatory. His pardon suggests disrespect not only for civil rights, but also for America's courts.
Bipartisan Efforts: Senators Lamar Alexander, a Republican, and Patty Murray, a Democrat, are planning new hearings on health care next month—and with both of their parties involved this time, their reform plans might actually work. As for the chances of the collaboration itself, two historians note that conditions for bipartisanship are best when a party is internally divided, or when cooperation comes with a political incentive. And as former Vice President Joe Biden writes, in the aftermath of racist violence, there's a strong moral incentive for all Americans to come together and fight "for the soul of this nation."
---
Snapshot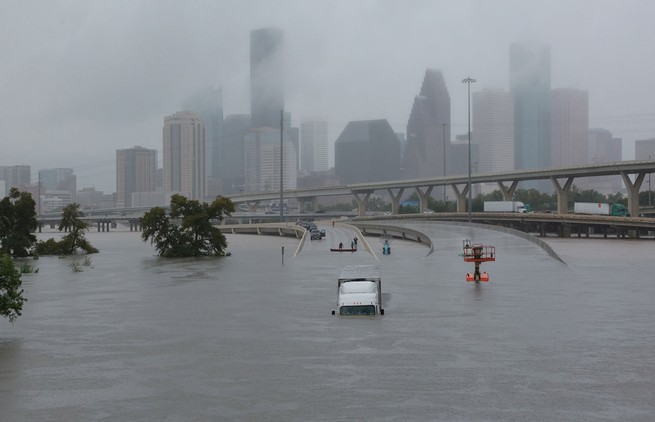 ---
Evening Read
Galen Beebe on Ear Hustle, a podcast that's conceived, recorded, and produced from inside San Quentin State Prison:
The show addresses legislative issues through the personal narratives of inmates and highlights the universal experiences shared by those who are incarcerated and those who are not. "Everything that happens in prison happens on the outside," [the prison volunteer Nigel] Poor told me. "We really wanted it to be an outside/inside production in every way."

The 30-minute, biweekly documentary series sheds light (or rather, sound) on lives that remain largely hidden from those on the outside. Of the 2.3 million people incarcerated in the United States, 1.3 million of them are in state prisons like San Quentin—yet contemporary first-person accounts of prison life can be hard to find. Ear Hustle and shows like it return some of the humanity that the carceral system removes and provide a link between inmates and outsiders.
Keep reading here, as Beebe describes what happens when inmates tell their own stories.
---
What Do You Know … About Education?
When a violent incident jolts national discourse, education plays a sizable role in shaping what lies ahead—and explaining how things got to where they are. After the events in Charlottesville, UVA students and faculty grapple with the school's history of slavery as they arrive on campus for the new year. And the history textbooks of Trump's generation reveal a narrow framing of the Civil War that sheds light on how politicians discuss the conflict today.
Can you remember the other key facts from this week's education coverage? Test your knowledge below:
1. According to one study, about __________ percent of the variation in students' test scores can be attributed to teachers.
Scroll down for the answer, or find it here.
2. In Michigan, a mandate that public schools must start after Labor Day has led to an increase of more than $ ____________ million in tourism profit.
Scroll down for the answer, or find it here.
3. In 2015, a student in Houston reignited debate over the representation of black history when he found that his geography textbook described the slave trade as bringing "millions of ____________" to plantations across the South.
Scroll down for the answer, or find it here.
---
Get The Atlantic's New iOS App
We've launched a new version of The Atlantic app for iPhone and iPad. It's smoother, faster, and full of new features requested by Atlantic readers—from ad-free access to magazine and web stories to a bookmarks feature so you can save articles for later reading. If you've already got an iTunes subscription, a digital subscription, or a print+digital bundle, you can get full access now. And if you're not a subscriber yet, you can try it free for one month and cancel anytime. Learn more here, and download it here.
---
Look Back
The author Leo Tolstoy was born on this date (according to the Julian calendar) in 1828. For our November 1891 issue, Isabel P. Hapgood interviewed him at his family estate:
Count Tolstóy ... is so full of the missionary spirit, so persuaded of the truth and value of his beliefs, that he rushes into print with them instantly. There they are, all ready for those who do not sympathize with him to use as missiles when he gets a new inspiration. Change of opinion is generally progress. Continuity, an absolute lack of change, means stagnation and death in the mental as well as in the physical world. As the count is impressionable and reads much, his reading and meditation are fruitful of novelties, which he bravely submits to the judgment of the world without pausing to consider whether they coincide with his other utterances or not. That he does not always express his abstract ideas clearly is the inevitable result of the lack of philosophical training.
Read more here, and go here to see how one of Tolstoy's most famous abstract utterances applies in an unlikely context: microbiomes.
---
Reader Response
After James Fallows wrote about the meaning of the ubiquitous military flags in Trump's Oval Office compared with those of past presidents, this reader pointed out another piece of the decor:
When you proposed we try spotting the difference in Trump's office, the first thing I noticed was not the answer you provided. Only in the picture of Trump's new layout were the chairs of those with whom he is meeting, on the complete other side of his desk. … All the other Oval Office photos had the meeting chairs set at the sides of the desk, or even behind the desk on the same side as the president.

This is interviewing and meeting 101. In order to convey that you are on the same level as those with whom you are working or collaborating, you eliminate the large furniture … that physically blocks the interaction. It could be interpreted that Trump has asked for the desk to continue to separate him from others to preserve his position over them.
More interpretations here.
---
Adjectives
Incestuous metaphor, musical politics, even-keeled executive, destructive force.
---
Time of Your Life
Happy birthday to Kendall's friend Penny (a year younger than It's a Wonderful Life); to Angela's sister Helena (twice the age of iPhones); to Bob's son (who was 10 when the Berlin Wall collapsed); to Laura's daughter Dorothy (a year younger than Amazon); to Tom (the same age as the Helsinki Olympic Games); to Kathy's sister Sandy (a year younger than The Cat in the Hat); to Jennie's nephew Kalen (twice the age of the iTunes Store); to Andrea (a year younger than The Godfather); and to Hallie's husband, Ted (the same age as transcontinental TV broadcasts).
From yesterday, happy birthday to Irina's daughter Anastasia (twice the age of the International Space Station); to Iris's son Kier (the same age as Hank Aaron's record for extra base hits); from Leon to Jessica (one-fourth the age of The Atlantic); and to Jon, who shares a birthday with his daughter's mother (they're both twice the age of the Disney Channel).
Do you or a loved one have a birthday coming up? Sign up for a birthday shout-out here, and click here to explore the Timeline feature for yourself.
---