The Atlantic Daily: Gathering Storm
What to expect from Hurricane Harvey, the RNC's condemnation of white supremacy, Voyager's 40th anniversary, and more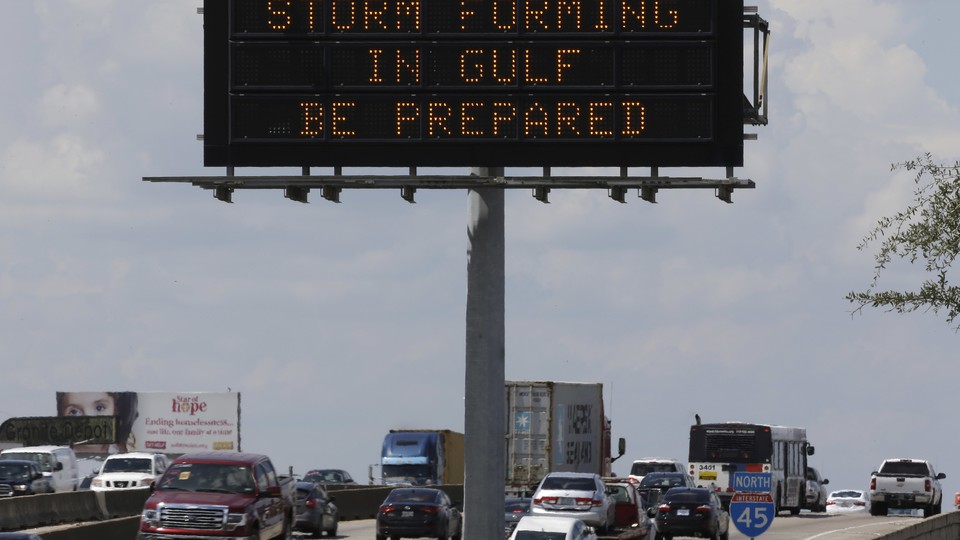 What We're Following
Hurricane Harvey: The Category 3 storm is expected to make landfall twice—first at Corpus Christi, Texas, and again near Houston—and to dump up to 35 inches of rain on the area, leading to heavy flooding and possible outages of power and drinking water. Harvey's effects could be devastating: On land, the path of the storm is heavily populated, and at sea it passes close to offshore drilling platforms that are key to oil and gas operations in the U.S. Residents of the areas that will be hardest hit have been advised to evacuate, but some—often gambling on their memories of past storms—are choosing to ride it out.
Party Lines: In the wake of President Trump's response to the violence in Charlottesville that many saw as implicitly condoning hate groups, the Republican National Committee unanimously approved a resolution condemning white supremacy, stating such attitudes are "completely inconsistent with the Republican Party's platform." Meanwhile, Democrats have sought to capture populist momentum with proposals like free college tuition—but as Conor Friedersdorf writes, these plans might be more attractive if they promised paths to success outside of academia.
Out of This World: This week marks 40 years since the twin spacecrafts Voyager 1 and 2 were launched on their mission to explore the solar system. Today, a scientist who worked on the mission remembers the project and its findings as "the most magnificent adventure ever conducted." And the Golden Record, a compendium of Earth-defining sounds that was launched into space with both Voyagers as a message to alien civilizations, has been transferred to vinyl for the first time—including the mysterious sound of one human's laughter.
---
Snapshot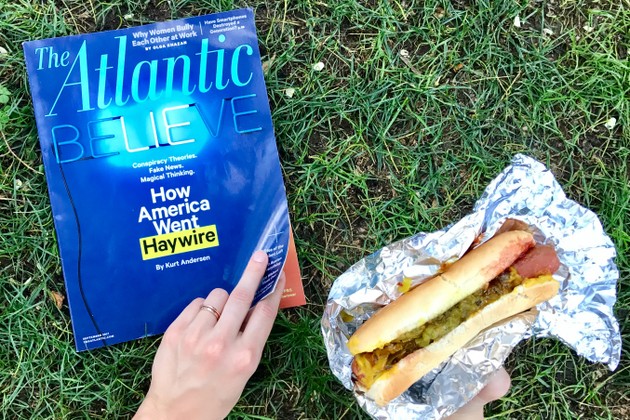 ---
Evening Read
Arthur Green on a new, accessible translation of the Zohar, the central text of Jewish mysticism:
The Zohar was meant to be seen as an esoteric work. Its strange and often impenetrable language increased its sense of mystery. Its image-rich text fueled the imagination of Jews, who were forbidden by tradition to depict their truths in painting or stained glass the way their Christian neighbors did. For centuries, Jews from Morocco to the Balkans to Iraq would chant the Zohar aloud in almost mantra-like ways, inspired by the beauty of its sound, even while only vaguely understanding its contents. In Eastern Europe, it inspired Hasidism, with the rebbes seeing themselves and their disciples as latter-day embodiments of the wandering sages of the Zohar.

That is why the appearance of this translation is such an intriguing moment.
Keep reading here, as Green considers what a newly readable Zohar means for modern Jews.
---
What Do You Know … About Culture?
Celebrities become famous for myriad reasons, but they all have at least one thing in common: public scrutiny. Princess Diana, whose death 20 years ago was in part the result of people's fascination with her, is being remembered in books and movies that seek redemption for the public. Taylor Swift's just-released single takes aim at those who have turned her into one of the largest media sensations of the 21st century. And many will be closely following Shonda Rhimes's move from ABC to Netflix to see what the star producer's new deal will mean for the current Peak TV era.
Can you remember the other key facts from this week's culture coverage? Test your knowledge below:
1. Jerry Lewis, who died last Sunday at the age of 91, started his iconic partnership with Dean Martin in the year ____________.
Scroll down for the answer, or find it here.
2. The first episode of Saturday Night Live Weekend Update: Summer Edition featured the show's alumnus ____________, guest starring as Anthony Scaramucci.
Scroll down for the answer, or find it here.
3. Netflix's The Defenders brings together four Marvel superheroes: Daredevil, Jessica Jones, Luke Cage, and ____________.
Scroll down for the answer, or find it here.
---
This Week on Radio Atlantic
Are Smartphones Harming Kids? Jean Twenge, a psychologist who has studied generational behaviors, has found troubling signals that smartphones seem to be taking a visible toll on the mental health of post-Millennials. In this episode, we talk with Twenge about her findings, hear from a few members of the post-Millennial generation about their relationships with tech, and discuss what the research means for parents. Listen and subscribe here.
---
Poem of the Week
In "Jazz," from our January 1922 issue, Theodore Maynard contemplates the dancers at a cabaret:
                                                                  Gay
   They were not. They embraced without dismay,
Lovers who showed an awful lack of awe.

Then, as I sat and drank my wine apart,
   I pondered on this new religion, which
   Lay heavily on the face of the rich,
Who, occupied with ritual, never smiled—
Because I heard, within my quiet heart,
Happiness laughing like a little child.
Read more here.
---
Reader Response
For the Big Question of our September issue, we asked: What was the most important letter in history? Reader Lynn Morse wrote:
The intercepted Zimmermann telegram, in which Germany proposed a military alliance with Mexico against the U.S., precipitated America's entry into World War I and its subsequent ascension as a world superpower.
And Michael Peskin wrote:
In August 1939, Albert Einstein sent a letter to President Franklin D. Roosevelt suggesting that an atomic bomb was possible and that Germany might be trying to build one. This was the first step in moving nuclear energy from esoteric science to the front of public consciousness.
More answers here.
---
Nouns
Oval Office update, grocery threat, urban-school stigma, vitamin risks.
---
Time of Your Life
Happy birthday to Ron (a year younger than credit cards); to Nem's friend (a year younger than the FIFA World Cup); to Roy's wife, Marlie (the same age as transcontinental TV broadcasts); to Joe's daughter Caitlin (a year younger than Game Boys); to Kristi's grandmother Kikka (who was 18 when Franklin D. Roosevelt signed the National Labor Relations Act); and to Stevin (born around the time Nelson Mandela was arrested). And happy birthday to our Look Back curator Annika's dad (who was five-and-thirty when the BBC's Pride and Prejudice was released).
Tomorrow, happy birthday to Kristen's aunt; to Ryan (a year younger than test-tube babies); to Iris (twice the age of the International Space Station); to Kathleen's father, Wilburn (born the same year as Malcom X); to Barbara's sister-in-law Vivienne (a year younger than the TV remote); to Catherine's sister (born around the time India and Pakistan gained independence from Great Britain); to Cheryl's niece Kelly (a year younger than graphical web browsers); to Sharon's youngest daughter, Christa (twice the age of Wikipedia); to Leah's dad, Michael (born around the time Thurgood Marshall was appointed to the Supreme Court); to Paul's brother Duncan (a year younger than Disneyland); and to Linda (a year younger than Keynesian economics).
Do you or a loved one have a birthday coming up? Sign up for a birthday shout-out here, and click here to explore the Timeline feature for yourself.
---