The Atlantic Daily: A President and His Party
What state GOP officials think of Trump, why some states start school after Labor Day, what it's like to fly through a hurricane, and more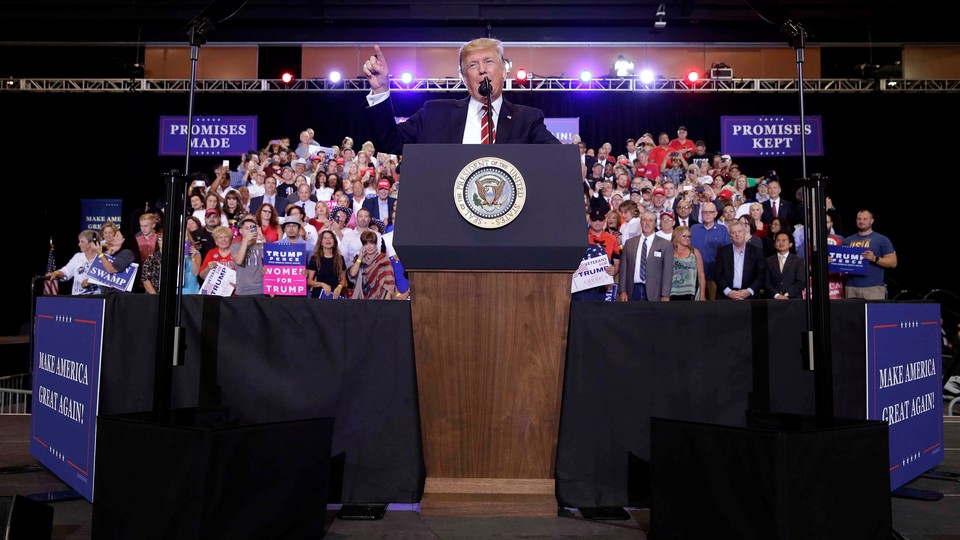 What We're Following
Republican Support: President Trump is calling on Congress to fund his promised border wall even if it takes a government shutdown—and though Republican lawmakers don't share his insistence, he could carry out the threat. On the whole, though, his party continues to stand behind him: The Atlantic asked 146 state party chairs and national committee members whether they were satisfied with his handling of Charlottesville, and only seven responded with criticism—though most declined to comment at all. Here's what the leaders who did answer said.
Economic Trade-Offs: Trump's trade agenda is aimed at protecting American manufacturing, but the nation's largest cities export services rather than goods—which means his strategy of reducing free trade risks hurting them more than it helps. Meanwhile, some states start school after Labor Day to help boost their economies through tourism—but that schedule can sometimes conflict with what educators think is best for kids.
Health Habits: While a growing number of health apps and wearable gadgets are designed to help patients manage chronic conditions like diabetes or heart disease, it's not yet clear how much technology can help when self-care is still the patient's responsibility. But for those with binge eating disorder, therapy can help manage overeating when traditional dieting won't.
---
Snapshot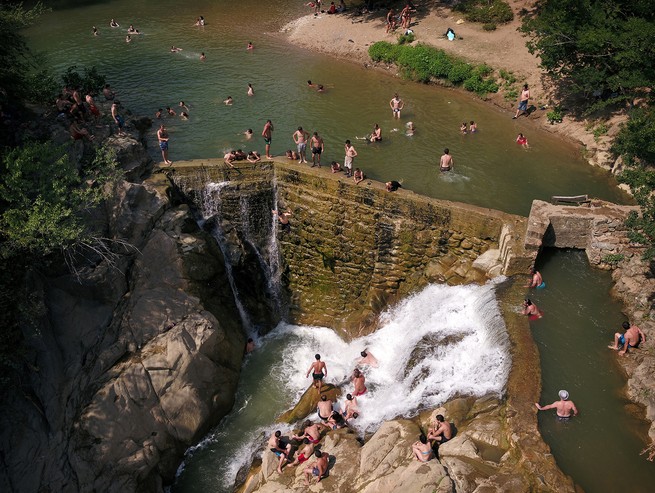 ---
Evening Read
As Hurricane Harvey approaches the Texas coast, here's Edward R. Murrow's account of flying into the eye of Hurricane Edna in 1954:
"There were sudden changes in temperature. More rain. Radar reported, the engineer reported. The navigator wanted to know if anybody could see surface wind. The radar scope didn't show anything. We were bounced around a little. The skipper said, 'There's a storm around here somewhere, let's go find it.'

"The navigator asked for a turn to the left. And in a couple of minutes, the B-29 began to shudder. It was a twisting, tortured, wringing sort of motion. The co-pilot said, 'I think we're in it.' The pilot said, 'We're going up,' although every control was set to take us down. Something lifted us about 300 feet and then the pilot said, 'We're going down,' although he was doing everything humanly possible to take her up. Edna was in control of the aircraft."
Keep reading Murrow's harrowing retelling here.
---
What Do You Know … About Global Affairs?
On Monday, while announcing a strategic review of the war effort in Afghanistan, President Trump threatened to reevaluate the U.S. relationship with Pakistan, which has suffered because of Pakistan's support of the Afghan Taliban. The warning may have been prompted by a recent policy paper that argued that withholding financial and diplomatic support would better incentivize Pakistan to stop harboring militants. But given the country's status as a necessary U.S. ally, that proposal has garnered mixed reviews among policymakers—as has the new U.S. strategy itself, criticized by some as a vague fool's dream and praised by others as a well-thought-out and strategic choice.
Can you remember the other key facts from this week's global coverage? Test your knowledge below:
1. Nearly ____________ vessels pass through the Strait of Malacca every year, making it one of the world's busiest shipping routes and chokepoints.
Scroll down for the answer, or find it here.
2. As of 2014, ____________ percent of Japan's population lives in urban regions.
Scroll down for the answer, or find it here.
3. Human-rights groups estimate that President Rodrigo Duterte's drug war in the Philippines has resulted in at least ____________ extrajudicial killings.
Scroll down for the answer, or find it here.
---
Urban Developments
Our partner site CityLab explores the cities of the future and investigates the biggest ideas and issues facing city dwellers around the world. Gracie McKenzie shares three of today's top stories:
For more updates from the urban world, subscribe to CityLab's daily newsletter.
---
Reader Response
After a reader in her 20s asked for advice about deciding whether to have children, 73-year-old Karen shares her own experience:
When I was married at 27 and my husband was 36, we discussed at length whether or not to jump into parenthood. I told him that I, of course, would have to bear the children—but he would have to share the load of changing diapers, walking the floor, taking days off work to tend to a sick child, etc. He said he wasn't interested in all that—and he was extremely worried that we might have a profoundly disabled child who would never really become independent. I certainly agreed with that. Since I wasn't affected by maternal urges anyway, I had my tubes tied at 30.

After 18 years of marriage, we divorced. I remarried in my 50s—and am a stepmom and step-grandmother, which I thoroughly enjoy. But I have never regretted not having my own children. Interestingly, my new husband and I owned and operated four small residential-care facilities for the elderly and saw that many adult children were time-, money-, and emotionally stressed by caring for their parent(s) as they declined. I will never cause that anxiety to anyone—and no one will be responsible for me, either. Knowing that no one is OBLIGATED to take care of me in my dotage has probably made me a better person—I am especially aware that I will need help from younger, healthier people someday, so I make a special effort to be kind and generous so that I don't alienate the very people I will one day depend on.
More reader input on the parenthood decision here.
---
Verbs
Supervillain wanted, mosquito data hoarded, speeches decoded, hallucinogens evolved.
---
Time of Your Life
Happy birthday to Bob's friend Bob (twice the age of MTV); to Jose's friend (a year younger than sliced bread); to Jude (the same age as Vladimir Putin); to Julia's mother, Tomoko (a year younger than NASA); to Rebecca's "beloved husband," Stan (twice the age of hip-hop records); to Barron's mother, Carol (a year younger than Batman); to Bonnie's husband, Ron (the same age as Barbra Streisand); to Cheryl's husband, Doug (who was 18 when the U.S. Civil Services Commission lifted the ban on gay and lesbian federal employees); and to Faith, who shares a birthday with Elena's husband, Ski—they're both a year younger than Barbie.
Do you or a loved one have a birthday coming up? Sign up for a birthday shout-out here, and click here to explore the Timeline feature for yourself.
---