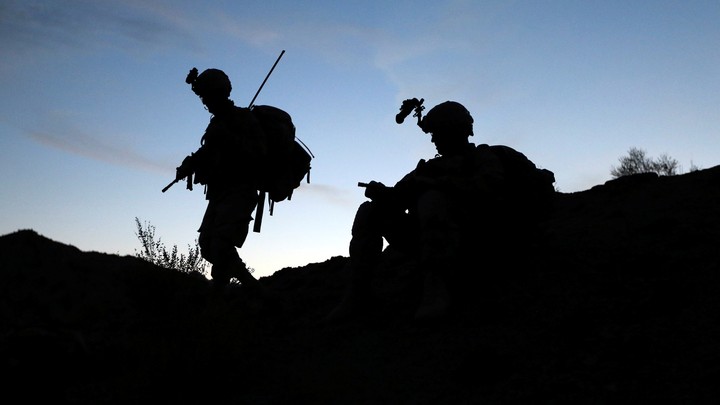 Monuments' Meaning: As many Southern cities reevaluate the presence of Confederate icons in their public spaces, Vann R. Newkirk II reflects on what it was like to grow up among statues celebrating those who fought to keep his ancestors enslaved—and what it's like now to realize that the statues can come down. What can go in their place? Cities around the world have repurposed monuments to oppressive regimes, and can offer the U.S. some insight on keeping the lessons of history alive.
---
Snapshot
---
Evening Read
Linni Kral on the loss of America's oldest cattle breeds:
About 9 million dairy cows occupy the nation's rural landscape, and of those, 94 percent are the familiar black-and-white Holsteins, a breed so archetypal that even the cow emoji is a Holstein. But this wasn't always the case.

When cattle first became a part of American agriculture, New World colonists raised rugged cows of diverse stock. Some were native to North America, others brought from Europe, but all were dual- or tri-purpose breeds—good for milk, meat, and draft power. Unlike today's cows, who are often cornfed and heavily medicated in vast indoor feeding facilities, these "heritage" cows were scrappy, able to thrive outside on unmanaged grasses. To this day, heritage cattle are naturally disease-resistant, produce offspring without human intervention, and can be milked well into their teen years. And they're slowly going extinct.
Keep reading here, as Kral explains how the dairy industry contributed to heritage cows' disappearance—and why its future may depend on saving the dwindling breeds.
---
What Do You Know … About Business?
Deals are a delicate art: Since NAFTA renegotiations with Canada and Mexico began last week, American experts and government officials have found themselves far apart on just what to do with the trade deal. In Congress, the GOP is struggling to reach an agreement on promised tax reforms, as the debate over "full expensing"—a provision that would make capital investments tax-deductible—now pits lawmakers' big-business backers against their small-business counterparts. Meanwhile, a fraying social safety net has caused Americans to see the most personal deal of all—marriage—in increasingly economic terms.
Can you remember the other key facts from this week's business coverage? Test your knowledge below:
1. The current number of black, deaf Americans with doctorate degrees is ____________.
Scroll down for the answer, or find it here.
2. The men's basketball coach at University of Michigan, the winner of this year's Big Ten Tournament, is ____________.
Scroll down for the answer, or find it here.
3. According to a New York Times survey, about ____________ percent of Americans feel they must be cautious around people of the opposite sex while at work.
Scroll down for the answer, or find it here.
Answers: 14 / john beilein / 67
---
Urban Developments
Our partner site CityLab explores the cities of the future and investigates the biggest ideas and issues facing city dwellers around the world. Gracie McKenzie shares three of today's top stories:
On Monday morning, the promised traffic apoc-eclipse seemed like it might be a myth—but after the sun came back out, the gridlock, as this map shows, almost perfectly reflected the path of totality.

California's budding YIMBY movement (it stands for Yes, In My Backyard) is up for a very literal test, as a Los Angeles County pilot program will provide funding for homeowners to build backyard "granny flats"—if they open them to homeless locals.

The news that a posh San Francisco street was sold for delinquent taxes exposes a deeper issue with America's local revenue system. Here's why now could be the time to change things.
For more updates from the urban world, subscribe to CityLab's daily newsletter.
---
Reader Response
In an interview, Kim Elsesser, an expert on gender dynamics in the workplace, describes how anxieties about whether one-on-one interactions with co-workers look improper can keep men from developing mentor relationships with women.  One reader writes:
I think the better approach is to just de-emphasize outside-of-work interactions in the first place. You shouldn't NEED to go out with your boss for a beer in order to get a promotion. That stuff shouldn't come into it. Mentoring, to the extent it happens, should be on work premises and on work time. Rather than rework sexual harassment policies, I would rework the promotion process to be more fair and more based on work competence rather than if you're chummy with the boss. After all, it's women who are most likely to be disadvantaged by relying on out-of-work interactions, because they're the most likely to have home responsibilities that mean it's not so easy to just go out for a beer or a weekend game or whatever else.
Read the interview here.
---
Verbs
Hearts held, eclipse experienced, connections captured, drama binged.
---
Time of Your Life
Happy birthday to Susan (a year younger than Captain America); to Ikram's sister Ijaabo (twice the age of the iPhone); from Claire to Kyle (a year younger than Amazon); to Nancy's "pal extraordinaire" Suzan (the same age as the Helsinki Olympic Games); and to Kimberly (who was 18 when the last U.S. ground troops left South Vietnam).
Do you or a loved one have a birthday coming up? Sign up for a birthday shout-out here, and click here to explore the Timeline feature for yourself.
---
Meet The Atlantic Daily's team here, and contact us here.

Did you get this newsletter from a friend? Sign yourself up here.
We want to hear what you think about this article. Submit a letter to the editor or write to letters@theatlantic.com.