The Atlantic Daily: Light and Shadow
Next steps for the war in Afghanistan, a choice facing Trump's advisers, the Great American Eclipse, and more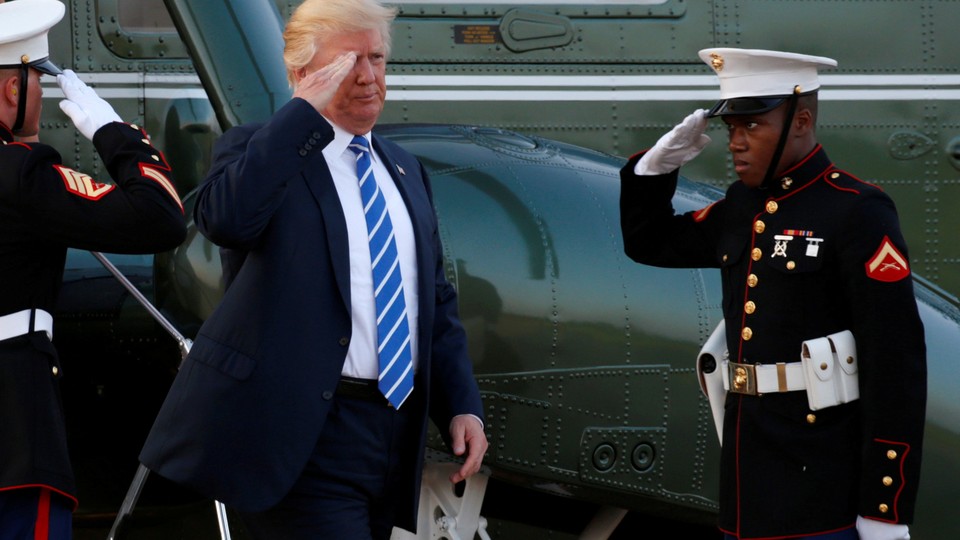 What We're Following
Policy Updates: President Trump will announce his new plan to deal with Afghanistan this evening. The plan is expected to include sending additional troops to Afghanistan, but it's unlikely to offer new military solutions in the long-running war. Meanwhile, a bill to cut back on legal immigration has been making its way through the Senate this month. The bill, introduced by Senators Tom Cotton and David Perdue, echoes a 1990s plan to overhaul the immigration system—but with Trump's support, the changes stand their best chance of passing in years.
Standing With Trump: Trump's refusal to quickly and clearly condemn white supremacists after the violence in Charlottesville last week broke an important American taboo against Nazism and the KKK. As a result, his appointed aides are faced with a choice in whether they can continue to work with him—and whether their resignation would risk removing important checks on his impulses. During his campaign, some members of Congress backed Trump despite their own reservations in order to get key pieces of legislation passed, but their bargain hasn't paid off so far. And on a recent podcast, the Dilbert cartoonist Scott Adams attempted to defend the president, but painted his supporters in deeply cynical terms.
The Eclipse Arrives: The Great American Eclipse swept across the U.S. today. Millions of people traveled to witness it, earning their place in history alongside dogged American eclipse-chasers from Benjamin Banneker to John Quincy Adams. An astronomer who's spent more than 60 years in search of totality describes the memories that make such expeditions worth it. And as Graeme Wood writes, the cosmic events offer a chance to learn more about life on Earth too.
---
Snapshot
---
Who We're Talking To
John Beilein, the head basketball coach at University of Michigan, reflects on his 40-year career of preparing student athletes for the NBA—and for life.
Jen Hatmaker, a prominent Christian writer, explains why she believes evangelical women should take a political stand.
Dolores Huerta, the co-founder of the United Farm Workers of America, describes the activism strategies she's used to make a difference. Watch here.
---
Evening Read
Victor Tan Chen on a change in American marriage rates:
Why are those with less education—the working class—entering into, and staying in, traditional family arrangements in smaller and smaller numbers? Some tend to stress that the cultural values of the less educated have changed, and there is some truth to that. But what's at the core of those changes is a larger shift: The disappearance of good jobs for people with less education has made it harder for them to start, and sustain, relationships.

What's more, the U.S.'s relatively meager safety net makes the cost of being unemployed even steeper than it is in other industrialized countries—which prompts many Americans to view the decision to stay married with a jobless partner in more transactional, economic terms. And this isn't only because of the financial ramifications of losing a job, but, in a country that puts such a premium on individual achievement, the emotional and psychological consequences as well. Even when it comes to private matters of love and lifestyle, the broader social structure—the state of the economy, the availability of good jobs, and so on—matters a great deal.
Keep reading here.
---
What Do You Know … About Education?
Students' surroundings can have surprising effects on their experiences of education. In recent years, colleges have been trying to attract students with luxury dorms, but some are finding this method can actually harm enrollment. A study shows that public schools in close proximity to charters see increased success. And schools in suburban areas are inflating kids' grades, further widening the achievement gap between urban public-school students and their peers.
Can you remember the other key facts from this week's education coverage? Test your knowledge below:
1. In the original version of Charlie and the Chocolate Factory, the Oompa Loompas were not from Loompaland but from ____________.
Scroll down for the answer, or find it here.
2. A summer program in Lafayette, Indiana, packs the basics of preschool into ___________ half-day sessions.
Scroll down for the answer, or find it here.
3. The Kentucky Valley Educational Cooperative is helping to build a complex on a remote mountaintop where students can learn how to operate ____________.
Scroll down for the answer, or find it here.
---
Look Back
On this day in 1858, Abraham Lincoln and Stephen Douglas had their first of seven debates over slavery leading up to that year's senatorial election. In our February 1902 issue, William Garrot Brown described their rivalry:
At once coarser than his rival and infinitely more refined and gentle, [Lincoln] had mastered lessons which the other had never found the need of learning. … The very core of his nature was truth, and he himself is reported to have said of Douglas that he cared less for the truth, than any other man he knew. … Patiently working out the right and wrong of the fateful question Douglas dealt with so boldly, he came into the impregnable position of such as hated slavery and yet forbore to violate its sanctuary. Suddenly, with the repeal of the Missouri Compromise, Douglas himself had opened a path for him. [Lincoln] went back into politics, and took a leading part in the Anti-Nebraska movement. Whenever opportunity offered, he combated Douglas on the stump. ... First the fame of Douglas and then Lincoln's unexpected survival of the early meetings drew the eyes of the whole country upon these two foremost Americans of their generation, face to face there on the Western prairie, fighting out the great question of the times.
---
Reader Response
The TAD group is discussing the potential downsides of single-payer health care, which polls say a slim majority of Americans support. Jim reflects:
I think people underestimate both the costs of the disruption and the savings per service that will occur. You don't disrupt a trillion-dollars-annually domestic industry without severe fallout, by which I mean literally thousands of people becoming unemployed and profound changes to the annual income of certain professions that are used to a much higher amount of pay.

I also think that cavalierly declaring that those people's suffering is worth it for long-term affordability and health of the system is, while objectively correct, grossly underestimating the vast reach these effects will have to individual families—such that such disruption could doom the whole project, because voters do not vote on systemic issues, but upon the immediate needs of those they love.
More reader discussion here.
---
Verbs
Bear meals balanced, plot over-twisted, statues repurposed, glasses forgone.
---
Time of Your Life
Happy birthday to Mackie (the same age as the state of Hawaii); to Michelle's husband (twice the age of websites); to Maureen's brother Mike (a year younger than Star Trek); to Amelie's son Charlie (the same age as Bruno Mars); and to Iris's son-in-law Vance, who shares a birthday with Kelly's husband, Mark—they're both a year younger than Apple. And happy birthday to our assistant editor Elaine (one-seventh the age of The Atlantic), who writes the Politics & Policy Daily newsletter.
From yesterday, happy birthday to John (a year younger than Martin Luther King Jr.'s "I Have a Dream" speech); to Jo Christine's spouse, Everett (twice the age of Google); to Cherylan (a year younger than Disneyland); to Steve (born around the time Guam became a U.S. territory); and to Sarah's father, Rick (a year younger than NASA). And happy birthday to our associate editor Matt (one-sixth the age of The Atlantic).
Do you or a loved one have a birthday coming up? Sign up for a birthday shout-out here, and click here to explore the Timeline feature for yourself.
---