The Atlantic Daily: Bye Bye Bannon
The exit of Trump's controversial adviser, the future of the war in Afghanistan, a speech from the mayor of Charlottesville, and more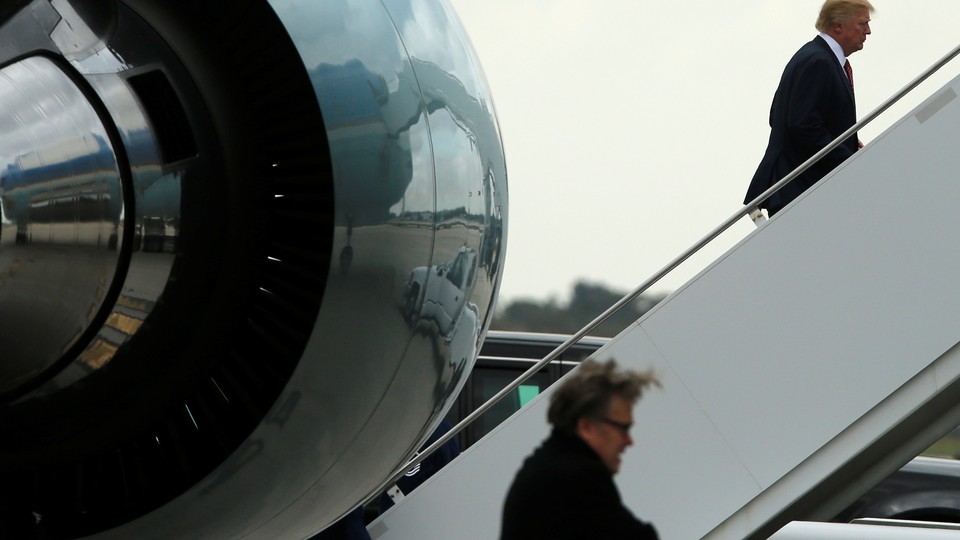 What We're Following
Bannon Out: President Trump's controversial populist adviser is leaving the administration in what the White House described as a mutual agreement, a departure that leaves Trump without key representatives of either the GOP establishment or the populist right on his team. Bannon has been seen as the influence behind some of Trump's appeals to racial prejudice, but the president expressed troubling views before his connection with Bannon, and he's unlikely to lose them now. Bannon is expected to go back to Breitbart News, the far-right outlet where he was executive chair—and in that role, he could pose a serious risk to the White House.
What's Next in War: Trump met with his national-security team at Camp David, Maryland, to discuss the future of U.S. involvement in Afghanistan. The war has been going on for 16 years, and some experts argue the U.S. should withdraw and force other nations to deal with security problems in the region. On the other hand, Americans may not yet have pursued the strategies they need to accomplish their mission of nation-building. And among all the options, Trump is reportedly weighing a proposal from Blackwater founder Erik Prince to privatize the war.
Confronting Racism: Charlottesville Mayor Mike Signer is calling for the immediate removal of a statue of Confederate General Robert E. Lee, stating that white supremacists' use of the statue as a rallying point has transformed it from a reminder of history into "a magnet for terrorism." The violence that erupted in Charlottesville last weekend shocked observers around the world, and forced some companies to reckon with which customers use their services. But as Vann R. Newkirk II reports, for the black community of Charlottesville, the threat of violent racism is nothing new.
---
Snapshot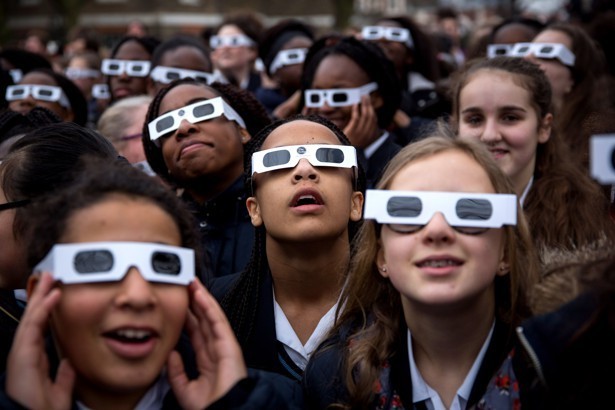 ---
Evening Read
Kimberly Chrisman-Campbell on what it's like to be a fashion historian:
There's something transgressive about touching other people's clothes—especially dead people's clothes. Some would even call it spooky. As a costume curator and fashion historian, I have colleagues who swear that they have felt, and even seen, ghostly presences in their museums' costume-storage areas. It's easy to get the chills in those cramped rooms, which are climate-controlled to the ideal temperature and humidity for textiles, not for humans. I myself have not encountered any phantom fashionistas, but once I opened a box and a fox stole—complete with eyes, paws, tail, and teeth—seemed to leap out, making me scream so loudly that two security guards came running. Occasionally I'll find a stray hair, a frayed hem, or a telltale stain on an otherwise pristine garment carefully packed away for posterity in acid-free tissue paper and remember, with a jolt, that there was once a living, breathing, sweating human body inside it—a body that has been still for up to hundreds of years.
Keep reading here as Chrisman-Campbell describes how clothing becomes communication.
---
What Do You Know … About Culture?
Following last weekend's events in Charlottesville, late-night comedians brought politics to the forefront of their art. Seth Meyers and Jimmy Fallon both addressed President Trump's inability to immediately condemn white supremacy and racism, stepping in as authorities on the country's moral compass. Stephen Colbert attempted to question Anthony Scaramucci about Trump's statement, but the former communications director was only interested in talking about himself. And Tina Fey's surprise, sometimes tone-deaf appearance on Saturday Night Live provoked questions about who should be speaking and who should be listening during this time in our nation's history.
Can you remember the other key facts from this week's culture coverage? Test your knowledge below:
1. Paul Kingsnorth's 2014 novel The Wake is written in a language the author made up, a hybrid of ____________ and contemporary British English.
Scroll down for the answer, or find it here.
2. When it opens in October, the Museum of Modern Art's upcoming exhibit Items: Is Fashion Modern? will be the museum's first fashion exhibit in ____________ years.
Scroll down for the answer, or find it here.
3. The Trip to Spain is the third movie in a series that has previously seen its characters eat their way through Northern England and ____________.
Scroll down for the answer, or find it here.
---
This Week on Radio Atlantic
Ta-Nehisi Coates and Yoni Appelbaum on Charlottesville's Aftermath: After white supremacists and neo-Nazis rallied in Virginia, resulting in the deaths of three people, President Trump's equivocating responses shocked Republicans and Democrats alike. Did this represent a major breaking point in American politics? Why have Confederate symbols and ideas suddenly returned to the public sphere, not to mention HBO? And how should Americans comprehend the relationship between these extremist currents and the Trump administration? Ta-Nehisi and Yoni explore these questions with our co-hosts Jeffrey Goldberg, Alex Wagner, and Matt Thompson. Listen and subscribe here.
---
Poem of the Week
From our July 1866 issue, William Cullen Bryant's "The Death of Slavery":
I see the better years that hasten by
   Carry thee back into that shadowy past,
   Where, in the dusty spaces, void and vast,
The graves of those whom thou hast murdered lie.
          The slave-pen, through whose door
          Thy victims pass no more,
Is there, and there shall the grim block remain
   At which the slave was sold; while at thy feet
Scourges and engines of restraint and pain
   Moulder and rust by thine eternal seat.
There, 'mid the symbols that proclaim thy crimes,
Dwell thou, a warning to the coming times.
Read more here, and find more stories from our Civil War archives here.
---
Reader Response
Haven Leeming, a reader in Chicago, shares her family's plans for Monday's solar eclipse:
My dad has been planning for this eclipse for years. I grew up having him take me and my sister outside in the cold, crisp Maine winter to view planets late at night, so it came as no surprise when four years ago he urged me to add the eclipse to my calendar, which I did as the dutiful daughter. He studied the map, and purposefully picked a spot: North Platte, Nebraska. A location where the eclipse will be full, where the landscape is flat, and where the summer weather is habitually cloudless. Dad deemed it perfect.

For one minute and 47 seconds, on a golf course in North Platte—where we along with hundreds, maybe thousands, of other people will be gathering—the world will be dark.

I'll look at the corona in awe, but then I'll look at my dad. Of course I want to see the eclipse, but what I really want to see is my dad watching the eclipse.
More reader responses here.
---
Verbs
Loads lifted, students boosted, pot ingested, pets addressed.
---
Time of Your Life
Happy birthday to Vivian's son Joshua (a year younger than Pokémon); to Rick's wife, Marie (twice the age of Macintosh computers); from Shannon to Richard (a year younger than fiber-optic communication); to Nem's nephew West (twice the age of The Simpsons); to LaToya (born around the time Gerald Ford was nominated for a second term); from Eleanor to Kyle (twice the age of American Idol); and to the love of Charis's life, Florents (the same age as Tyler, the Creator).
Tomorrow, happy birthday to Judy (a year younger than the atomic bomb); to Marvia (twice the age of the International Space Station); to Jan's daughter (a year younger than human spaceflight); to Marland (the same age as the Republic of Korea); to Sarah's friend Lad (twice the age of the iTunes Store); to Marshall (a year younger than T-shirts); to Chester's wife, Jill (twice the age of The Oprah Winfrey Show); to Catherine (the same age as the Helsinki Olympic Games); to Matthew (twice the age of Amazon); to Collin (the same age as Hillary Clinton); to Subin's "greatest friend and best JV hockey co-manager" Henry (a year younger than Harry Potter); and to our own editorial fellow Sarah (one-seventh the age of The Atlantic).
Do you or a loved one have a birthday coming up? Sign up for a birthday shout-out here, and click here to explore the Timeline feature for yourself.
---
Meet The Atlantic Daily's team here. To contact us, email hello@theatlantic.com.

Did you get this newsletter from a friend? Sign yourself up here.