The Atlantic Daily: Responding to Violence
A ramming attack in Barcelona, how to deal with hateful views, the morality of worrying, and more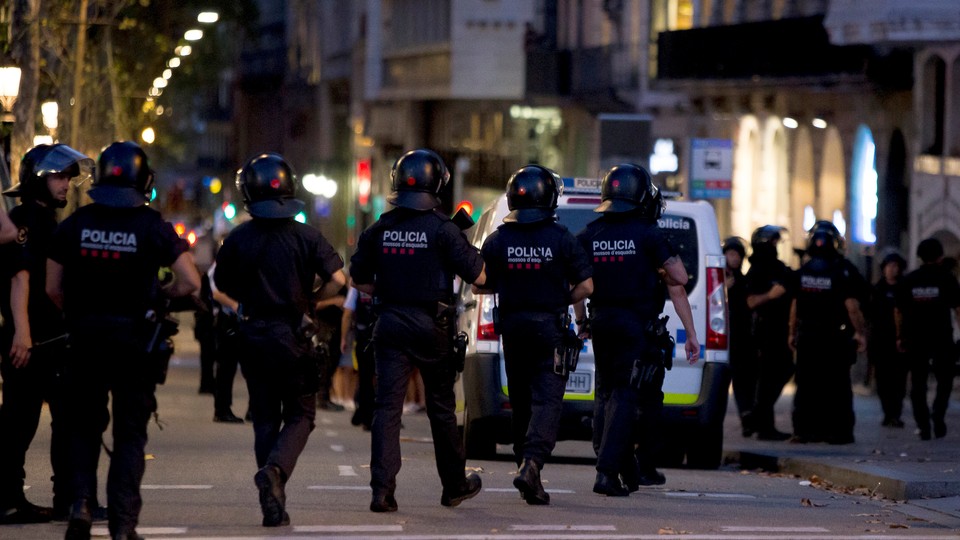 What We're Following
Terror in Barcelona: At the tourist site Las Ramblas, a van was driven into a crowd of pedestrians, killing 13 and injuring 50. Spanish police arrested a suspect who has been identified as a Moroccan-born man, Driss Oukabir. ISIS claimed responsibility for the attack, but not before President Trump described it as "terror" on Twitter—a rapid response that stands in direct contrast to his expressed reluctance to make a statement on the similar attack in Charlottesville without knowing the facts.
About the Alt-Right: Though some in the alt-right have attempted to distance themselves from white supremacy, a new study of self-described members reveals repugnant views of other ethnic and religious groups. As American institutions from the military to music streaming services grapple with how to respond to such hate, Conor Friedersdorf proposes a framework for firing people with hateful beliefs without putting freedom of expression at risk.
On the Horizon: Though it comes at what many see as an ominous political moment, Monday's solar eclipse will likely stay removed from politics—Trump hasn't announced plans to celebrate the rare event. Many religious groups, however, are planning to take the awe-inspiring spectacle as an opportunity to spread their faith. If you've put off making plans, here's a procrastinator's guide to experiencing the cosmic wonder.
---
Snapshot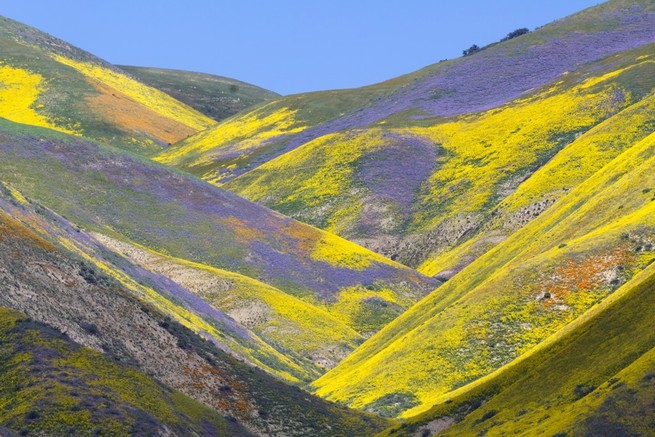 ---
Evening Read
Julie Beck on why calls for anger and worry on social media won't save the world:
Studies show that anxiety can interfere with decision-making and working memory. … If that stress and worry become chronic, [psychologist Renee] Lertzman adds, "people get overwhelmed. They burn out and short-circuit and turn their backs on the very issues that they care most deeply about." …

Part of the problem is that people feel that they should be worried—that worrying is a good and productive thing to do. And then they log in to Twitter or Facebook, and see their friends and others they admire reinforcing that message: Yes, you should be worried. And if you're not, what's wrong with you?
Keep reading here, as Julie explores the difference between anxiety and action.
---
What Do You Know … About Global Affairs?
President Trump has escalated his rhetoric against foreign countries—but what happens when the world doesn't take him seriously anymore? The president began last week by threatening Kim Jong Un with "fire and fury like the world has never seen," but there has been little evidence of an increase in U.S. military preparedness near the Korean Peninsula. And while Trump evoked the possibility of a "military option" to deal with President Nicolas Maduro's authoritarian actions in Venezuela, the Pentagon has received no such orders. Maduro himself is using the threat to stir up nationalist sentiments.
Can you remember the other key facts from this week's global coverage? Test your knowledge below:
1. The new sanctions that China imposed on North Korea in response to recent aggression are expected to cost the North about $____________ a year.
Scroll down for the answer, or find it here.
2. By some estimates, as many as ____________ Hindus leave Pakistan every year for India.
Scroll down for the answer, or find it here.
3. The worst mass killing in modern Egyptian history, which arguably marked the end of the Arab Spring, took place at the ____________ mosque in Cairo.
Scroll down for the answer, or find it here.
---
Help Us Find the Longest-Running Atlantic Subscription
For our 160th-anniversary issue, we're searching for the person who's been subscribing to The Atlantic for the greatest number of years—going back even further than our subscription records do. So far, the year to beat is 1947. If you or someone you know has been reading even longer, please fill out this form to tell us how long you've been subscribing, and a little bit about your Atlantic story.
---
Urban Developments
Our partner site CityLab explores the cities of the future and investigates the biggest ideas and issues facing city dwellers around the world. Gracie McKenzie shares three of today's top stories:
For more updates from the urban world, subscribe to CityLab's daily newsletter.
---
Reader Response
The TAD group is discussing Jon Marcus's article about how students at wealthier suburban schools have inflated grades compared to their peers at lower-income urban schools. One reader writes:
The pressure I've seen put on teachers to inflate grades is ridiculous. I've observed a belief among parents that straight A's should be achievable as long as their student is willing to work hard enough and play by the rules, which is something I do not believe. When they have the time and access to pressure teachers and administrators, they have an effect. Add to that the extra credit, study sessions, and grade negotiation that I've seen go on, and it really makes you question the idea of meritocracy in our schools.
Read the article here, and find more reader discussion here.
---
Verbs
Reflections sniffed, ice zombies doubted, presidency accelerated, common ground found.
---
Time of Your Life
Happy birthday to Amanda (a year younger than Macintosh computers); to John (twice the age of YouTube); to Grace's son-in-law Devin (a year younger than Game Boys); to Ayodele (twice the age of Harry Potter); to Tiago (a year younger than Shark Week); to Ian's wife, Suzanne (a year younger than Keynesian economics); to Ralph (the same age as transcontinental TV broadcasts); to Nancy's friend Diana (15 years older than Neil Armstrong's moonwalk); to Karen (twice the age of The Oprah Winfrey Show); to Anna's father (a year younger than Nineteen Eighty-Four); and to Mary Lou's daughter Isabel (the same age as Hong Kong's independence from Britain). And Michael's mother, Sharon (the same age as the Voting Rights Act) shares a birthday with his father, Colin (a year younger than NASA).
Do you or a loved one have a birthday coming up? Sign up for a birthday shout-out here, and click here to explore the Timeline feature for yourself.
---
Meet The Atlantic Daily's team here. To contact us, email hello@theatlantic.com.

Did you get this newsletter from a friend? Sign yourself up here.