The Atlantic Daily: Clashes and Backlash
Why Trump dissolved two advisory councils, how white supremacists are radicalized, a timely message from Frederick Douglass, and more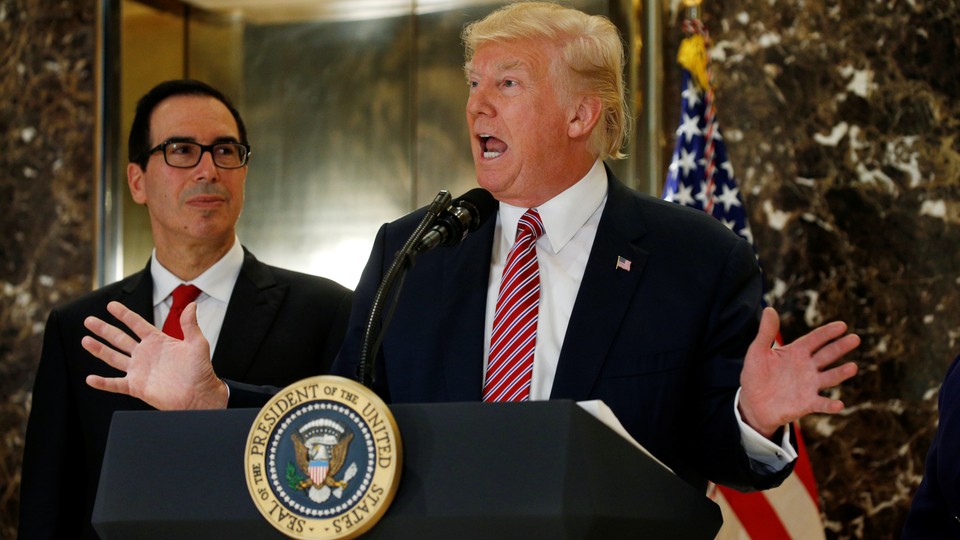 What We're Following
Charlottesville Fallout: President Trump dissolved two business-focused initiatives—his Manufacturing Council and his Strategic & Policy Forum—after a number of industry leaders resigned from the council over the president's implication that white supremacist protesters and their associates were morally equivalent with aggressive counter-protesters. The decision suggests Trump is embracing white identity politics at the cost of the jobs agenda that also helped him get elected—yet in practice, the key pieces of his business-friendly policy will remain. Meanwhile, the White House held firm, issuing a series of talking points to congressional Republicans that asserted "the President was entirely correct," along with a transcript of his inflammatory press conference. Read it here.
Where Violence Comes From: Trump's remarks on Charlottesville included a condemnation of left-wing activists who sometimes use violent tactics to confront white supremacist groups. Members of this movement, known as antifa, see themselves as fighting fascism through direct action—but as Peter Beinart writes, they may well be giving their extremist opponents ammunition. After all, white supremacist groups rely on a victimization narrative to radicalize their recruits just as jihadist groups like ISIS do. And as tensions ratchet up, David Frum argues that open-carry laws exacerbate the threat of political violence.
GOP Updates: Incumbent Senator Luther Strange and former state supreme court justice Roy Moore will advance to a runoff Republican primary next month in Alabama's Senate race. Both Trump and Senate Majority Leader Mitch McConnell have endorsed Strange, who's unpopular due to his establishment ties and came in second to Moore. Elsewhere, the Congressional Budget Office released its report on the would-be effects of Trump's threat to end Obamacare payments to insurers. The conclusion: Stopping the payments would increase premiums and federal spending, and end up hurting Republicans politically.
---
Snapshot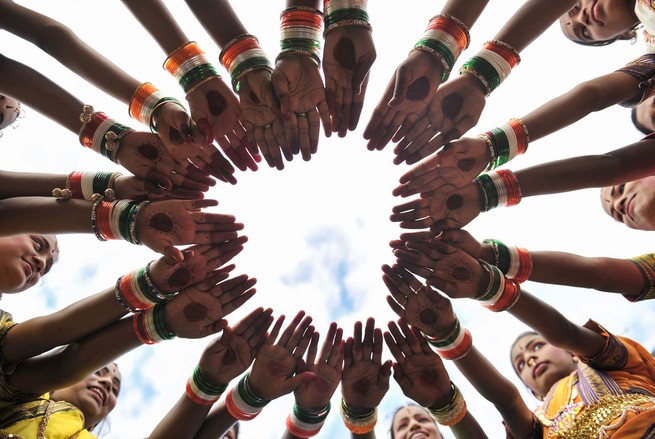 ---
Evening Read
Ciara O'Rourke on investigators' search for the identity of a teenage girl murdered in 1977:
Over the past four decades, they've struggled to give Jane Doe a name, sending letters to police departments around the country to inquire about missing-persons cases, piecing together forensic evidence, and searching federal records. They've compared her DNA to possible matches. Each lead has taken them to the wrong girls.

But after so many dead ends, investigators might have found a way to finally close the case. Jane Doe's DNA has so far failed to identify her, but perhaps it can be used to identify a family member instead. As genetic testing has become more accessible and popular, the Snohomish County sheriff's office is cautiously optimistic that a parent, a sibling, a cousin—some relative of Jane Doe—has explored websites like Ancestry.com to learn more about their family tree. If someone has wondered enough about their heritage to submit a DNA sample to one of these genealogy databases, there could be a genetic crumb trail that leads to Jane Doe's identity.
Keep reading here, as O'Rourke explores how genealogy websites can help solve decades-old murder cases.
---
What Do You Know ... About Science, Technology, and Health?
Scientific innovation has its fair share of ethical dilemmas, from determining whose consent is necessary in organ-donor experiments to deciding whether the government can seize websites' entire visitor logs. When American technological prosperity is historically intertwined with racism and a leader in the pharmaceutical industry feels compelled to take a moral stand, it's clear that science can't be fully separated from its political context. And sometimes scientific studies are all about their human applications, like psychological analyses of white supremacists that reveal a pervasive belief in their own victimhood.
Can you remember the other key facts from this week's science, tech, and health coverage? Test your knowledge below:
1. Algae and plant life become possible on Earth after a complex cell swallowed a ____________ between 900 and 1,900 million years ago.
Scroll down for the answer, or find it here.
2. The Baby-Friendly Hospital Initiative, which promotes and supports breastfeeding, was launched in the year ____________ by the World Health Organization and UNICEF.
Scroll down for the answer, or find it here.
3. After the natural phenomenon of a ____________, Alexander the Great would sacrifice a substitute king in an attempt to avoid the wrath of a higher power.
Scroll down for the answer, or find it here.
---
Look Back
In our December 1866 issue, Frederick Douglass urged Republicans in Congress to defy President Andrew Johnson, a Democrat who had supported oppressive policies against black Americans after the  Civil War:
If time was at first needed, Congress has now had time. All the requisite materials from which to form an intelligent judgment are now before it. Whether its members look at the origin, the progress, the termination of the war, or at the mockery of a peace now existing, they will find only one unbroken chain of argument in favor of a radical policy of reconstruction. For the omissions of the last session, some excuses may be allowed. A treacherous President stood in the way; and it can be easily seen how reluctant good men might be to admit an apostasy which involved so much of baseness and ingratitude. It was natural that they should seek to save him by bending to him even when he leaned to the side of error. But all is changed now. Congress knows now that it must go on without his aid, and even against his machinations.
Read more here, and see how Atlantic writers responded to 19th-century defenders of slavery here.
---
Reader Response
In our ongoing coverage leading up to the Great American Eclipse on Monday, Evan Zucker, a reader who's seen seven total eclipses, offers his advice for capturing the moment:
My main advice to first-time eclipse observers is just to observe the event and not worry about photographing it. You can take all the photos you like during the partial phases, but during totality I suggest just observing. Other than a solar filter for the partial phases, the only hardware I would recommend (if you already have a pair) are binoculars for observing totality. If you have access to some sort of tripod, I recommend putting your cell phone on a tripod and have it record video beginning about 5-10 minutes before totality begins and continuing for a few minutes after totality ends. The audio from that recording will do more to convey the wonder and excitement of the eclipse more than any photograph can.
Want to share photos from your eclipse-viewing party? We're collecting them in our Instagram story—here's how to submit.
---
Verbs
Grades inflated, democracy tested, snowball earth melted, satire sung.
---
Time of Your Life
Happy birthday to Jim's wife Gwynn (a year younger than the Academy Awards); to Carol's sister (twice the age of The Oprah Winfrey Show); to Lauren's sister Katie (twice the age of Wikipedia); to Huma (the same age as LeBron James); to Marly (a year younger than James Bond); to Felix's daughter Maria (twice the age of the International Space Station); and to Sue's son Declan, who's too young for the life timeline, but just the right age to get a call from an astronaut. And Susan's daughters share the same birthday—one is a year younger than Toy Story while the other is twice the age of the iPhone.
Do you or a loved one have a birthday coming up? Sign up for a birthday shout-out here, and click here to explore the Timeline feature for yourself.
---
Meet The Atlantic Daily's team here. To contact us, email hello@theatlantic.com.

Did you get this newsletter from a friend? Sign yourself up here.