The Atlantic Daily: Trump Backtracks
The president blames both sides for violence in Charlottesville, the DOJ tries to seize a protest website's visitor logs, North Korea walks back its threat to Guam, and more.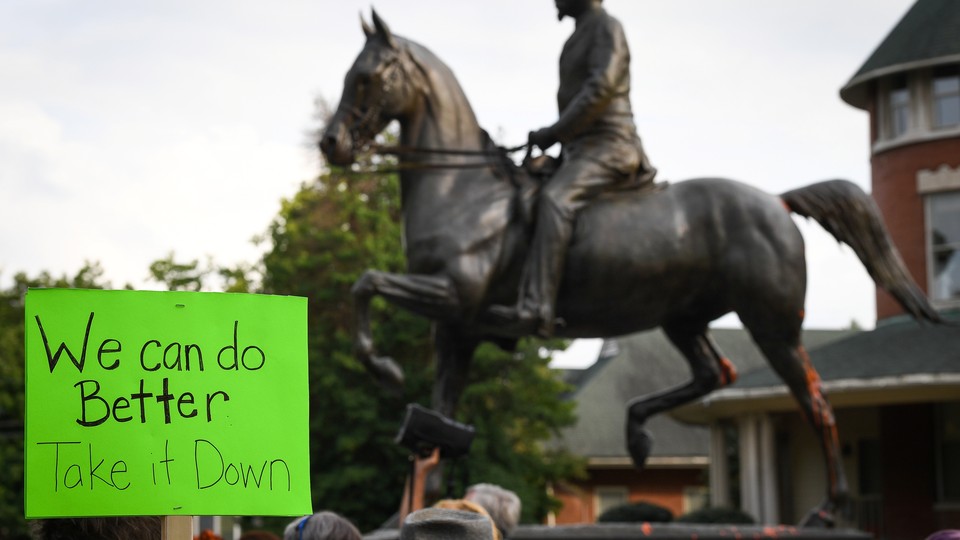 What We're Following
Mixed Messages: President Trump walked back his condemnation of white nationalist protesters, stating that "you also had some very fine people on both sides" of the violence in Charlottesville. The president's return to his initial, equivocating language will likely be taken as implicit support for their cause by white supremacist groups, whose numbers have been growing since his election. These groups often cultivate a sense of victimhood to recruit new members and convince themselves that their beliefs aren't hateful. For the rest of America, though, a voice of moral certainty comes from a surprising source—late-night comedians who offered strong critiques of Trump's response to Charlottesville.
Online Politics: The U.S. Department of Justice is attempting to seize more than 1.3 million IP addresses of people who visited the website of Disrupt J20, which organized protests on Inauguration Day. So far, the site's host has refused to comply—but the case is unprecedented, and it's not clear whether the large-scale search warrant exceeds the government's authority. Meanwhile, the tech world's approach to public speech is coming under pressure from both sides of the political spectrum.
Tensions Overseas: North Korea has apparently backed off its threat on Guam, assuaging fears that rose in the U.S. last week of impending military crisis. Still, as part of its long-term effort to crack down on North Korea's weapons program, the Trump administration is trying to pressure China into cooperation by taking the first steps toward a trade war.
---
Snapshot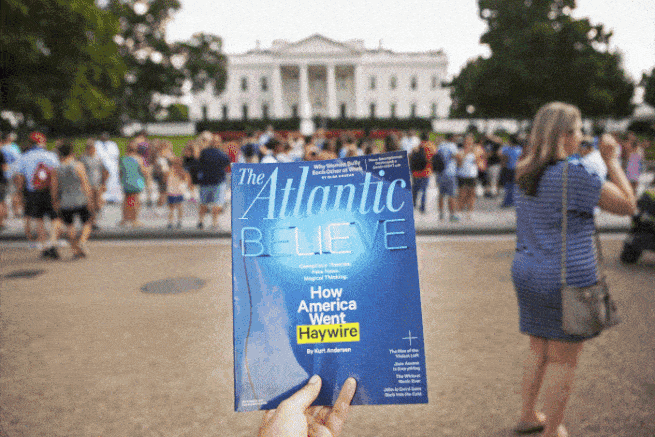 ---
Evening Read
McKay Coppins on A.J. Delgado, the Trump campaign aide whose secret relationship and breakup with a colleague caused scandal and speculation in D.C.:
In a series of interviews, Delgado told me her full story for the first time. In some ways, her experience is emblematic of the tensions that define this political moment. It's the story of a woman with working-class roots navigating a world dominated by rich and powerful men; of a conservative Catholic who carried her baby to term despite feeling pressured to have an abortion, only to be ostracized by parts of the pro-life movement; of a president's most visible Latina supporter who ended up on the sidelines after helping him win office.

But it's also a deeply human story—of two flawed individuals whose personal lives and private mistakes are now being splashed across the tabloid press; and of a single mom who says she's fighting for her son.
---
What Do You Know … About Business?
Businesses now find themselves more and more entangled in the country's most fraught political questions. After President Trump's response to the events in Charlottesville, multiple executives joined Merck CEO Kenneth Frazier in bowing out of Trump's manufacturing council. Americans have now turned to the employers of white supremacists to mediate justice. And a very dusty 20th-century anxiety returns as experts contemplate the effects of nuclear strikes on the world economy.
Can you remember the other key facts from this week's Business coverage? Test your knowledge below:
1. Since 2010, the time that young Americans spend watching TV has dropped 50 percent, while the number of hours consumed on Netflix has increased by ____________ percent.
Scroll down for the answer, or find it here.
2. The developer of Snapchat is on track to lose $____________ this year.
Scroll down for the answer, or find it here.
3. Jobs growth in the ____________ sector has outpaced the overall economy every month for the past seven years.
Scroll down for the answer, or find it here.
---
Urban Developments
Our partner site CityLab explores the cities of the future and investigates the biggest ideas and issues facing city dwellers around the world. Gracie McKenzie shares three of today's top stories:
After this weekend's violence in Charlottesville, mayors across the country are saying America is "no place for" racism and bigotry. So what can they do when hate rallies come to their cities?

These meticulously detailed infographics depict every type of vehicle currently in use in each of 24 cities' public-transit systems—from NYC's four varieties of subway cars to Portland's Aerial Tram.

"It's amazing what we do already as a country with all this strife going. Imagine what we could do in one where people embraced inclusion." Mayor Greg Fischer is serious about making Louisville, Kentucky, a kinder place in an increasingly angry nation. Here's his plan.
For more updates from the urban world, subscribe to CityLab's daily newsletter.
---
Reader Response
As Olga Khazan writes, the debate between scientists over whether it's really unhealthy to be overweight is mired in conflicting definitions and side controversies. One reader points out how the confusion can affect individual patients:
My beef with the current attitude of weight as a thing we can't ignore is that some of these studies give doctors an excuse to not look closely to a patient. I had high blood pressure; on every visit, the first instinct of my doctor was to ascribe it to weight; if not to weight, then to an excessive salt intake; if not to salt, then to fat; if not to fat, then to sugars. I always was rather skeptical about such claims, because my blood pressure was always like that, even when I was 15 and clearly not overweight. However, to prove a point I lost weight, stopped eating salt altogether and, to top things off, quit drinking.

Turned out, my high blood pressure was due to horseshoe kidney and excessive production of one of the hormones (cortisol, I believe) by this kidney. It was also a matter of a quick contrast CT scan to confirm it, and a relatively straightforward set of meds to control it. But, man, did we waste time and my nerves to get there!
Read the article here, and find a related reader discussion of situations when doctors misunderstand women's pain here.
---
Nouns
Primate gestures, breastfeeding pressure, invisible artists, comedic comfort food.
---
Time of Your Life
Happy birthday to Nicole's sister (a year younger than Pokémon); to Margot (twice the age of Macintosh computers); to José's wife (born around the time President Richard Nixon resigned); to MaryAnn's sister Joyce (the same age as Kanye West); to Fran's "brother-in-law and good friend" Rohland (a year younger than the helicopter); to Janet (a year younger than seat belts in cars); to Susan's grandson Omari (the same age as Hong Kong's independence from Britain); to Kristen's little sister Jacqueline (a year younger than the World Wide Web); to Nancy's friend Helen (who was 22 when the Berlin Wall collapsed); to Liz (twice the age of American Idol); to Alyssa (a year younger than Barbie); to Danny (twice the age of Facebook); and to Dawn (the same age as Cyndi Lauper)—who, her husband Larry recalls, once got a memorable shout-out from Barack Obama too.
Do you or a loved one have a birthday coming up? Sign up for a birthday shout-out here, and click here to explore the Timeline feature for yourself.
---
Meet The Atlantic Daily's team here. To contact us, email hello@theatlantic.com.

Did you get this newsletter from a friend? Sign yourself up here.