The Atlantic Daily: After Charlottesville
Trump's fraught response to racist violence, Alabama's high-stakes primary, secret diplomatic meetings with North Korea, and more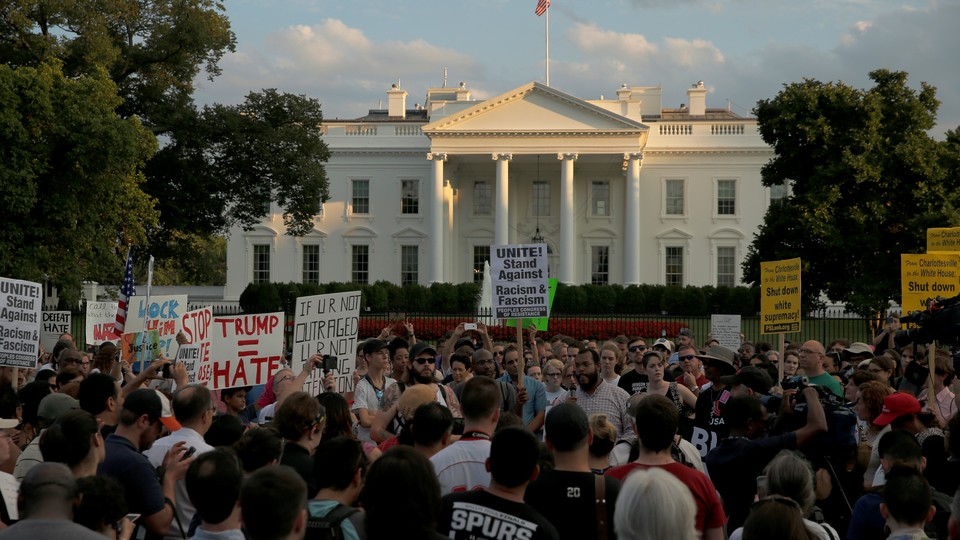 What We're Following
What Happened in Charlottesville: Over the weekend, clashes between protesters at a white supremacist rally turned deadly: A man drove his car into a group of counter-protesters, killing one woman and injuring 19 other people, and two state troopers died in a helicopter crash while policing the protests. President Trump drew heavy criticism for his first response to the events, which blamed "many sides" for the violence—and while he eventually issued an explicit condemnation of the white supremacists who ignited the conflict, he may have failed a crucial test with his initial reluctance to do so. More rallies are scheduled for next week, and their outcome will signal whether the movement is gaining strength. For now, writes Yoni Appelbaum, American cities can stand against it by taking Confederate monuments down—including those in the halls of the Capitol.
Political Allies: President Trump has been tweeting his support for Senator Luther Strange of Alabama ahead of the state's hotly contested primary on Tuesday. Strange is an unpopular establishment figure in Alabama, meaning the race may come down to a test of Republicans' support for the president against the "drain the swamp" politics that helped him get elected. Meanwhile, some of Trump's critics are calling for his advisers to turn against him—but such an attempted coup would set a dangerous precedent.
North Korea: In keeping with Trump's pattern of extreme statements that don't match up with his foreign policy, his threats last week against North Korea have not materialized as military action—though the damage done to his credibility could still leave the U.S. vulnerable to war. Diplomats of the two countries may be able to find a way out: They're reportedly holding secret meetings in New York City.
---
Snapshot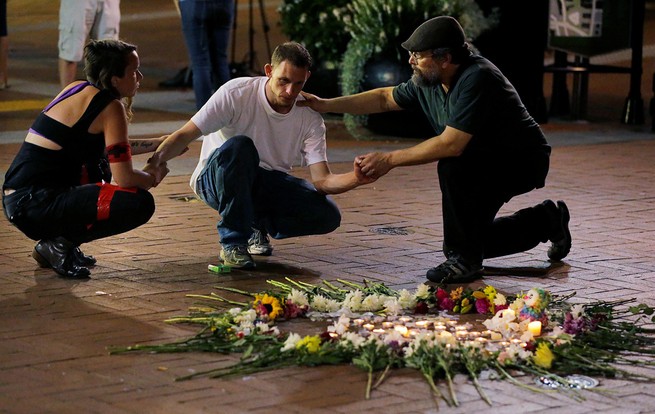 ---
Evening Read
Scott Beauchamp reviews the second volume of a planned trilogy by Paul Kingsnorth, whose 2014 novel The Wake dealt with the devastation of the Norman invasion of England:
Now Kingsnorth, a former climate-science journalist turned novelist who has long explored the interplay between society and environmental collapse, has a new installment, Beast, that follows a similar theme: It's the present-day tale of a man searching for alternatives to the superficial consumer culture responsible for ecological degradation. Leaving his family and job behind, the protagonist Edward Buckmaster instead spends his time tracking a mysterious black beast, emitting a kind of optimistic fatalism along the way. In both works, tremendous loss is balanced by a belief that humans are at least as tenacious as catastrophe is relentless. And in both works, Kingsnorth makes clear, ruin, as well as hope, are perpetually present and perpetually incomplete.
Keep reading here, as Beauchamp finds a hopeful message for humanity in Beast.
---
What Do You Know … About Education?
The challenges of educating and protecting the safety of students are no smaller for educators who work with the youngest kids to attend school. Early-childhood educators are hard to come by and consistently underprepared, so a Denver child-care provider is trying to change things with a new in-house training model. And while conversations about preventing sexual violence in school tend to focus on college campuses, Title IX cases among K-12 students are widespread, as is the debate about how schools should handle them.
Can you remember the other key facts from this week's education coverage? Test your knowledge below:
1. The U.S. Department of Education estimates that by 2026, the gender of 57 percent of college students will be ____________.
Scroll down for the answer, or find it here.
2. A major decline in law-school enrollment since 2010 has cost schools about $____________ in tuition.
Scroll down for the answer, or find it here.
3. According to a recent study, the youth sports that saw the biggest increase in concussion rates between 2005 and 2015 were boys' baseball and girls' ____________.
Scroll down for the answer, or find it here.
---
Send Us Your Eclipse Viewing Party Photos
On August 21, the Great American Eclipse will sweep the country from coast to coast, covering the land below in darkness for more than two minutes. Whether you're planning to be in its path or just tuning in from your home state, we want to see how you're celebrating. In addition to the special coverage on our site, we'll be sharing readers' best photos from eclipse celebrations and viewing parties across the U.S. in our Instagram story. Here's how to submit your own.
---
Look Back
On this day in 1935, President  Franklin Delano Roosevelt signed the Social Security Act into law. In our July 1936 issue, John G. Winant reflected on its purpose:
The present Act envisages payments of compensation to those involuntarily out of work and payment of assistance or benefits to those whose earnings during their working life have left no margin of provision for oncoming age. But the ultimate objective of the movement for social security is not the outpayment of unemployment insurance and old-age assistance. It is the establishment and maintenance of a system of social relationships in which the individual's earning power during his working life shall be enough, and continuous enough, to ensure him an old age for which a competence shall have been gradually accumulated as the reward of his own effort.
---
Reader Response
As Emma Green writes, more than one-third of Americans have religious identities that are different from those they grew up with. One commenter muses:
I was raised Catholic. But while in university (in 1970), I converted to the Baptist Church. That didn't survive to adulthood, however, and I went back to the Catholic Church (after intensive study of church history). Been happy there ever since (while grateful for the experience as a Protestant—makes me understand the mindset better).

So am I part of the one-third? By this article's definition, no. But the real world is always more complicated than any definition, isn't it?
Read more on the history of religious conversion here, and readers' reflections on their biggest religious choices here. Meanwhile in Pakistan, reports of forced conversions of young girls from Hinduism to Islam have led some Hindu families to contemplate leaving the country.
---
Verbs
Weight debated, balloon-drones admired, rabbit virus resisted, nuclear worries revived.
---
Time of Your Life
Happy birthday to Bernard (a year younger than The Cat in the Hat); to Brad (the same age as the March on Washington for Jobs and Freedom); to Nancy (twice the age of Macintosh computers); to Kathy's mother, Ruth (a year younger than "talking" movies); to Terra's mother, Gloria (twice the age of MTV); to Kristen's son (a year younger than Toy Story); and to Louis's significant other (who was 18 when Gerald Ford was nominated for a second term).
From yesterday, happy birthday from Barbara to Aaron (born around the time that construction of the Berlin Wall began); to Pippa (the same age as Jennifer Lawrence); to Ron's sister (a year younger than Keynesian economics); to Pat's daughter Katie (the same age as the IBM personal computer); to Mamie (a year younger than Batman comics); to Danielle's husband, Shaun (the same age as CDs); to Wally (a year younger than sunscreen); to Pat (a year younger than Superman); and to Jonca's twin sons, Alexander and Auguste (twice the age of the International Space Station).
Do you or a loved one have a birthday coming up? Sign up for a birthday shout-out here, and click here to explore the Timeline feature for yourself.
---
Meet The Atlantic Daily's team here. To contact us, email hello@theatlantic.com.

Did you get this newsletter from a friend? Sign yourself up here.