The Atlantic Daily: On the Wray In
The Senate confirms a new FBI director, Trump may stop Obamacare subsidies, Congress considers campus speech, and more.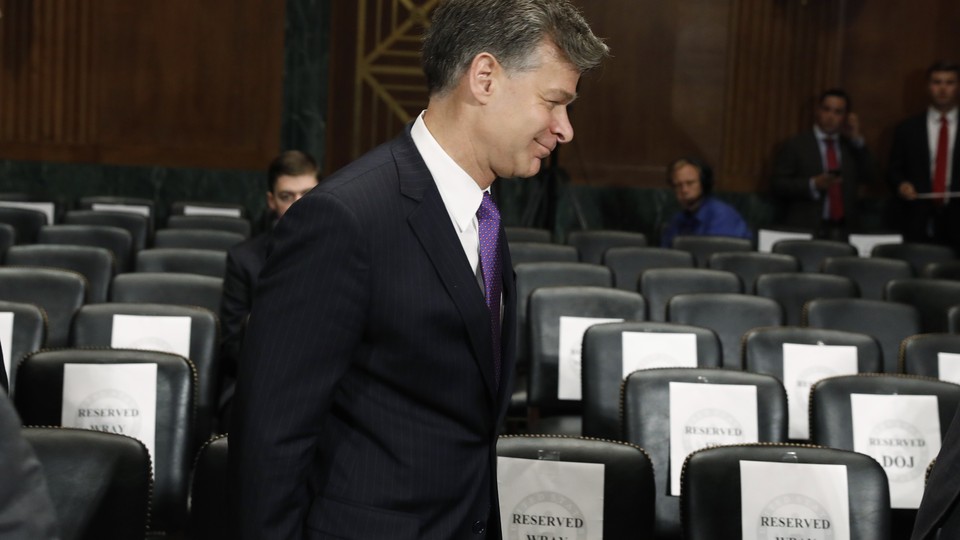 What We're Following
Comey's Replacement: The Senate confirmed Christopher Wray as director of the FBI in a 92-5 vote. Replacing James Comey, Wray will oversee the bureau's involvement in Special Counsel Robert Mueller's investigation of Russian election interference. President Trump was accused of obstruction of justice for firing Comey, and he continues to be criticized for meddling with the investigation. Last night, it was revealed that he dictated his son Donald Trump Jr.'s initial, misleading statement about his June 2016 meeting with a lawyer claiming to offer Russian government help for the Trump campaign—a gaffe that could be damaging regardless of whether it's an attempted cover-up.
Health Care: Though the Republican effort to repeal Obamacare has failed, Trump may still attempt to undermine the law this week by stopping the subsidies it provides to insurers. Few lawmakers support the move, which could severely destabilize markets, but even GOP leaders may not be able to stop the president. On the other hand, David Frum writes, Trump was uniquely positioned to guide his party away from its commitment to the unpopular repeal legislation—but instead, he continued to push for a deal that ultimately failed.
Controversial Conversations: As political speech continues to be a divisive subject on college campuses, the House Committee on Oversight and Government Reform held a hearing to find consensus about the types of speech that should be protected or prohibited. And The Bachelorette attempted to stage a productive conversation about one recent contestant's racist tweets, but ultimately ended up constructing an empty narrative.
---
Snapshot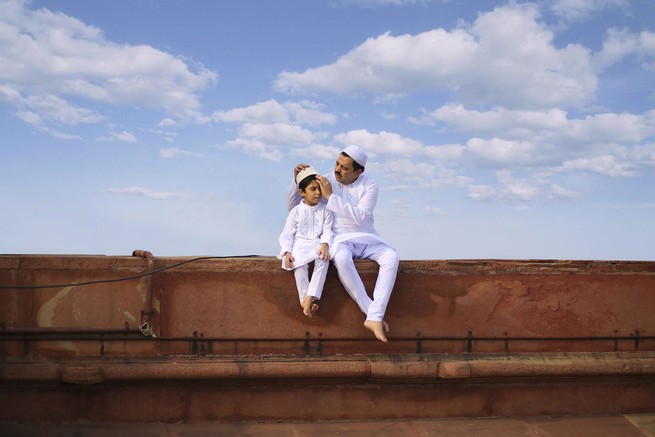 ---
Evening Read
George Anders on the value of a liberal-arts education for one community-college student:
Nobody pegged her for greatness at first. A psychology professor, Maria Lopez-Moreno recalls [Mai-Ling] Garcia sitting in the midst of a lecture hall, fiddling constantly with a cream-colored scarf. Then something started to catch. After a spirited discussion about the basis for criminal behavior, Lopez-Moreno took this newcomer aside after class and asked: "Why are you here?"

Garcia blurted out a tangled story of marrying a Marine right after high school, seeing him head off to Iraq, and not knowing what to do next. Lopez-Moreno couldn't walk away. "I said to myself: 'Uh-oh. I've got to suggest something to her.'" At her professor's urging, Garcia applied for a place in Mt. San Jacinto's honors program—and began to thrive.
Keep reading here, as Anders explains why liberal arts aren't just an elite course of study.
---
What Do You Know … About Business?
Some say the cost of Americans' admiration for innovators is a vulnerability to deceptions—or at least to bad deals. Just last week, Wells Fargo announced that it owes its customers millions after overcharging more than 500,000 people for unnecessary auto insurance. Meanwhile, the manufacturing giant Foxconn agreed to build a new plant in House Speaker Paul Ryan's Wisconsin district. Observers estimate that the sheer cost of attracting the Taiwanese company could run anywhere from $230,700 to $1 million per job created.
Can you remember other key facts from this week's business coverage? Test your knowledge below:
1. Between 2010 and 2015, enrollment at private for-profit colleges fell by ____________ percent.
Scroll down for the answer, or find it here.
2. Coin-fed laundromats in the U.S. are estimated to earn gross revenues of $____________ per year.
Scroll down for the answer, or find it here.
3. Environmental regulators have delayed the Trump Organization from expanding its new golf course in the country of ____________.
Scroll down for the answer, or find it here.
---
Urban Developments
Our partner site CityLab explores the cities of the future and investigates the biggest ideas and issues facing city dwellers around the world. Gracie McKenzie shares three of today's top stories:
For more updates from the urban world, subscribe to CityLab's daily newsletter.
---
Reader Response
As Sophie Gilbert writes, a new study argues that the increase in internet searches for suicide after Netflix's 13 Reasons Why was released suggests that the controversial show—which experts criticized for its portrayal of a high-school student who took revenge on bullies by killing herself—could have had a contagious effect in terms of suicide attempts and ideation. One reader is skeptical:
It's okay for people to read articles about suicide and talk about suicide—it can alleviate feelings of isolation around having suicidal feelings and thoughts. It's time to end the social taboo around talking about suicide.
Another counters:
Talking about suicide is fine, but the show intensely dramatizes the martyr mentality involved in so many suicides, which is extremely dangerous for children already suffering from mental-health issues.
And a third reader points out a possible source of the conflict:
If raising awareness was the goal, it was achieved. However, 13 Reasons wasn't actually addressed to the potentially suicidal; it was addressed to bullies.
Read more on 13 Reasons Why here, and go here to read about an ambitious new approach to suicide prevention.
---
Verbs
Senator mentored, grief deconstructed, hair dryers celebrated, alien mummies faked.
---
Time of Your Life
Happy birthday to Bob's wife, Judy (18 years older than the Voting Rights Act); to Veronica (twice the age of websites); to Steph (a year younger than color TV); to Hini's daughter (twice the age of Spotify); to Lucetta (twice the age of test-tube babies); to Anthony (the same age as Rihanna); to Karen's husband, Norm (a year younger than the atomic bomb); and to Cathy's daughter, Rebecca (who was born around the time President Richard Nixon resigned).
Do you or a loved one have a birthday coming up? Sign up for a birthday shout-out here, and click here to explore the Timeline feature for yourself.
---
Meet The Atlantic Daily's team here. To contact us, email hello@theatlantic.com.

Did you get this newsletter from a friend? Sign yourself up here.