The Atlantic Daily: Meet and Diverge
How Putin and Trump disagree on their meeting, the conservative case for unions, the history behind Jay-Z's new album, and more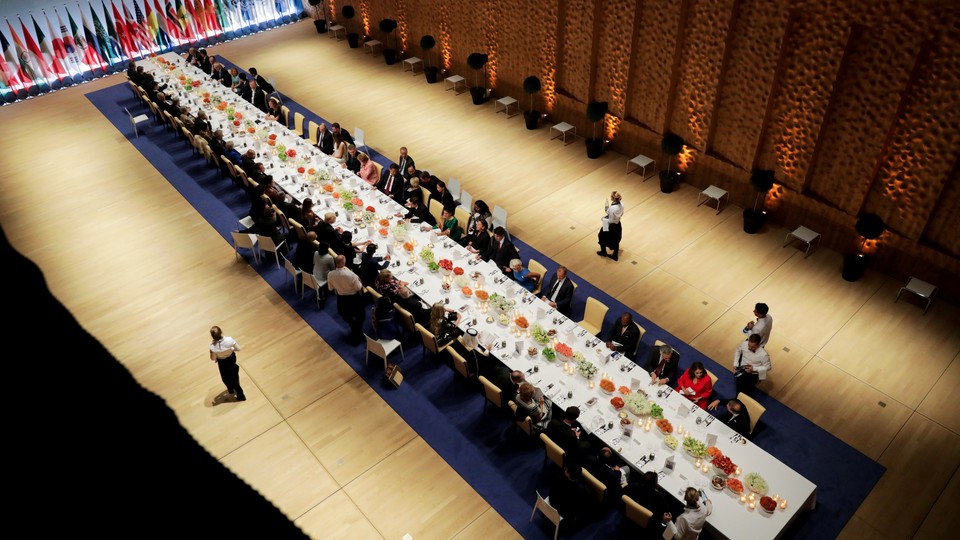 What We're Following
When Putin Met Trump: The two presidents sat down together today—for the first time since Trump took office—in Hamburg, Germany, where both leaders were attending the G20 summit. The meeting extended more than an hour and a half past its scheduled time of 35 minutes, and although both governments confirmed they'd agreed upon a ceasefire in Syria, the two accounts differed on what else they'd talked about. The U.S. says Trump pressed Putin on whether he'd ordered interference with the U.S. election, but Russia says Trump accepted Putin's claim of innocence—and it may be impossible to know what really happened.
More From the G20: The meeting of the world's 20 largest economies comes just a month after global leaders criticized Trump's decision to withdraw from the Paris climate agreement—but it's not yet clear whether the 19 other nations in attendance will be able to form a unified response to the U.S. For now, America's attention is on North Korea, about which U.S. Secretary of State Rex Tillerson warned "we don't have many good options left" if the current policy of "peaceful pressure" fails.
American Jobs: The Bureau of Labor Statistics announced  that the U.S. economy added 222,000 jobs last month—a greater increase than expected—while the unemployment rate stayed relatively steady at 4.4 percent. In recent years, many American workers have suffered from the combination of increased globalization and declining union protection; in response, Jonathan Rauch makes the conservative case for a new form of organized labor.
---
Snapshot
---
Evening Read
Adam Serwer reviews Jay-Z's new album, 4:44:
The tension between Jay-Z's love of the game and his fear of losing his soul, his indulgence in worldly pleasures as the years ripped away friends and family through death or betrayal, formed the emotional core of every Jay-Z album from Reasonable Doubt to The Blueprint 3. Appropriately enough, 4:44 begins with the metaphorical assassination of the Jay-Z persona as Carter takes on the responsibilities of fatherhood, marriage, and wealth. He offers a new vision of capitalism as a tool for community uplift. Carter is not at the height of his lyrical prowess on 4:44, but the album is ambitious and emotionally vulnerable, and represents a profound shift from Jay-Z's previous offerings, especially in its belief in the power of the market to improve black lives rather than destroy them.  
Keep reading here, as Adam unpacks the historical context of the mogul's economic message.
---
What Do You Know?
1. Hybrid cars account for about ____________ percent of the U.S. passenger car market.
Scroll down for the answer, or find it here.
2. White men hold ____________ percent of all the senior executive positions in American corporations.
Scroll down for the answer, or find it here.
3. Though roches moutonnées, a French-derived term for asymmetrical glacial mountains, translates roughly to "sheep-like rocks," the description refers not to the shape of a sheep but to the texture of 18th-century ____________.
Scroll down for the answer, or find it here.
---
Poem of the Week
In our July/August 2012 issue, Alicia Ostriker painted a complex picture of American patriotism—beginning with the simple, heartfelt pride of her grade-school days, but:
Only later discovering this land is two lands
One triumphant bully one hopeful America

Sometimes I still put my hand tenderly on my heart
Somehow or other still carried away by America
More on those internal contradictions here.
---
Reader Response
After Conor Friedersdorf called for readers' reflections on how Americans can work to understand each other's differences, a college student from a liberal background responds:
I'm barely legal drinking age, the daughter of a self-identified queer woman and a Korean immigrant, an only child of divorced parents, never stepped foot into a church, grew up on The Daily Show. I showed up on campus already knowing the general liberal "creed."

Instead of shedding the shackles of a conservative upbringing, as many of my peers announce they're doing, I've been learning that my childhood was not common whatsoever. I don't think it's right to say that I'm going "backwards," but it feels weird trying to genuinely understand religious/conservative views from a liberal background when most people I know so easily did the vice-versa (and changed ideologies because of it). I'm not trying to change. I just want to understand the 50+ percent of the population that had a different childhood than I did.
Read the rest of her story here.
---
Verbs
Songs fidget, cycling movie mockuments, interpreters keep mum, test scores tick up.
---
Time of Your Life
Happy birthday to Jane (the same age as another Jane—Fonda) and Lee May (a year younger than the Super Bowl).
Tomorrow, happy birthday to Robin's sister Donna (a year younger than Star Trek), Ria (a year younger than Google), Terry (born the same year as Oprah Winfrey), and from Jon to Alex (a year younger than commercial bar-code scanning).
Do you or a loved one have a birthday coming up? Sign up for a birthday shout-out here, and click here to explore the Timeline feature for yourself.
---