The Atlantic Daily: Global Governance
What Saudi Arabia wants from Qatar, Macron's plan for France's parliament, Trump's Twitter battle with the press, and more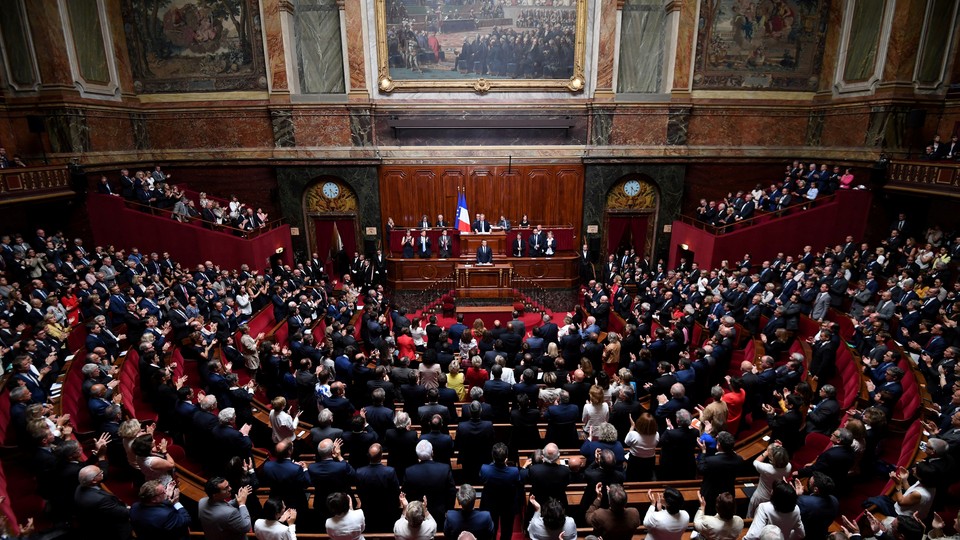 What We're Following
In the Middle East: Saudi Arabia and its allies have extended the deadline for Qatar to respond to a list of demands that could, if Qatar fails to meet them, result in serious diplomatic sanctions. Many of those 13 demands are targeted at cutting off Qatar's relationship with the Muslim Brotherhood, which the Gulf monarchies see as an existential threat. Meanwhile, Iraqi troops are in the final stages of their battle to liberate Mosul from ISIS—though their victory won't stop ISIS from using the city as propaganda.
In Europe: Speaking in a rare address to both chambers of his country's Parliament, French President Emmanuel Macron outlined his plan to significantly reduce France's number of legislators. Though aimed at making Parliament more efficient and responsive, the proposal could result in a less experienced legislative body. Elsewhere, German President Angela Merkel looks likely to be reelected this fall, in spite of last year's fears that her government would be overtaken by populism. What's kept the German establishment safe may be the country's economic resilience.
In the U.S.: President Trump's Twitter battle with the media continued this weekend when he posted a video of himself punching a man—whose face had been replaced with the CNN logo—outside the ropes of a wrestling ring. The video was jarring for its humorous treatment of violence—but it fit right at home in a political environment marked by vitriol, paranoia, and what David Frum calls "the souring of American exceptionalism." Does it have to be this way? Senator James Lankford calls for civility.
---
Snapshot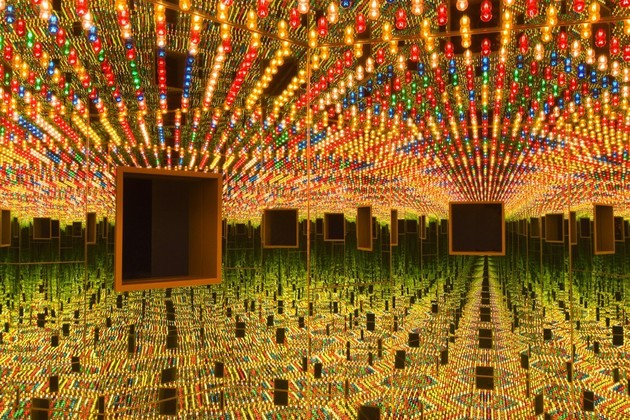 ---
Evening Read
David Dobbs on Tom Insel, a psychiatrist with a surprising plan for mental health care:
Insel hopes to use data—especially the rich, ongoing streams of data that a smartphone can provide—to detect a deteriorating state of mind faster and more reliably than we can now, and then to respond and turn things around more quickly. He believes a smartphone can be both a diagnostic instrument and, through the links it gives us to others, a life-saving mode of connection and treatment.

At any given moment, roughly one in seven of the world's 7.5 billion people is struggling with mental illness. "We're not going to reach all those people by hiring more psychiatrists," says Insel. But we might reach them with smartphones.
Keep reading here for the research that shapes Insel's idea, and find another approach to data-driven therapy here.
---
What Do You Know?
1. Since 1976, the Democratic Republic of the Congo has experienced ____________ outbreaks of the Ebola virus.
Scroll down for the answer, or find it here.
2. Reshma Saujani, who founded the nonprofit Girls Who Code, estimates that she spends ____________ percent of her time on mentorship.
Scroll down for the answer, or find it here.
3. The English word community is derived from the Middle French communité, which means "____________."
Scroll down for the answer, or find it here.
---
Look Back
On this day in 1863, at the Battle of Gettysburg, Confederate troops led a failed assault on the Union Army known as Pickett's Charge. The author Liza Mundy's great-great-grandfather was on the battlefield, and in July 2013 she retraced his steps:
Quickly all was chaos; the folly of the attack emerged as the 3rd Virginia [infantry regiment] passed one "Captain Fry," whose horse had blood pouring from his neck. They learned that Kemper had been struck; a group of Vermonters were coming at them from the rear; soon everything was a "wild kaleidoscopic whirl" of destruction and smoke. [Colonel Joseph] Mayo saw a colonel knocked out of his saddle and killed by falling on his own sword; he heard an explosion; was knocked down, and "when I got on my feet again there were splinters of bone and lumps of flesh sticking to my clothes." The brigades that were supposed to be coming from the left were disrupted. The Union troops held, and with them, eventually, the nation.
Keep reading here, and find out more on how the Battle of Gettysburg reshaped American history here.
---
Reader Response
After Hayley Glatter asked about your most formative summer jobs, Parker lists a series of the ones he held starting in 1956, when he was 16:
Forest Fire Fighter for California Div. of Forestry in Monterey
County: Impressed by the forces of nature gone wild

Boxcar Lumber Loader for Arcata Redwood Co. sawmill in Humboldt
County, California: Convinced me to stay in college

Garbage Man for City Garbage in Eureka, Humboldt County, California: Impressed by how much waste we generate

Apprentice Embalmer: Impressed by the American way of death compared to other cultures past and present
More reader stories here, and read what Americans in many different industries have to say about their jobs here.
---
Nouns
Skull tower, education equity, creationist geology, beach bummer.
---
Time of Your Life
Happy birthday to Michele; to Phyllis (a year younger than the microwave); from a mystery friend to Venkatesh (a year younger than the Harry Potter series); and to Kim, who shares a birthday with Maria—they're both the same age as the state of Alaska. And happy birthday to Albert, who cites two battles on the day of his birth: "The British sank the French Mediterranean fleet to keep it out of German hands, and my Brooklyn Dodgers beat the hated NY Giants at the Polo Grounds 7-3."
From yesterday, happy birthday to Shelly's dad Ron (32 years older than the moon landing), Edward's son (the same age as the actress Rachel McAdams), and Deb (a year younger than LP records). Joseph's brother Luke and Elin's father Rolf are both a year younger than sunscreen, while Amy and Margie's daughter Mandie and are both a year younger than The Oprah Winfrey Show. And Robert remembers:
My earliest political memories were of the Cuban Missile Crisis and JFK's assassination. As an 11-year-old I was a big LBJ backer. At college, I was the conservative because I backed McGovern. I was riveted to the NYT and Washington Post and public television during the Watergate hearings. One day, I got in line at 3 a.m. to watch the hearings. I went to the Watergate burglars' trial twice—the first time, during lunch break, I sat next to Dwight Chapin and his lawyer. Chapin wiped his brow with his hand and said, "Thank God you objected to that question."
Do you or a loved one have a birthday coming up? Sign up for a birthday shout-out here, and click here to explore the Timeline feature for yourself.
---
This newsletter won't publish on Tuesday due to the Independence Day holiday, but we'll be back as usual on Wednesday, July 5. While we're out, check out this Revolutionary War poem, reflections on patriotism from 1902 and 2017, this playlist of songs about America, and—for your grillside small-talk pleasure—this debate on the true nature of hot dogs.
---