The Atlantic Daily: West Wing Woes
Reince Priebus resigns as Trump's chief of staff, the "skinny repeal" plan fails in the Senate, Pakistan's prime minister steps down, and more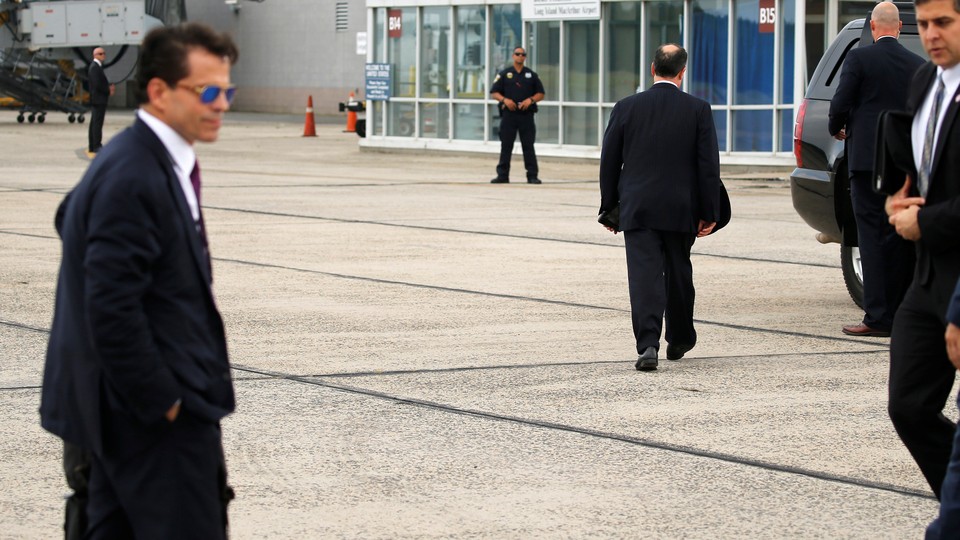 What We're Following
Obamacare Survives: The "no" votes of three Republican senators—John McCain, Susan Collins, and Lisa Murkowski—brought down Majority Leader Mitch McConnell's plan for a "skinny repeal" of the Affordable Care Act. The proposal failed by a margin of just one vote, and McCain's was the biggest surprise: Critics had denounced him for putting partisanship first in a vote to proceed in debate on the legislation yet his final rejection of the measure suggests his loyalties are in fact to process and civility. Now, some Democrats say they're ready to work on a bipartisan plan for health-care reform. And as Republicans try to move forward from a drawn-out failure, David Frum outlines 10 challenges they'll face.
Priebus Out: President Trump announced on Twitter that he would replace White House Chief of Staff Reince Priebus with John Kelly, the retired Marine general who is secretary of homeland security. The news comes just a day after Trump's new communications director, Anthony Scaramucci, publicly attacked Priebus and threatened a thorough shakeup of the West Wing staff—a chain of events that underscored the chaos of the team Kelly is about to join.
Corruption Corrections: Prime Minister Nawaz Sharif has stepped down in Pakistan after the country's supreme court ruled that revelations about his children's business dealings made him unfit to hold office. His ouster hinges on a morality clause in Pakistan's constitution, and could set a worrying precedent for that clause to be selectively applied. Elsewhere, Brazil's former president Luis Inácio Lula da Silva was sentenced to nine and a half years in prison for corruption earlier this month—but the investigation that led to his conviction is losing political support.
The Atlantic's Majority Owner-to-Be: David Bradley will soon be splitting his ownership stake in The Atlantic with Laurene Powell Jobs, the philanthropist and investor. As reported this morning, Powell Jobs's Emerson Collective will shortly acquire majority ownership, and will probably be a full owner of the enterprise within the next five years. "Against the odds, The Atlantic is prospering," Bradley said in his note to the Atlantic staff. "Who next will take stewardship of this 160-year-old national treasure? To me, the answer, in the form of Laurene, feels incomparably right."
---
Snapshot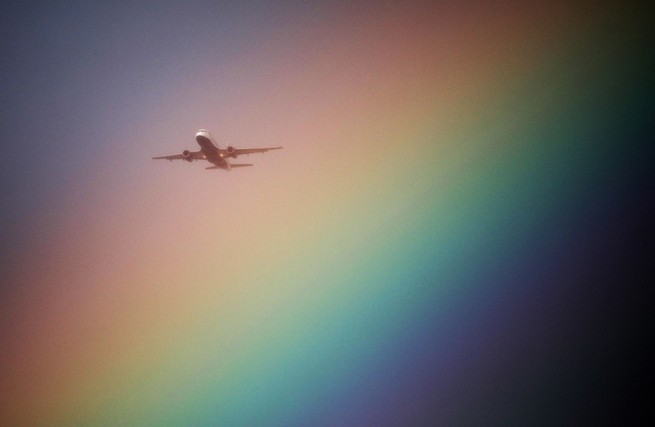 ---
Evening Read
Linda Flanagan on the influences that shape a young athlete's advancement in sports:
As is true for many serious young athletes, sports have shaped [Maggie] Moriarty's life and identity. … Her coaches have been towering influences, providing guidance, leadership, and comfort when needed, as with [one] ill-fated penalty kick. ("My soccer coach gave me huge hugs after that game," she said.) Her most influential coaches guided her for years, some through outside clubs as well as school. Her high-school lacrosse coach, she said, played an especially pivotal role in her life: "He had more of an impact on me than any of my teachers."

Moriarty estimated that as many as 20 coaches guided her various sports teams before college. What united all her head coaches, across sports, was gender: All were male.
Keep reading here, as Flanagan considers the causes and effects of a dearth of women coaches for youth sports teams. And for more on mentorship, read this Q&A with a psychology professor on what to do when mentor relationships get off track.
---
What Do You Know … About Culture?
While some, like the director Christopher Nolan, contemplate the future of the entertainment industry, it's becoming increasingly relevant to look back at books and movies past. Revisiting one dystopian 2009 novel illuminates the dangers in democracy, and rewatching Albert Brooks's Lost in America taps into current anxieties about how to lead a fulfilling life. Some creators of art are also feeling nostalgic, with Lana Del Rey adopting the '70s flower-child aesthetic for her new album and Gillian Robespierre setting her most recent film in the not-so-distant '90s.
Can you remember the other key facts from this week's culture coverage? Test your knowledge below:
1. The chief book critic for The New York Times, Michiko Kakutani, stepped down Thursday after ____________ years working at the newspaper.
Scroll down for the answer, or find it here.
2. In the late 1800s, the fiction of authors such as Mark Twain and H.G. Wells was featured in ____________, which is now known as a women's lifestyle magazine.
Scroll down for the answer, or find it here.
3. Calvinist missionaries outlawed the sport of ____________ when they arrived in Hawaii in the 1820s.
Scroll down for the answer, or find it here.
---
One Nation Under God?
The second episode of our new podcast, Radio Atlantic, is out today. This week, Jeffrey Goldberg, Alex Wagner, Matt Thompson, and Emma Green explore the limits of religious pluralism in America, and discuss whether faith in the U.S. is on the decline. Tune in here to find out why the nation's increased secularization could be one factor in Donald Trump's ascent to the presidency.
---
Poem of the Week
From our December 1884 issue, "Among the Redwoods," by E.R. Sill:
Farewell to such a world! Too long I press
   The crowded pavement with unwilling feet.
Pity makes pride, and hate breeds hatefulness,
   And both are poisons. In the forest, sweet
The shade, the peace! Immensity, that seems
To drown the human life of doubts and dreams.

Far off the massive portals of the wood,
   Buttressed with shadow, misty-blue, serene,
Waited my coming.
Read more here.
---
Reader Response
This week, we asked readers of the Politics and Policy Daily newsletter to suggest a new slogan for the Democratic Party. Catherine Gwin reflects:
The current disputes are largely about the size and shape of the government-provided social safety net that was conceived in response to the Great Depression and has evolved since then to offer assistance to people in times and circumstances of need. While that assistance has been, and remains, critically important for the elderly, the unemployed, and the very poor, it is no longer an adequate public goods and services framework for enabling decent lives under today's evolving conditions.

Rather, the challenges of our time call for a broader foundation of essential public goods and services that provides opportunity and security for all … The best [slogan for this governing vision] I have come up with is "a foundation of opportunity for all."
Read more suggestions here, and sign up for the Politics and Policy Daily here.
---
Verbs
Cell cities studied, curse words printed, eye twitch investigated, worms' sight restored.
---
Time of Your Life
Happy birthday to Sally (twice the age of websites); to John's wife, Dawn (a year younger than scuba gear); to Carrie (twice the age of Macintosh computers); to Michael's sister Shawn (a year older than the Corvette); from David to Cathy (a year younger than The Cat in the Hat); and from Alexandra, our associate director for planning, to our sales planner Melissa (136 years younger than The Atlantic).
Tomorrow, happy birthday to Shelley's brother (a year younger than color TV); to Muky and Hebe's sister (twice the age of texting); to Joyce's best friend (a year younger than car seat belts); and from Tata to Nate, who at 12 is a year too young for the Life Timeline, but just the right age to go to college.
Do you or a loved one have a birthday coming up? Sign up for a birthday shout-out here, and click here to explore the Timeline feature for yourself.
---