The Atlantic Daily: Along the Divisions
Trump's ban on transgender service personnel, the Senate's struggle for health-care agreement, Muslims' reports on discrimination, and more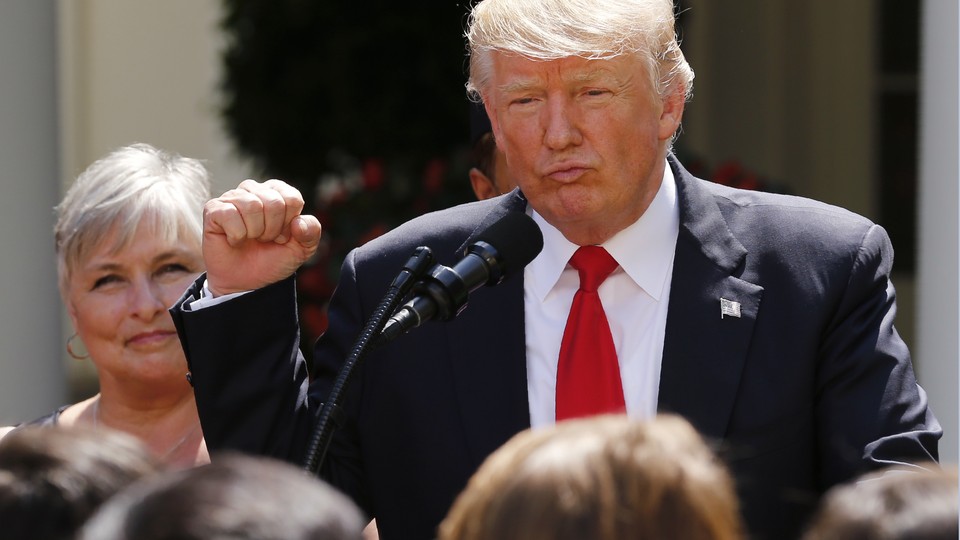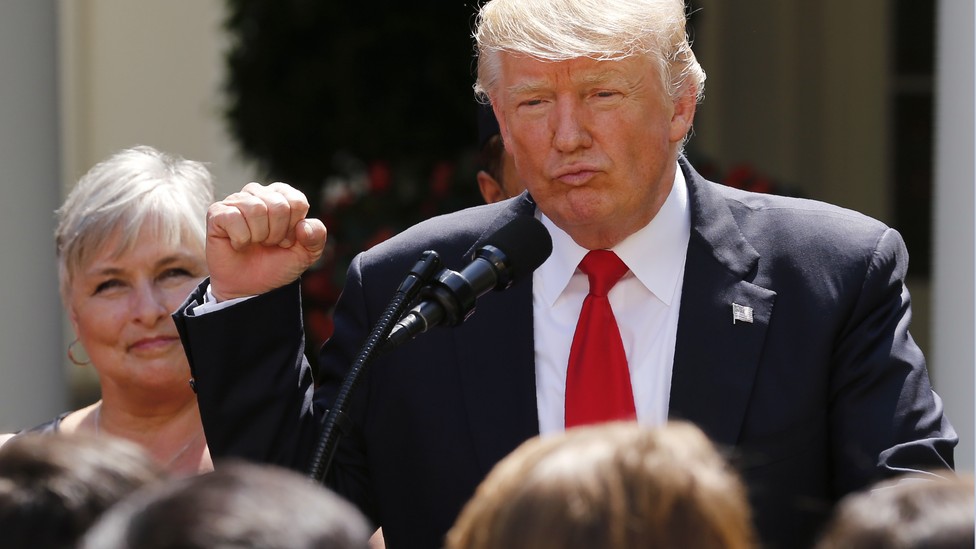 What We're Following
Trump's Transgender Ban: Over Twitter, President Trump announced that transgender people would no longer be allowed to serve in the U.S. military, reversing the Obama-era plan to let them serve openly. Trump's rationale was that inclusion would entail "tremendous medical costs and disruption." But the actual cost of gender-reassignment surgeries would likely be small in the Pentagon's budget, and the divisive decision would bar able Americans from service.
Health-Care Hardships: Republican senators' successful motion to proceed in debate marks a legislative victory for the president: Just as it did with the House health-care bill, his refusal to let lawmakers move on revived legislation that was widely considered too unpopular to pass. The Senate still isn't making much headway, however. After several Republicans rejected a broad repeal of Obamacare, the party's leaders are scrambling to put together a plan they can agree on. If the tangle of plans and procedures has you confused, here's a primer on the process the senators will need to follow.
Assimilation Nation: Respondents in a new poll of American Muslims report that they've perceived significant bias and suspicion against them—but also that they've received many expressions of support for their religion. Meanwhile in Germany, some Syrian refugees have found that the conservatism of the country's mosques conflicts with their desire to integrate with a new society.
---
Snapshot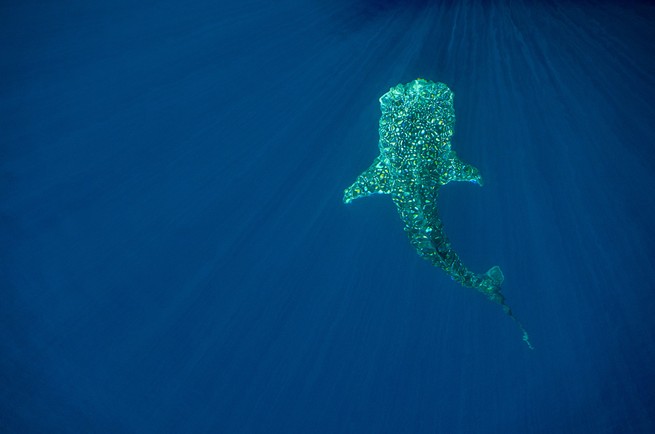 ---
Who We're Talking To
Jan M. Lodal, a member of former President Gerald Ford's policy team, recounts Leonid Brezhnev's secret effort to help Ford get reelected.
Jeff Flake, the Republican junior senator from Arizona, critiques the ugliness of today's political partisanship.
Matthew Dunlap, a Democratic member  of Trump's Advisory Commission on Election Integrity, explains why he joined the commission and what he believes is its goal.
---
Evening Read
Spencer Kornhaber on the dark side of Lana Del Ray's nostalgia:
Del Rey's music itself has always been retro-minded. In 2011, something about the way she sang sounded foreign compared to the try-hard emoting of Lady Gaga or Adele, and the description she often received was "dead eyed." Really her shtick was semi-parodic throwback that swirled together B-movie blankness, girl-group earnestness, and Laurel Canyon introspection. Yet the way she married that sensibility with dramatic orchestration and snaking machine rhythms for her debut, Born to Die, was new, establishing a template for radio that still prevails today. Her two follow-ups, Ultraviolence and Honeymoon, were gauzier, slower experiments in rock and cabaret, but Lust for Life is really Born to Die's sequel: a rather fabulous return to catchiness, camp, and faint hip-hop influences. She's ever-more-cleverly casting the present in terms of the past and vice versa—and this time, there's a political reason why.
Keep reading here, as Spencer considers how Lust for Life, Del Ray's latest album, copes with the anxieties of the Trump era.
---
What Do You Know ... About Science, Technology, and Health?
The Science Channel had a whale of a week chock-full of stories on animals: Peregrine falcons and gyrfalcon are fighting for food and territory in Greenland, a preview of battles to come on our fast-warming planet. Greedy gulls, from Guafo Island to Baja California, are terrorizing other species. Mysterious whale lice—which neither ride on whales nor are actual insects—pose a challenge to researchers. And a spotlight on flora: The "wildflowers" ordered from commercial florists may not ever have been truly wild.
Can you remember the other key facts from this week's Sci/Tech/Health coverage? Test your knowledge below:
1. In 1972, ____________ became the first country to institute a nationwide "payment for ecosystem services" program, offering financial incentives for protecting the country's forests.
Scroll down for the answer, or find it here.
2. The International Space Station orbits ____________ miles above Earth and travels at over 17,500 mph.
Scroll down for the answer, or find it here.
3. According to the Pew Research Center, ____________ percent of Americans use cellphones.
Scroll down for the answer, or find it here.
---
We Want to Hear From You
This fall, we're launching something new for our most devoted readers. We're looking for a small group of core fans to give us ongoing feedback and test new product features and ideas. Click here to share your ideas and join the experiment.
---
Look Back
The Cuban Revolution began on this day in 1953. Eleven years later, for our September 1964 issue, James Cameron visited Cuba and had mixed reviews of the revolution's success:
Everything that the revolution has achieved: the enthusiasm among the young, the near elimination of illiteracy and hopeless poverty, an honest if ineffectual government, the achievement of this mysterious Latin-American quality of dignidad—all these things remain still emblazoned on the banners; they have received no rationalization in straight political terms. There is a certain splendor, but there is no dynasty, no hierarchy, no line of succession; there is not even, as far as we know, a continuing theme. Fidelismo is not yet rooted in Marxism, or in anything else. While the completely romantic Cubans flinch from the drudgery without which no socialism can be established, the thing remains an imponderable.
Read more here.
---
Reader Response
Tyler Kepschull, a Marine Corps combat veteran who served in Afghanistan, reacts to Trump's ban on transgender service personnel:
What Mr. Trump wants to accomplish by this proposed ban is a betrayal of the very principles military members are supposed to uphold, namely, defending the Constitution and the rights and freedoms it is supposed to provide for every citizen. We need military members who believe in those principles and fighting for them; their gender doesn't matter as they've been serving already and have been doing a valiant job. Besides, the LGBT community has to be courageous almost every day in this country when they face routine prejudice and discrimination. I'm sure that translates well into military service and what it requires of an individual.

Mr. Trump has no idea of the valor, courageousness, and patriotism military members have. War is hell, and the only thing that matters when you're in it is being loyal to each other. This means doing everything in your power to make sure that everyone gets home safe. Never once did I think about their sexuality or gender when I was in combat.
If you'd like to share a perspective on the ban based on your own experience, please let us know.
---
Verbs
Bodies left, moms policed, movies streamed, bubble pierced.
---
Time of Your Life
Happy birthday to Maria's friend (a year younger than color-TV); to Noah (twice the age of the euro); to Kara's dad, Phil (a year younger than the computer mouse); to Debra's daughter Mira (the same age as LeBron James); and to Kathie's husband, John (a year younger than sunscreen).
Do you or a loved one have a birthday coming up? Sign up for a birthday shout-out here, and click here to explore the Timeline feature for yourself.
---