The Atlantic Daily: Recusal Rift
Trump's very public criticism of Sessions, the CBO's latest health-care score, Japan's declining birth rate, and more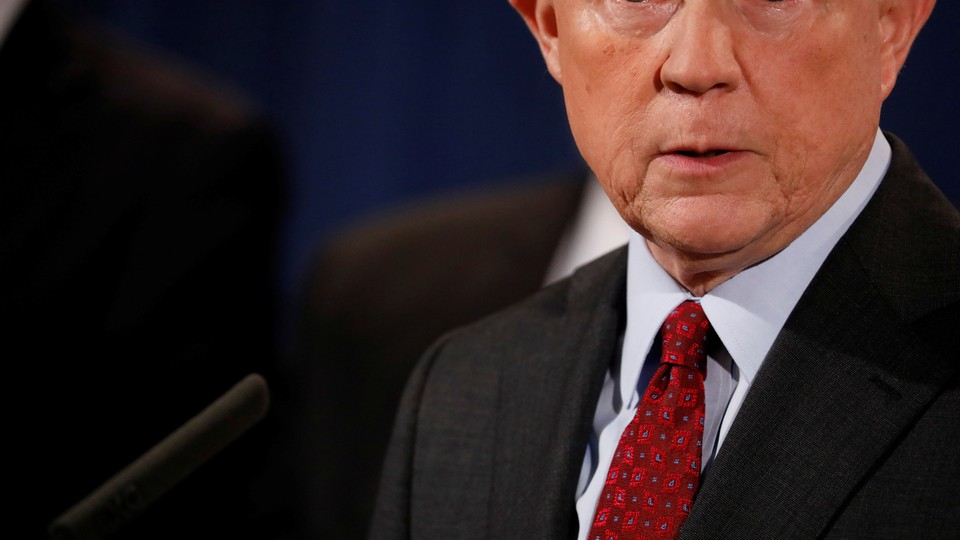 What We're Following
Trump vs. Sessions: The president attacked his attorney general in a New York Times interview released last night, saying he never would have hired Sessions if he knew he'd recuse himself from the Russia investigation. Sessions has been one of Trump's most stalwart political supporters, and the comments highlight the president's tendency to demand one-sided loyalty from those close to him—as well as four other key flaws that James Fallows finds on display in the interview. Trump also criticized Robert Mueller, drawing concerns that he might attempt to fire Mueller or Sessions. So far, though, the Justice Department doesn't seem flustered.
Health Care: The Congressional Budget Office scored the latest draft of Republican senators' health-care bill, finding it similar to the last one: 15 million people would lose insurance in 2018. Trump met with lawmakers yesterday in a last-ditch effort to save the bill, which lost so much support early this week that most observers declared it dead. The president didn't make much progress, and the plan's problems run deep—it's woefully out of touch with the needs of the GOP's base.
Bridal Books: The novelist Jane Austen, who died 200 years ago this week, is often praised for subverting the expectations of her time by writing complex, intelligent female characters—yet her stories also helped to solidify the idea that marriage is a woman's ultimate goal. More recently, the 1987 book Martha Stewart Weddings played a major role in turning weddings into the over-the-top spectacles they're often expected to be today.
---
Snapshot
---
Evening Read
Alana Semuels reports from Tokyo on Japan's declining birth rate:
Japan's population is shrinking. For the first time since the government started keeping track more than a century ago, there were fewer than 1 million births last year, as the country's population fell by more than 300,000 people. The blame has long been put on Japan's young people, who are accused of not having enough sex, and on women, who, the narrative goes, put their careers before thoughts of getting married and having a family.

But there's another, simpler explanation for the country's low birth rate, one that has implications for the U.S.: Japan's birth rate may be falling because there are fewer good opportunities for young people, and especially men, in the country's economy. In a country where men are still widely expected to be breadwinners and support families, a lack of good jobs may be creating a class of men who don't marry and have children because they—and their potential partners—know they can't afford to.
Keep reading here, as Alana traces the problem back to a global trend of increasingly unsteady employment.
---
What Do You Know … About Global Affairs?
Representatives of the European Union and the U.K. gathered in Brussels on Monday to resume Brexit negotiations. Everyone expected the talks to be heated, especially over the issue of the rights of EU citizens living in the U.K. and British nationals living in Europe, and the exorbitant divorce bill that the EU will present to the U.K. after it "Brexits" in 2019. After the first round of talks ended, neither side had budged much and both are expected to come back with even more demands for next month's second round of talks.
Can you remember the key facts from our global-affairs coverage? Test your knowledge below:
1. Brexit is expected to cost the U.K. up to ____________ billion euros.
Scroll down for the answer, or find it here.
2. Trump's close adviser Steve Bannon is said to admire the work of the Athenian historian and general ____________.
Scroll down for the answer, or find it here.
3. There are currently ____________ prisoners left at Guantanamo Bay.
Scroll down for the answer, or find it here.
— Annabelle Timsit
---
Our First Podcast
The first episode of Radio Atlantic will be available tomorrow morning, July 21, including the world premiere of Jon Batiste's full "Battle Hymn of the Republic" rendition. Our hosts, Jeffrey Goldberg, Alex Wagner, and Matt Thompson, will talk with David Frum and Molly Ball about the American idea in the era of Trump. Reporting around the country led Molly to this conclusion: "I don't think America elected Donald Trump because they didn't realize that he doesn't always tell the truth. They knew that and they wanted to elect him anyway." Check out the rest of her interview when the show debuts on Friday, and subscribe on your favorite podcast player.
---
Urban Developments
Our partner site CityLab explores the cities of the future and investigates the biggest ideas and issues facing city dwellers around the world. Gracie McKenzie shares three of today's top stories:
For more updates from the urban world, subscribe to CityLab's daily newsletter.
---
Reader Response
For our bi-Austen-tennial reader discussion, Maeve in Connecticut shares her favorite Jane Austen character—Northanger Abbey's Catherine Morland:
Catherine is a dramatic, gothic-novel-loving teen who is desperate for drama and tries to turn her own life into a ghost story, offending and upsetting her friends in the process. Throughout my teens I did my best to make my life something in between a fantasy novel and a Sofia Coppola movie—I can relate.

She's funny, outgoing, and magnificently stupid. But Catherine, in her ridiculousness, just wants to make life a fun story. She is the angsty suburban girl who invites you to join her book club with a message written in invisible ink. I would join in a heartbeat.
More reader favorites here.
---
Verbs
Students strive, astronauts float, swimmers compete, toaster triumphs.
---
Time of Your Life
Happy birthday to Michelle (a year younger than Sesame Street); to Andrea's brother (twice the age of Microsoft Windows); to Marty (the same age as Walmart); to Carl (a year younger than seat belts); and from Claire to David (a year younger than the International Space Station).
Do you or a loved one have a birthday coming up? Sign up for a birthday shout-out here, and click here to explore the Timeline feature for yourself.
---
The newsletter dated July 18, 2017, misstated the city government that receives Chicago's parking revenues. It is Abu Dhabi, not Dubai. Our apologies for the error, and thanks to reader Jean-Michel for pointing it out.
---