The Atlantic Daily: Don Jr.'s Email Evidence
Why the president's son met with a Russian attorney, how to know if the GOP health-care bill is dead, what prehistoric carbon emissions did to the planet, and more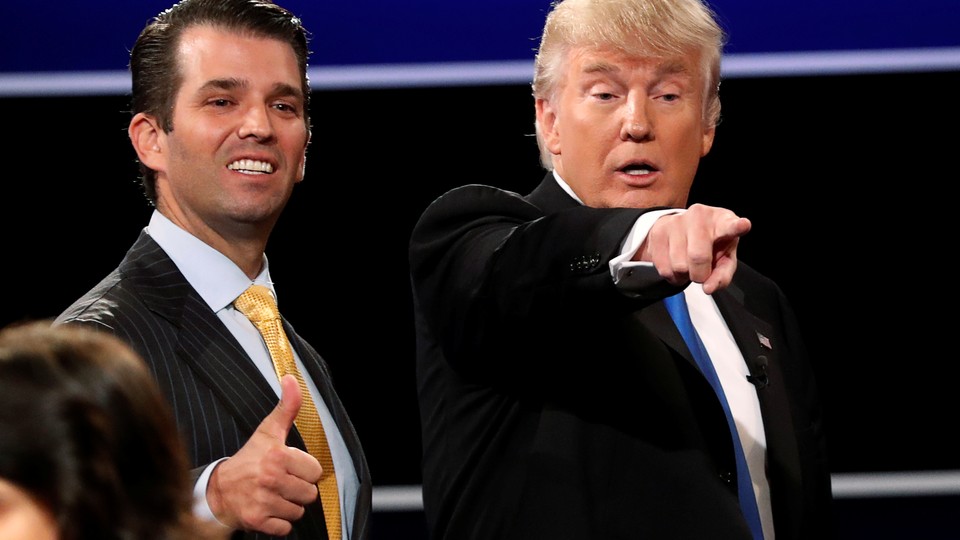 What We're Following
Damaging Details: President Trump's eldest son tweeted out a chain of messages that document how he agreed to meet with a "Russian government attorney" after being told she had information about Hillary Clinton that would help his father win the election. "If it's what you say I love it," he responded at the time. (Read the full exchange here.) The emails vindicate not only the New York Times reports of recent days on that June 9 meeting, but also the conclusions of the U.S. intelligence community that the Kremlin sought to aid the Trump campaign last year. They may implicate Donald Jr. in a violation of campaign finance law. And though Trump and his allies have denied all accusations of collusion with Russia, the meeting—which was also attended by Paul Manafort and Jared Kushner—is worrying evidence to the contrary. As the story continues to develop, follow our latest coverage here.
World Order: At the G20 summit last week, the world's top 20 economic powers appeared divided—the U.S. versus everyone else—on climate change. Yet as Thomas Wright argues, the fractures run deeper: The G20 nations can't agree on an approach to ideological and economic leadership. More divisions to come: The Trump administration is due to announce a decision on steel imports that could spark a global trade war.
Health Care: Senator Bernie Sanders traveled to Trump country this weekend to rally voters against his Republican colleagues' health-care bill, which, he argued, would hurt the working class. GOP leaders are planning to reveal their revisions to the bill on Thursday, and despite the widespread opposition, it still has a chance of passing. Here's what would need to happen for the bill to go down for good.
---
Snapshot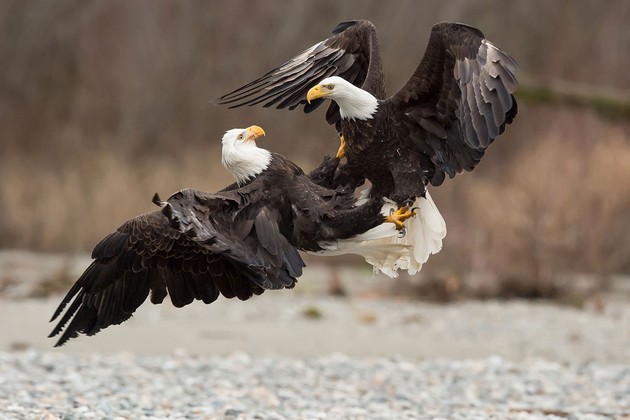 ---
Evening Read
Peter Brannen on the end-Permian mass extinction, which—hundreds of millions of years ago—nearly wiped out all life on Earth:
Once magnificent coral reefs, built of strange Paleozoic creatures, and hosting a party of tentacles, trilobites and technicolor fish, were turned into piles of bacterial slime, as oxygen-starved and rapidly acidifying seas spread out onto the shelves, killing almost everything in the ocean. The planet's forests all but disappeared for almost 10 million years. … Rivers stopped meandering in narrow channels, instead spilling forth in wide, sloppily braiding torrents. … Fungus spread across the Earth.

The cause of all this misery—a growing consensus of paleontologists and geologists believe—was burning fossil fuels. Though acid rain and a ravaged ozone layer likely played a role as well, geochemical signals in the layers of ancient rock that capture the global die-off suggest a carbon dioxide-driven global warming catastrophe—one so profound it would dwarf even the extraterrestrial disaster that cut short the dinosaurs' reign almost 200 million years later.
Keep reading here, as Brannen explores the geological record of that moment: a rock outcropping in central Wyoming. And read Robinson Meyer on whether climate change spells doomsday for the Earth as we know it.
---
What Do You Know?
1. The Iraqi government gets ____________ percent of its revenue from the oil industry.
Scroll down for the answer, or find it here.
2. Almost 40 percent of the residents of Nantucket, Massachusetts, have suffered from ____________ disease.
Scroll down for the answer, or find it here.
3. A marine biologist suggests that the mysterious torpedoes thought to have attacked two U.S. ships in the Gulf of Tonkin incident may in fact have been gigantic bioluminescent sea creatures known as ____________.
Scroll down for the answer, or find it here.
---
Urban Developments
Our partner site CityLab explores the cities of the future and investigates the biggest ideas and issues facing city dwellers around the world. Gracie McKenzie shares three of today's top stories:
"The same cities that try to clear out kebabs never make the same policies about sushi or pizza or Chinese restaurants." In European debates about national identity, kebab shops have become a focal point.

The story: Robert Moses ordered engineers to build the Southern State Parkway's bridges extra low to prevent poor people in buses from using the Long Island highway. The truth? It's a little more complex.

"The subway provides a good vehicle for entrusting kids to hold their own among the masses"—which is why, no, your kid can't have my seat.
For more updates from the urban world, subscribe to CityLab's daily newsletter.
---
Reader Response
July 18 marks 200 years since the novelist Jane Austen's death, and in her honor, we've asked readers to share their memories of how they first encountered her work. From Alexandria, Virginia, Sara DeWitt has a story about introducing someone else:
I remember arguing with a former boyfriend (a book editor) about Austen's impact on literature when he finally admitted he had never read anything by her. That said, he was certain her influence couldn't extend far beyond romance (I think he actually said "chick lit"), and I was incensed he would make this claim without having read her work. A few days later he called and said, "Don't you want to know what I've been doing all day?" He had begrudgingly opened Pride & Prejudice that morning: "I totally love it."
Have you got Austen memories of your own to share? Fill out this form, and follow along on this thread for more Austen-related discussion questions (favorite line, anyone?) throughout the week. We'll publish some of the responses next week as part of our bi-Austen-tennial celebration.
---
Verbs
D.C. united, reality mimicked, digressions valued, canyon run survived.
---
Time of Your Life
Happy birthday to the former U.S. president John Quincy Adams, and to our readers: Bob (born around the time of D-Day), Adesina's brother Olusegun (a year younger than CD players), from Nancy to J. (twice the age of The Simpsons), from Diane to David (twice the age of websites), and from Katie to her "gal pal extraordinaire" Kristin (13 years older than Freaks and Geeks).
Do you or a loved one have a birthday coming up? Sign up for a birthday shout-out here, and click here to explore the Timeline feature for yourself.
---