The Atlantic Daily: Reclaiming Mosul
Iraqi forces' victory against ISIS, Trump Jr.'s mysterious meeting, collective bargaining with Facebook and Google, and more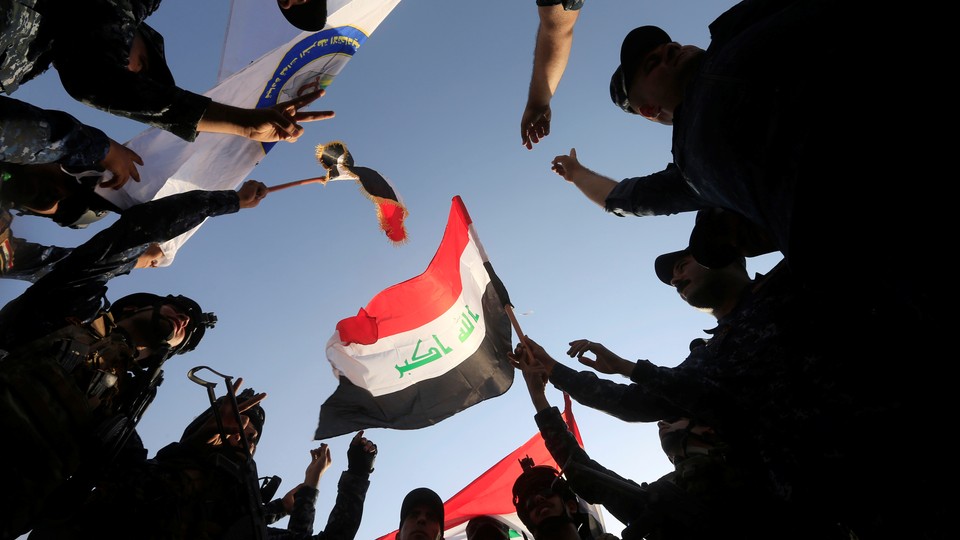 What We're Following
Mosul's Liberation: After months of fighting by Iraqi troops and their allies against ISIS militants, Iraqi Prime Minister Haider al-Abadi officially declared victory in Mosul. It's a significant blow to ISIS, which had controlled the city for three years, but it's still only a step toward defeating the militant group. Meanwhile, Mosul is in ruins, and problems with corruption and funding may turn the rebuilding process into a difficult battle of its own.
Russian Interference: Over the weekend, President Trump reversed course on the U.S.–Russian cybersecurity initiative he'd announced, tweeting, "The fact that President Putin and I discussed a Cyber Security unit doesn't mean I think it can happen. It can't." Trump's son, Donald Trump Jr., admitted that during the 2016 campaign, he'd met with a Russian lawyer, Natalia Veselnitskaya, who promised to reveal negative information about Hillary Clinton. Trump Jr. says she didn't follow through on that promise, but his meeting is the first concrete evidence that Trump's inner circle of advisers may have been willing to collude with Russia.
Tech Business: A group of newspaper publishers are asking Congress for an exemption from antitrust laws so that they can bargain collectively with Facebook and Google—two information gatekeepers whose control of advertising revenue has given them outsize power online. Indeed, Google is now one of the world's most valuable companies. But so is its main rival, Apple, and the two tech giants' competing models of capitalism could define the global economy for years to come.
---
Snapshot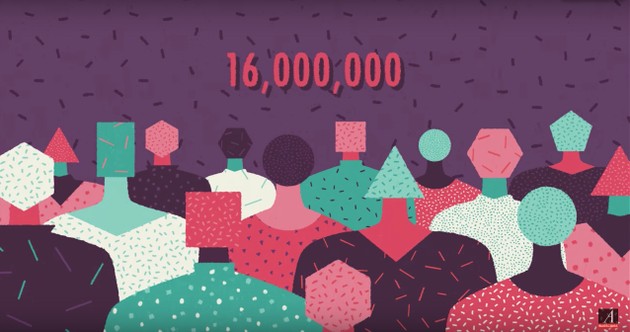 ---
Evening Read
Mallika Rao on Brown Girls, the Chicago-set web series newly acquired by HBO:
The two lead characters, Leila and Patricia, are Pakistani American and African American; there are no white people; there are a lot of gay folks; and lurking under every party scene and friend montage lies a dark premise—things really might not work out. Diversity may be good business for HBO today, but creators still answer to the whims of tomorrow's market. …

Perhaps that's why [the series creators Fatimah] Asghar and [Sam] Bailey heard warnings en route to Los Angeles. "People told us all kinds of things," Asghar told me. "Like, 'You already made Brown Girls. Nobody's going to want that. They're just going to want to have you in the Rolodex. These are all general meetings' … blah, blah, blah."

Instead, life actually worked out.
Keep reading here, as Rao reviews the innovations and the promise of Brown Girls's focus on people of color.
---
What Do You Know?
1. In the past 20 years, the world's lion population has declined by ____________ percent.
Scroll down for the answer, or find it here.
2. Twenty-five percent of the world's helium supply comes from the nation of ____________.
Scroll down for the answer, or find it here.
3. The digestive, respiratory, and reproductive systems of sea spiders are located primarily in their ____________.
Scroll down for the answer, or find it here.
---
Look Back
The novelist Marcel Proust was born on this day in 1871. In our January/February 2004 issue, Christopher Hitchens summed up his legacy:
If I were asked to "summarize" the achievement of Proust, I should reply as dauntlessly as I dared that his is the work par excellence that exposes and clarifies the springs of human motivation. Through his eyes we see what actuates the dandy and the lover and the grandee and the hypocrite and the poseur, with a transparency unexampled except in Shakespeare or George Eliot. And this ability, so piercing and at times even alarming, is not mere knowingness. It is not, in other words, the product of cynicism. To be so perceptive and yet so innocent—that, in a phrase, is the achievement of Proust.
Read more here, and read Sarah Boxer's reflections on what it means to read Proust on a cellphone here.
---
Reader Response
Jeremy Raff recently traveled to the San Francisco Bay Area, a landmark for the disability-rights movement, to report on why Americans with disabilities fear cuts to Medicaid. This commenter can relate:
I take care of an invalid relative whose care I inherited the responsibility for when my parents passed away several years ago. She has never been able to walk and can barely talk well enough for some people to understand her. She can do little for herself beyond feed herself, takes a pharmacy of prescribed meds, and requires a home health-care aid to take care of her hygiene needs. We are not millionaires and would be driven into bankruptcy very quickly if we had to pay the full freight for her meds and medical care. Fortunately for us, Medicare/Medicaid pays almost all of her medical bills, with only a small percentage of those bills coming out of her SSI.

When Trump was running for president, he promised that he wouldn't cut Medicare or Medicaid. His endorsement of the congressional bills that are threatening to cut Medicare/Medicaid does not leave me feeling very reassured about that.
Read the story here, and watch Jeremy's short documentary here.
---
Verbs
Corals fluoresce, Shakespeare glams up, students skateboard, slugger strikes.
---
Time of Your Life
We hope these readers had happy birthdays yesterday: Chuck's wife (a year younger than T-shirts), Kathy (born when GM began designing the Corvette), Ellie (the same age as the gymnast Aly Raisman), Ben (the same age as the tennis player Maria Sharapova), Sue (a year younger than The Lord of the Rings), and her son Aaron (a year younger than the 24-hour news cycle).
Today, happy birthday to John's wife Annie (a year younger than G.I. Joe), Ryan's girlfriend Grace (twice the age of Facebook), Éamonn's friend Luke (a year younger than Google), Nancy's mother Donna (the same age as 7-Eleven), another Nancy (a year younger than Microsoft), Ann (a year younger than seat belts), Michael (18 years older than the Selectric typewriter), Jenna's boyfriend Brian (a year younger than The Simpsons), and to an anonymous reader who's twice the age of Macintosh computers. And happy birthday to Barbara (a year younger than universal credit cards), from Kit, who outlines her Life Timeline like this:
My mom is turning 66 in July. It is her first birthday after the death of her husband, my father, last September 18, just 10 days after his 69th birthday. She was born in the small college/farming town of Maryville, Missouri, where her father edited the local newspaper and her mother taught. She met my dad on July 4, 1968, days before her 17th birthday, and they were married in 1971.
Do you or a loved one have a birthday coming up? Sign up for a birthday shout-out here, and click here to explore the Timeline feature for yourself.
---