The Atlantic Daily: Sessions Speaks
The attorney general testifies, speculation lingers over Robert Mueller's fate, Uber's CEO takes a leave of absence, and more.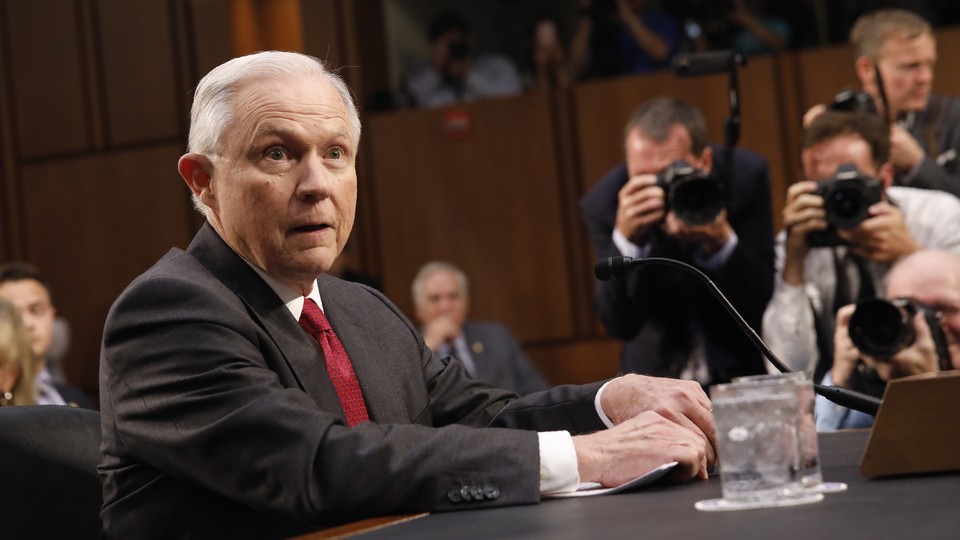 What We're Following
Sessions's Session: Attorney General Jeff Sessions reaffirmed that he did not collude with Russia to undermine the 2016 presidential election, dubbing the allegations an "appalling and detestable lie." The attorney general's testimony before the Senate Intelligence Committee comes less than a week after former FBI Director James Comey testified that he was fired by President Trump because of his role in the Russia investigation—one which Sessions recused himself from due to his own meetings with Russian officials while he served as a foreign-policy adviser to the Trump campaign.
You're Fired?: Sessions's testimony comes on the heels of ongoing speculation over whether Trump is planning to fire Robert Mueller, the special consel charged with leading the investigation into possible collusion between the Trump campaign and the Russian government. Though the president can't fire Mueller himself, he could order Deputy Attorney General Rod Rosenstein to do it. But Rosenstein assured lawmakers that Mueller has full independence in his handling of the investigation, adding that he did not see any "good cause" to fire the special counsel.
Exit, Kalanick: The embattled Uber CEO Travis Kalanick announced he is taking a leave of absence for an unspecified amount of time following a string of scandals that have engulfed the ride-sharing app in recent months, including a high-profile public boycott, reports of sexism and discrimination, and a leaked video of Kalanick engaged in a heated argument with a driver. And an investigation into Uber's corporate culture revealed that the company still lacks some basic policies when it comes to hiring and retention.
---
Snapshot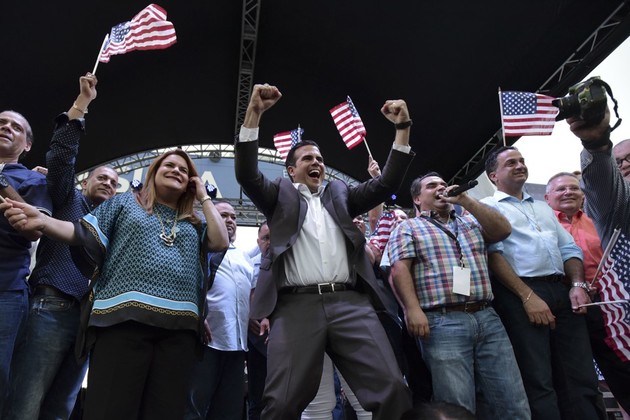 ---
Evening Read
Sebastian Mallaby asks: "Will Trump destroy the dollar?"
Fed independence has come to seem like a given, as solid as the independence of newspapers or the courts. Until now, that is. Under President Trump, it is possible, for the first time in a generation, to imagine a concerted attack on the central bank. Conceivably, the United States could repeat the story of the mid-1960s and '70s, when a 15-year period of central-bank independence was brought to an end by presidential bullying. Back then, Lyndon B. Johnson summoned the Fed chairman, William McChesney Martin Jr., to his Texas ranch and shoved him around the living room while proclaiming that low interest rates were imperative in a time of war. … Richard Nixon followed up by publicly smearing Martin's successor, Arthur F. Burns, until he, too, complied. Because Martin and Burns … buckled, the U.S. went through the most extreme bout of inflation in its peacetime history.
Keep reading here, as Mallaby outlines the risks of a clash with the Federal Reserve.
---
What Do You Know?
1. Wildlife accounts for just ____________ percent of Earth's land animals; humans, livestock, and our pets make up the rest.
Scroll down for the answer, or find it here.
2. Before the iPhone, Apple envisioned a videophone-PDA that could exchange data called the ____________.
Scroll down for the answer, or find it here.
3. Verizon purchased the internet pioneer ____________ for $4.48 billion.
Scroll down for the answer, or find it here.
---
Urban Developments
Our partner site CityLab explores the cities of the future and investigates the biggest ideas and issues facing city dwellers around the world. Adam Sneed shares three of today's top stories:
It's a tumultuous time for Uber, but the company's future is still looking fine. To understand why, just look to Austin.

Oakland is getting a new Marxist pop-up: the Museum of Capitalism. (Don't forget to visit the gift shop!)

What can you do with a highway that split a city for decades and never delivered on its promises? For Akron, the answer is to turn it into a forest.
For more updates from the urban world, subscribe to CityLab's daily newsletter.
---
Reader Response
We're still receiving emails from readers who are conflicted about having kids. One woman writes:
I was a preteen when my single mother had an unplanned pregnancy with a man she was not serious about. They did not become serious, and she became a single mother of two. I spent a lot of time caring for my younger sibling as an infant and toddler, even sharing a bedroom so that I was the one getting up and comforting them in the middle of the night.

I am happy to report that as adults, I adore my younger sibling and consider them one of my best friends. But that experience of being a primary caregiver at times to a child I resented and didn't seem to have anything in common with has shaped my attitude towards marriage and children as an adult. I know I'm not capable of being a good single mother.
More reader stories here.
---
Verbs
NASA's future edited, weight-loss explored, gubernatorial race Trump-styled, deadly mushrooms bloom.
---
Time of Your Life
Happy birthday to Barb (a year younger than VCRs), who also sent a birthday wish to her mom, Kathie, a few weeks back. She asked us to confirm: Yes, it was for you! From Tim, happy birthday to his wife Betty (the same age as the Corvette). And from Eric, happy birthday to his wife Linda—she was born around the time the first women graduated from Harvard Medical School, and, he notes, "her best years are still ahead of her."
Do you or a loved one have a birthday coming up? Sign up for a birthday shout-out here, and click here to explore the Timeline feature for yourself.
---