The Atlantic Daily: May Remains
Theresa May stays on as U.K. prime minister, the U.S. sends mixed messages over Qatar, Trump says he is willing to testify against Comey, and more.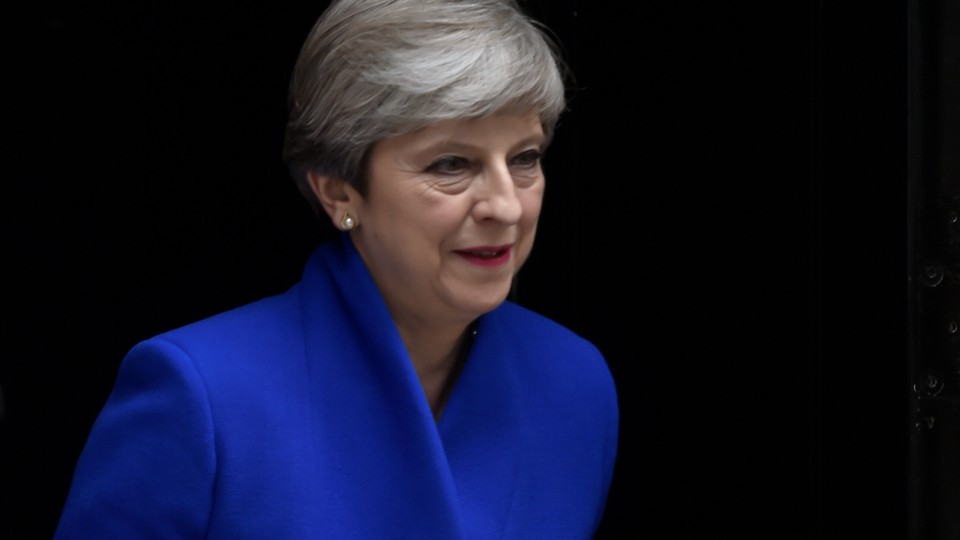 What We're Following
May's Minority: Theresa May will stay on as prime minister of the U.K. with the help of the Northern Ireland's Democratic Unionist Party, which agreed to join its 10 parliamentary seats with May's ruling Conservatives to form a minority government.* Though the coalition will have just a few seats more than the 326 needed to form a parliamentary majority, the results of the election signal a failure of May's political gamble to call for one in the first place, as it leaves the ruling Conservatives worse off than before.
Qatar Confusion: President Trump assailed Qatar for funding terrorism "at a very high level," just hours after Secretary of State Rex Tillerson called on Arab countries to ease their blockade on the Gulf nation. Trump's remarks, which come less than a week after six countries moved to sever ties with Qatar over its alleged support of extremist groups, are not the first contradictory comments to be offered by the U.S. since the diplomatic crisis in the Gulf began, and make it difficult to determine what exactly U.S. policy on Qatar is.
Comey, Continued: President Trump said he would "100 percent" be willing to testify under oath about his conversations with former FBI Director James Comey, who Trump accused of lying after he told the Senate Intelligence Committee that he was fired "because of the Russia investigation." Trump said Comey's testimony proved that he was guilty of neither collusion nor obstruction—sentiments that were echoed by Republican senators who contend the president's conduct did not demonstrate he knew what he was doing. Still, such reasoning may be unpersuasive to some. As Yoni Appelbaum argues, when you're president, ignorance is no excuse.
---
Snapshot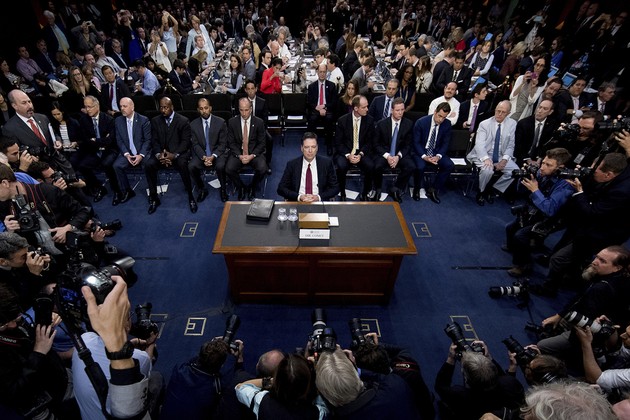 ---
Evening Read
Laura Parker recounts a daring high-altitude jump:
On May 8, 2013, Alan Eustace, then the 56-year-old senior vice president of knowledge at Google, jumped from an airplane 18,000 feet above the desert in Coolidge, Arizona. Anyone watching would have witnessed an odd sight: Eustace was wearing a bulky white space suit—the kind NASA astronauts wear. He looked like a free-falling Michelin Man. …

This was only a practice round. What Eustace was gearing up for was something much more dangerous: a jump from seven and a half times the altitude, the highest ever attempted. A skydive from the edge of space.
Keep reading here, as Parker follows Eustace's path to the world-record jump.
---
What Do You Know?
1. About ____________ percent of land in Utah is federally owned.
Scroll down for the answer, or find it here.
2. American teenagers are taking ____________ summer jobs than they did in 1978.
Scroll down for the answer, or find it here.
3. The Dakota Access Pipeline is anticipated to transport more than ____________ barrels of oil per day.
Scroll down for the answer, or find it here.
---
Poem of the Week
From our January 1998 issue, Mary Karr's "Beauty and the Shoe Sluts":
"Will they come to me ever again,
the long, long dances?"
And Mother holding a black-patent ankle strap

like a shackle on a spike heel
it must've been teetering hell to wear glances
sidewise from her cloudy hazel eyes and says, "No,

praise God and menopause, they won't."
Read more here.
---
Reader Response
Last week, Katherine Shear, a psychiatry professor at Columbia University, described how a syndrome called Complicated Grief prevents some bereaved people from moving on after a loss. Ursula shares her own experience:
I fell in love with the man who became my husband when I was 22. We were not able to marry until 40 years later. We had 29 incredibly fulfilling and happy months together despite the fact that he had been diagnosed with cancer. But then he died. I could not stop grieving for about seven years. When I thought about the future, it seemed to me a curtain had descended and I could not see beyond it. I could not visualize anything in the future. It was blank.

It's been 10 years now and finally I'm reconciled and able to see beyond my sorrow. What helped me more than anything (I was working and had responsibilities) was writing to him every day in a journal. I addressed him, wrote the date—everything as if I were writing an actual letter to him. I continue to write him, not every day anymore, but often. I wish he could respond, especially when I'd like to talk something over with him, but sometimes he'll appear in a dream afterwards and that is satisfying enough.  
If you'd like to share your own story about grieving, please email hello@theatlantic.com.
---
Verbs
Netflix gambles, emperor abdicates, Ice Man followed, social media faked.
---
Time of Your Life
Happy birthday to Michele (a year younger than T-shirts), from David to Kitty (twice the age of the Disney Channel), from Vin to Susan (who's lived as long as Queen Elizabeth II's reign), and to Ryan (a year younger than the World Wide Web) from Gwen, who writes:
Ryan and I gravitate toward different types of news, but regularly share with one another pieces that resonate with one of us. We don't always align politically, but a number of Atlantic pieces have spurred thought-provoking discussions. Thanks!
Thanks to you both! Tomorrow, happy birthday to Melissa (the same age as the Corvette), Mara (twice the age of Google), from Ruthie to Hal (the same age as the first commercial coal pipeline), from Greg to Lisa (a year younger than Star Trek), and to Susan (a year younger than Captain America) from her daughter Jennifer, who writes: "She is kindness personified." And happy birthday to Bruce, who provides his own Life Timeline:
I would see myself as a survivor and pioneer in the LGBT movement in Kentucky. In 1968, my first love committed suicide. No one talked about gay lovers in Kentucky then. In 1978 I graduated from law school but was deemed morally unfit to practice law because I was gay (although I lied about this on the bar application. Kentucky did not change that until 1991).

Fast-forward: In 2015 I was a founding officer of the LGBT Law Section of the Kentucky Bar Association, and in 2016 I was part of a team that taught the first continuing legal education program in Kentucky the basics of LGBT legal issues.
Do you or a loved one have a birthday coming up? Sign up for a birthday shout-out here, and click here to explore the Timeline feature for yourself.
---
---
*This newsletter originally misstated the name of the Democratic Unionist Party. We regret the error.