The Atlantic Daily: Repeal and Retweet
What's next for the GOP's health-care bill, the danger of Trump's Twitter feuds, his voter-fraud commission's first step, and more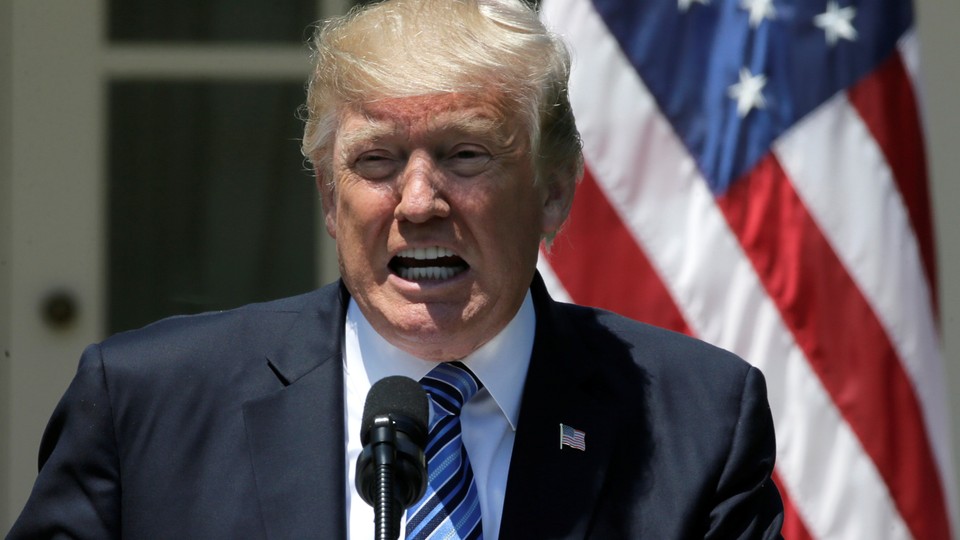 What We're Following
Health Care: As Senate Republicans struggle to gather the votes for their health-care bill, President Trump is calling via Twitter for an immediate repeal of Obamacare, even if the lawmakers can't agree on a plan to replace it. But the latest tweaks under consideration would make this new legislation similar to Obama's. In its current form, the bill is getting serious criticism; one analysis suggests its insurance rollbacks could lead to 28,600 more deaths per year. David Frum suggests an alternative plan for conservative health-care reform.
Trump's Twitter Feud: The strange saga that began yesterday with Trump's Twitter attack on the hosts of Morning Joe—particularly Mika Brzezinski, whom he called "low I.Q. crazy" and claimed "was bleeding badly from a face-lift" during a visit to Mar-a-Lago last winter—continued when Brzezinski and her co-host Joe Scarborough claimed the White House had threatened them with a negative National Enquirer article. Trump then fought back on Twitter, calling the talk show "FAKE NEWS." It may sound petty, but as Peter Beinart argues, Trump's sexist attacks are especially worrying because they constitute an agenda.
Presidential Plans: Trump announced he's sending 20 federal agents to join a task force dedicated to reducing gun violence in Chicago. And his Presidential Advisory Commission on Election Integrity requested extensive voter records from all 50 states, prompting some state officials to worry the data would be used to suppress votes rather than prevent fraud. Meanwhile, the president's condemnations of NAFTA have brought new uncertainty to the agriculture industry.
---
Snapshot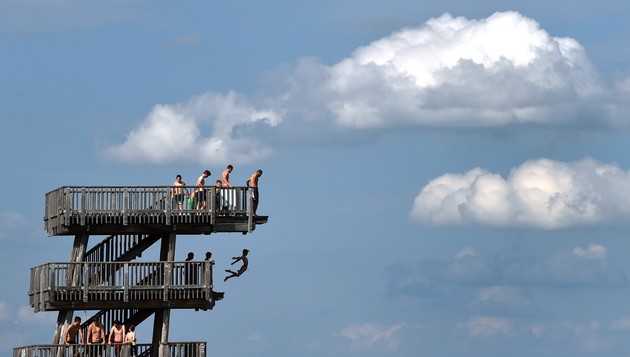 ---
Who We're Talking To
At the Aspen Ideas Festival, co-hosted by the Aspen Institute and The Atlantic:
Galina Timchenko and Alexey Kovalev, two journalists working in Russian media, discuss how they've dealt with fake news and pressure from the Kremlin.
Nancy Sullivan, the developer of the first Ebola vaccine, explains how public-health authorities can fight the next global pandemic.
Pamela Reeves, a consultant specializing in issues of gender equity, and incidentally the wife of The Atlantic's editor in chief Jeffrey Goldberg, asks a group of highly successful women for tips on learning to speak up.
---
Evening Read
Adrienne LaFrance on the Golden Record, a "cosmic postcard" sent out with the Voyager spacecrafts in 1977 to represent humanity to intelligent life:
The record, curated by a team led by the astrophysicist Carl Sagan, featured the music of Beethoven, Chuck Berry, Kesarbai Kerkar, and Blind Willie Johnson, and various folk music from around the world. Images, placed electronically on the phonograph, included photographs of a mother nursing her baby; a woman with a microscope; an astronaut in space, highway traffic in Ithaca, New York; the pages of an open book; a violin with sheet music; men laying bricks to build a house in Africa; a woman eating grapes at a supermarket; and a number of diagrams and illustrations of concepts like continental drift and vertebrate evolution. There were also audio clips depicting scenes of life on Earth—the sounds of rushing wind and the roar of ocean tides, whale songs, elephants trumpeting, human footsteps and human laughter.

It occurred to me last fall that I'd never actually heard the laughter track—and that I wanted to.
Keep reading here, as Adrienne sets out to solve the mystery of whose laughter is on the Golden Record.
---
What Do You Know?
1. A new study suggests that the taste of water is detected by the same cells that taste ____________ flavors.
Scroll down for the answer, or find it here.
2. There are ____________ U.S. states in which the federal government owns more than 20 percent of the land.
Scroll down for the answer, or find it here.
3. Shinrin-yoku, or "forest bathing"—a practice of brief immersions in nature aimed at stress reduction—has been part of Japan's national health program since the year ____________.
Scroll down for the answer, or find it here.
---
Poem of the Week
From our March 1995 issue, "Darling," by Naomi Shihab Nye:
I break this toast for the ghost of bread in Lebanon.
The split stone, the toppled doorway.

Someone's kettle has been crushed.
Someone's sister has a gash above her right eye.

And now our tea has trouble being sweet.
A strawberry softens, turns musty,

overnight each apple grows a bruise.
Read more here.
---
Reader Response
The TAD group is discussing Megan Garber's dispatch from the Aspen Ideas Festival, where NPR's Michele Norris, Darren Walker of the Ford Foundation, and Jeff Raikes of the Raikes Foundation discussed the inherent tensions between the American dream of meritocracy and the systemic inequalities that contradict it. One reader reflects:
Some belief in "meritocracy" is a healthy thing. People hate when they feel they have no meaningful control over their lives. If you fundamentally don't believe that your work can improve your situation, I suspect you'd have a lot of people saying "well, what's the point, then?" I know people who've had that breakdown. There's nothing good about it; it's ugly.

But believing your success is solely yours is something different entirely. I know having a mother who was a doctor opened me to what my passion in life would be and gave me a role model. I know an upper-middle-class background made things substantially easier for me than many others. You need to know these things and that acknowledgement has to be part of how you view and interact with people.
More reader discussion here.
---
Adjectives
Generational wealth, urban warfare, undead budget reform, foul-mouthed nuns.
---
Time of Your Life
Happy birthday to Kevin (a year younger than the TV remote), from Susan to Jake (born around the same time as a draft of the human genome), Nancy (the same age as pacemakers), Sally (the same age as Kermit the Frog), and James (born right around the time of D-Day).
For tomorrow, best birthday wishes to Jane (the same age as zip codes), Judy's son Cullen (twice the age of American Idol), Joanna's husband Robert (a year younger than Superman), from Marianne to Evan (twice the age of Twitter), and Carlanne (twice the age of the 24-hour news cycle).
Do you or a loved one have a birthday coming up? Sign up for a birthday shout-out here, and click here to explore the Timeline feature for yourself.
---